Televisions
Samsung's newest TVs take on OLED, available this month
MicroLED is coming in March, plus new monitors and soundbars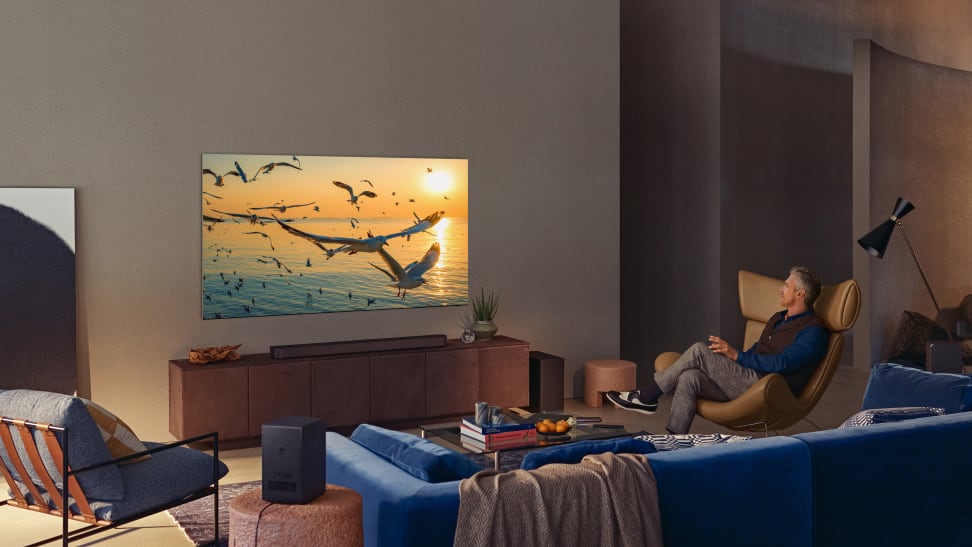 Credit: Samsung
This morning, Samsung confirmed a huge range of home theater and gaming-facing products for 2021, including TVs, soundbars, and gaming monitors.
While many of Samsung's Neo QLED lineup for 2021 are already available for pre-order, the company's CES showing in January didn't give much love to products that weren't of the big screen variety, like soundbars and monitors, so it's about time we got some proper news. Here's everything we know as of this morning.
MicroLED TVs will be available in late March
Samsung's big message surrounding MicroLED TV—the company's proprietary, emissive display technology that originally debuted as a 100+ inch "wall" of self-lighting modular screens—is that 2021 will be the year consumers can actually buy them and install them in their homes without the need for white-glove service.
To that end, Samsung's big task hasn't been to make MicroLED TVs larger and larger, but to make them smaller and more affordable. These "beautiful, edge-to-edge" designed TVs have been confirmed to be available by the end of the month in 110- and 99-inch sizes, with 88- and 76-inch versions coming later in the year.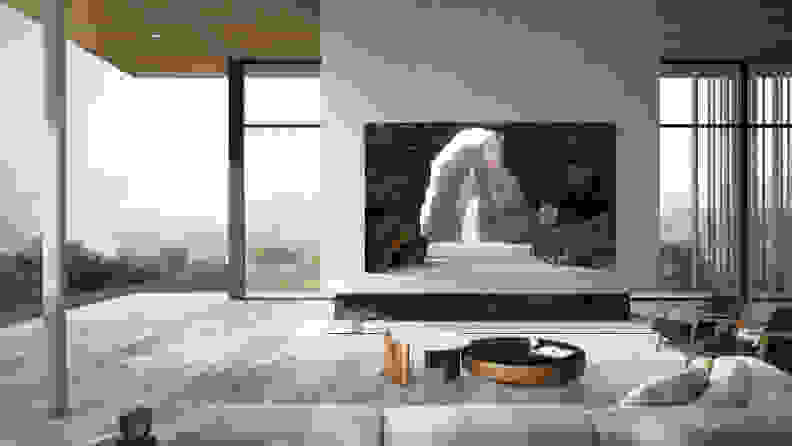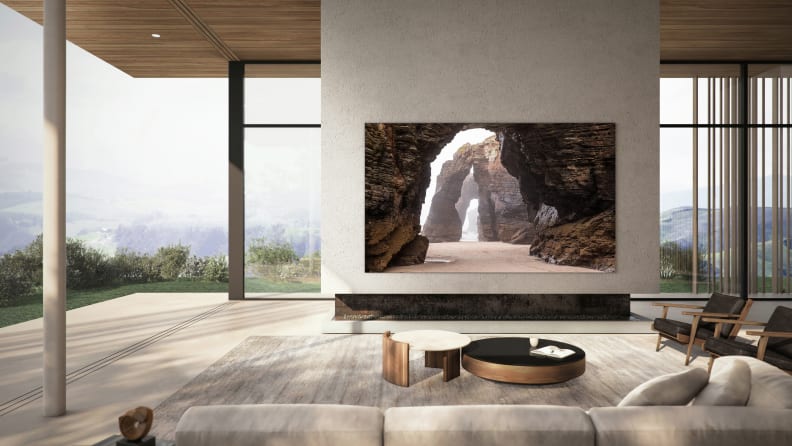 While our time with MicroLED during trade shows has shown it to be a beautiful display technology, it's difficult to know how it'll stack up against technology like OLED without spending hands-on time with it. Right now, however, it feels like MicroLED's most exciting prospect is a feature called "4Vue" or QuadView, which makes it possible to watch four content sources simultaneously.
While four pictures at once might rattle your attention span, at least it can commiserate with your wallet. Pricing for Samsung's MicroLED TVs hasn't been announced yet, but we're not expecting to be surprised by their affordability.
The Frame continues evolving with "My Shelf"
Samsung confirmed during CES that its artistically inclined Lifestyle TV, The Frame, was gaining some flexibility this year in terms of screen sizes and features. Today, the company confirmed the full range of screen sizes for 2021 Frame models: 32-, 43-, 50-, 55-, 65-, and new 75-inch options.
The biggest announcement wasn't about the Frame TVs themselves, however, but about a new accessory called "My Shelf." While it might seem like an optional, attachable stand for a TV that's meant to look like art on the wall, My Shelf leans heavily into the Frame's focus on aesthetics and interior design. According to Samsung, My Shelf allows consumers to create a "tailored wall" that complements the Frame TV and your own room decor. Unfortunately for smaller Frame owners, the My Shelf accessory is only available right now with the 55-, 65-, and 75-inch 2021 Frame models.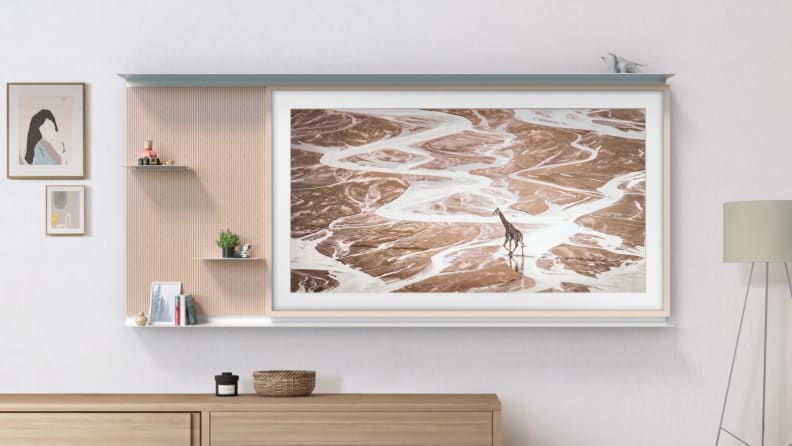 This shelving accessory joins the "Slim Fit Wall Mount" announced during CES, reflecting Samsung's continued commitment to its Lifestyle TVs, with the Frame taking center stage—though My Shelf won't be available until later this year. Samsung also briefly reminded consumers of the availability of its The Premiere triple laser 4K projector (also coming later this year), and a new 75-inch, "Full Sun" version of The Terrace—the company's outdoor Lifestyle TV—which should be available in time for summer. Pricing isn't available for any of these new products just yet.
New monitors for work and for play
Samsung's monitor line was barely a whisper during CES 2021, but as of today we have an idea of at least two new products, both of which focus heavily on productivity.
Samsung's Smart Monitor—a totally new product—is the company's first "do-it-all" monitor. According to Samsung, the Smart Monitor combines the best aspects of a TV and a monitor into one versatile screen. This one is stuffed with a ton of Samsung's productivity-focused features, many of which have been available by default in the company's smartphones and tablets over the years. It features not only WiFi and Bluetooth connectivity, but also wireless DeX and Apple AirPlay 2, allowing the monitor to function as a workstation and "castable desktop" with only a mobile device in tow. But wait, there's more: It's also equipped with Samsung's Smart TV platform, giving it the same streaming app and content functionality as one of Samsung's smart TVs. Unfortunately, there isn't any information on pricing or availability for the Smart Monitor just yet.
Samsung's popular Odyssey G9 gaming monitor is also getting some noteworthy picture upgrades in the form of Samsung's "Quantum MiniLED" technology. This means that the G9 will deliver the same combination of mini-LED backlights and quantum dot tech as the 2021 Neo QLED models.
Samsung's massive Dolby Atmos bar is still on the way
During CES, Samsung also announced a new Dolby Atmos soundbar, the Q950A, which may just be the company's most ambitious home theater audio outing yet.
We've tested our fair share of snazzy soundbars, and most of them don't have this level of speaker pedigree: 11.1.4 channel sound, alongside features like Bass Boost, Tap Sound, and Samsung's "Q Symphony" compatibility, which syncs the soundbar with Samsung TVs to create an even more immersive audio experience.
Like most of these products, we're still waiting on confirmation for availability and price for the Q950A and the other "Q Series" soundbars, but expect to hear more in the coming weeks and months.
The product experts at Reviewed have all your shopping needs covered. Follow Reviewed on Facebook, Twitter, and Instagram for the latest deals, product reviews, and more.
Prices were accurate at the time this article was published but may change over time.