The Best Gaming Monitors of 2019
By Lee Neikirk, March 30, 2018, Updated January 02, 2019
If you're serious about gaming—whether it's on PC or console—you've probably considered investing in a gaming monitor, if you haven't already. Gaming monitors are designed specifically with gamers in mind: the simplest options shave down screen response time to keep your reflexes twitchy, while the highest-end models are dressed to complement specific eSports categories, or are stuffed full of features to immerse the player and enhance graphics.
If you just want the best overall/general gaming monitor, we highly recommend the Asus ROG Strix XG32VQ (available at Amazon for $639.97). With a huge 32-inch screen, high resolution, and a 144 Hz refresh rate, it still manages to be much cheaper than similarly sized displays, cutting a welcome middle ground between big and immersive and ultra-fast enough for competitive gaming.
There are tons of gaming monitor options out there, but it can be hard to tell when you're paying for a swiss army knife—when all you really needed was a fork. Well, that's where we come in. We've gathered up gaming monitors for every budget from the biggest names in the gaming display market and put them head-to-head in comparison. From 144 Hz displays to G-Sync and FreeSync 2 products, these are the best gaming monitors right now.
Updated January 02, 2019
Advertisement - Continue Reading Below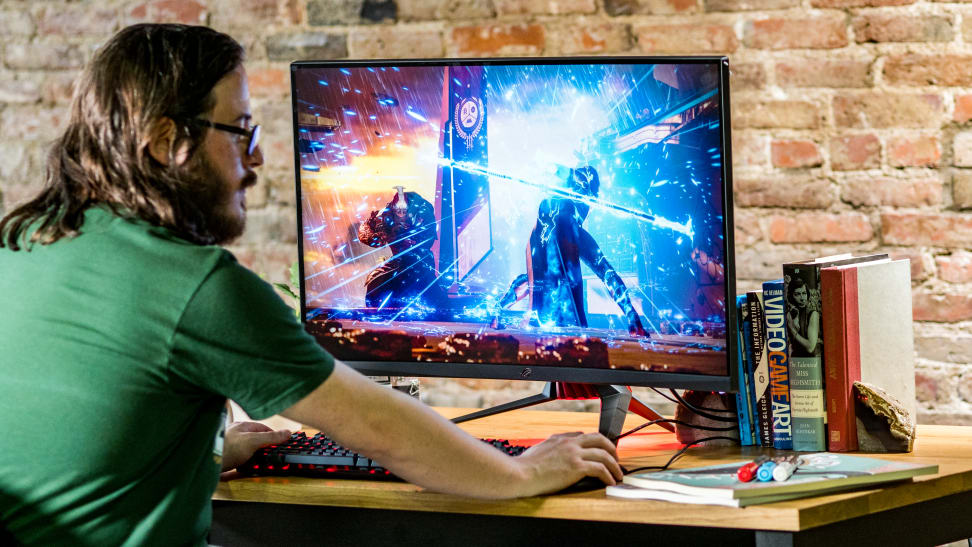 How We Tested
We tested each monitor on the same PC (a Lenovo tower with an Intel i5-7400 card, 8G of RAM, a 1T HDD, and a 128GB SSD) and played roughly the same broad selection of games (Civilization VI, EVE Online, Overwatch, PUBG, and a few others in special cases). We used refresh rate testing patterns from Blur Busters (https://www.blurbusters.com/) and our own in-house pattern generation and light measurement equipment to test basic luminance specs and color fidelity where necessary.
A good portion of the testing/rating of the monitors was also based on the ease of their UIs, the effectiveness (or lack thereof) of different manufacturers' proprietary features, and overall design/build attractiveness. However, performance and value winners were primarily selected on a combination of their price and appeal to the widest variety of gamers.
About The Tester
Lee Neikirk is Reviewed's TV and display expert. He's been an ISF Certified display calibrator since 2014, and has loved video games since 1992, so it only made sense to have him deep dive into the expensive, colorful, and sometimes confusing array of gaming monitors available to gamers right now.
---
Other Monitors We Tested
Below you'll find our reviews of all the gaming monitors we've tested so far in addition to our top picks above. Though we believe our top picks should cover most people, if you have specific needs or a favorite brand the below options might make more sense for you.
Advertisement - Continue Reading Below