Televisions
Samsung Reveals New Smart Hub, Hints at New TV for CES
Samsung shows off their new smart TV interface and teases a new TV announcement at the 2013 International CES.


Credit:
Samsung has posted three teaser images on their official Flickr page, showing off a radically different user interface for their Smart Hub platform. They have also uploaded a video to YouTube that hints at a new TV.
All three of the pictures on Flickr depict a smart TV platform that is heavily integrated with standard TV programming: the top of the screen shows five icons, with the selected icon being "On TV." Below, images of what is currently playing on TV are displayed, while the bottom of the screen shows upcoming programs. Samsung describes this new Smart Hub as being able to show "real time broadcasting TV programs, on-demand movies, apps, and photos."
This interface is a stark contrast to the 2012 Samsung Smart Hub, which was good enough to win our Smart TV Platform of the Year Award. The current Smart Hub mostly displays apps, with a small PiP screen in the top-left that shows what is currently being viewed.
In addition to the teaser images, the Samsung Tomorrow YouTube channel posted a trailer for a mystery TV that will be unveiled at the 2013 International CES. The video shows various TVs from all over the country coming to life and making their way to the Vegas tradeshow, where they find Samsung's new TV under a white cloth.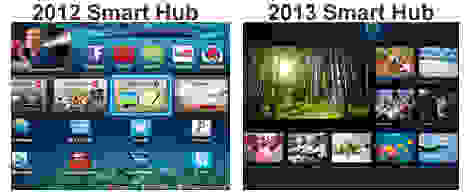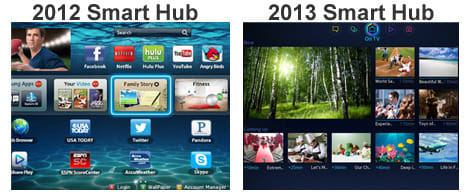 We'll find out more about Samsung's new interface and TV this January.
Up next
Get Reviewed email alerts.
Sign up for our newsletter to get real advice from real experts.