Televisions
Sony A90J vs LG G1: Which premium OLED TV is best?
Two of the year's best OLEDs duke it out in a head-to-head matchup.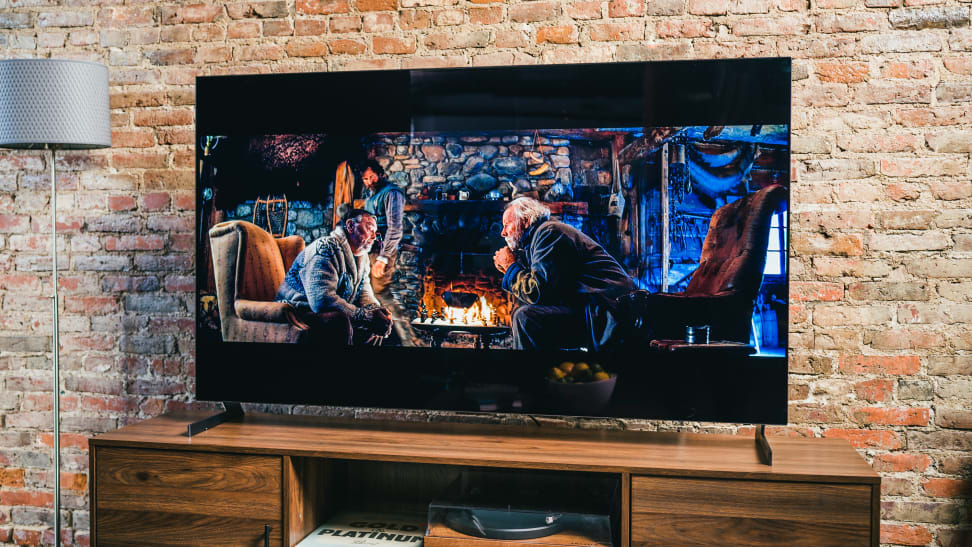 Credit: Reviewed / Jackson Ruckar
Two of the year's most exciting TVs—the Sony A90J and the LG G1—are finally here, and it's safe to say they're among the best TVs of the year. They have a lot in common—both are 4K, HDR OLED TVs with a wide array of future-facing features. They're also quite pricey, which isn't surprising when you factor in their impressive spec sheets and top-notch performance.
While the A90J and the G1 offer similar experiences, there are some important distinctions to keep in mind. If you're wondering how on earth you're supposed to choose between the two, our feature-to-feature comparison below is here to the rescue.
Buy the 55-inch Sony A90J from Amazon now
Buy the 55-inch LG G1 from Amazon now
Price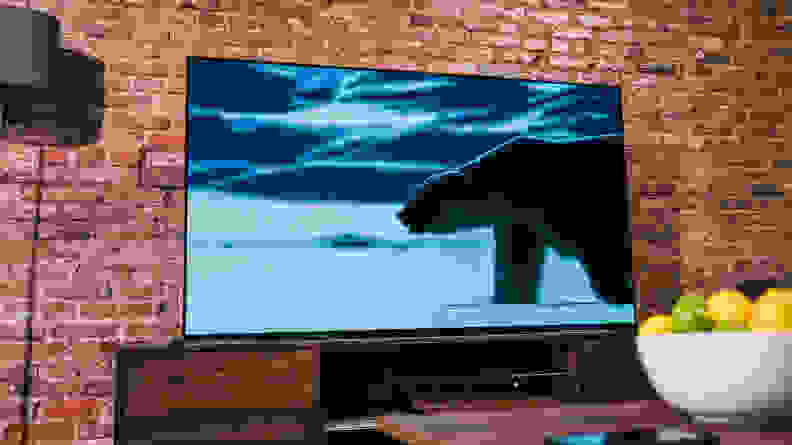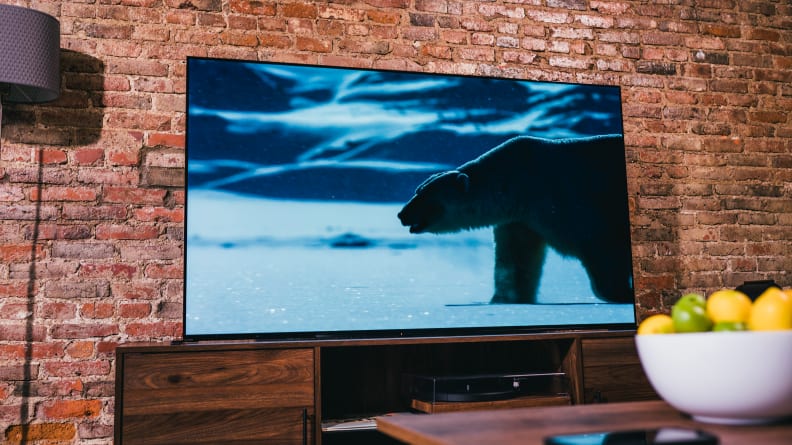 Before diving into these two terrific TVs, let's get one thing out of the way: Both the Sony A90J and the LG G1 are some of the priciest options you'll encounter while shopping for a new TV in 2021. As you'll come to learn, there's good reason for this; both blend top-of-the-line performance with bleeding-edge hardware and software.
The A90J and the G1 offer similar size options; both feature 55- and 65-inch models with a third, extra-large variant. The pricing of these options varies, however, with Sony's lineup costing significantly more per size than LG's.
Here's how each series shakes out:
Sony A90J:
55-inch (Sony XBR-55A90J), MSRP $2,999.99
65-inch (Sony XBR-65A90J), MSRP $3,999.99
83-inch (Sony XBR-83A90J), price not yet announced
LG G1:
55-inch (LG OLED55G1PUA), MSRP $2,199
65-inch (LG OLED65G1PUA), MSRP $2,999
77-inch (LG OLED77G1PUA), MSRP $4,499
Barring inevitable sales, there's an $800 difference between the 55-inch models of these two TVs. When it comes to the 65-inch models, there's a gap of about $1,000. The 77-inch LG G1 will set you back nearly $4,500, and as of now, the room-dominating 83-inch version of the Sony A90J does not have a publicly available MSRP. That said, given the cost discrepancies we already know, we suspect that the 83-inch A90J will cost several thousand dollars more than the 77-inch G1.
We'll update this article when new information comes to light, but we don't expect our overall verdict to change. While both TVs are priced at a premium, the LG G1 will undoubtedly be gentler on your wallet.
Our pick: LG G1
Design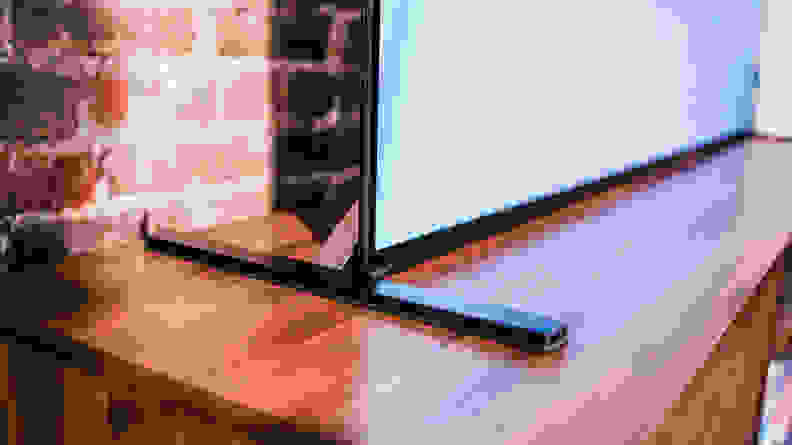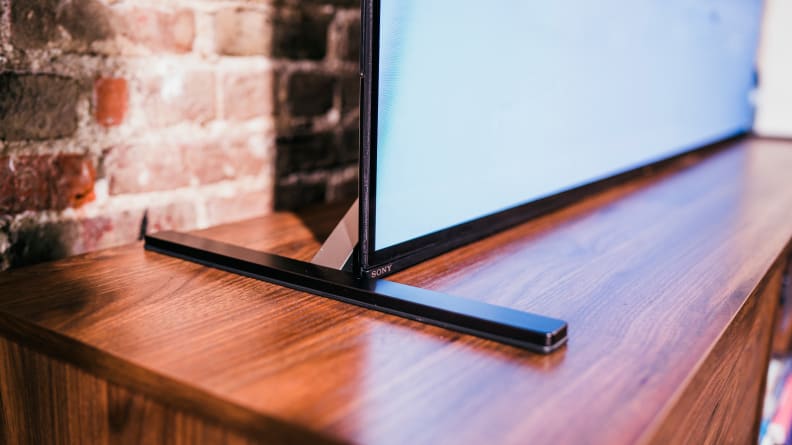 Most top-tier TVs represent the best of a brand's design efforts, and the Sony A90J and LG G1 are no different—these flagships are equal parts posh and functional, marrying premium materials with multiple setup options. Being OLED TVs, both the A90J and the G1 sport razor-thin panels and next-to-nothing bezels—two design flourishes we've come to expect from the futuristic display technology. In addition, each TV includes a dependable remote control, though it's worth noting that LG's "Magic Remote" features motion controls, should you decide to use it that way.
Sony tailored the A90J's design for tables and other surfaces first and foremost. The TV features two angular feet that, in their default position, lay flat upon their surface and flank the panel at its corners. Users can also flip these feet into a secondary position, which lifts the panel several inches above its surface and makes room for the placement of a soundbar and other devices.
The 83-inch Sony A90J also features a pair of slots closer to the center of the panel, which allows the TV's feet to prop up the panel on surfaces that are otherwise too narrow for the default, wide-set position. Of course, you could always wall-mount the A90J, too.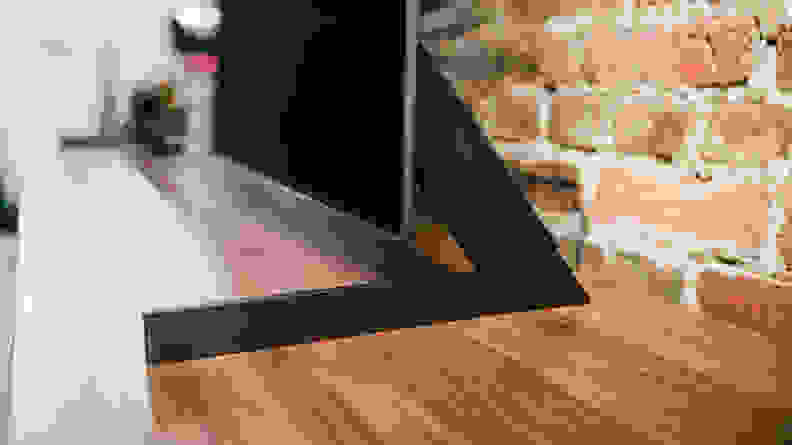 If wall-mounting is on your agenda, the LG G1 is sure to satisfy, as it was designed with wall placement in mind. In fact, the G1 doesn't even come with a stand unless you purchase it separately—its "Gallery" designation refers to the fact that its inspiration is that of a portrait hanging in an art exhibit. When we tested the G1, we relied on the stand apparatus, which consists of two metal, L-shaped feet that lock into the panel a few inches from the corners.
Both of these TVs play the part of a premium TV perfectly with their sturdy builds and eye-catching silhouettes. Still, regardless of how you feel about their respective looks, there's no denying that the Sony A90J offers far more flexibility without a separately sold stand.
Our pick: Sony A90J
Features and smart platform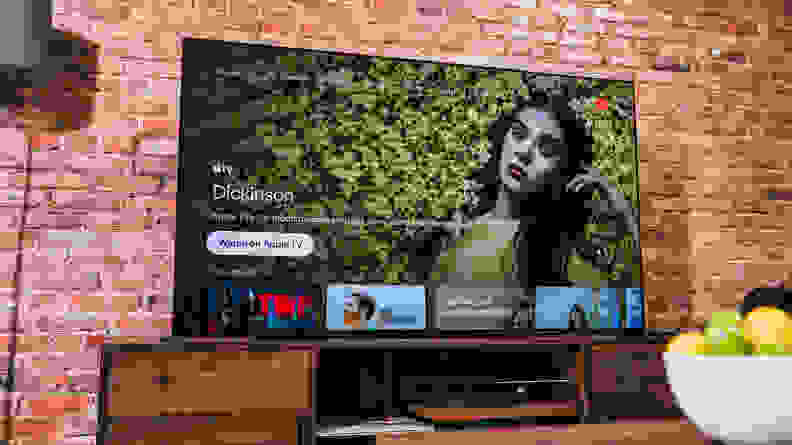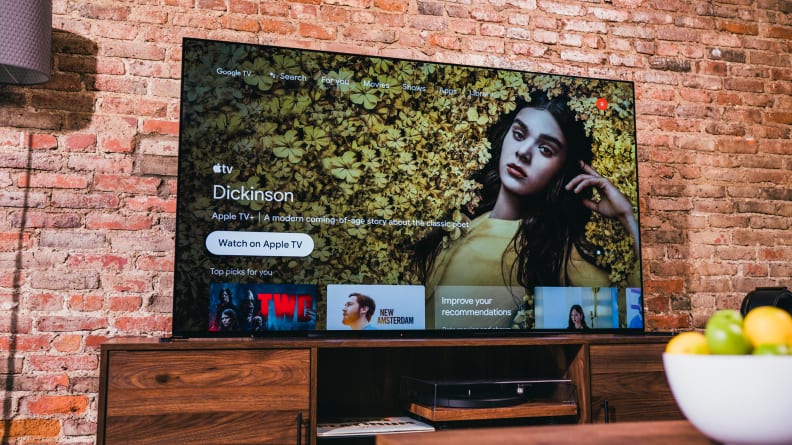 In addition to their built-in smart platforms, both the A90J and the G1 are chock-full of future-facing features. From gaming-related extras to various home theater compatibilities, these two TVs represent the best of what the industry has to offer right now. There are, however, some key differences.
Let's start with their smart platforms. The A90J is one of the first Sony TVs to make the switch from Android TV to Google TV, which is more or less the same version of the operating system you'll find in the newest version of Google Chromecast. We think it's a huge improvement over the Android TV platform of years past, as it blends the flexibility and app support of Android TV with a more streamlined, easy-to-navigate user interface.
These TVs represent the best of what the industry has to offer right now.
The G1 offers the newest version of LG's webOS smart platform. This version (6.0) has some subtle tweaks and added functionality, but for the most part, the experience will be familiar to anyone who's used webOS in recent years. We dig the clean look and feel of LG's software as well as its ample support for various apps. That said, both webOS and Google TV fail to outshine the user experience and functionality of Roku, our favorite smart platform. We recommend pairing each of these TVs with a Roku streaming device if you're serious about streaming.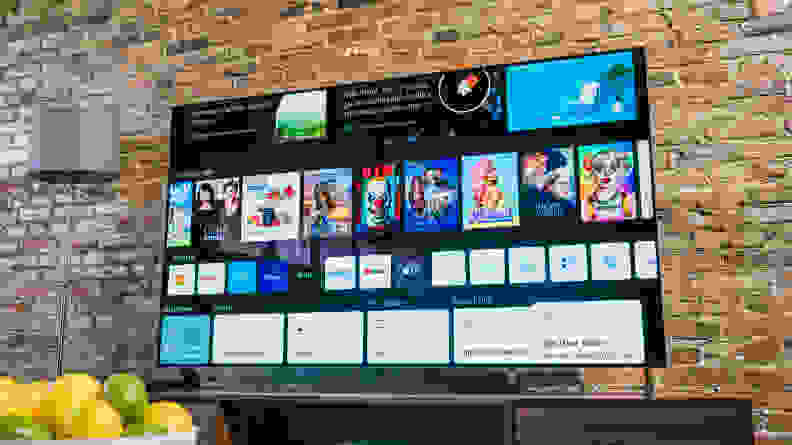 Thanks to their HDMI 2.1 ports and 120Hz refresh rates, both the A90J and the G1 support various gaming-related features like Variable Refresh Rate (VRR), Auto Low Latency Mode (ALLM), and 4K gaming at 120fps. Cinephiles are covered, too, as both TVs offer support for Dolby Vision and Dolby Atmos support for outboard devices.
Only when you explore these TVs' laundry lists of additional features do you get a sense of how they differ in this department. The G1 is packing some interesting picture processing tools, as well as something called "Magic Explorer," which lets users discover more about the content they're watching. The A90J, on the other hand, brandishes some enticing audio hardware, including the ability to use the TV's internal speakers as the center channel in a surround sound system.
You can dive deeper into the details of these perks in our reviews of the Sony A90J and the LG G1, but when it comes to picking a conclusive winner, it's too close to call.
Our pick: Draw
Performance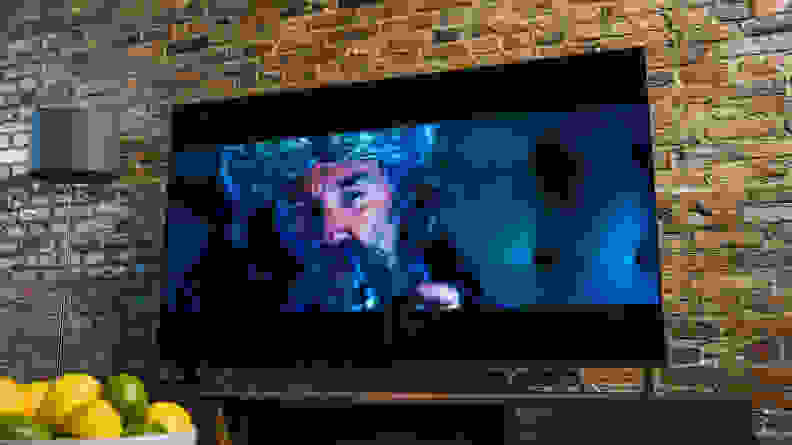 OLED TVs are among the best the industry has to offer for several reasons, but their biggest selling point is that their self-emissive nature allows for perfect black levels. Their precision contrast is typically paired with gorgeous, well-saturated color reproduction, accurate gamma curves, and the widest viewing angles money can buy.
The one drawback of OLED TVs—at least for now—is that they aren't capable of getting as bright as their high-octane LCD/LED counterparts. In other words, if you want to spend top-dollar on a mind-blowing TV, you'll have to choose between the surgical precision of an OLED or the blazing brightness of a quantum-dot-enabled LED TV.
Thus, when comparing the performance of competing OLED TVs, the first yardstick most folks turn to is peak brightness. And, when it comes to brightness, both the Sony A90J and the LG G1 deliver the goods—at least as far as OLED TVs go. For both, we measured sustained brightness readings of around 700 to 800 nits on average (while the TVs were in their most accurate/recommended picture modes) and observed specular highlights that climb even higher. That's impressively bright for most environments, but may not be suitable for peak performance in extremely bright rooms.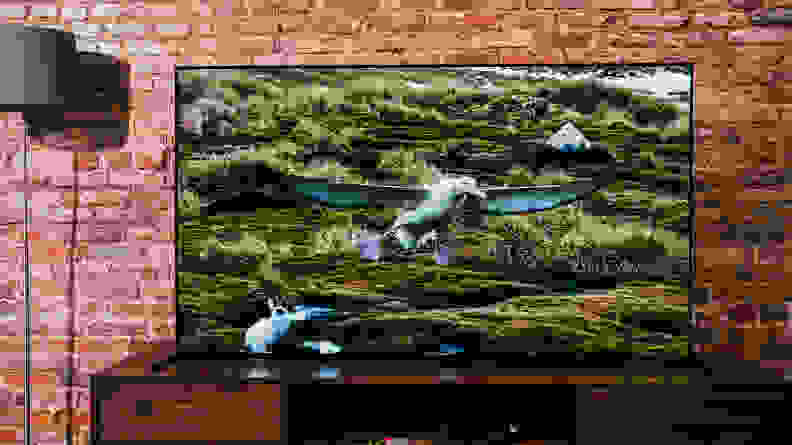 When it comes to color, these two OLEDs are similarly impressive, too. Both cover 100% of the Rec.709 color standard for SDR content, and while the LG G1 offers an impressive 99% color saturation in HDR (DCI-P3), the A90J is right there with it, offering 98% color saturation in HDR. That equates to brilliantly vivid colors and lifelike shading.
Sensing a theme yet? Both of these TVs offer best-in-class performance, making them two of the best 4K TVs money can buy right now. For A/V geeks (ourselves included), there will always be hairs to split and debates to be had. Most folks, however, wouldn't notice much of a difference if you put these TVs side by side and played the same content. From a performance standpoint, the Sony A90J and the LG G1 are equally impressive.
Most folks wouldn't notice much of a difference if you put these TVs side by side.
In fact, because LG Display is currently the only manufacturer of TV-size OLED panels in the world, there's a very strong possibility that the G1 and the A90J are using the same raw panel inside—LG's new "OLED evo" panel—which has been tuned to function in line with the contrasting subtleties of Sony's or LG Electronics' software, video processing, and so on. That means from the purest performance metric, these displays may very well be identical.
Our pick: Draw
And the winner is...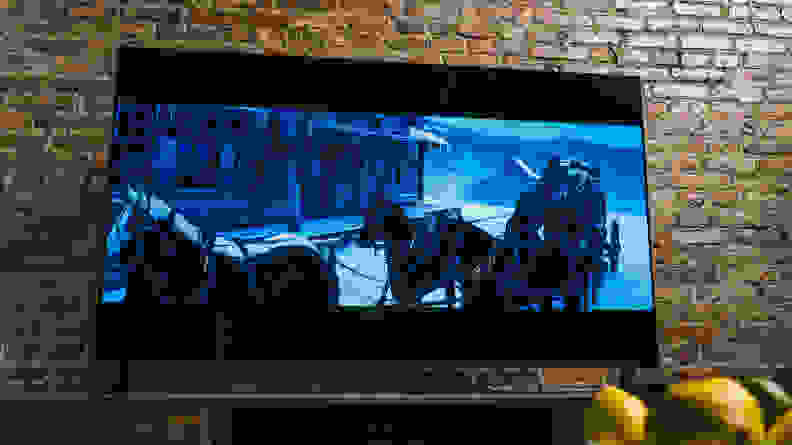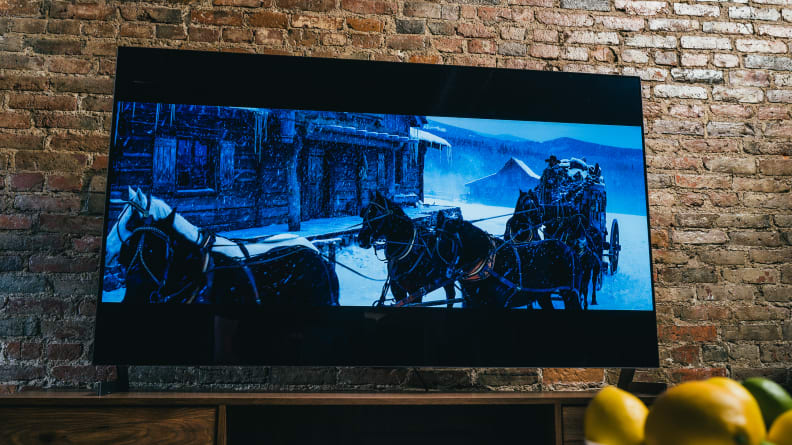 While both of these TVs perform at the top of their class, the LG G1 is priced significantly lower than the Sony A90J, making it a more approachable option for most folks shopping in this price bracket. Bear in mind, however, that unless you're planning on wall-mounting the G1, you'll have to order its stand separately.
Both TVs offer roughly the same excellent performance and their added features are comparable, so unless you've fallen head over heels for the A90J's design or would rather have Google TV in tow, we recommend saving some money and opting for the G1. Regardless of which TV you pick, they're two of the best TVs of the year.
At the time of writing, demand for the LG G1 has been high enough that all sizes in the series remain out of stock, while the 55- and 65-inch variants of the Sony A90J are relatively easy to come by. We'll continue to keep tabs on the G1's stock and update this page with any developments in the near future.
Buy the 55-inch Sony A90J from Amazon now
Buy the 55-inch LG G1 from Amazon now
---
The product experts at Reviewed have all your shopping needs covered. Follow Reviewed on Facebook, Twitter, and Instagram for the latest deals, product reviews, and more.
Prices were accurate at the time this article was published but may change over time.