Televisions
Binge-Eat, Binge-Watch: The Best Turkey Day TV Marathons
Sixteen hours of Guy Fieri eating? That's out of bounds!
Credit:
Amid all the food, family, and football, there's one Thanksgiving tradition we Americans take for granted: TV marathons. Yep, when you're couch-ridden in the depths of food coma, there's only one kind of medicine that can see you through—hours upon hours of sitcoms, cop dramas, and fan-favorite movies.
This year, the networks are serving up an onslaught of programming that will not only get you through Thanksgiving, but Black Friday and the weekend as well. From Mystery Science Theater 3000 to Diners, Drive-Ins, and Dives, there's something for everyone to binge-watch.
---
Thanksgiving Day, Nov. 27
Adventure Time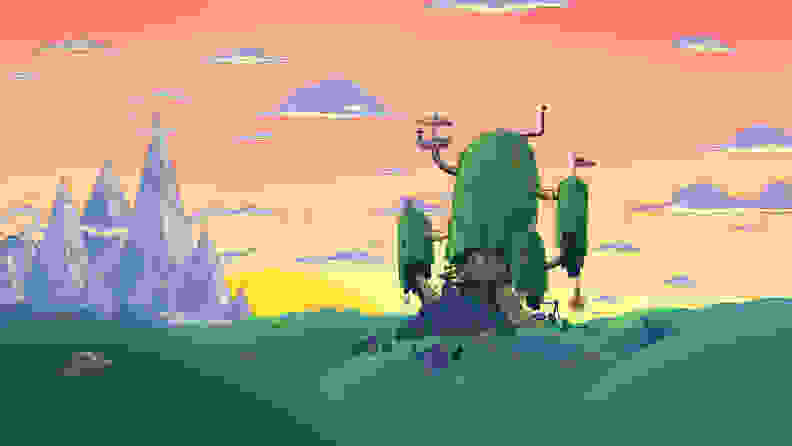 Network: Cartoon Network Time: 9am to 2pm
For both big and small fans of Finn, Jake, and the The Land of Ooo, Cartoon Network is the channel to watch this Thanksgiving. It will be providing you with five straight hours of magic and bizarre antics from Princess Bubblegum and the rest of Ooo's wacky residents, starting at 9am on T-day.
Cops
Network: Spike Time: 5pm to 12:30am
Do you enjoy watching idiots get involved in car chases? Big fan of busted drug deals? Well, Thanksgiving is your lucky day: Spike will be running a Cops marathon all evening, so you can kick back and digest to the sounds of sirens.
Duck Dynasty
Network: AMC Time: 1pm to 3am
We think duck is one of the best non-traditional choices for a Thanksgiving bird, and we have a feeling the Robertson family would agree. So it only makes sense for AMC to show 12 hours of ducks, bandanas, and beards this Thanksgiving. Bonus: There's two hours of Country Buck$ thrown in there for good measure.
Friends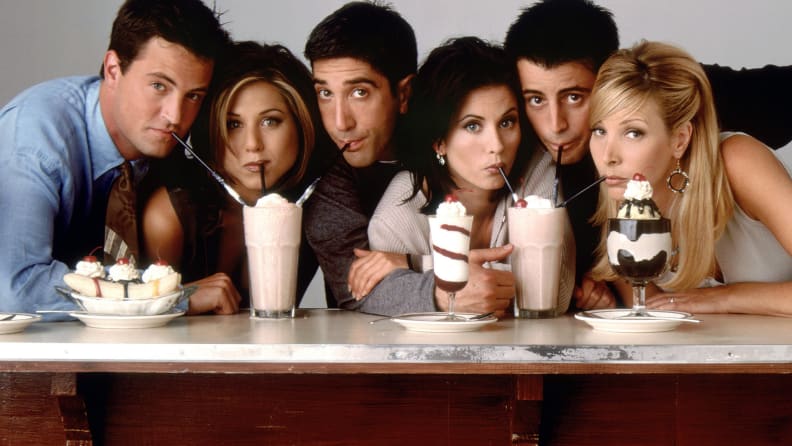 Network: TBS Time: 10am to 5pm
Friends may soon be coming to Netflix, but if you want binge-watch the series over the holiday, TBS is your only option. The network will be playing seven hours of the acclaimed comedy, including the Thanksgiving episodes.
Jurassic Park Trilogy
Network: AMC Time: 10am to 2am
Since birds are descended from dinosaurs, Thanksgiving is the perfect holiday to watch Jurassic Park... right? (Okay, maybe that's stretching a bit.)
Anyway, AMC will be showing all three Jurassic Park films multiple times. Bonus: It appears that the much-anticipated trailer for the upcoming Jurassic World sequel will be going live on at 9pm on Turkey Day!
Modern Family Viewers' Choice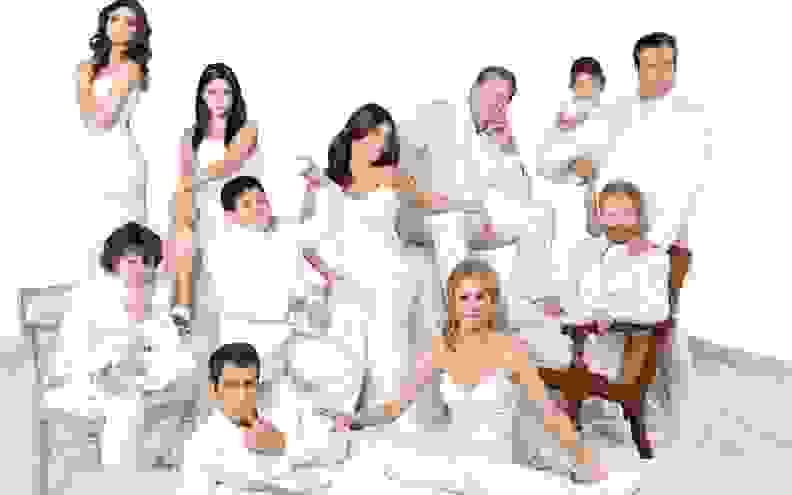 Network: USA Time: 10am to Midnight
Love Modern Family? Of course you do. USA does too, so it's created a special Viewers' Choice marathon full of fan-favorite episodes. The voting period has ended, so now it's time to find out which of the most outrageous episodes from the series' first five seasons are included.
Mystery Science Theater 3000
Network: MST3KTurkeyDay.com Time: 12pm
Technically this isn't a TV marathon, but we'd strongly suggest you hook your computer up to the TV and stream the MST3K Turkey Day Marathon. If you do, hours upon hours of riffs on terrible movies will be all yours, courtesy of Crow, Tom Servo, and host Joel Hodgson.
Swamp People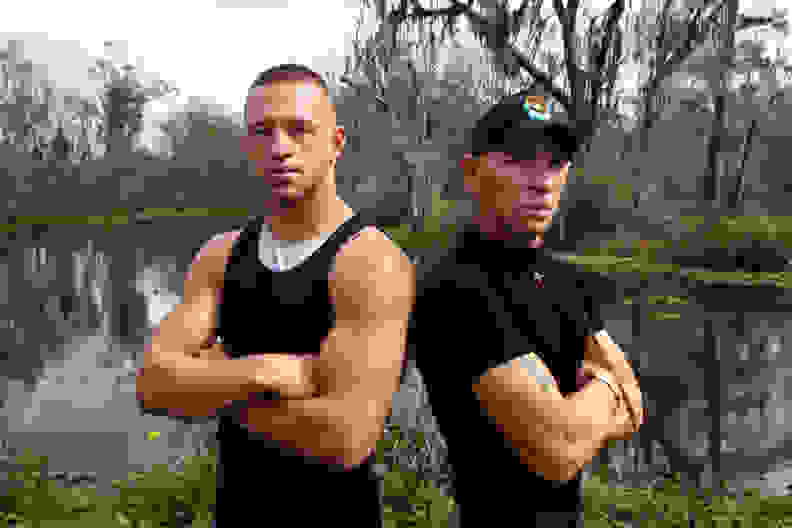 Network: History Time: 7am to 4pm
If Duck Dynasty doesn't tickle your fancy, you can always switch to the History Channel, which will offer plenty of gator hunting goodness during its nine-hour block of Swamp People reruns.
Syfy Movie Marathon
Network: Syfy Time: 9:30am to 11pm Thursday, 10am to 11:30pm Saturday, and 10:30am to 11pm Sunday
If you're a sci-fi buff, Syfy is offering up an assortment of critically-acclaimed and irretrievably mediocre movies for your viewing pleasure this holiday weekend.
Spread across three days (skipping Friday, when the channel is hosting a Helix marathon), Syfy's movie marathon includes 2001: A Space Odyssey, Star Trek Nemesis, Space Cowboys, Stargate, Poseidon, The Fifth Element, Terminator 2: Judgement Day, Blade: Trinity, 30 Days of Night, and (most worrying) The Happening.
---
---
Black Friday, Nov. 28
Alfred Hitchcock Movie Marathon
Network: TCM Time: 7:30am to 8pm
"Black Friday" has a pretty ominous sound to it, no? TCM seems to think so, since it's scheduled a slate full of Alfred Hitchcock films for consumerism's high holiday. The lineup consists of Saboteur, Shadow of a Doubt, Dial M for Murder, Marnie, The Birds, and Psycho. Get ready to get weirded out.
USA Network Movie Marathon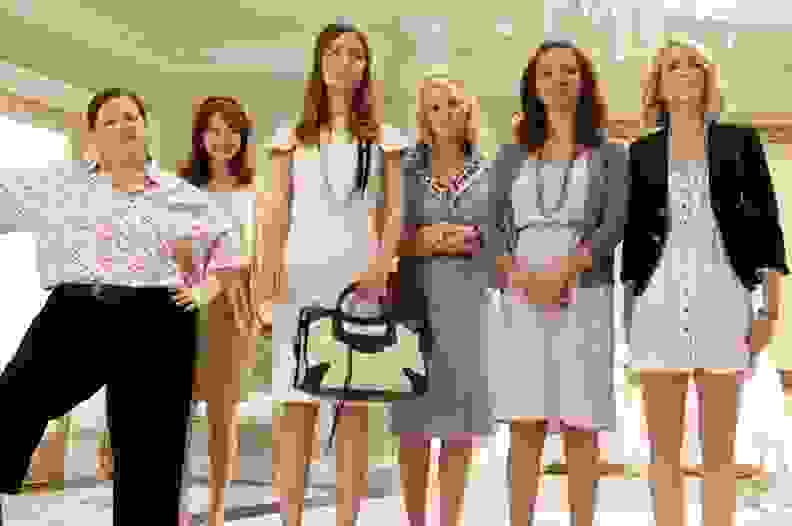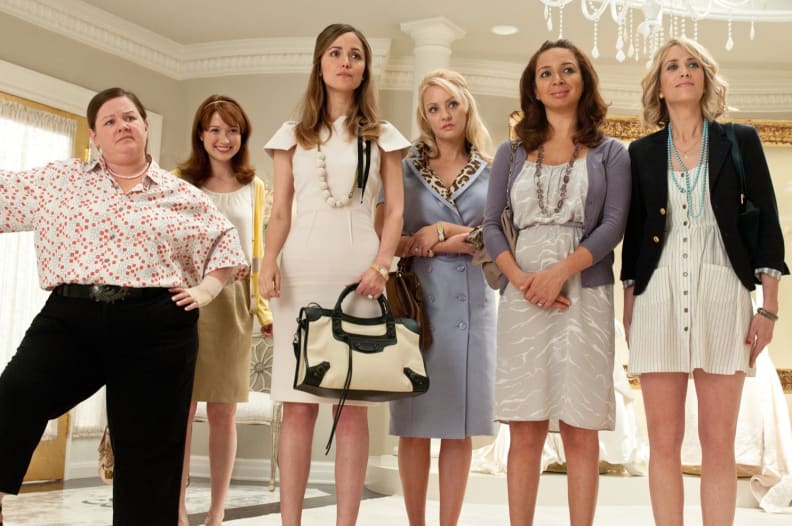 Network: USA Time: 7am to 7pm
If you're not out shopping this Black Friday, USA has cobbled together an apparently random assortment of rom-coms for your viewing pleasure. Given the vague name "Black Friday Movie Stunt" in the network's program guide, the marathon includes Bridge to Terabithia, Cheaper By the Dozen, I Now Pronounce You Chuck and Larry, He's Just Not That Into You, and Bridesmaids. (And if you somehow didn't get enough Modern Family the day before, USA is following up the marathon with five more hours of the hit comedy.)
Diners, Drive-Ins, and Dives
Network: Food Network Time: 12pm to 4am
You may still be recovering from your turkey-induced food coma, but the Food Network has no mercy. On Friday, it'll be showing 16 consecutive hours of Guy Fieri shoving his face hole full of delicious looking food. Eeesh.
Rambo Trilogy
Network: AMC Time: 11am to Midnight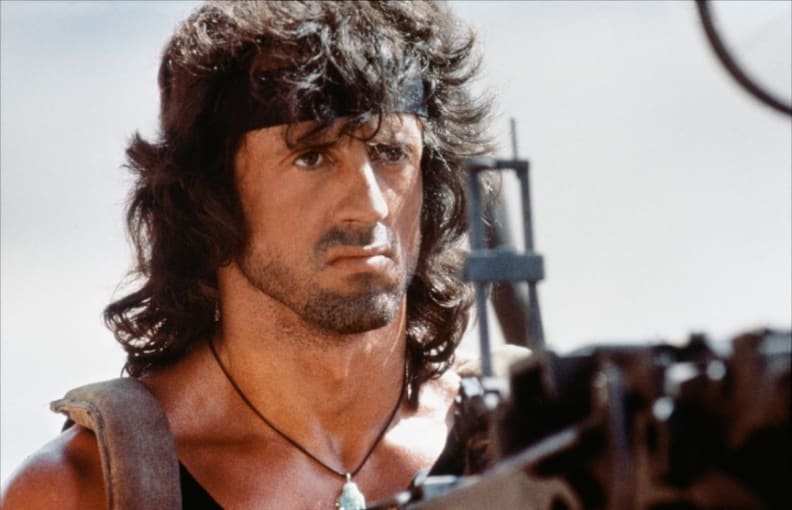 If you love Sly Stallone, then AMC has a treat for you. The network is showing all three of the original Rambo movies, repeating for 13 straight hours.
Star Trek: The Next Generation
Network: BBC America Time: 12pm to 6am
Calling all Trekkies! Instead of shopping, you can spend 18 hours following the adventures of Captain Picard and the Starship Enterprise (NCC-1701-D). Beam me up and away from these Black Friday crazies!
---
Saturday, Nov. 29
The Matrix Trilogy
Network: AMC Time: 11am to 5am
Sure, only the first one makes much sense, but at least the other two are pretty. Love 'em or hate 'em, this Saturday AMC will be playing all three Matrix films on repeat, all day Saturday and well into Sunday. Brace yourself for CGI!
NCIS
Network: USA Time: 11am to Midnight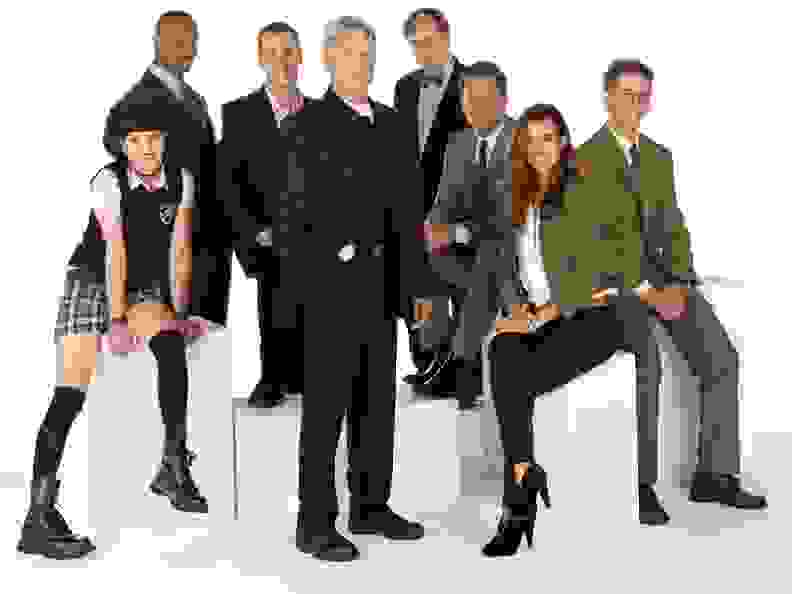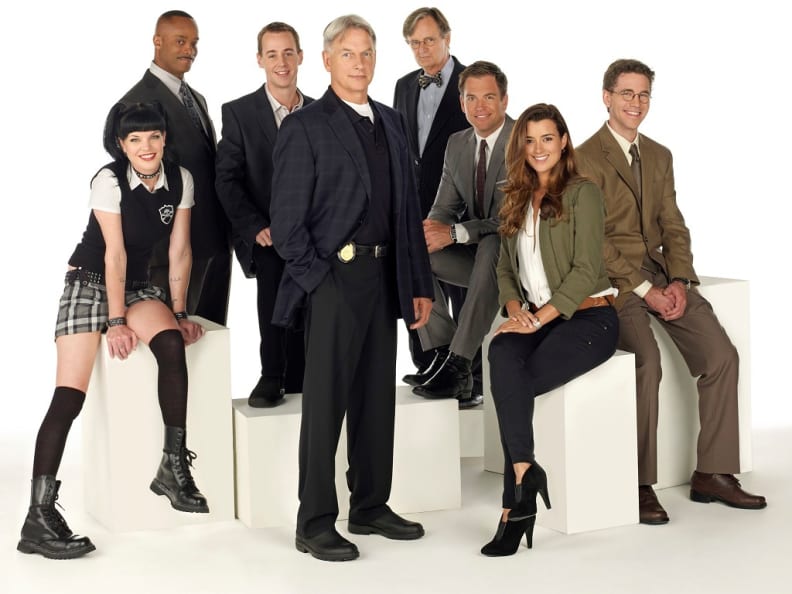 It wouldn't be a holiday weekend without another NCIS marathon on USA. The network will once again be broadcasting the adventures of Agents Gibbs, DiNozzo, and McGee on the channel that arguably made the show a success.
---
Sunday, Nov. 30
Indiana Jones Quadrilogy
Network: Spike Time: 12:30pm to Midnight
You may have to go to work on Monday, but that doesn't mean you can't take a quick field trip with Indy. You can relive the original trilogy (along with the terrible fourth film) on Spike.
Law & Order: SVU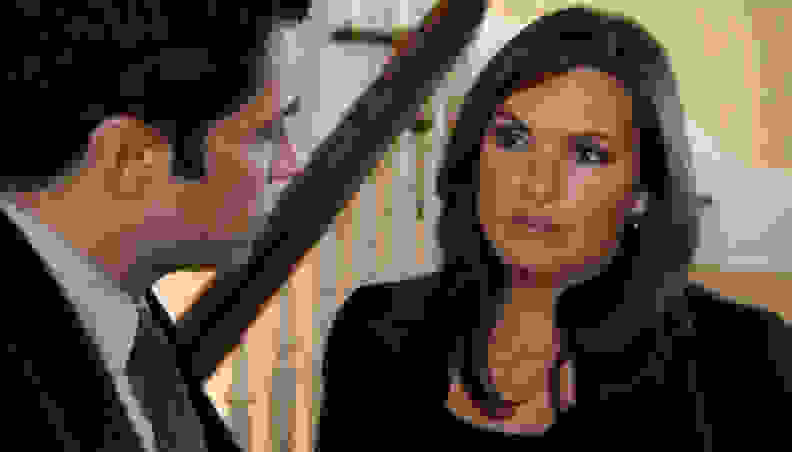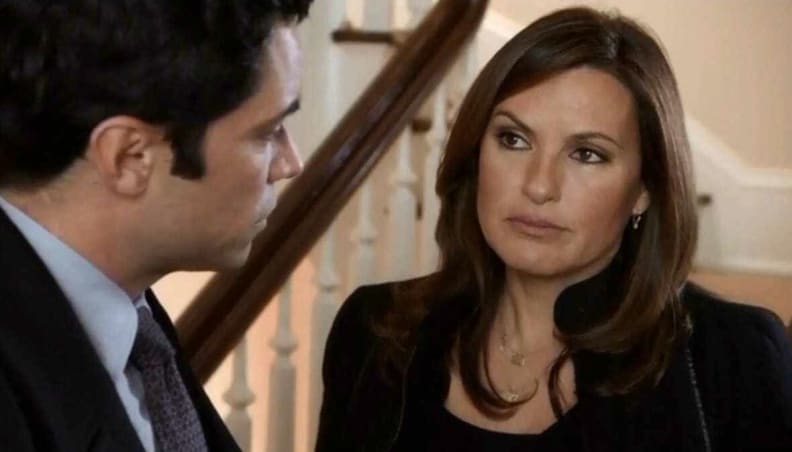 Network: USA Time: 9am to 11pm
Didn't get enough crime drama from NCIS on Saturday? Don't worry, once again USA has you covered with a heaping helping of Law & Order: SVU.
Syfy Movie Marathon
Network: Syfy Time: 10:30am to 11pm
And just in case you need more science fiction, Syfy is showing five more films, three of which it showed earlier in the weekend, including: The Fifth Element, Terminator 2: Judgement Day, 30 Days of Night, Blade: Trinity, and The Happening.
---
That's it, folks! If you've made it this far and haven't found something compelling to watch, well, I guess there's always Netflix.