Televisions
Surprise Panasonic releases more 3D products
Panasonic unveils a number of predictable 3D TVs, along with a surprising little Viera Tablet.
It should come as no surprise that Panasonic used its CES 2011 press conference to continue pushing the 3D TV boulder up the hill. From the outset, Panasonic referenced a new 3D innovation center in its Hollywood showroom, as well as its intention to help build standards for 3D accessories like glasses.
The company announced five new series of TVs, with 19 models in total. During the press conference, three series were detailed: The ST30 series includes the entry-level models. The GT30 series has a thin panel. The VT30 series will include the flagship models, and feature 24p Cinematic smoothing and a pro jack pack with ISFccc and RS-232C inputs. Finally, the new DT30 series will focus on gamers, with just two 3D models in 32 and 37-inch sizes.
Screen sizes are increasing, which addresses perfectly a problem no one had. They are, however, fixing the screen dimness problem we noticed last year.
Panasonic is also expanding its online content offerings by opening up a API for 3rd party software developers. Called the Viera Connect Marketplace, the usual suspects have already been announced: Tweeter, Skype, MLB, NBA Hulu, Facebook, and other popular media services. They demoed a cool looking car racing game and Body Media, a health monitoring device that connects to an arm band, which failed to work at the time of the event. (Sorry, Panasonic. It happens.)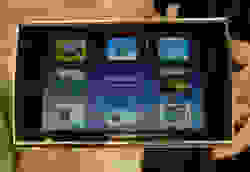 Panasonic also could not help but be seduced by the allure of the tablet, CES 2011's top trend. The Viera Tablet will function as an extension of a Panasonic television. Available in screen sizes between 4-10 inches, the Tablet will be able to stream video and take advantage of cloud-based apps in the new Viera Connect Marketplace. It also functions as a giant, expensive remote control.
In the end, it appears that Panasonic managed the hat trick of hitting all three buzzwords: "3D," "cloud," and "tablet," proving that they have just what it takes to follow the pack.