Vacuums
Shark Vacmop Review
I almost enjoy cleaning my floors, thanks to this cordless vacuum mop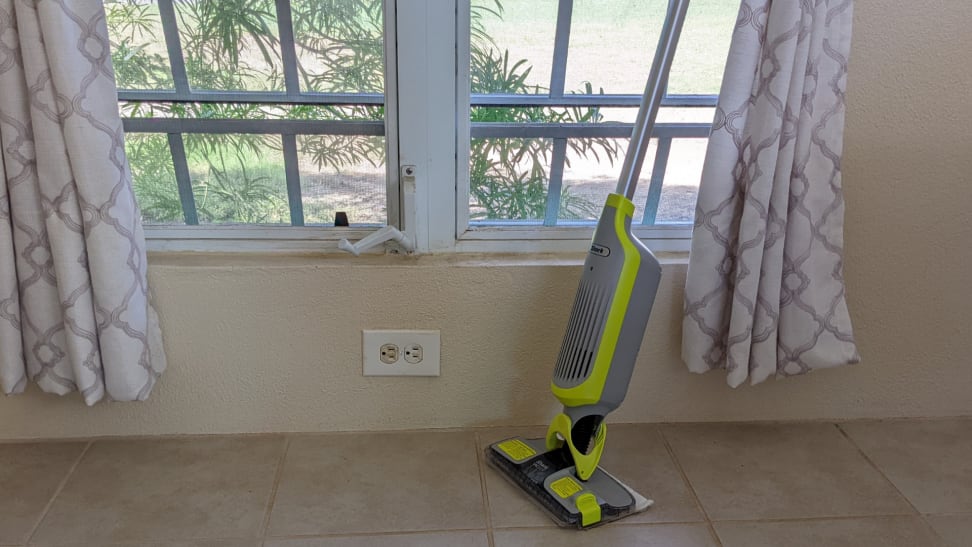 Credit: Reviewed / Amy Roberts
Shark VacMop Pro

Pros

Makes hard-floor cleaning tidy and convenient

Easy to maneuver

One-hour battery life per charge

Cons

Not the most eco-friendly

Has recurring costs
My scruffy dog, Gus, and I share an unair-conditioned, single-story home in the Caribbean that has approximately 1,750 square feet of tile floors. This is worth mentioning up front because a) my ground-level windows are never closed, b) there are tumbleweeds of dog hair (and occasionally muddy pawprints) everywhere, and c) someone tracks in beach sand at least once a week. Keeping these floors truly clean would be a full-time job, and I already have one of those.
Instead, I let my robot vacuum do its thing a couple of times a week and wear house shoes—which sometimes end up outdoors, oops—to keep from feeling the grit under my bare feet.
Less frequently than I should admit, I haul out my Karcher floor cleaner. (Why don't I have a cordless vacuum already?!) In my defense, for as well as the Karcher works, it feels like a production to use. I feel compelled to sweep up the "Gus bunnies" first, the machine itself is heavy to maneuver and requires its own cleanup, and the tile gets dirty again faster than the inevitable rainstorm after you wash your car. (Thanks, Murphy's Law.)

Then my sister-in-law—and mother of two boys under the age of 4—introduced me to the $80 Shark VacMop, and my floor hygiene (if that's a thing?) will never be the same.
What is the Shark VacMop?
If a cordless stick vacuum cleaner and the Swiffer WetJet had a baby, the Shark VacMop would be that progeny. It's a rechargeable, cordless stick vacuum with an on-board floor-cleaning solution that fulfills the function of a mop.
Basically, it's a cordless vacuum mop. The disposable head traps in the sucked-up debris—so there's no dust bin to empty—and swabs the floor with a Swiffer-like cloth pad. With a press of a spray trigger, it becomes a wet mop to wipe up stains and grime. Once the Shark VacMop pad is too dirty/frayed/full of dust, you pop the whole thing off and into the garbage.
What I like about the Shark VacMop
It's crazy convenient
One of my biggest complaints about cleaning is that it often feels like so much effort. (I know, it's called a "chore" for a reason.) But, with tile floors as opposed to carpeting, I have to both sweep and mop, which means two sets of tools. The Shark VacMop does both in one swoop—or one at a time, if you prefer—and it's not that heavy or large, so it's not a hassle to haul out.
The head also maneuvers around furniture and right up in the corners of the walls, and even under things, like the perimeter of the couch and the kitchen cabinet toe kicks.
The only hitch is that you need to keep the Shark VacMop charged—it lasts about an hour on a full battery—and have a stash of replacement heads and floor cleaning solution on hand.
The cordless vacuum mop itself is tidy
Another of my cleaning complaints is the clean-up after you finish cleaning up. As much as I adore my robot vac for its passive cleaning, I don't enjoy dumping the dust bin, and I really don't enjoy having to periodically disentangle dog and human hair from the rotating brush head. The Karcher floor cleaner requires me to launder its rotating roll, which is kinda gross to wash with my other laundry.
Conversely, the Shark VacMop's head collects all the mess in one disposable piece, and the entire thing releases with a press of a single button—I don't even have to touch the dirty side.
What I don't like about the Shark VacMop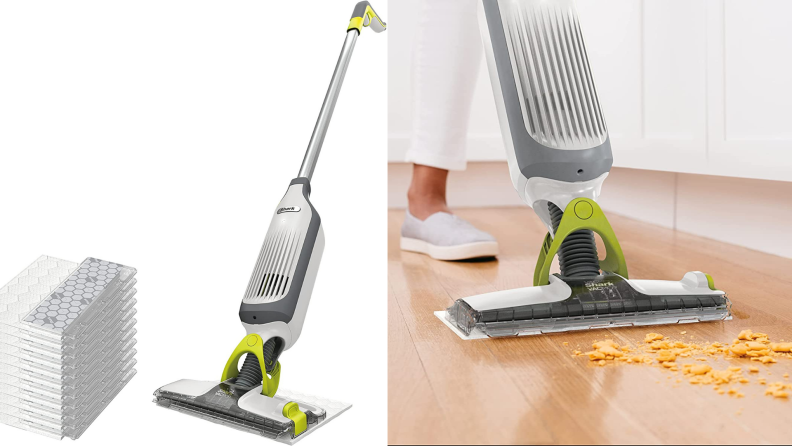 It's not super eco-friendly—or a one-time-only expense
The disposable Shark VacMop pads are really nice for cleanup, but less nice for the landfills. At $0.80 a piece, the operating cost also isn't cheap—and roughly twice the cost of the Swiffer WetJet refills, though you only get one use from each of those, and I can use a Shark pad for up to a week of spot or area cleaning or one full-house pass.
You also have to refill the Shark Multi-Surface Cleaning Solution, for which Amazon charges about $10 for 2 liters, or roughly $0.15 per ounce. But, it's good stuff: Our cleaning experts at Reviewed tested it among the best hardwood floor cleaners and found it performed nearly as well as the top picks. The solution itself delivers an environmentally friendly promise, with its Greenguard Gold Certification for having low chemical emissions.
This cordless vacuum mop is not totally intuitive
This may be a "me" problem, but I cannot for the life of me keep straight which button does which function. The trigger for the vacuum is on the back of the handle, while the spray button for the cleaner is on the top, and I invariably spray when I mean to dust-bust—or the other way around. (Yeah, it's probably me.)
Should you get a Shark VacMop?
Let me put it this way: I've only had the thing for about a month and have already recommended it to no fewer than five of my friends, and I added the replacement heads and cleaning solution to my Amazon Subscribe & Save for a 15% discount.
If you have hard floors like mine, I can't recommend it highly enough for day-to-day maintenance cleaning.
The product experts at Reviewed have all your shopping needs covered. Follow Reviewed on Facebook, Twitter, Instagram, TikTok, or Flipboard for the latest deals, product reviews, and more.
Prices were accurate at the time this article was published but may change over time.
Shark VacMop Pro

Pros

Makes hard-floor cleaning tidy and convenient

Easy to maneuver

One-hour battery life per charge

Cons

Not the most eco-friendly

Has recurring costs