The Best Smartwatches of 2019
By Seamus Bellamy, Updated August 15, 2019
Wearing a smartwatch is a great way to stay on top of the news, your calendar events and social media without ever having to pull your smartphone out of your pocket. That means you'll spend less time being distracted by attention-sucking apps and more time living a well-focused, well-informed life.
After spending weeks researching and testing the best smartwatches available, I can tell you that the Apple Watch Series 4 (available at Amazon for $349.00) is the best smartwatch you can invest in, right now. Unfortunately, if you're an Android user, the Apple Watch isn't compatible with your phone. If you're looking for a well-designed smartwatch with reasonable battery life, smart user interface and an absolutely gorgeous display, look no further than the Samsung Galaxy Watch (available at Amazon). It's an excellent wrist-worn computer that'll serve you well.
These are the best smartwatches we tested ranked, in order:
Apple Watch Series 4 smartwatch
Samsung Galaxy Watch
Garmin Vivomove HR smartwatch
Fossil Explorist HR smartwatch
Mobvoi TicWatch Pro smartwatch
Withings/Nokia Steel HR smartwatch
AmazFit Bip smartwatch
LG Watch W7
Advertisement - Continue Reading Below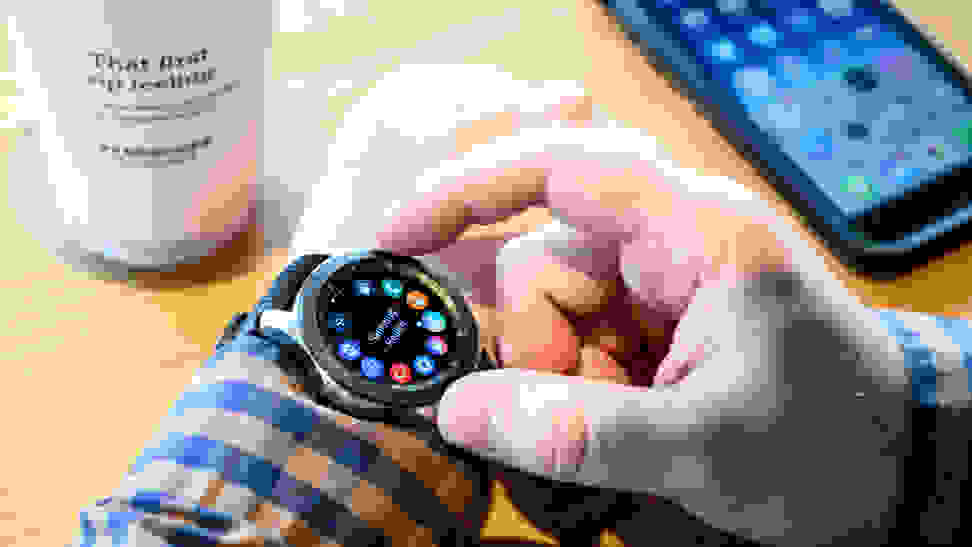 The Tester
My name's Seamus Bellamy. I'm Reviewed's Updates Editor and I have a terrible memory. To help me navigate all of the things I'm doomed to forget, I've worn a smartwatch, every day, for the past six years. My current daily driver is a Garmin Tactix Charlie (which isn't included in these tests as it's something of a niche device). It reminds me about upcoming meetings, when to swallow medications and notifies me of new messages and email. I don't think it'd be hyperbole to say that it allows me to be a mostly functional human being. I understand the value of a smartwatch and what goes into making a good one.
The Tests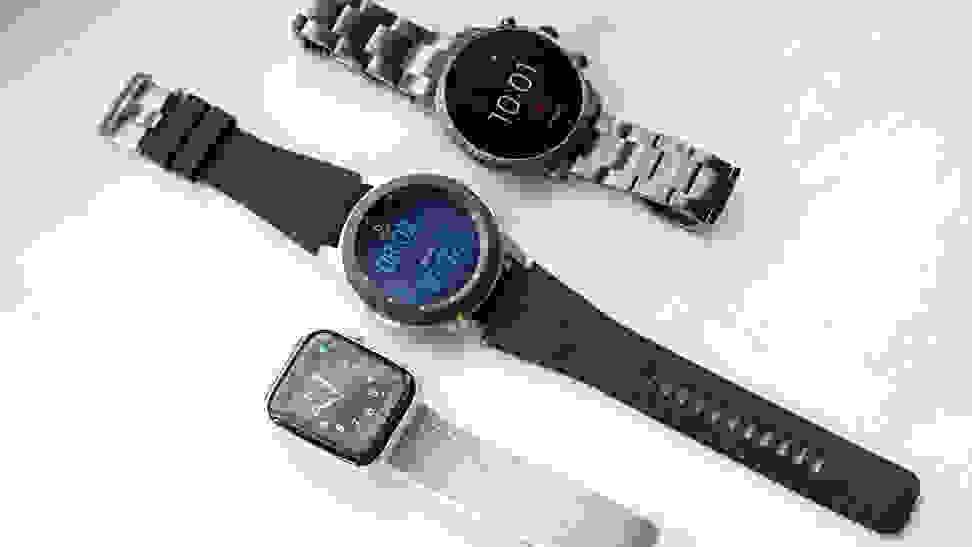 There's a lot of smartwatches out there! Before I could even think about calling anything in to test, I had to think about what, potentially, can make a smartwatch great and which features most people are better off avoiding. To get started down this road, I hit the internet to see what my colleagues at sites like TechRadar, CNET and Tom's Guide recommended. This informed me of what's new and well-reviewed. I took what I learned from my colleagues and, along with my experience as a long-time smartwatch user, began to build a profile of what a great smartwatch should look like.
Like the smartphones they're designed to tether with, smartwatches are becoming more competent and, consequently, more complicated. Many allow folks to customize their user experience with downloadable apps and watch faces. Some high-end models come packing perks like onboard GPS navigation and cellular hardware that'll allow you to find your way and stay in touch via text message and phone calls, without having to carry your smartphone with you. Because of the wide variety of digital wrist candy options out there today, we decided that no matter what amazing things a smartwatch can do, in order for us to recommend it, it needed to do a few basic things well:
It should be built well and capable of standing up to casual abuse.
It should be fashionable enough that you'll actually want to wear it
Its user interface should be easy to navigate
Its display should be visible in direct sunlight
It needs to provide enough battery power to get you through the day
It shouldn't cost more than your smartphone
Beyond these basics, I also paid attention to whether or not each smartwatch in our guide had access to downloadable apps and, where they did, if the apps were actually useful. I paid attention to how quickly each smartwatch responded to my commands, whether its speakers and microphone worked well for use in a hands-free conversation (where applicable), and if the watches I was testing provided the at-a-glance information that I needed, quickly enough to make leaving my smartphone in my pocket seem worthwhile.
Finally, what a smartwatch doesn't do is just as important as what it's capable of: I took note of how much unnecessary information each wearable pumped out for me to review—and how easy it was to decide which notifications I wanted to see and which I'd be happier not hearing about until I took my smartphone out of my pocket.
Each smartwatch was worn and tested for four days, from the time that I woke up to the moment I turned in for the night. For watches that boast compatibility with both Android and iOS operating systems, I wore the watch for four days, for each platform. Testing was conducted using an iPhone 7 Plus and a OnePlus 6T for iOS and Android compatibility-testing, respectively.
What About Fitness Functionality?
While all of the smartwatches in this guide offer some level of fitness tracking, I didn't take their health and monitoring capabilities into consideration as part of my research, for a number of reasons. First, Reviewed's guides to the Best Fitness Trackers and The Best Running Watches cover using wearables to track your health in a more considerate, comprehensive way than I'd have the expertise to provide. If you're looking for a smartwatch or other wearables that'll help you keep tabs on your health, I strongly suggest checking them out. Second, I've got a lot of experience in keeping people safe and patching them up when things go wrong. But telling you which smartwatch can most adequately meet your health monitoring needs is something that you should discuss with your doctor, not some fella trying to steer you towards a great smartphone accessory.
Terms You Should Know
I talk about a number of different smartphone and wearable device operating systems in this guide. For someone that doesn't think too much about what goes on under the hood of the devices they use on a daily basis, these names won't necessarily matter. However, if you're shopping for your first smartwatch, understanding a few names and definitions will help you better decide which smartwatch is best for you.
Android: Google's open-source Android operating system runs the majority of the smartphone handsets in the world (although you can also find it used to operate some tablets and laptops, too.) Popular handsets such as the Google Pixel 3a, the Samsung Galaxy 10 and OnePlus 7 Pro use Android.
iOS: Apple's iOS operating system, is the backbone of what makes an iPhone or iPad tick. Without it, all those apps that you use to stay productive and, sometimes, fritter away your time with, wouldn't be able to work. This fall, Apple will be branching off a flavor of iOS into a totally new operating system, specific to their family of iPad tablets called iPadOS.
Wear OS: When Google first offered an operating system for wearable devices, they called it Android Wear. This made sense, as it was an iteration of the company's Android operating system, designed specifically for wearable devices. However, for some, the name was confusing as most people know Android as the operating system that runs their smartphones. Recently, Google changed its wearables operating system's name to Wear OS, in an effort to keep things simple. You'll find it running on a number of the smartwatches featured in this guide.
Watch OS: Apple's operating system for the Apple Watch is called Watch OS. Watch OS is based on the company's iOS operating system, sharing many of the same features and visual elements. However, it's been optimized for use on the Apple Watch's small display and to leverage its health monitoring, notification and other features that make the wearable the great piece of hardware that it is.
Tizen OS: Tizen OS is a flexible, Linux-based operating system, that can be used in a wide number of hardware categories including smart TVs, some smartphones sold outside of North America and of course, smartwatches. The OS, developed and primarily used by Samsung, was designed by the company in an effort to reduce its dependence on Google's Android OS. When used in Samsung's Galaxy Watch, Tizen OS is a powerful, easy-to-navigate operating system that most users should find easy to use. Unfortunately, at the time that this guide was written, both Watch OS and Wear OS offered significantly more apps than Tizen OS does.
A Word on Wear OS and Tizen OS iPhone Compatibility
Wear OS devices and Samsung's Galaxy Watch, which runs on a Tizen operating system, are designed for use with Android smartphones. However, they're also compatible with iOS devices—although the user experience is less than stellar. With the Galaxy Watch, for example, I found that I could receive text message notifications from my iPhone, but was unable to respond to them. The same goes for email.
As such, for iPhone owners, I recommend staying away from wearables that run on Google's Wear OS or Samsung's Tizen operating systems. They'll work with your smartphone, but they won't work well.
If you're interested in a wearable that straddles both platforms with equal aplomb, check out Garmin's smartwatches, like the Vivomove HR. While they're deeply sports and activity oriented, their smartphone integration is consistent across iOS and Android.
---
Other Smartwatches We Tested
Other Stories You Might Enjoy
Advertisement - Continue Reading Below