In just a few short years, the wearables market has exploded to include a huge array of fitness bands, smartwatches, sleep monitors, and even real-time speech translators. There are some issues, of course—the most obvious of which is that there are simply too many of them. It's hard to pick one out from the pack and be confident that it's right for you.
Casio isn't trying to fool anyone with its new Smart Outdoor Watch. The company isn't advertising it as an all-in-one smartwatch solution, or even something that you need to be wearing all the time. Instead, it's concentrating on a specific lifestyle. The WSD-F10 is targeted at people who spend a lot of time in the great outdoors, specifically those who enjoy hiking, cycling, and fishing.
A winner of Reviewed.com's coveted Editors' Choice Award, the Smart Outdoor Watch manages to tap into an appeal that most wearable manufacturers have overlooked: real, practical value.
Design
The Casio name doesn't exactly conjure up thoughts of high-end, breathtaking design. While the Japanese manufacturer has produced a number of iconic watches—namely, the 1974 Casio Tron and the 1984 Databank calculator watch—it's also known for its cheap electronics.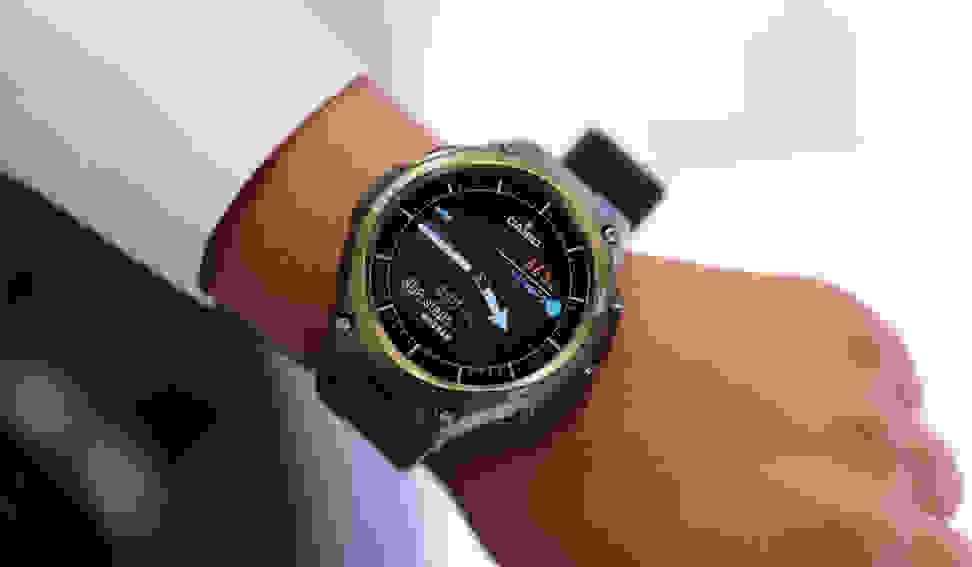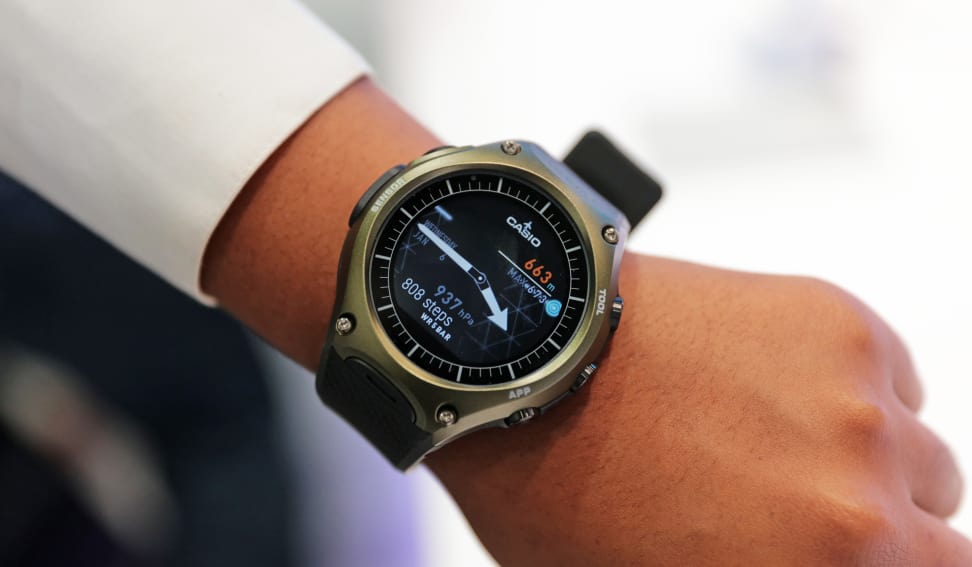 The Smart Outdoor Watch may shatter that impression. It's rugged, durable, and well-designed, with an interface that manages to be both elegant and practical. We had a chance to get our hands on one at CES, and while there were some unfortunate bugs (see below), the overall look and feel of the watch was convincing. It's quite large, and not at all concerned with hiding its various buttons and sensors, but keep in mind this thing is meant for the outdoors—not a business lunch.

The watch frame looks like something Casio might have made in the 80s or 90s, but that's not necessarily a bad thing. The build is solid, including a hefty bezel that features a metered dial for use with the watch, GPS, and compass features. The wristband is made from a soft urethane plastic that's plenty comfortable.
We really appreciate the dual-layer monochrome/color LCD display (again, see below), not merely for its pragmatic functionality but also for its aesthetics. More watches need to have this feature, whether they're built for the outdoors or not.
Features
There's a lot to digest here. While the WSD-F10 was designed with a specific purpose in mind, it still comes packed with a lot of features and applications. First, let's walk through the interface.
The layout is boilerplate Android Wear, and includes a command center with familiar widgets (weather, email, texts, etc). There's the TOOL button, which displays some of that critical "outdoorsy" data—details like compass direction, air pressure, altitude, tide graphs, "activity graphs," and times for sunrise and sunset. And there's the APP button, which, well... you can figure out for yourself what that button does.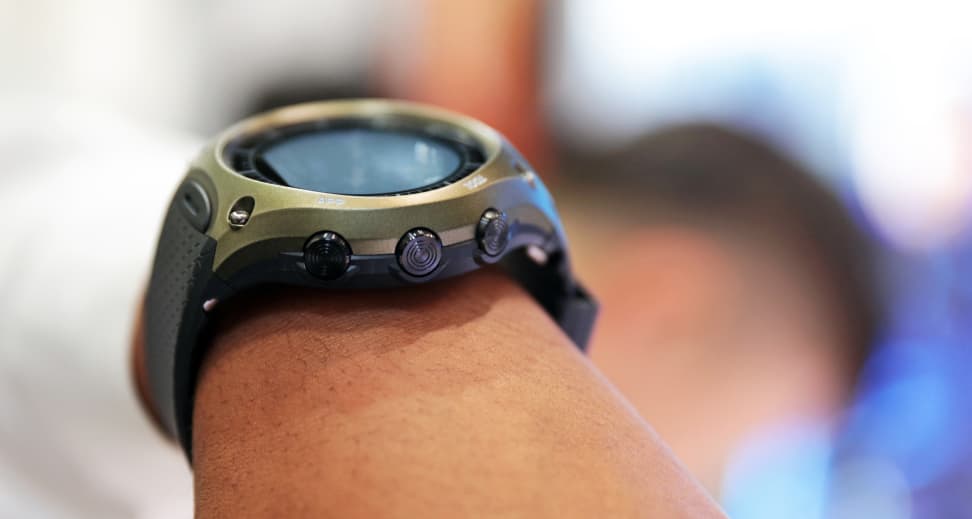 The dual-layer monochrome/color LCD display is the biggest innovation here. In short, when the WSD-F10 is connected to your smartphone, it functions as smartwatch, displaying data, apps, notifications, and other smart functions in color. In that mode, you can expect the battery to last about a day, like other smartwatches. Break the connection and it reverts to Timepiece Mode, which displays basic watch info in monochrome and boosts the battery life to around a month.
Casio built the watch to comply with U.S. military standards.
Casio even built this thing to comply with military standards outlined by the U.S. Department of Defense. That means it can handle drops, vibrations, and other stresses you'll encounter in the great outdoors—and it's water resistant up to 50 meters.
The company is pretty clear about how this watch should be used, but oddly specific regarding its value for trekking, cycling, and fishing. So let's find out why:
• Trekking: The WSD-F10's on-board sensors allow you to measure direction, altitude, and atmospheric pressure, which means you can monitor and perhaps even predict weather changes. Included apps include MyRadar and ViewRanger, for enhanced functionality.
• Cycling: The watch can display travel speed, distance, and time without the need for a smartphone. You can use the mic to state your destination and get a custom route or alter an existing one. The Runkeeper app is included to help record running, cycling, walking, and hiking data.
• Fishing: The included sensors and apps monitor atmospheric pressure, tides, and sunrise/sunset times to predict the movement of fish. The watch can automatically crunch this data to tell you the best times for fish activity, and notify you when that will be.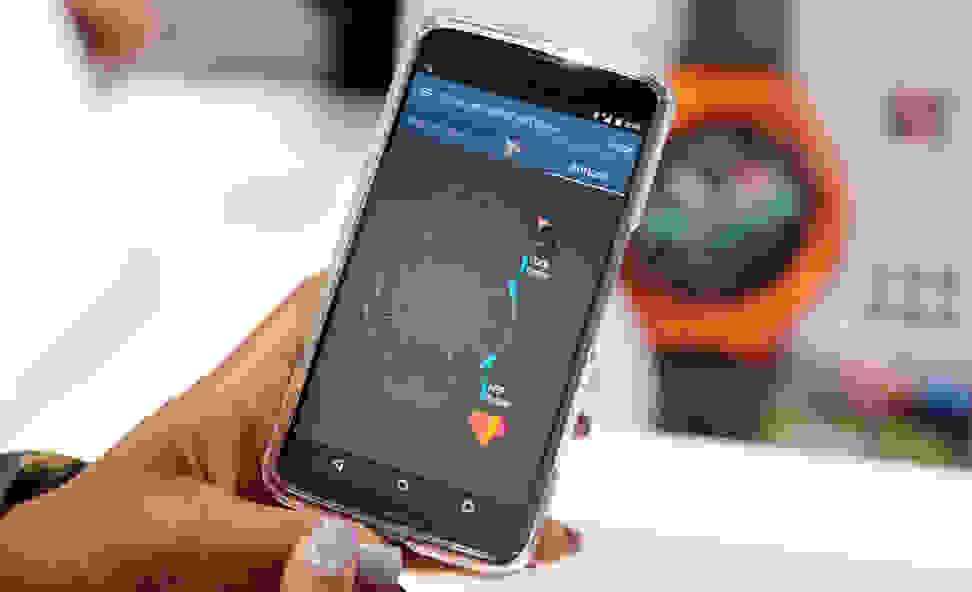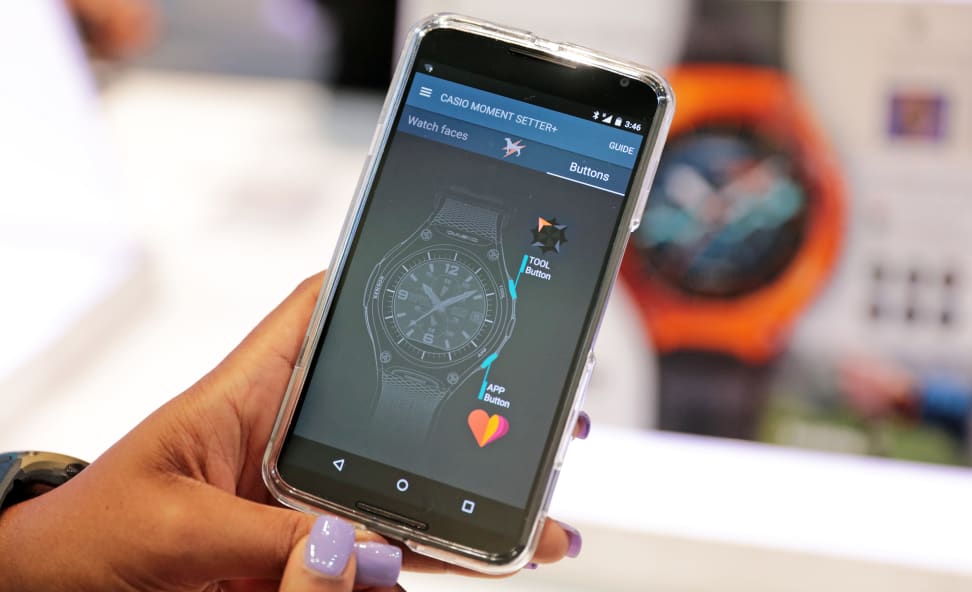 Handling & Usability
Despite its impressive features and smart design, the Smart Outdoor Watch proved a little buggy during our hands-on time. We played around with a few watches at the Casio booth, and each one managed to crash, freeze, or stutter at least once. Some of this may be due to ongoing issues within the Android Wear OS, and some of it might have been bad luck, but it was annoying nonetheless. Many of the wrinkles will indubitably get ironed out by the time this thing ships, though.
The interface is a labyrinth of menus and options.
Navigating the watch's various menus and functions wasn't the most intuitive experience. Two of the three physical buttons are labeled (TOOLS and APP), but the center one is not, and it left us a bit confused as to what it does. A brief inspection of the instructions could clear that up in a snap, but this is 2016! Ain't nobody got time for that!
There are a lot of menus, and each one seems to be accessed from a different platform. The touchscreen, while highly responsive, is used to swipe every which way, giving the impression that you're in a labyrinth of menus and options. I'm sure it will all make sense after some significant hands-on time, but it's safe to say that you can't just pick this thing up and go—especially if, like me, you've never owned a smartwatch. Then again, smartwatches in general aren't exactly intuitive yet.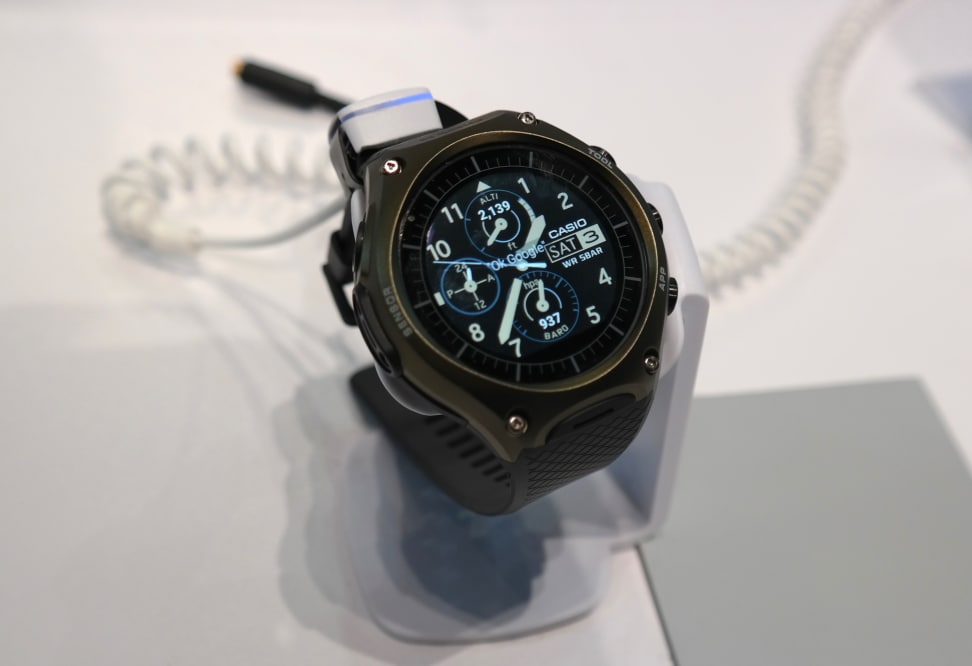 A Watch in the Woods
Casio really put its all into its newest smartwatch, and the effort shows. For a company that hasn't been on the forefront of tech innovation in a long time, the Smart Outdoor Watch breaks surprising new ground. It's not trying to be the umbrella solution that the Apple Watch claims to be, nor is it tapping into the nauseatingly overcrowded fitness band market—it's addressing a specific lifestyle that hasn't gotten a ton of attention thus far.
While it may suffer from some temporary bugs—not to mention the usability issues endemic to most smartwatches—the WSD-F10's intense focus is perhaps its greatest asset. Casio plans to ship the Smart Outdoor Watch this April, for a suggested retail price of $500.
Related Video
Our editors review and recommend products to help you buy the stuff you need. If you make a purchase by clicking one of our links, we may earn a small share of the revenue. Our picks and opinions are independent from any business incentives.