Beauty
People are obsessed with magnetic false eyelashes—are they really worth it?
Spoiler alert: I won't be trading in my conventional falsies any time soon.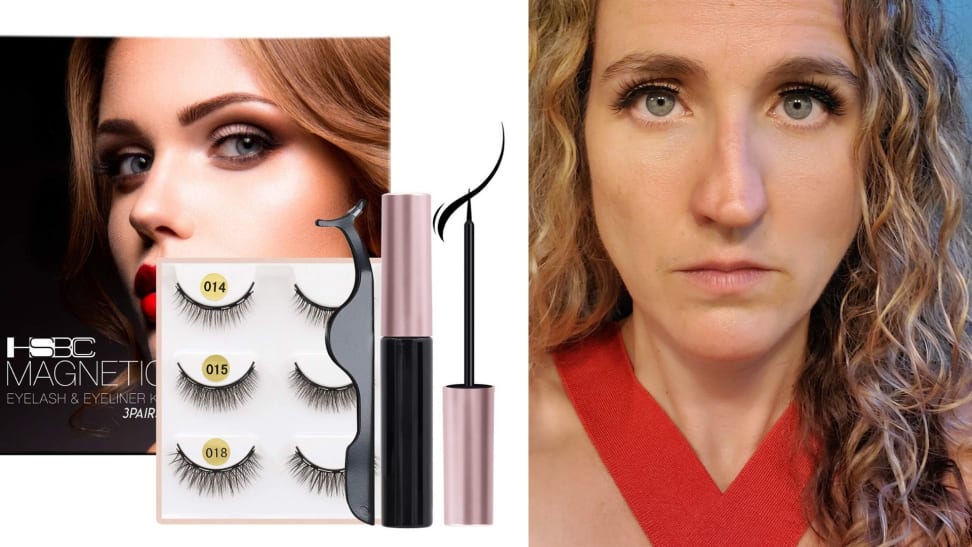 Credit: Coolours / Amy Roberts
Most of the time I'm pretty low-key (read: lazy) in my makeup routine. On the days that I wear any at all, the first—and often only—cosmetic I'll reach for is mascara. But when I do it up, my favorite special-occasion makeup accessory is a pair of false eyelashes. Over the years, I've become adept at the process: applying liquid black eyeliner and a light coat of black mascara (so my own brown lashes don't clash), then the adhesive, then the fluttery fringe, so that the additional lashes look reasonably natural—or, at least, not sloppy.
My Instagram feed somehow learned this about me, and I've been getting a slew of ads lately for magnetic eyelashes—the kind that adhere to an iron-containing liquid eyeliner. (Another type uses two strips of lashes that magnetically clamp around your own lashes, but I've read these can tug at the lash line and even damage delicate hair follicles—no thanks.) These brands, with their Instagram ad budgets, cost way more than I'm willing to spend on such a frivolity ($75!).

So I did what any frugalista would do and searched Amazon for a less pricey pair to try. And that's where I found the
Coolours Magnetic Eyeliner and Eyelashes kit
.
Why I chose the Coolours Magnetic Eyeliner and Eyelashes
The Coolours set comes up among the first hits on Amazon, having earned a solid 4.3 rating from over 2,200 reviews. The happy customers rave about the ease of application and include photos of their flirty, fluttery eyes. The negative reviews appear to be mainly complaints of the lashes not adhering well, rather than horror stories of eye or skin irritation (which I read in reviews of other similar products). Frankly, I chalked their complaints up to user error. At $18 for a set a three, they seemed a worthy gamble.
Soon after my Coolours arrived in their tidy little box, an appropriate occasion to wear them presented itself: a pre-Valentine's Day party hosted at a tiki-themed bar. I was pumped to put my own skills to the test, so I opened the Coolours kit and set to work.
Trying the Coolours Magnetic Eyeliner and Eyelashes—take 1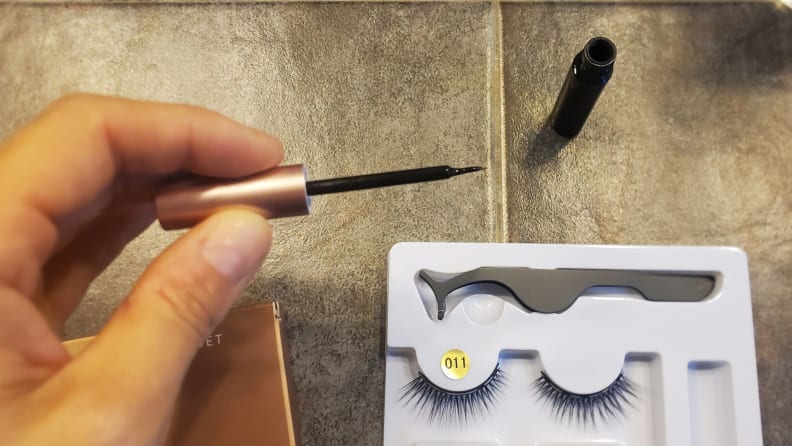 The instructions seem simple enough: Shake the eyeliner tube 10 to 20 times, apply it along the upper lashes and wait a minute for it to dry, then "absorb the magnetic eyelashes onto the eyeliner" using the included tool (which looks like a cross between tweezers and an eyelash curler) or your fingers.
Designed like many liquid liners, the Coolours eyeliner comes in a tube with a skinny brush wand. It applied in a clean, even line (more so than I expected), though admittedly this is a makeup skill I've mastered. I did both eyes in less than a minute, then swiped a light coating of black mascara on my own lashes, and began waiting for it all to dry.
The eyeliner has a sheen to it, so it's hard to tell by sight when it's fully set. I tapped my finger on one eye and found it still tacky at the one-minute mark, so I waited another before attempting my first eyelash. I chose the least dramatic length of the three, which is still more lush than my usual falsies. The eyelashes look similar to the glue-on kind, but with small, narrow magnets spaced out along the rim for anchoring them in place. After briefly considering the applicator tool, I opted to use my fingers, which have always worked fine with standard glue-on eyelashes.
It didn't work. The eyeliner was not, in fact, fully dry or applied in a wide enough line (oops), so the magnets only stuck at the center of my lid, with the ones on the ends sticking up. I pulled the eyelash off and went in with more ink. To give it plenty of time to set, I finished getting ready, walked my adorable dog, Gus, and waited until the last possible moment to affix the fringe.


It still didn't work. As some Amazon reviewers complained, the eyelashes refused to lie flat at the inside corners of my eyes. The whole thing also seemed too long for my lash line, extending past my eyes' outer corners. Annoyed (and now more than fashionably late to my party), I took them off, loaded on my favorite volumizing mascara, and headed out. For what it's worth, the eyeliner looked fine on its own, so at least I didn't have to start my eye makeup from scratch to appear presentable.
Trying the Coolours Magnetic Eyeliner and Eyelashes—take 2
In the name of science (and because of the possibility of user error), I had to try again. So, on the afternoon my draft was due, I whipped out the eyeliner to tackle just one eye (for less cleanup later—I'm lazy, remember?). I drew a much thicker and longer line than last time, starting at the very inside corner and winging it out at the end. I waited extra-long for it to dry—at least the length of time it took me to write several of the above paragraphs.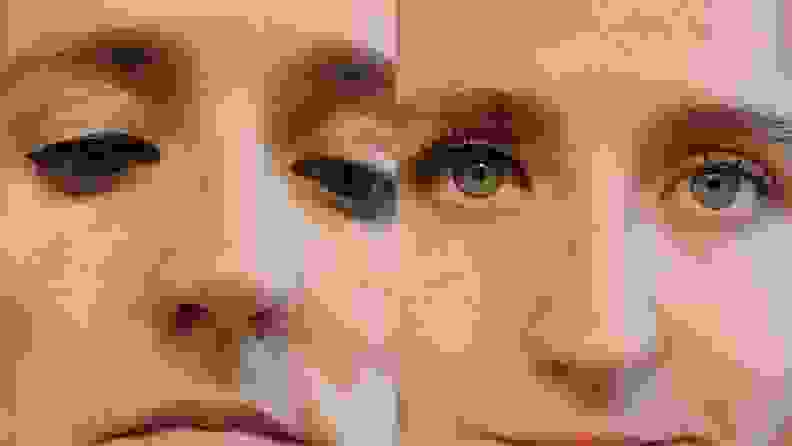 Victory! The eyelash popped right into place—surprising me, in fact, with how flush and even it looked. The wider line I'd painted gave the magnets the surface they needed to stick. The eyelashes felt heavy at first—much heavier than the glue-on falsies, though they are also fuller and longer than my usual. My eyes also felt lopsided so, given the unexpected success, I did my other eye, too. I wore both for several hours, and the lashes didn't budge. Color me impressed.
Removing the Coolours magnetic eyelashes and eyeliner
The lashes themselves pull off without too much effort, though they peel up magnet by magnet, which could warp the edge. I wonder how many uses the lashes will have, though they claim to be reusable.
Given the wide, thick line needed, I expected the removal process to be lengthier and/or messier than regular liquid liner. Both times, my old-standby coconut oil did the trick, albeit with a few more passes. Rather than dissolving, the eyeliner peels and pills off, which took some rubbing. You may also need to scrape it with a fingernail from the magnets on the lashes themselves.
Are Coolours Magnetic Eyeliner and Eyelashes worth it?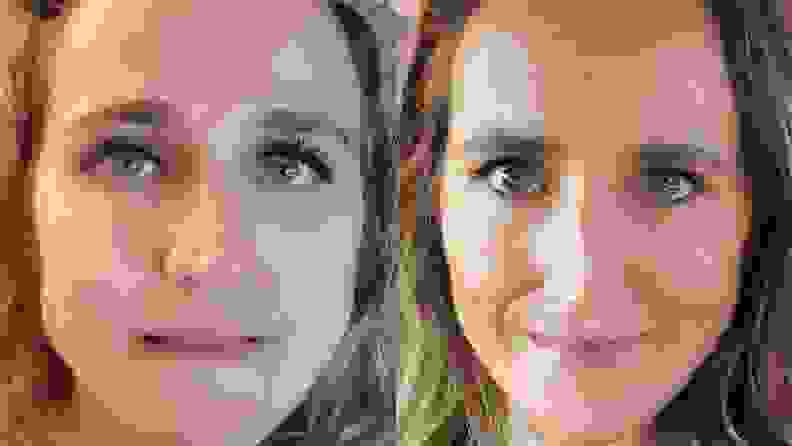 The kit I selected cost $18 for three pairs of lashes, a tube of eyeliner, and that weird applicator tool. The eyelashes are reusable, though it remains to be seen how many times, or how long the eyeliner tube will last before running out or drying up.
For me, even the least lush pair was a little too dramatic, so I can't see any occasion for which I'd wear the two fuller, longer pairs. Also, I found I had to apply a very thick line of the eyeliner, which isn't always a look I'm going for. That said, if you have a steady hand with liquid eyeliner, these are easier to use than adhesive lashes, which have a steeper learning curve and can be fussy to get into place.
On the other hand, a single pair of adhesive falsies only costs a few bucks and they come in more subtle, versatile styles. For my money, time, effort, and frequency of use, that type fill my bill.
The product experts at Reviewed have all your shopping needs covered. Follow Reviewed on Facebook, Twitter, and Instagram for the latest deals, product reviews, and more.
Prices were accurate at the time this article was published but may change over time.