camcorders
Canon HV30 Camcorder Review
The Canon HV30 is the replacement model for the HV20, winner of our 2007 Camcorder of the Year award.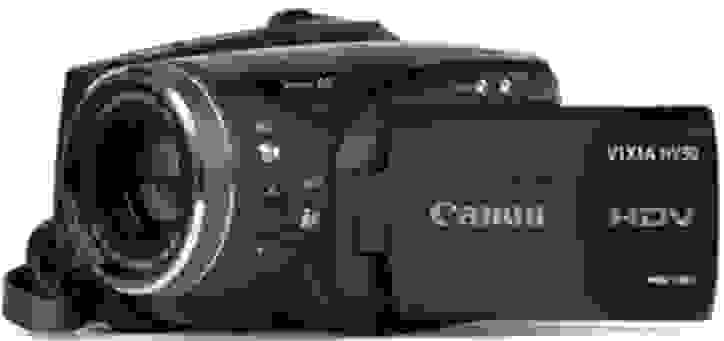 Performance
Video Performance* (10.75)*
The Canon HV30 is equipped with a 1/2.7-inch CMOS sensor with a gross pixel count of 2,960,000 (effective pixel count 2,070,000 in 16:9 and 1,550,000 in 4:3). Processing is done by the DigicDV II processor. This is the same system as most of their high definition line, including the HV20, the HV10, the HG10, and the HR10. On the whole, Canon enjoyed a banner year in 2007. Their imaging system proved to produce the best looking picture in whatever media category they entered. No one stays on top forever, but simply duplicating their system for certain 2008 models is not a bad course of action.
1080i
At an even 3000 lux, the HV30's was once again very, very good. The crispness and lack of noise once again impressed us, and serves as a reminder that the AVCHD codec still has a ways to go before it can match HDV for unwanted compression artifacting. Not that the HV30 is artifact-free. HDV has its own issues, particularly with a lot of detailed motion. Even in a static shot, you'll see some pixel-block groupings around areas of fine detail, but you really have to look closely. In a gross comparison, HDV still has the lead over AVCHD.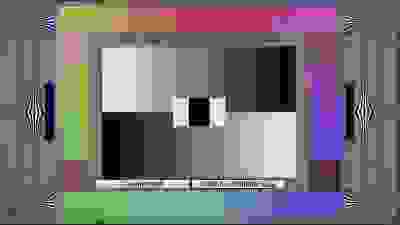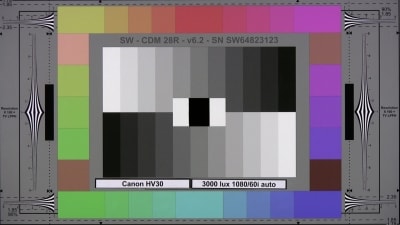 The color performance in all Canons using the 1/2.7-inch CMOS is excellent. The HV30 has some clear saturation boosting, but that's a matter of course in consumer camcorders. When we held it up against the professional step-up model, the XL A1, we saw a reduced saturation and reduced in-camera sharpening, but they weren't light years apart in terms of overall quality – perhaps only miles apart. Using the HV30's Image Effects tools (see Other Manual Controls), you could do a quick and dirty "pro look" at a fraction of the cost.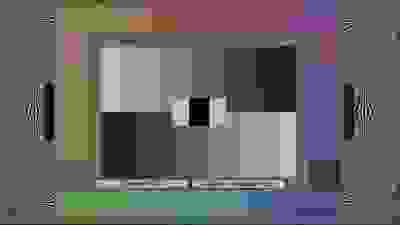 The camcorder also offers a 'Cine' mode that shifts the gamma curve to emulate a pro camcorder. To be specific, the Cine mode on the HV30 matches the Canon XL A1's Cine V mode (Custom Preset #8). When in this setting, you'll see more variance in the mid-tones and flattened shadows.
24P
The option to shoot in 24P remains a coveted feature among certain videographers, often film students and budget filmmakers who want to emulate the motion of film. While video invariably falls short in its film-aspiration, 24P does offer a certain aesthetic look that 60i lacks. From a technical perspective, 60i captures action much more accurately, but the smooth, slightly blurred motion of 24P holds strong appeal.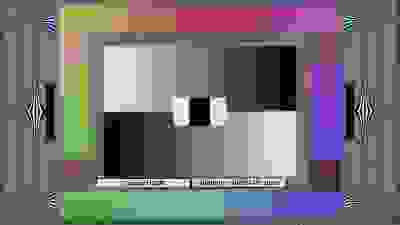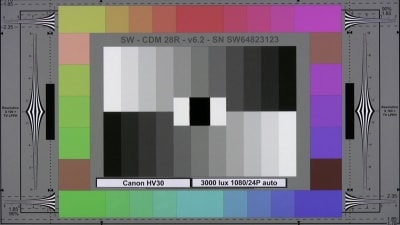 When we looked at Canon's AVCHD camcorders, the HG10 and HR10, the 24P mode produced a strange, choppy effect that was not apparent in their HDV models. Canon could not explain why this was, but we bore witness nonetheless. And once again, the 24P on their HDV models looks fine. The blur is quite exaggerated when your subject is moving quickly, but there's no choppiness. As you'll see in the next testing section, 24P also proves to be a boon in low light.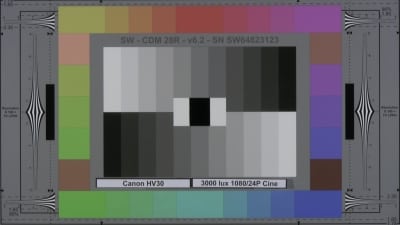 30P
New for 2008 is the option to record in 30P, and a welcome addition it is. Canon indicates that the primary reason for the new feature is online video production. Most online video is downconverted to 15fps – a sad but necessary concession to the limits of bandwidth. In that conversion, the look of 60i and 24P video is often compromised more than the producer would like. Shooting in 30P, however, means that the conversion can neatly remove every other frame, thus having less of an impact on how motion is rendered.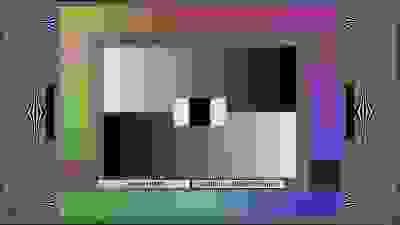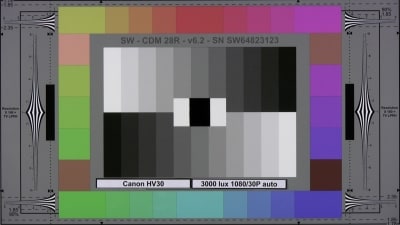 Even if you have no intention of uploading to the web, the 30P mode offers yet another look in your bag of tricks. It's a great compromise between the overly-crisp 60i and the blurred 24P. 30P recording is, in fact, not new to Canon, but merely returning after a long hiatus in the consumer division. It also exists on their pro-level XL H1, XL G1, and XL A1 as "24F" mode. (The "F" versus "P" discrepancy is explained by the fact that the XL models use CCD chips, which are interlaced, while the HV models use CMOS chips, which are progressive. All video is ultimately exported as interlaced video, but the recorded frame rate has a huge impact on how the video looks).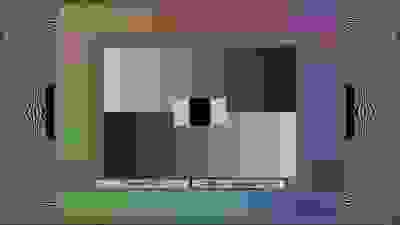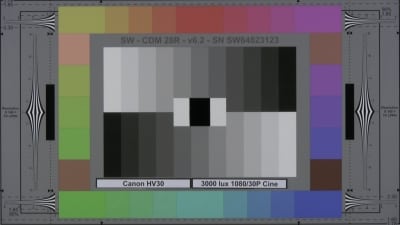 Video Resolution* (17.97)*
The resolution of the Canon HV30 was tested by shooting a DSC Labs video resolution chart under an even, bright light. The playback footage is then examined on an HD monitor. We recorded in 1080/60i. At best, the camcorder was able to produce a horizontal resolution of 625 line widths per picture height (lw/ph) and a vertical resolution of 575 lw/ph.
This score was identical to last year's Canon HV20, and not as good as its HDD-based cousin, the Canon HG10. Last year's Sony HDR-HC7 was better than the HV20 and HV30, but not as good as the HG10.
Low Light Performance* (16.44)*
We test low light in three stages. First, we shoot our trusty DSC Labs Chroma DuMonde color chart in an even 60 lux and 15 lux, then compare the results to other camcorders. At 60 lux in 1080/60i, the Canon HV30 looked very good. The large CMOS sensor definitely works in its favor and makes a strong argument against three-chip camcorders like the Panasonic HDC-SD1 (or soon-to-be tested HDC-SD9). Three small chips simply don't let in as much light as one large chip.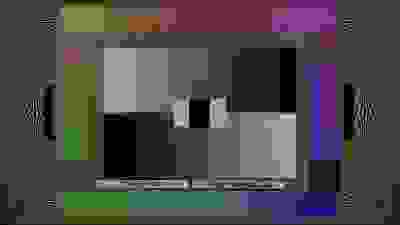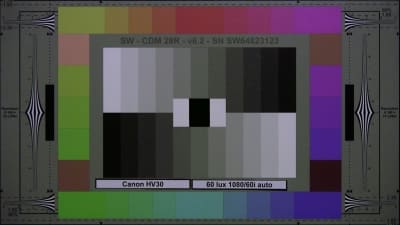 As expected, the results were identical to last year's Canon HV20. They were also statistically identical to the Canon HG10, the cousin camcorder that records in AVCHD to a hard disk drive.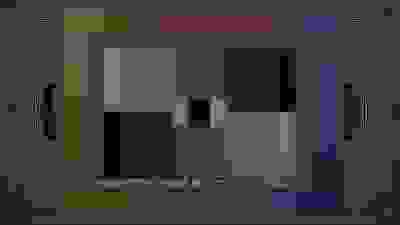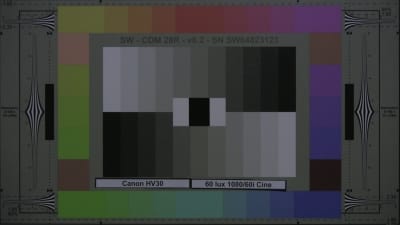 The Sony HDR-HC9, like the Canon HV30, is nearly identical to its predecessor. In our extensive testing last year, we found the Sony HDR-HC7 to give very stiff competition to the HV20, offering better handling but less enjoyable video. The characteristics of the video were hard to define in words. You could look at the footage side by side and say, "Yes, the HC7 looks like good digital video. But the HV20 is what video should look like." Partly due to color, partly due to compression, and partly to resolution, we favored Canon. Sony garnered a lot of the support for the HDR-HC7, however, and we stress that no camcorder is perfect for everyone. In low light, the HDR-HC9 will perform identical to the HC7. The sensitivity in low light proved good, and the color retention was very good, but Sony could not contain the noise as well as the Canon HV20.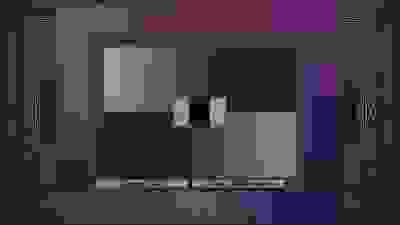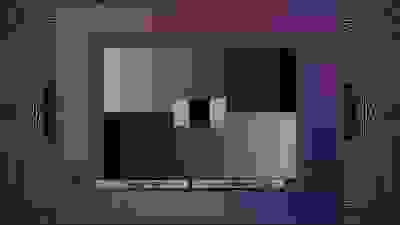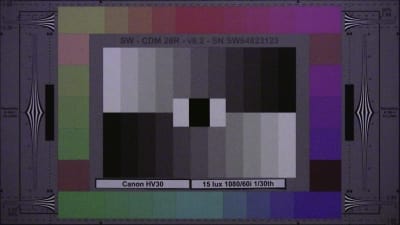 15 lux - 1080/60i at a 1/30th shutter speed
At 15 lux, the noise picks up heavily, making for a less than pretty picture. It's no surprise, as 15 lux is the great equalizer in consumer camcorders. Only the very, very strong survive. The HV20 did no better, nor did the Sony HDR-HC7.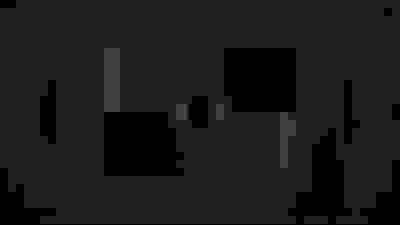 15 lux - 1080/60i in Cine mode
24P
As with the Canon HV20, the 24P mode on the Canon HV30 did wonders for low light. Because the chip refreshes less frequently than in 60i mode, it has more time to capture light. At 60 lux, the 24P image was clearly brighter and more colorful than the 60i image. There appeared to be less noise, which resulted in more fine detail retention. As we've mentioned before, shooting in 24P can lead to motion blurring, so you'll have to pick and choose appropriate moments to use it. For static or slow moving shots, 24P is definitely a useful item to have for low light.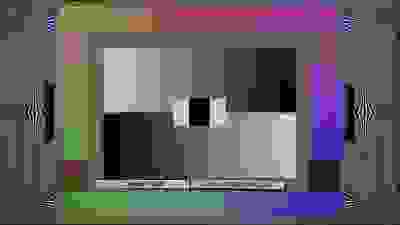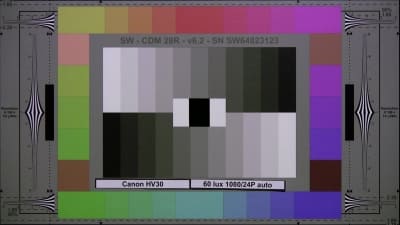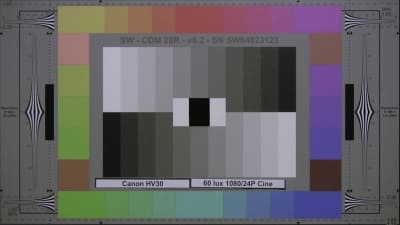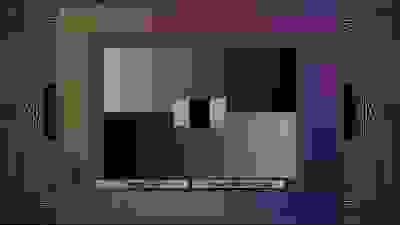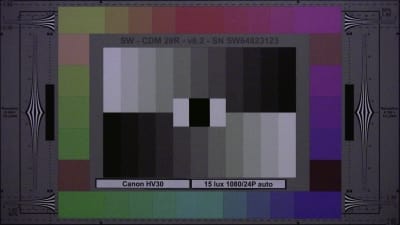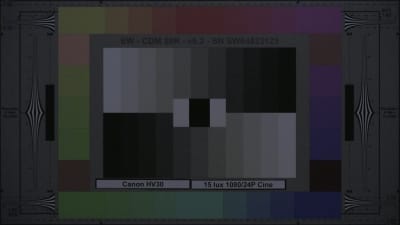 15 lux - 1080/24P in Cine mode
30P
The new 30P mode on the Canon HV30 is the perfect in-between mode for moments when you want the progressive look without the blur of 24P. The data from the low light performance test confirms the in-between status. At 60 lux, the 30P image is brighter than 60i, but darker than 24P. To the eye, the noise levels looked similar to 60i, but the colors popped and more fine detail was retained. If 60i mode isn't cutting it for your shot, we'd recommend 30P mode.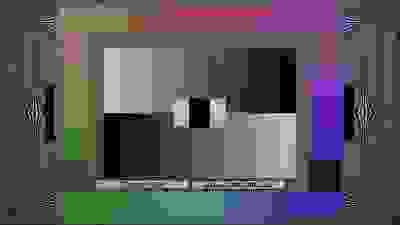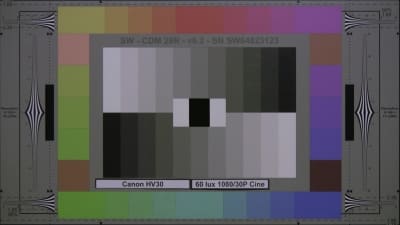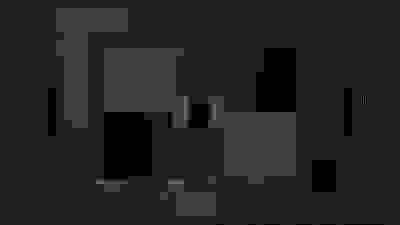 15 lux - 1080/30P in Cine mode
And the rest of the tests…
The second portion of the low light test is to determine sensitivity. We lower the light in a slow and steady manner while monitoring the IRE levels until the camcorder is producing a peak of 50 IRE. (IRE is a measure of exposure, typically ranging from 0 to 100.) At the 60i frame rate, the Canon HV30 was able to produce 50 IRE at 9 lux. When we switched the frame rate to 30P, the camcorder could produce the same results with only 5 lux of light. Finally, in 24P mode, the light could go as low as 3 lux. The 60i and 24P results are statistically identical with last year's Canon HV20 – no surprises there. As expected, the new 30P's sensitivity was somewhere between the 60i and 24P.
The final test examines color accuracy, noise, and saturation levels in low light. We shoot the Gretag Macbeth Color Checker chart at an even 60 lux, then output frame grabs to Imatest imaging software. In 60i mode, the Canon HV30 produced a color error of 14.0, with a noise level of 2.287%, and a saturation of 79.2%.
The same tests in 30P mode produced a much better color error of 9.93, with a saturation of 100.2% and a noise level of 1.835%. Finally, in 24P mode, Imatest found an identical color error of 9.93, but a stronger saturation of 105.1% and an improved noise percentage of 1.7975%.
What all these numbers tell us is that putting the camcorder in a slower frame rate is a great way to increase low light sensitivity and reduce noise. Once again, Canon has made a low light star performer.
Stabilization* (7.25)*
The HV30 uses Super Range OIS (Optical Image Stabilization), a superior system to the EIS (Electronic Image Stabilization) systems on cheaper camcorders. OIS functions by separating the lens element from the body of the camcorder rather than creating a digital buffer like EIS. As a result, stabilization is more accurate, even at longer focal lengths.
We tested the capacity of the HV30's OIS using our custom-built camcorder shake emulator at two speeds: Speed One and Speed Two. Speed One is equivalent to typical stationary handheld shake while Speed Two involves a bit more velocity, similar to a bumpy car ride or light jog, camcorder in hand.
The HV30 produced an 80% shake reduction at Speed One and a 50% shake reduction at Speed Two.
Wide Angle* (10.0)*
We tested the HV30's maximum field of view using a vertical laser at both left and right angles and subtracting the difference of the measurements. The HV30 was tested with the Zoom pulled back fully and OIS disabled. The video footage was viewed on an external monitor in order to attain a true reading. The HV30 displayed a maximum wide angle measurement of 50 degrees, which is right on par with the HV20.
Our editors review and recommend products to help you buy the stuff you need. If you make a purchase by clicking one of our links, we may earn a small share of the revenue. Our picks and opinions are independent from any business incentives.
Sections
Our editors review and recommend products to help you buy the stuff you need. If you make a purchase by clicking one of our links, we may earn a small share of the revenue. Our picks and opinions are independent from any business incentives.
Advertisement - Continue Reading Below
Compare Prices
Our editors review and recommend products to help you buy the stuff you need. If you make a purchase by clicking one of our links, we may earn a small share of the revenue. Our picks and opinions are independent from any business incentives.
Advertisement - Continue Reading Below
Advertisement - Continue Reading Below
Advertisement - Continue Reading Below
Advertisement - Continue Reading Below
Advertisement - Continue Reading Below
Get Our Newsletter
Real advice from real experts. Sign up for our newsletter
Thanks for signing up!