The AW series is one of Nikon's youngest, dating back only to 2011 with the release of the AW100. That camera distinguished itself with durability features that were more rugged than the competition, as well as a forward-thinking GPS interface with very detailed built-in mapping software.
This year, for the AW110 (MSRP $349.95), Nikon has implemented new WiFi connectivity and... not much else. This model's ruggedization is still some of the best around, but the ground has risen under Nikon's feet, and stiffer 2013 competition makes the advantage less impressive. In the meantime, image quality has been increased, but not dramatically, and physical design has gone largely unchanged. The result is a camera that's certainly compelling, but no more so than the predecessor.
At almost $100 more than the aging AW100, we were hoping the AW110 could do a little better than "just as good as the last one," but that appears to be all this camera offers. The Coolpix AW110 is available now, in either orange, black, blue, or our favorite: camouflage.

Design & Handling
Few changes were made, but few changes were needed.
Nikon has really gone out of its way to differentiate the AW110's design from the old AW100. Fundamental improvements have been added, such as swapping the traditional zoom rocker with a vertical lever, and converting the video record button from round to square.
We're kidding. The AW110 looks almost exactly the same as the AW100, and the handling profile is nearly identical too. The flat, glossy surface on the front panel has no dedicated grip, but this isn't really necessary given the rear panel's comfortable thumb rest. On rare occasions, you may find it difficult to depress the shutter while keeping the body still, but this shutter release does have a nice long stroke. On the whole, it's one of the best we've used on a toughcam this year.
Ironically, that now-vertical zoom lever, which we half-seriously call the AW110's most important hardware change, actually makes handling more difficult. You'll need to adjust your grip each time you zoom in, and more often than not, this meant that we had to cradle the camera with both hands.
Durability has been improved dramatically, so it's actually quite amazing that Nikon was able to give the AW110 such a close resemblance to its predecessor. In fact, waterproofing has been nearly doubled. The AW110 will hold its seal down to 59 feet underwater, making it one of the most resilient toughcams of the year.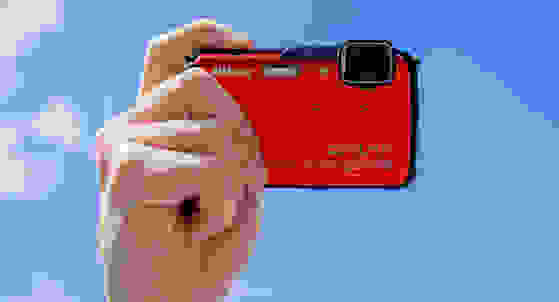 Although OLED is the kind of feature that seems to sell cameras, we don't see much of a difference in practice.
The right side of the body is occupied by the camera's large, gasketed door, which conceals the battery slot, media slot, and connectivity terminals. A locking knob on this door does add some bulk, but it's easier than fiddling with tiny switches, like you'll need to do with other 2013 tough cams. On the left panel, you'll find two large buttons: one for the AW110's outstanding GPS features, and one for the unbelievably useless "Action control response" feature (a gesture control mode that barely works).
We do get a new OLED monitor this time around, and although OLED is the kind of feature that seems to sell cameras, we don't see much of a difference in practice. Brightness still isn't sufficient for use in broad daylight, and the AW110 joins in on the peculiar tradition of tough cams with monitors that are prone to scratching.
The small lens is surrounded by a square filter mount, just like the AW100. It's a cool idea and a fun diversion, but for us, the mount's best quality is the way it blocks errant fingers from accidentally smudging the glass.
Performance
Image quality improvements are thanks to software, not hardware.
Perhaps the AW110's most important image quality improvement comes in the form of white balance—something Nikon has historically struggled with. The AW100 wasn't one of the company's worst offenders, but the AW110 is still a marked improvement. This camera earned some of the most accurate automatic white balance scores of any 2013 model, and AW110 users won't need to bother with a custom reading unless they're shooting under incandescents. Daylight, where users will no doubt spend most of their time with this camera, results in near-perfect color temperatures.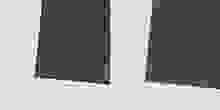 The other major performance boost goes to sharpness, but this one is less legitimate. It's not that the AW110's optics have been improved; instead, the camera's software simply cheats more aggressively. Oversharpening—a technique that causes edges to appear sharper (without actually being sharper)—will distract discerning viewers. Although the AW100 did employ a little bit of oversharpening back in 2011, that camera was also one of the most genuinely sharp toughcams available, and we're not sure why Nikon decided to go overboard this time around.
The AW110's noise reduction algorithm is technically the best we've seen from any toughcam in 2013, however the margin is fairly narrow here. It's worth noting Nikon has managed to lessen noise levels from the AW100, but only a close inspection will reveal meaningful differences between this camera's noise and, say, the Olympus TG-2's.
You're also likely to notice the AW110's fast overall operating speed. Even when a continuous shooting mode isn't in use, the camera's shot-to-shot rate is maybe half the speed of an entry-level DSLR, and that's very quick for a compact. If you are shooting in bursts, the AW110 maxes out at 6.66 frames per second for 6 shots.
Features
New WiFi, plus some of the best GPS available in a compact
WiFi connectivity is a brand-new feature for the AW110. The camera acts as its own hotspot, which you can connect to using a smartphone or other mobile device. From there, you may use your device to take photos remotely, zoom in and out, or view images stored on the camera's memory card. It's a pretty cool feature. We're not sure we'd use it in the field, but pretty cool nonetheless.
The AW series also continues to be home to some of the best in-camera GPS features we've seen. Press the dedicated GPS button on the left panel and you'll open up world map that can zoom down to street level. Points of interest are also included, and may be written directly to EXIF data in your choice of six levels of detail.
Full-HD video is supported, but the maximum frame rate at full resolution is 30p, so clips aren't quite as smooth as we would've liked. The footage also suffers from noticeable compression artifacting in shadowed areas. Video sharpness is solid, but just like stills, movies suffer from severe oversharpening that will cause halos around high-contrast subjects. Like the AW100, the AW110 can also shoot high speed video at up to 240 fps, albeit at a huge resolution penalty.
Conclusion
Go with last year's model, if you can find one.
If this is your first toughcam and, for some reason, you cannot find an AW100 for sale anywhere else, then by all means purchase a Coolpix AW110. This is especially relevant if you plan to use your new adventure cam for serious adventuring, like diving or climbing. The thick exterior probably isn't the most attractive on the market—in fact it looks rather toylike—but this camera's armor will hold up better than most competitors, and image quality is solid too.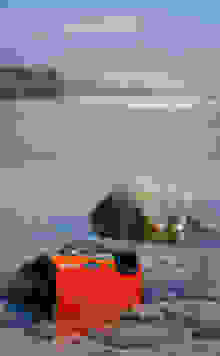 On the other hand, we see few reasons to spend extra money on this camera if you can find its predecessor on the cheap (shouldn't be too hard). The AW110 can take a decent image, but Nikon has neglected to improve on the previous model in any way we really care about. WiFi is novel but unnecessary, and the "improved sharpness" is really just software trickery that actually degrades image quality. The f/3.9 lens found in the AW100 was an obvious candidate for an upgrade, but the same slow optics are in use here again.
That's why the AW110 is such a missed opportunity. Compare this camera's test results with other 2013 toughcams and you might think Nikon had given the competition something to worry about. Noise reduction, sharpness (oversharpening aside), white balance, and even shooting speed are all way above average for this category. But with Olympus and Pentax already pushing f/2 lenses into their latest toughcams, it feels like Nikon is a year behind, regardless of performance.
Buy the AW110 if durability is most important to you and the AW100 is unavailable. If not, this year's competition can achieve more attractive results. Check out the best of the best in our 2013 Waterproof Showdown.
By the Numbers
Although Nikon made a lot of software changes to the AW110 in the hope of achieving better image quality, there's only so much you can improve without beefing up the hardware. Sadly, this emphasis on software tweaks leads to a bit of cheating when it comes to sharpness, but we're happy to report white balance—normally a problem for Nikon—is among the best we've seen.
Sharpness
In last year's review of the AW100, we noted that camera's relatively strong resolution, which helped it stand way out from the crowded toughcam market. Sure, the AW100 used a fair bit of software cheating, but what compact camera didn't? Amazing resolution just wasn't possible from such a tiny lens and sensor. Aware that the camera was fibbing a bit, we were willing to look past this rule-bending.
But the AW110 has gone completely off the deep end. Oversharpening, a technique that creates dark lines and bright halos around edges, giving them the appearance of sharpness, is completely overused in the AW110. Our tests recorded edge contrast that was, on average, 20% better than perfect. Of course this shouldn't be possible. This level of artificial sharpening places the AW110 in line with the highly mediocre Sony TX30, not the greatest company to keep.
Chromatic aberration is also a bit more prevalent in shots captured with the AW110 than those captured with the AW100. Blue and yellow fringes are noticeable near the edges of each frame, but at certain focal lengths, fringing can be seen throughout the entire frame—including central areas, where chromatic aberration is typically uncommon.
White Balance & Color Accuracy
Well, well. Looks like Nikon has been paying attention.
The AW110 has one of the most accurate automatic white balance algorithms we've seen from any type of camera—especially remarkable since this is typically a problem area for the company. Custom white balance is also very good, but we're amazed to say that under both daylight and fluorescents, automatic white balance is actually more accurate.
Under those lighting sources, average white balance errors were less than 30 K. Under incandescents, the error average was 675 K, which is still pretty darn good for this challenging light. A custom white balance can bring your incandescent errors down to around 70 K, but under any other light source, don't bother—auto mode is more than sufficient.

The AW110's color rendition is also slightly more accurate than the AW100's. We accused the AW100 of deliberately altering its gamut to provide more vibrant skies. This inconsistency has been corrected for the AW110, and Nikon also seems to have fixed a problem with flesh tones that dragged down the previous model's score.
Unfortunately, overall saturation across all colors has been increased by about 10%, throwing off this camera's accuracy across the board. After compensating for oversaturation, the AW110's chroma-corrected total color error is a rather average 3.05.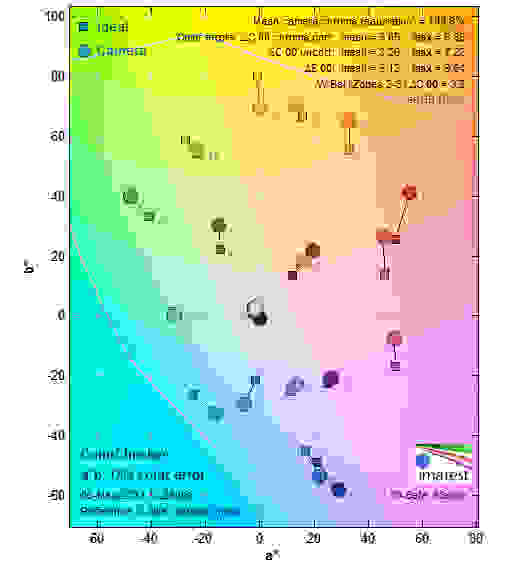 Noise Reduction
The intensity of the AW110's noise reduction software increases in a linear fashion over the course of the camera's ISO spectrum. Images are subject to only 0.71% noise at ISO 125, and this value doesn't cross 1.00% until ISO 400. It makes a pretty good case for the camera's Fixed-range ISO Auto, which, when set to 125-400, will ensure noise never reaches a distracting level. By ISO 1600, noise totals 1.49%, and ISO 3200 should be avoided due to its noise rate of 1.75%.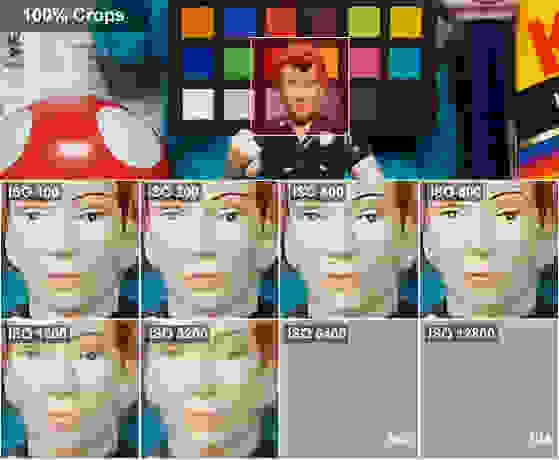 Video
The same oversharpening cheats applied to still photography are present in video as well. You'll notice the telltale haloing in your clips, but there's some genuine sharpness here too. The sensor is capable of resolving 625 lp/ph in both bright and low light. Unfortunately, the AW110 is still a poor choice for low-light videography, since the slow lens and unremarkable sensor aren't very sensitive to dim light. You'll need at least 35 lux of ambient illumination to get an acceptable video signal.
With a maximum full resolution frame rate of 1080/30p, footage isn't particularly smooth. We also noticed moderate compression artifacting in the shadows, however trailing is minimal and frequency interference isn't noticeable.
Meet the tester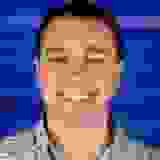 Christopher Snow
Managing Editor
@BlameSnow
Chris was born and raised less than ten miles from our editorial office, and even graduated from nearby Merrimack College. He came to Reviewed after covering the telecom industry, and has been moonlighting as a Boston area dining critic since 2008.
Checking our work.
Our team is here for one purpose: to help you buy the best stuff and love what you own. Our writers, editors, and lab technicians obsess over the products we cover to make sure you're confident and satisfied. Have a different opinion about something we recommend? Email us and we'll compare notes.
Shoot us an email