Does anyone else feel that? The wave of déjà vu sweeping over this review? I think I'm going to be sick...
The Cyber-shot DSC-TX30 (MSRP $349.99) is Sony's third—yup, third—attempt to convert the same good idea into a good camera. Back in 2011, Sony realized that there's a demand for ruggedized cameras that don't necessarily need to stand up to scuba diving or mountain climbing, but can simply endure a spilled drink or a drop on the floor without breaking. If that same camera could also look stylish, all the better.
And so the TX10 was introduced. It was an interesting prototype, but performance and especially usability were poor, so kept waiting. In 2012, out came the TX20, but sadly it retained the all-touchscreen interface of the TX10, and was therefore just as obnoxious to shoot with.
Another year later and here we are, reviewing the TX30. Do you think Sony has finally brought this model up to snuff? We'll give you one guess.


Design & Handling
Trading function for form, the TX30 is a gorgeous but barely usable camera.
The TX30 is, at the very least, an attractive design. In fact, we have no doubt that's the sole reason this series continues to sell. After all, it's the third iteration in as many years, so someone must be buying.
Anyway, even we can't argue with the good looks of the rear panel, which is dominated entirely by a 3.3-inch OLED touchscreen display. The front panel, like all TX models, is distinguished by a large sliding lens cover, which moves up and down to turn the camera off or on. The cover is flush with the rest of the body when slid to the "off" position, giving the entire camera a sleek, very compact form factor.
All this is great if your top priority is looking trendy, and our test model even came in a delightful pink color scheme. But if you want to—I don't know—actually shoot some photos, this design leaves much to be desired. Right away you'll notice the big sliding lens cover is a pain to grip and move. Sony added some texture to this surface for the TX20, but not enough, and the TX30 is still just as slippery, especially when wet.
It's a good thing this camera is ruggedized, because you'll be dropping it all the time.
The all-touch interface is a far bigger problem. The slow, poorly designed menu system is worsened by the touchscreen's blood-boiling lack of precision and propensity to misread your inputs. We do recognize that this touchscreen is a little more responsive than last year's, but using the TX30 efficiently is going to require a lot of practice. Sony wisely gives you the option to customize the left sidebar with four frequently used settings, but adjusting any other setting is going to waste a lot of your time.
Worst of all, since the entire rear panel is touch-sensitive, this leaves absolutely no room to safely rest the thumb. There are two workarounds: either place your thumb comfortably on the screen and risk accidentally activating touch-to-focus, or find another home for your thumb and risk a grip that isn't secure. It's a good thing this camera is ruggedized, because you'll be dropping it all the time.
Did we mention the shallow shutter release? Or the imprecise zoom "nub?" And forget shooting two-handed—your fingers will always be in danger of obscuring the lens. We could go on and on.
Performance
Ruggedization and design are prioritized over image quality
We'll admit that the vast majority of our gripes about the TX30 deal with design, not performance. In fact, the camera is indeed capable of capturing a decent photo or two, especially if you only plan to use it for everyday snapshots. But let's not forget that this camera costs $350, and still has some image quality drawbacks that are more common on cameras at half the price.
The TX30 is simply not capable of capturing a photo with an acceptable level of noise.
Be aware that the TX30 is simply not capable of capturing a photo with an acceptable level of noise. Even at minimum sensitivity, the camera's noise rates are as high as what we typically expect from ISO 400 or 800 in a camera at this price range. Since the TX30's flash is also rather weak, this camera makes an all-around poor choice for low-light photography. That's a shame, because we do see the nightclub scene as one of the few potential use-cases for a stylish yet troublesome ultracompact.
So those pictures of your friends will have to wait for daytime. But there's another problem. The TX30 has excellent color accuracy after we correct for saturation. After we correct for saturation. The fact is, the TX30 is plagued by heavy oversaturation, and there's no way to fix it in-camera. You might not care about inaccurate blues and greens, but human subjects will appear far more reddish than they do in real life.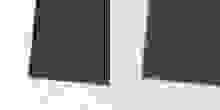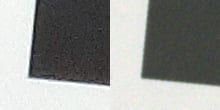 What about sharpness, the last of the "big three" tests? Actually, sharpness scores are phenomenal. A bit too phenomenal, in fact. The TX30 is yet another compact that uses a technique called "oversharpening" or "overshoot" to give the illusion of legitimate sharpness. Most small cameras do, but technique is detrimental to image quality. Look for the telltale too-dark borders and too-bright halos along high contrast edges. That's how you know your camera is faking it.
Features
Burst mode is useful, picture effects are fun, and Sony is still great at video.
True to Sony's claim, the TX30 is indeed capable of 10 frames per second burst shooting performance, but to make this happen you'll need to get your shutter speed to 1/250th or faster. Without any other manual control, that means turning up ISO sensitivity and introducing more image noise.
Still, even if burst mode only works half as well as it's supposed to, 5 fps is pretty darn good, and we found ourselves using this feature all the time. Unfortunately, this triggers a long pause after each burst, as the shots write to your microSD; we would've appreciated the ability to keep shooting while the buffer empties.
Sony cameras are also known for their video performance, and the TX30 does deserve some praise here.
The TX30's Background Defocus mode is also compelling, probably because the rest of the tough cam market is trending toward larger apertures and better macro photography. Sadly, although the TX30 can focus on very close subjects, it doesn't actually have a wide aperture, so any "bokeh" is no more attractive than what you could've added in Photoshop. If you're into other picture effects, Sony's are some of the best. Illustration mode is particularly convincing, and we'll admit to having an embarrassing amount of fun turning our co-workers into cartoon characters.
Sony cameras are also known for their video performance, and the TX30 does deserve some praise here. This isn't a 60p device, which is disappointing, but the 1080/60i clips are smooth and sharp, and the silent optical zoom is unlocked while a recording is in progress. Just don't try shooting any videos in low light.
Conclusion
Ever feel like you're the only sane person left in the room?
Why are people still buying these cameras? Is it the big screen, the colors? We know it's not the user experience. So... what then? We've heard it before: Touchscreens move units. But why? This isn't a phone; it's a camera, and cameras need buttons. Otherwise they'll handle like the TX30.
Every spring we hear it over again: "I need a camera. It has to be cute and I have to be able to spill a drink on it." We also hear: "...and it has to cost less than $100," but let's not get greedy. The point is, we want this line to succeed. The concept of a camera that isn't necessarily "adventure-proof," but simply "life-proof," is a great idea. Note that our imaginary camera buyer didn't even mention image quality, so really all we need is a decent camera that won't be destroyed by a puddle and isn't a chore to use.
But the TX30 is a chore to use, and doesn't come close to earning our recommendation, even if we were to ignore its image quality problems entirely. Do not be taken in by this camera's gorgeous exterior, the Cyber-shot TX30 is way more trouble than the fashion statement is worth. Check out our 2013 Waterproof Showdown for the best in the genre.
By the Numbers
We got some very strange results from this camera, and while we're excited to share them with you, we also can't help but feel like a Science page is rather pointless for the TX30. This camera's usability is so bad that color rendition and image noise aren't even in the top 10 reasons we wouldn't recommend this camera.
Still, the people want science, and we're here to give it to them. In this section, watch out for deliberate cheating on our sharpness test, as well as a bizzarro noise reduction algorithm.
Color Accuracy
So close!
The TX30 almost does a good job rendering colors accurately, but the gamut is extremely oversaturated, throwing off the accuracy of all colors. Shades of red are especially problematic (check out zone 15!), but greens and blues are pretty overdone as well.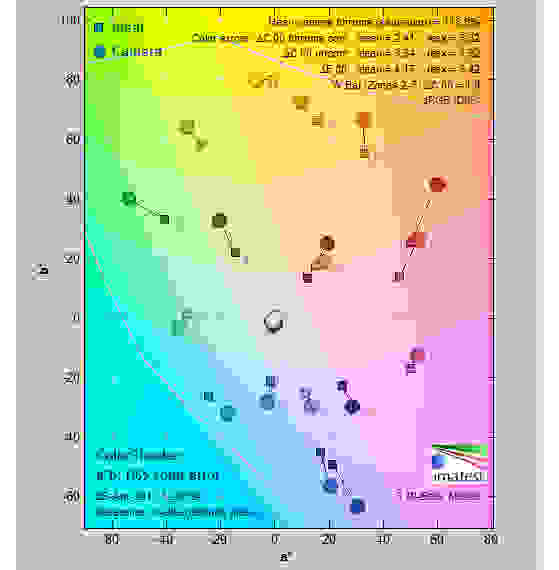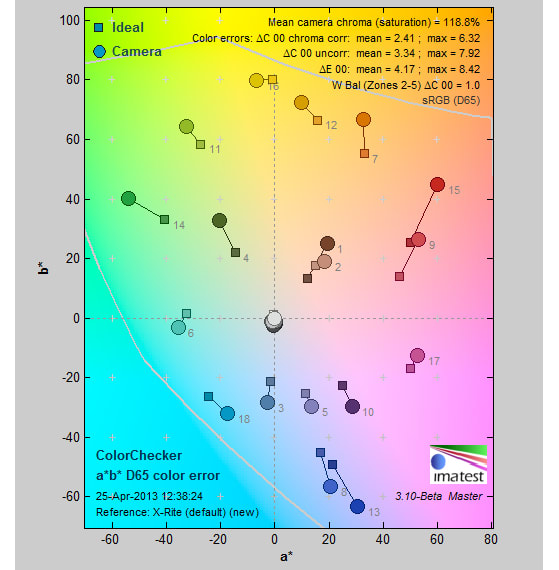 If you want to see what could've been, direct your attention to the top-right corner of the image above, and note the difference between the ∆C uncorrected mean and the ∆C chroma corrected mean. Lower scores are better here, and you can think about these values like wind chill factor: The 2.41 is what we've reflected in our scoring, but this camera's oversaturation will make images look like an inferior 3.34.
Sharpness
The TX30's lens, allegedly a Carl Zeiss design, is nothing special. Yet the camera earned fantastic sharpness scores from our lab test. How? It's the same story as too many other compact cameras today: Genuine sharpness has been replaced with software smoke and mirrors, using a technique called oversharpening. Our tests revealed the TX30's edges can be as much as 15% sharper than perfect, which is impossible.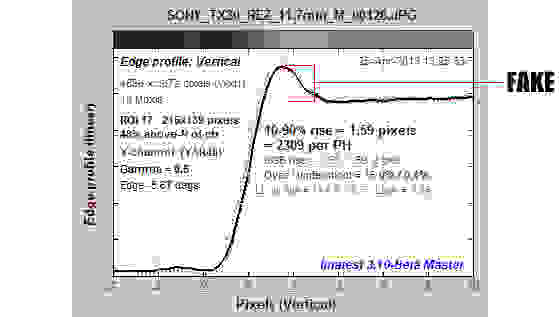 So, if we ignore the funky test results, we see the TX30 merely offers slightly above-average sharpness performance for a compact camera. Detail is adequate in the center of the frame, but falls off quickly as we near the edges and corners. The widest focal length also introduces severe geometric distortion (2.39% barrel), as well as additional chromatic aberration.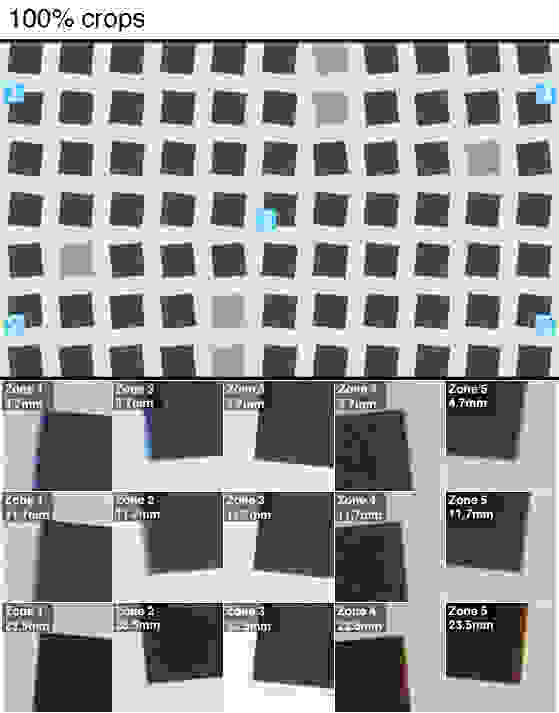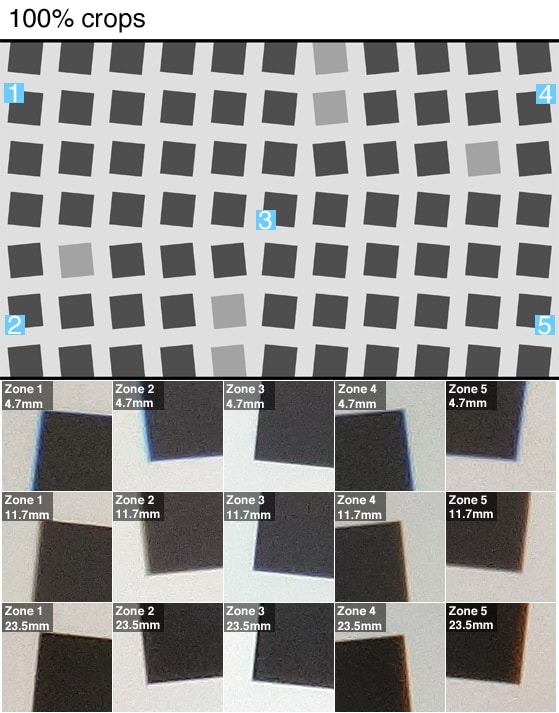 Noise Reduction
Oh man. We haven't seen noise reduction scores this ugly in awhile. At no native ISO sensitivity will you ever achieve overall noise levels lower than 1.00%. For a camera of this caliber, we typically expect noise to cross 1.00% at around ISO 400 or 800. Of course, by then the TX30 already spitting out 1.53% noise.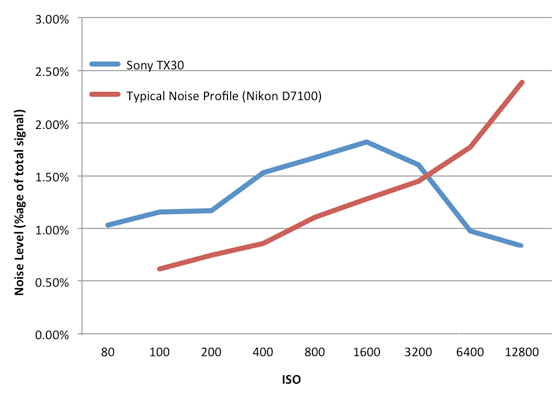 Further strangeness occurs at the high end of the ISO spectrum. The noise reduction algorithm kicks into high gear at ISO 3200, dropping noise below where it was at ISO 1600. Then, at ISO 6400 and 12800, the TX30 employs bracket noise reduction, which captures six shots in a row and averages them. This technique has a disastrous effect on image quality, but—amusingly—technically results in the lowest noise rates of any ISO. That's right: To get the lowest image noise levels from the TX30, shoot exclusively at ISO 12800!
(Just kidding, do not do this.)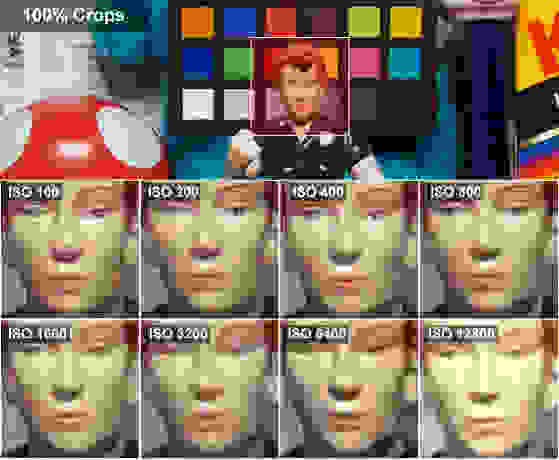 Video
Sony cameras are usually a cut above when it comes to videography, but the TX30 just doesn't have the hardware chops to keep up. Although recordings are encoded in AVCHD, you're limited to 60i, so smoothness isn't perfect. Footage is also subjected to some unexpected and very severe frequency interference, which manifests itself as horizontal scan lines across moving objects.
The TX30 is capable of resolving 600 lp/ph, both horizontally and vertically, in both full studio illumination and dim lighting. The sensor, in conjunction with the camera's unremarkable f/3.5 lens, requires 18 lux of ambient illumination to gather a 50 IRE video signal. The TX30 is therefore less suitable for low light videography than competitors light the Pentax WG-3 or Olympus TG-2.
Meet the tester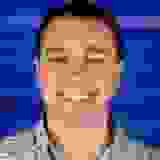 Christopher Snow
Managing Editor
@BlameSnow
Chris was born and raised less than ten miles from our editorial office, and even graduated from nearby Merrimack College. He came to Reviewed after covering the telecom industry, and has been moonlighting as a Boston area dining critic since 2008.
Checking our work.
Our team is here for one purpose: to help you buy the best stuff and love what you own. Our writers, editors, and lab technicians obsess over the products we cover to make sure you're confident and satisfied. Have a different opinion about something we recommend? Email us and we'll compare notes.
Shoot us an email