Cameras
Canon Announces Fall Product Line, Including the New G16
Canon is launching a PowerShot G15 successor and a new telephoto EF lens.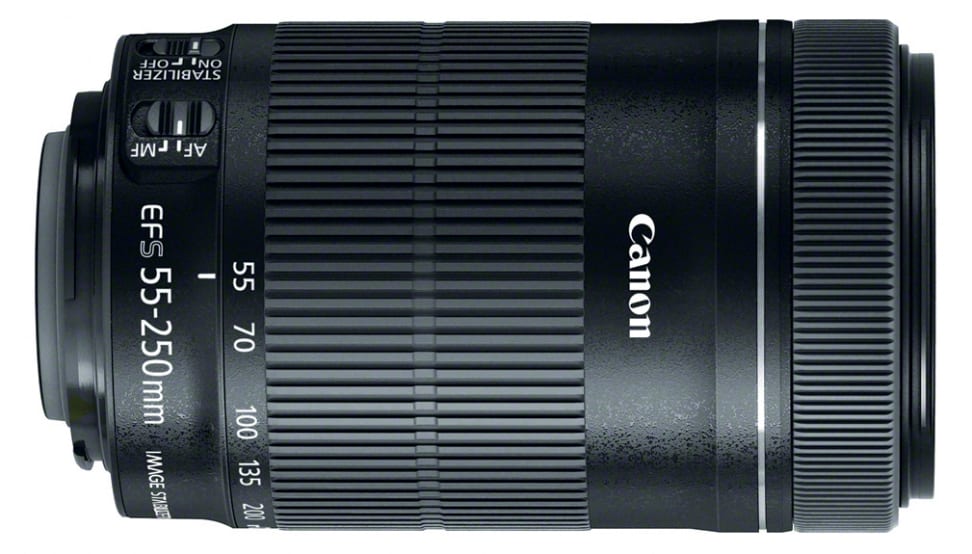 Credit:
Amid a cluster of fall product announcements tonight, Canon unveiled the new PowerShot G16 (MSRP $549.99) and a new 55–250mm EF-S lens (MSRP $349.99). These two high-profile products are accompanied by a pair of new Pixma printers and four other PowerShot cameras. The new lineup is slated for release September through October.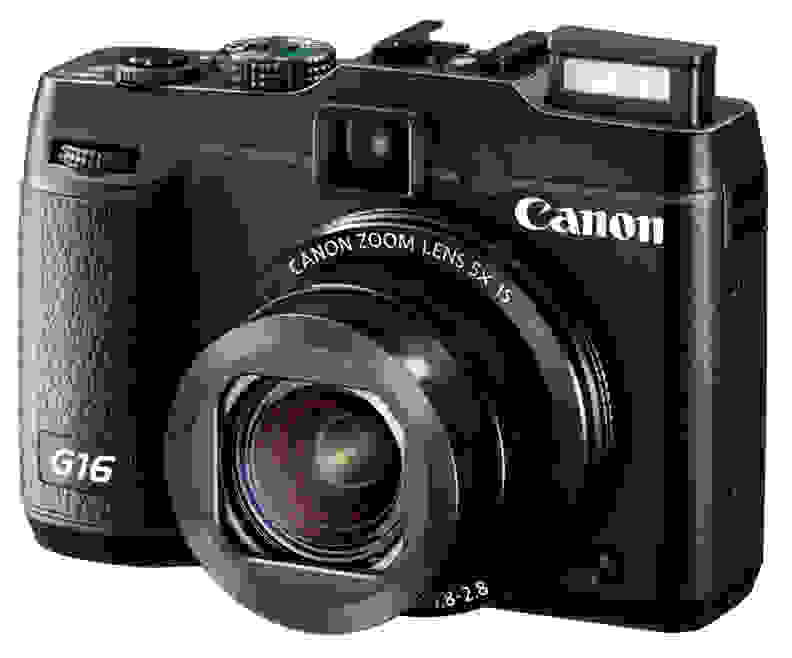 The G16 is a follow-up to 2012's PowerShot G15, though the new model seems to be only an incremental upgrade to its predecessor. The most significant performance improvement will likely come from the Digic 6 processor, which Canon introduced in the SX280 HS earlier this year. The new processor should yield improvements to autofocus speed and low light shooting. The G16 is expected to hit store shelves in October for an estimated price of $549.99.
For its significant DSLR user-base, Canon is adding a 55–250mm f/4-5.6 IS STM telephoto zoom lens. The company is marketing the lens for use with its 2013 SLR lineup (including the 70D, SL1, and T5i), though it is, of course, compatible with Canon's entire EF-S lineup. The new lens is Canon's sixth lens to employ stepping motor (STM) technology, allowing users to shoot high quality video without the distracting noise caused by most focusing motors. The EF-S 55-250mm f/4-5.6 IS STM should be available for purchase in late September for $349.99.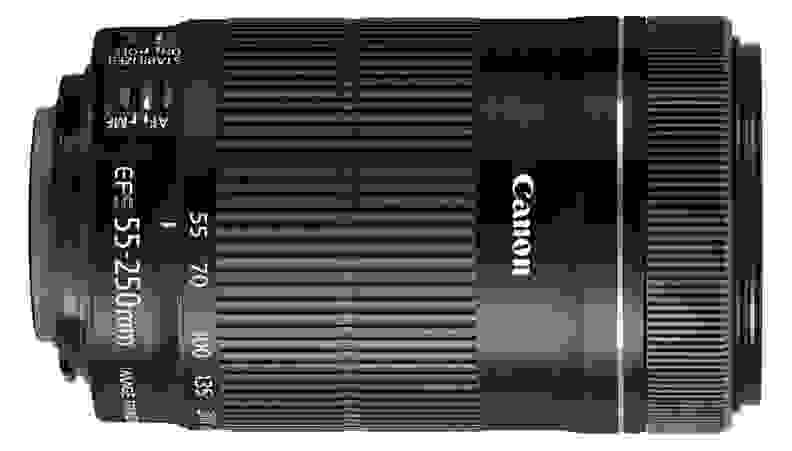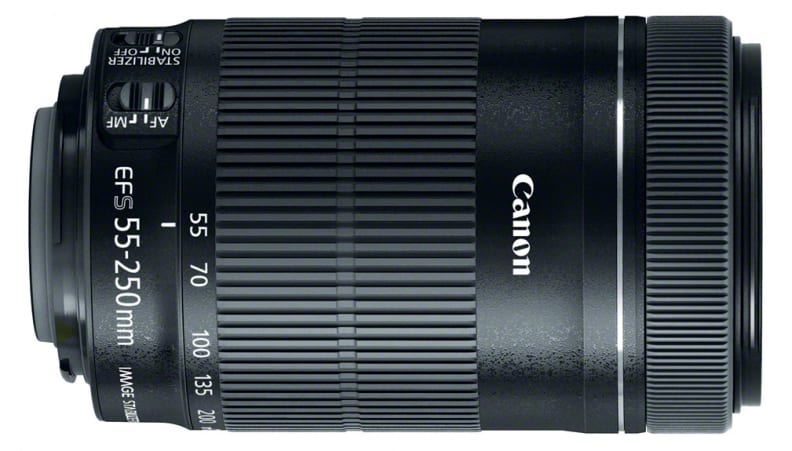 Lurking in the G16's shadow are four additional PowerShot cameras: the S120, SX510 HS, SX170 IS, and a new Facebook-ready version of the PowerShot N. The S-series cameras reportedly offer faster autofocus times and a couple new shooting modes: Starry Skies and Background Defocus. Two of the cameras (the SX510HS and the S120) also carry built-in WiFi. The new Facebook-ready PowerShot N seems to be identical to its predecessor excepting the addition of a dedicated Facebook share button on the camera.
The PowerShot S120 will retail in October for $449.99. The SX170 IS and SX510 HS release a bit earlier for $179.99 and $249.99, respectively.
Canon's camera announcements were accompanied by a pair of new PIXMA printers, the MG7120 and MG5520. The new printers have enhanced WiFi connectivity, deepening Canon's line of AirPrint-compatibile printers. These two printers will hit store shelves at an approximate retail price of $199.99 and $149.99 respectively.
FOUR NEW CANON POWERSHOT MODELS PROVIDE IMPRESSIVE IMAGE QUALITY, POWERFUL OPTICS, AND FAST AUTOFOCUSING
New Advanced Point-and-Shoot Lineup Includes the PowerShot G16, S120 and SX510 HS with Built-In Wi-Fi® and the New PowerShot SX170 IS Offers a Long Zoom in a Compact Camera Body
MELVILLE, N.Y., August 22, 2013 - Adding to its trademark line of esteemed digital cameras, Canon U.S.A., Inc., a leader in digital imaging solutions, today announced the release of four new feature-packed PowerShot digital cameras: the PowerShot G16, PowerShot S120, PowerShot SX510 HS and PowerShot SX170 IS. Designed to help photo enthusiasts create high-quality images and videos, these cameras feature advanced DIGIC imaging technology to deliver superb image quality in portable, compact digital camera bodies. In addition, all four models have the ability to achieve faster autofocusing speeds than was possible with previous PowerShot models. The PowerShot G16 and S120 also feature the new Star mode to help users capture the brilliance of a starry night sky, while the new Background Defocus mode allows users to soften the background of their images for a portraiture look.
For the connected photographer, the PowerShot G16, S120 and SX510 HS digital cameras come with built-in Wi-Fi® technology that allows for outstanding quality images and video files to be wirelessly transferred from the camera to social networking sites through CANON iMAGE GATEWAY#, to a PC, or users can upload images to virtually anywhere on their compatible iOS® or Android™ device* with the download of the free Canon CameraWindow app**. The Wi-Fi® setup process has been improved by Canon, making it easier than ever for users to initially setup these cameras. Software no longer needs to be installed onto a user's computer, so all initial setup can be accomplished from the user's smart device or computer, allowing for easy photo sharing on-the-go. Images can also be printed wirelessly using Wireless PictBridgei on select printers, including the Canon PIXMA MG7120 or PIXMA MG5520 Wireless Photo All-In-One printers, so special moments can be preserved and cherished for years to come.
"At Canon we are continually inspired to introduce the latest technological advancements to the PowerShot line of digital cameras," said Yuichi Ishizuka, executive vice president and general manager, Imaging Technologies & Communications Group, Canon U.S.A. "Although smartphone camera popularity is continually increasing, the PowerShot line of cameras offers features such as advanced image sensors, high-quality optics, low-light capabilities and extremely fast autofocusing speeds that, when combined, are unrivaled by smartphone technology."
PowerShot G16 Digital Camera
The PowerShot G16 digital camera builds upon the success of the PowerShot G15 by utilizing some of Canon's most innovative technologies. The first PowerShot in the G-series to come equipped with built-in Wi-Fi® technology, the G16 has the ability to share images and video to social networking sites such as Facebook®, Twitter®, YouTube®, and Flickr® or via email through the use of CANON iMAGE GATEWAY. Users can also upload images from almost anywhere via their compatible iOS® or Android™ device with the download of the free Canon CameraWindow app.
The PowerShot G16 features a 28-140mm wide-angle lens with an aperture range of f/1.8 – f/2.8, which helps while shooting in low-light conditions or for users who want to create a dramatic shallow depth-of-field with soft backgrounds. The G16 is equipped with Canon's HS System, which combines a DIGIC 6 image processor and a 12.1-megapixel High-Sensitivity CMOS image sensor, allowing for enhanced low-light image quality.
With improved AF times and reduced shooting lag over previous G-series models, the advancements to Canon's AF system help ensure users never miss a shot. Continuous shooting speeds of up to 9.3 frames-per-second are possible with the PowerShot G16, allowing users to capture images in full resolution as they happen***. The G16 also captures 1080p/60p Full HD video, and includes a built-in stereo microphone and an HDMI output so users have the ability to view videos on their HDTV.
The PowerShot G16 also features new shooting modes to capture breathtaking images day or night. The new Star mode gives users the ability to capture the brilliance and wonder of the night sky through the use of three scene modes. "Star Nightscape" lets users shoot the radiance of stars in a landscape image, while the "Star Trails" mode captures trails of stars to turn them into a luminous still image. "Star Time Lapse Movie" captures continuous still images of the stars and then combines each to create a stunning video replicating the motion of the stars in the night sky.
In addition, the camera's creative handheld HDR Scene mode automatically combines multiple shots of a scene to help create an image with a greater dynamic range without the necessity for a tripod. HDR Scene mode includes Natural, Art Bold, Art Embossed, Art Standard and Art Vivid options.
For photographers who want the convenience and ease-of-use of a compact camera with the feel of a DSLR, the PowerShot G16 features dials and controls similar to those on Canon's EOS Digital SLR cameras. It is also compatible with Canon Speedlite flashes and select accessories.
The PowerShot G16 is scheduled to be available in October 2013 for an estimated retail price of $549.99.