Kitchen & Cooking
9 food processors that will take the tedium out of food prep
Slice, dice, and grind ingredients with ease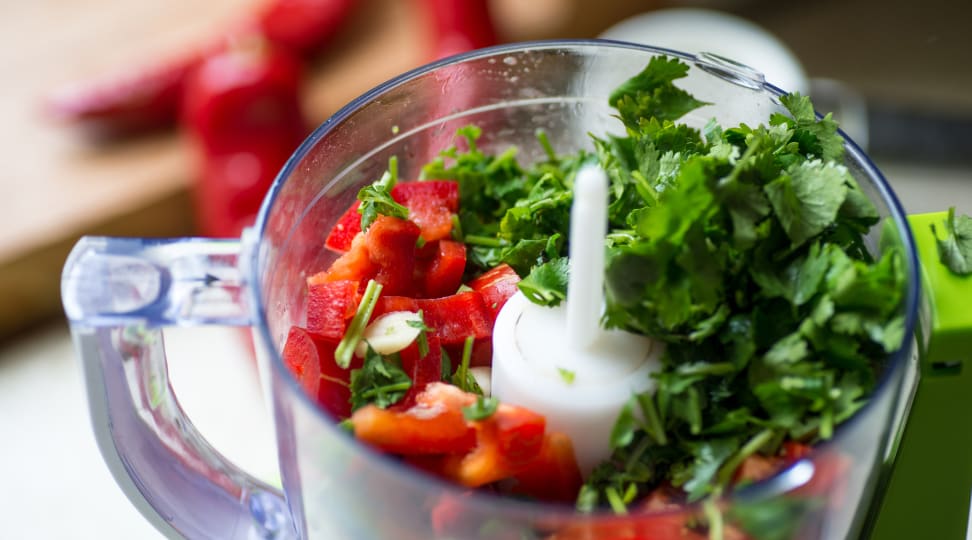 Credit: Getty / Sloniki
When you're cooking up a storm, a large, high-quality food processor is a must-have. It can chop vegetables or blitz a bunch of parsley into dust in mere moments, and some can even knead bread dough for you.
If you're in the market for one of these countertop sous chefs, you're in luck. We've gathered together nine of the best food processors we've tested that are available in Canada. From fully-functional multi-cooker combos to basic models, you're sure to find something to suit your kitchen and your budget.
1. Cuisinart DFP-14BCNY Custom 14-Cup
In our opinion, the Cuisinart Custom 14 is the best food processor on the market today. It excelled at almost every task, chopping onions and slicing tomatoes as well as a razor-sharp chef's knife and kneading pizza dough into a smooth elastic ball.
It's not small, but the nearly 16-inch tall Cuisinart will fit under a cabinet, and at 17 pounds (8 kg) it isn't too heavy to move around. It's also incredibly simple to operate with controls limited to two large levers on the front. One lever runs the processor continuously and then shut it off and the other lever is for pulsing. In addition to the basic chopping, mixing and dough blade, it comes with shredding and slicing discs.
The food chute locks into place at the rear of the bowl, which is slightly inconvenient when you're feeding in food but makes it easier to see what's happening in the bowl during processing. As the tube is large, there's no need to cut a block of mozzarella or a beefsteak tomato in half before processing them. While it's running, the Cuisinart is so quiet it won't shut down conversation in the kitchen.
The Custom 14 is easy to clean: Cuisinart is the only manufacturer that goes beyond just "dishwasher safe" and actually encourages you to wash the parts in the dishwasher.

Get the Cuisinart DFP-14BCNY at Amazon Canada
2. Cuisinart Stainless Steel 13-Cup Food Processor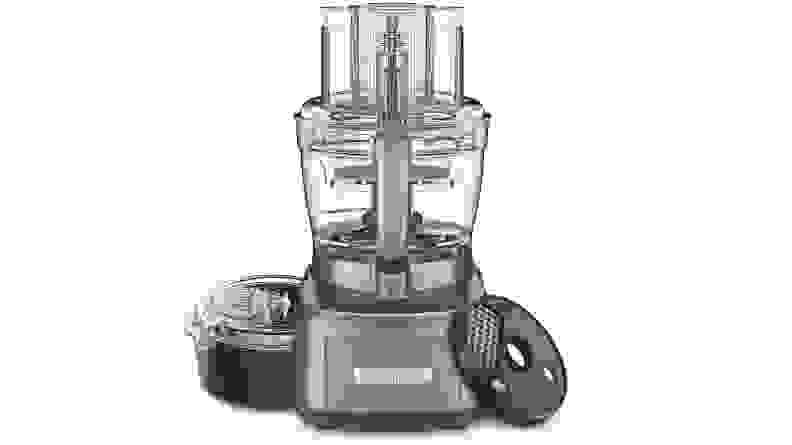 Another good choice for a large chopper to perform various cooking prep chores is the Cuisinart Stainless Steel 13-Cup Food Processor. It's just one cup smaller in capacity than our top pick.
It too can be relied upon to cut cleanly and give even results whether you're slicing potatoes for an au gratin, mincing herbs, or kneading pizza dough. The feed tube is large enough to hold a block of mozzarella but can be adjusted to be thin enough to accommodate a pepperoni. And unlike the larger Cuisinart, the feed tube is in the front, making it easier to add food.
The processor comes with both a large 13-cup bowl and a smaller 4 ½-cup one, chopping and kneading blades, a slicing disc that adjusts for 7 different thicknesses, a shredding disc that reverses for thin or thick shreds, and a plastic spatula. A case to corral all the accessories is also included, but that means you have to find storage space to keep it.

Get the Cuisinart Stainless Steel 13-Cup Food Processor at Amazon Canada
3. Cuisinart FPC-100 Complete Chef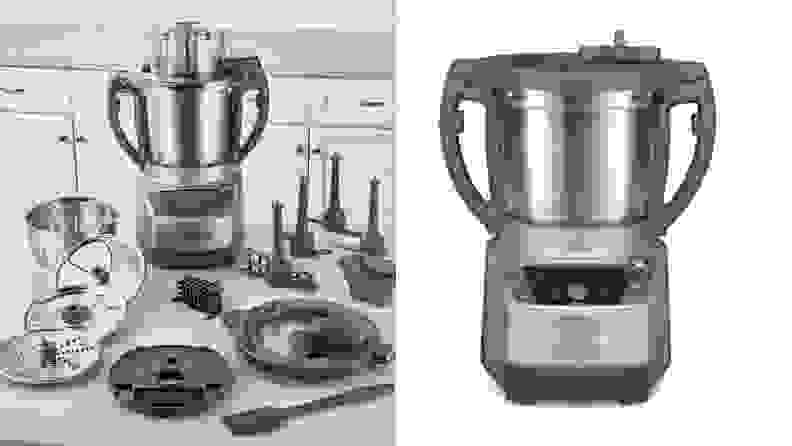 The Cuisinart Complete Chef Cooking Food Processor is a fully functioning food processor that also works as a multicooker. When it came to the food processing component, it produced thinly sliced potatoes with its adjustable slicing blade, and it had no problem finely chopping parsley and almonds. However, the Complete Chef did struggle a bit with larger chopping tasks when the 18-cup capacity bowl was filled to the max line. But, when we reduced the amount of food inserted, the results were much more uniform.
We were impressed by the sleek stainless-steel design, which is more attractive than most of Cuisinart's food processors. We also loved the way the bowl clips into place, removing the need to twist it around until it locks. This model also resolves a complaint about chopping blades we've long had with food processors. After this chopping blade is clicked into place it stays put, instead of falling out of the bowl when removing the contents like many other processors.
With this model, you'll get an 18-cup bowl, a lid for prepping (with removable chutes) and another one for cooking, a steamer basket insert, chopping, kneading, and mixing blades, a slicing disc that adjusts for 22 different levels of thickness, a reversible shredding disc for thin or thick shreds, a whisk, and a plastic spatula. The kit also comes with two storage containers to hold the many accessories.
The Complete Chef certainly wasn't perfect—it struggled with a few tasks like uniformly shredding mozzarella, and the lid was sometimes tricky to secure—but we were pleasantly surprised at how delicious all the cooked food turned out. For a more detailed review of the cooking functions, check out our full review.

Get the Cuisinart FPC-100 Complete Chef at Amazon Canada
4. Breville BFP800XL Sous Chef 16 Pro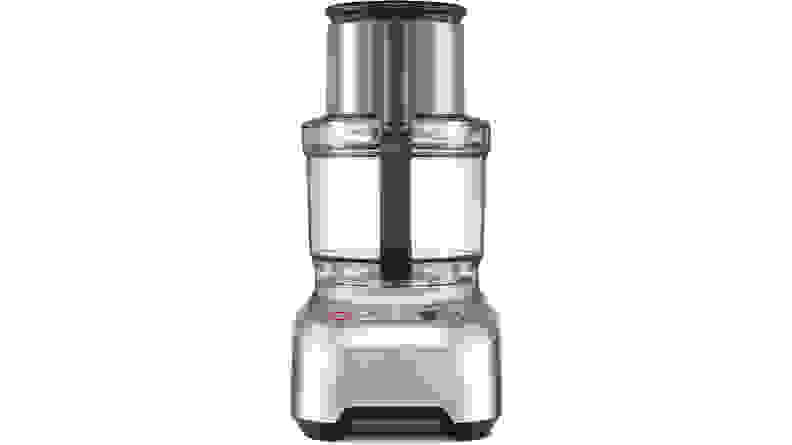 The Breville Sous Chef 16 Pro is a real beauty, but you certainly pay for the privilege. In addition to top-notch performance, it offers every imaginable bell and whistle and then some. If you cook often in large quantities and have the change, this 16-cup machine is worth the money. However, if you don't, the Breville may be more food processor than you need.
It's big, with a footprint of 11 x 8 inches, and at 18 inches tall, it's too high to fit under a cabinet. And because it weighs 26 pounds (12 kg), you won't want to be lugging it in and out of a closet or cabinet. Once you invest in the Breville you'll want to give it a dedicated space in your kitchen. With it, you get a 2 ½-cup bowl that turns it into a mini chopper and a storage box that holds 5 discs, 2 blades, spatula, and a cleaning brush. While that gives you lots of flexibility as to how you use your machine and store all the stuff, that's two other items to find room for.
But there's much to love. The Breville screams quality with parts that glide into place. It has three lighted control buttons: on/off, run, and pulse. There's an LCD timer that counts up or down—handy for example when a recipe specifies to knead for 2 minutes.
When your machine is running it practically purrs. If you're the type who likes to throw everything in the dishwasher, keep in mind that it's recommended that you wash the parts by hand.

Get the Breville BFP800XL Sous Chef 16 Pro at Amazon Canada
5. KitchenAid 14-Cup Food Processor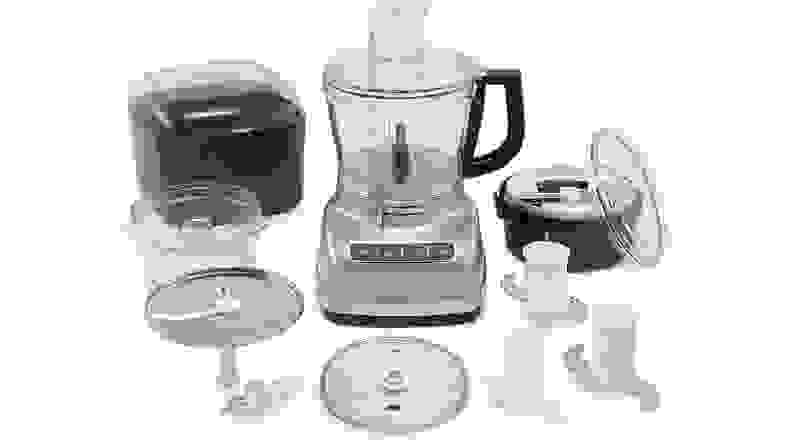 The KitchenAid 14-Cup Food Processor is a bit of an investment that will occupy considerable space in your kitchen. It has a footprint of 11 x 11 inches and stands 17 inches tall—too high to keep under a cabinet. It also weighs 21 pounds (10 kg). The blades and discs, plus a cleaning brush, come in their own decidedly not-small case. Plus you get a 4-cup mini bowl and a dicing kit in a container that will also need storage space.
Unfortunately, the KitchenAid's performance lagged behind those of similar size and price. It chopped, minced, and ground evenly but not quite as finely. While it sliced uniformly, its feed tube was small and a beefy tomato and pound of mozzarella had to be halved before processing. It's also not a great option for bread makers and pizza fans as it struggled to knead and danced alarmingly across the countertop, knocking over other items in its path.
We also found the this KitchenAid a bit of a chore to clean. Around the edge of the lid, there's a trough that traps food and is particularly difficult to clean, especially after processing soft items like cheese or hard-boiled eggs.
On the plus side, the slicing disc can be adjusted from the front of the machine; when you want thin strips of cucumber and thicker ones of tomato for the same salad, you won't have to stop and change the blade. Unlike the others we tested, the chute doesn't lock into the lid, which makes it especially easy to use. The motor noise is downright pleasant.

Get the KitchenAid 14-Cup Food Processor at Amazon Canada
6. KitchenAid KFCB519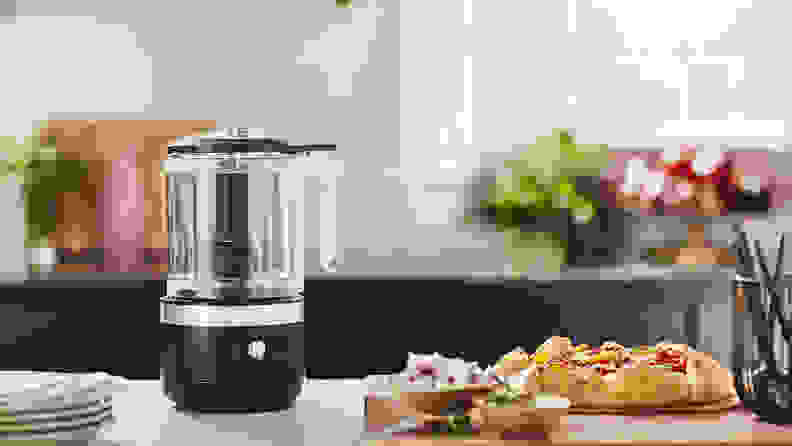 This cordless mini chopper only has the multipurpose blade and whipping attachments, compared to a standard-sized food processor that typically comes with shredding and slicing discs as well. That being said, it can chop, grind, puree, and whip ingredients, but it can't knead dough or shred cheese.
It took about two hours to fully charge, which is enough to chop 40 onions. Within seconds, it turned an onion into evenly chopped bits, ready for sauteing or adding to salads. When it comes to firm ingredients like toasted almonds and hard cheese, it didn't have any issues grinding them super-finely either.
This high-quality food processor requires no assembly and its safety measures can effectively prevent young children from turning on the device by accident. Its 5-cup capacity allows for one medium-sized onion or one tomato at a time, which is sufficient for most kitchen tasks, though you might need to work in batches.
Though we liked how convenient it was to use, this food chopper isn't without flaws. It lacks the features that other food processors we've tested have, like kneading dough and processing ingredients in large quantities. Additionally, there's no chute on the lid that allows you to add ingredients while in use. You'll have to load everything before running a processing cycle.

Get the KitchenAid KFCB519 at Amazon Canada
7. KitchenAid 7-Cup Food Processor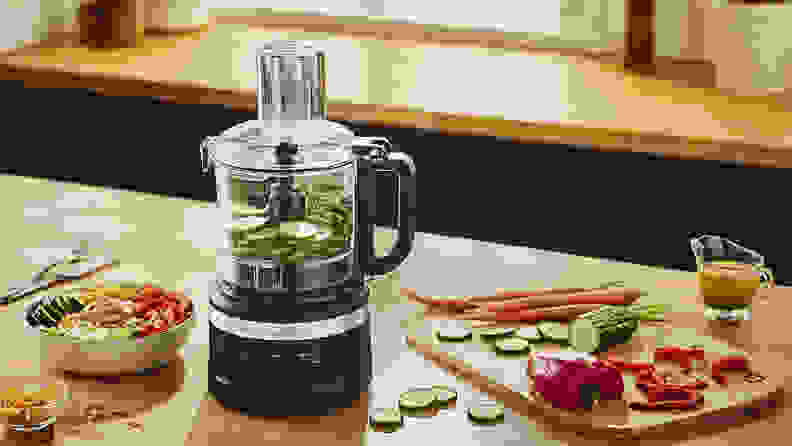 The KitchenAid 7-Cup Food Processor was designed to be an easy-to-use moderately-sized model for everyday tasks. In our tests, it chopped onions cleanly and evenly, minced parsley into dust, and ground almonds into a fluffy powder. It created clean slices of pepperoni and long beautiful shreds of cheese. However, it didn't slice tomatoes perfectly evenly. Worse though, when it came to kneading yeast dough, it stalled and couldn't finish the task.
The working bowl is very easy to position on the base and the controls are easy to depress. Unlike most food processors, which require that you turn the lid to lock it into place, it has a lid that attaches to the bowl on a hinge and is then latched into place on the other side. It was designed like this to be easier to close and to avoid having to remove the lid entirely when you stop to stir or add ingredients and then leaving a mess on the countertop.
All of the parts fit neatly inside the bowl for storage and can be washed in the top rack of the dishwasher. If aesthetics are a big concern for you, the KitchenAid is a beautifully finished product and is available in two shades of black, white, silver, and red.

Get the KitchenAid 7-Cup Food Processor at Amazon Canada
8. Hamilton Beach 70580 Big Mouth Duo Plus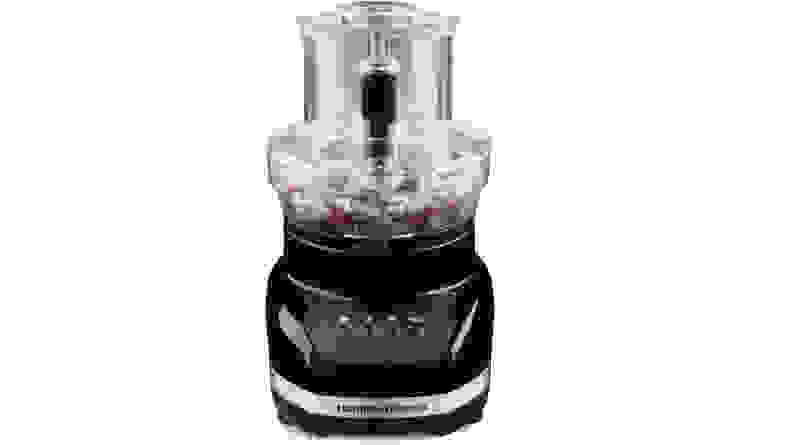 The 12-cup Hamilton Beach Big Mouth Duo Plus Food Processor can mince parsley and grind almonds with the best of them. However, it was weak on some tasks, leaving a big percentage of pepperoni unsliced and cutting ripe tomatoes so thinly they fell apart. It's also not designed to knead any heavy yeast doughs so if bread making is your passion this might not be the product for you.
The Hamilton Beach is definitely not a statement piece for your countertop and gunk can collect around the control buttons making it nitpicky to clean. Also, don't be surprised if the kids cover their ears when they hear it whirring. This machine is loud.

Get the Hamilton Beach 70580 at Amazon Canada
9. Hamilton Beach Stack and Snap Food Processor with Bowl Scraper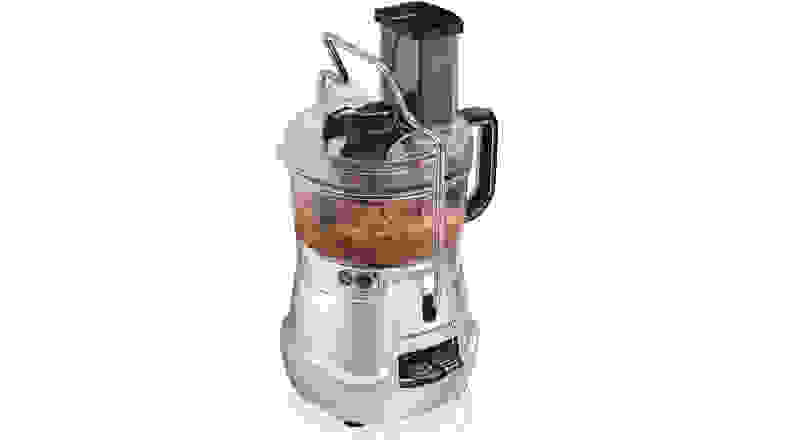 While the Hamilton Beach Stack and Snap Food Processor with Bowl Scraper is proficient at chopping, mincing, shredding, and slicing evenly, it doesn't cut as cleanly as our more highly-rated models. The edges of pepperoni came out slightly ragged and parsley a bit wet and mashed. It did a fine job of kneading dough, once we stopped and stirred the ingredients but the machine rocked quite a bit as it worked.
However, what really made this model fall to the bottom of our list is its ease of use. The lid was difficult to put in place and before using the model, you have to bring a large locking arm up over the lid and snap it on. In addition, the lever controls are a little tricky to use.
This food processor comes with both a reversible shredding disc and a slicing disc that can be adjusted to six different thicknesses and a dough blade. It also comes with a bowl scraper attachment, but as it doesn't reach down into the edge, where food is most likely to accumulate, the scraper didn't provide much help.
You also get a storage box to hold the discs and dough blade, which can sit under the food processor when it's not being used. All of the parts are safe for dishwasher cleaning.

Get the Hamilton Beach Stack and Snap Food Processor at Amazon Canada
The product experts at Reviewed have all your shopping needs covered. Visit Reviewed Canada for all the latest reviews, recommendations, buying guides, and coverage of all the best products available in Canada.
Prices were accurate at the time this article was published but may change over time.