Laundry
7 top-load washers for a simplified laundry day
Looking for a new top-load washer? Here are the very best.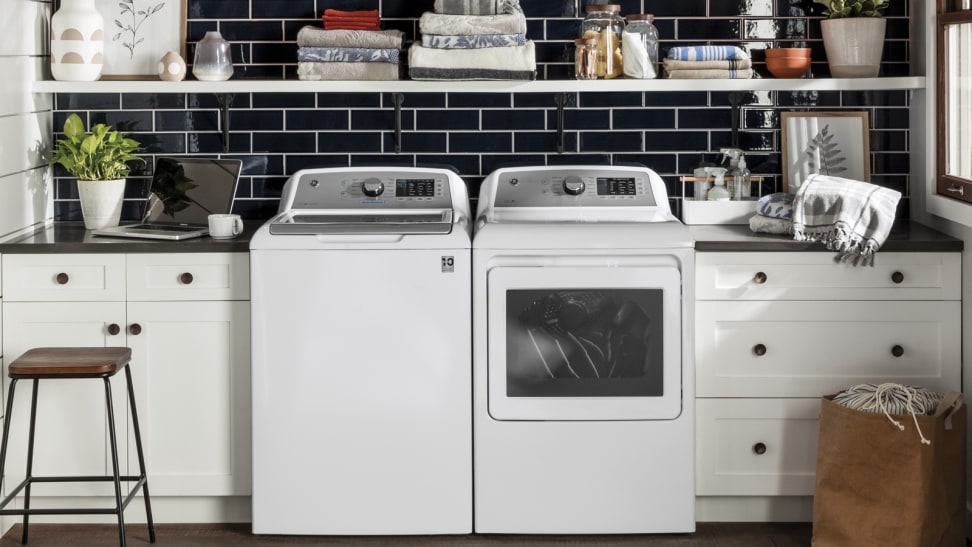 Credit: GE
While our tests have confirmed that front-load washing machines offer better energy and water efficiency, and generally clean clothes better than top-load machines, many people do prefer top-load washers. Not only are their controls typically more straightforward, but you also don't need to stoop down to load them. It's also no small matter that top-loaders tend to cost less than their front-load counterparts.
If you're interested in buying a top-load washer, you've come to the right place. We've compiled a list of the best top-load washers available in Canada today.
1. GE GTW720BSNWS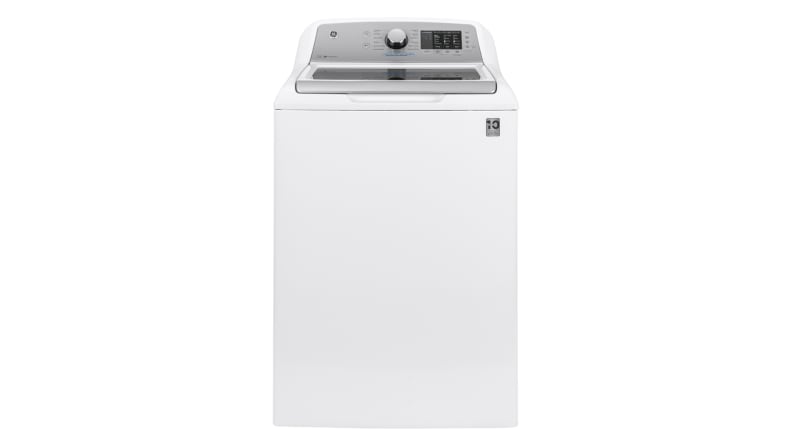 If you're looking for a modern top-load washer, the GE GTW720BSNWS fits the bill. This washer is ready to tackle any laundry load with its TIDE Pod dispenser, a stain removal guide, and a Sanitize with OXI cycle. Despite its many customization options (including the coveted Deep Rinse option, which adds more water to each load), the interface is streamlined and easy to use.
Best of all, this washer has an effective Normal cycle that finishes in about 45 minutes. Not only was the Normal cycle fast, but its cleaning performance was better than the stain removal we observed in the Deep Clean cycle, which is pretty impressive. Our testing also revealed that this washer's Normal and Delicates cycles are among the most gentle we've ever tested; you won't have to worry about wear and tear on your clothes. For a washing machine that successfully marries neat new features with solid cleaning performance, check out the GE GTW720BSNWS washer.

Get the GE GTW720BSNWS at Home Depot Canada
2. LG WT7900HBA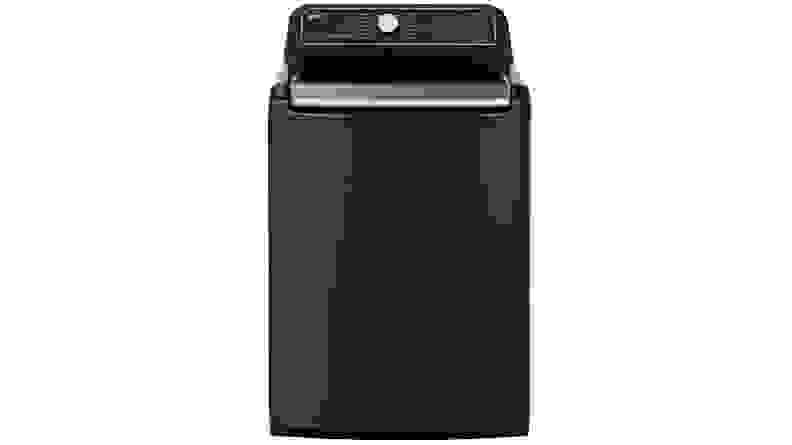 If you want a workhouse washer that can deal with lots of laundry and lots of different laundry situations, you'll want to take a look at the LG WT7900HBA top-loading washer. This washer has a lot of appealing features, including a 5.5-cu.-ft. capacity (most normal washers have a capacity of ~4.8 cu. ft.), an Allergiene cycle (which claims to remove pet dander and dust mites), and seven steam cycles (including Normal, Allergiene, and Sanitary).
Additionally, the cycle times are nice and short. The Normal and Speed Wash cycles both clock in at 30 minutes long. If you have some serious stains to remove, though, we recommend the Heavy Duty cycle, which performed the best in our stain removal tests and took less than two hours to run. While this washer isn't as efficient as some LG front-load washers we've tested, if you like top-load washers and want a larger tub capacity, fast cycle times, and steam cycles, the LG WT7900HBA might be a good fit for you.

Get the LG WT7900HBA at Overstock.ca
3. Whirlpool WTW7120HC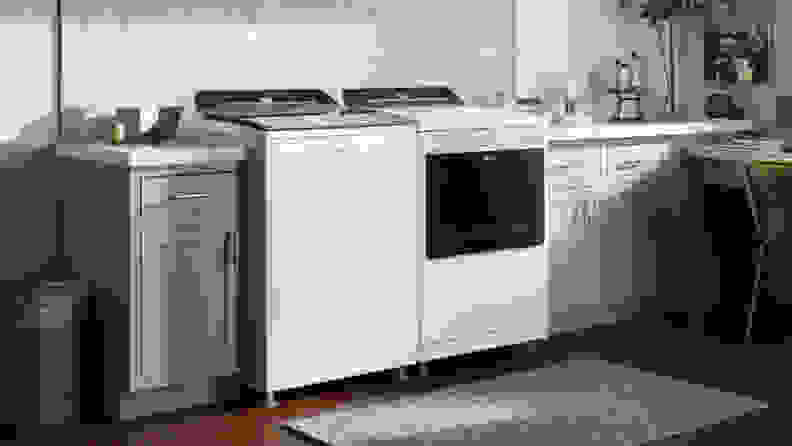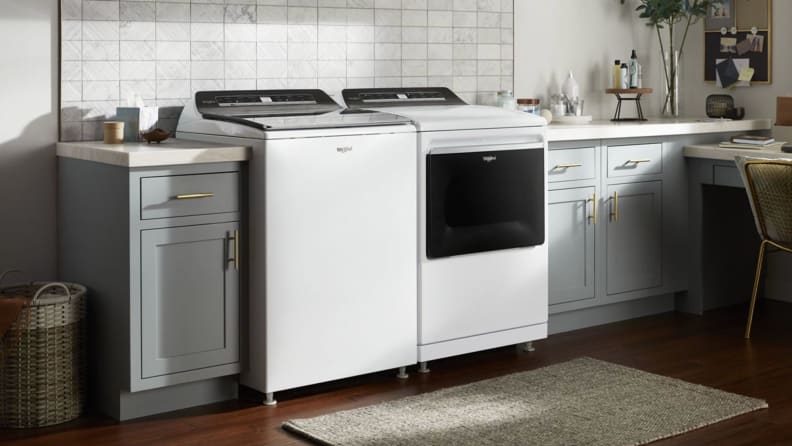 The Whirlpool WTW7120HC is a solid washer. It has decent cleaning power, and its built-in faucet and pretreating brush are excellent features that make it easier to take care of your clothes. It also makes sure to wring out a lot of water during its spin cycles, which will save your dryer a lot of extra work.
On the downside, the WTW7120HC is currently very expensive to purchase, and its smart features require a paid subscription to access beyond the first six months.

Get the Whirlpool WTW7120HC at Best Buy Canada
4. LG WT7100CW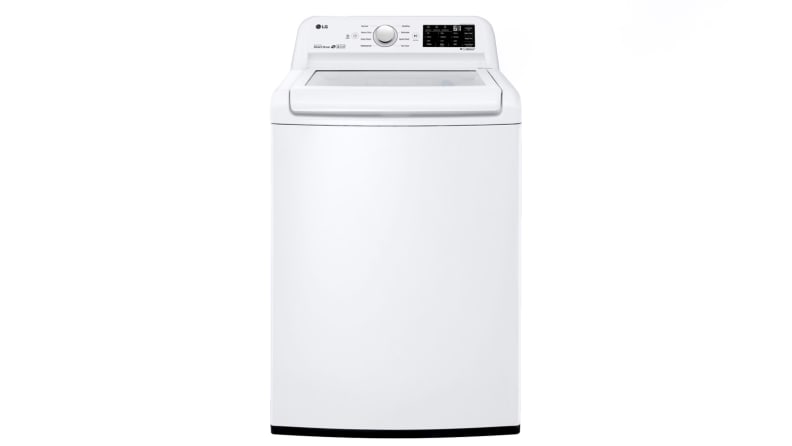 While today's washers are all about efficiency, some people prefer their washers to completely fill up with water for every cycle. If that's you, then look no further: The LG WT7100CW top-load washer won't disappoint.
With large, intuitive controls and a nice soft-close lid, this washer is easy to use but still has enough options to please even the pickiest of laundry doers. It did an okay job of stain removal and didn't spin out as much water as we'd hoped it would, but for those who want a lot of water in each laundry cycle, the Deep Wash cycle is sure to be a people pleaser.
In fact, that Deep Wash cycle uses about four times the amount of water used in a Normal cycle. With its quiet operation and see-through lid, the WT7100CW is a solid choice for someone who wants to upgrade from an old-school washer with a pole agitator but isn't quite ready to embrace a high-end, high-tech laundry setup.

Get the LG WT7100CW at Best Buy Canada
5. LG WT7300CW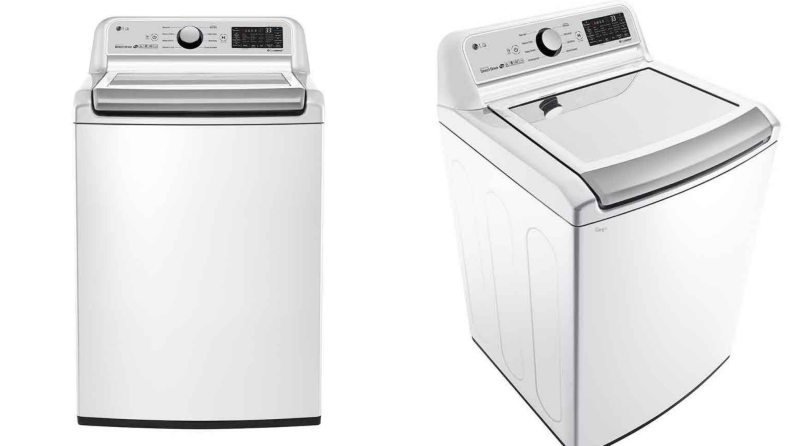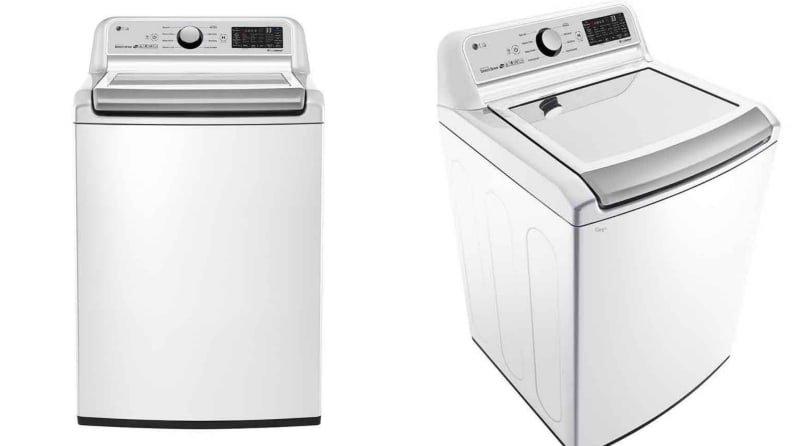 If your laundry hamper is full of delicate pieces, sportswear, or other items that don't do as well as cotton does in a washing machine, you're going to love the LG WT7300CW. This washing machine has a clear glass lid so that you can peer down and see the wash plate wash your clothes. One of the metrics by which we judge washers is wear and tear, that is, how much the washer damages the threads of your clothes in a given cycle. Out of the washers we've tested recently, the Normal and Delicates cycles on the LG WT7300CW were the most gentle.
LG is known for its feature- and gadget-heavy appliances, and the WT7300CW doesn't disappoint. While it has many extra cycle options (like Tub Clean, Turbo Wash, and Water Plus), you still select cycles by turning a dial and pressing a button. The cycle times are a bit longer than some of the other LG washers we've tested recently, and the Quick cycle option is located on the panel rather than on the dial. Still, its gentle and efficient cleaning performance makes the LG WT7300CW an easy choice for one of our top top-load washers.

Get the LG WT7300CW at Home Depot Canada
6. LG WT7305CV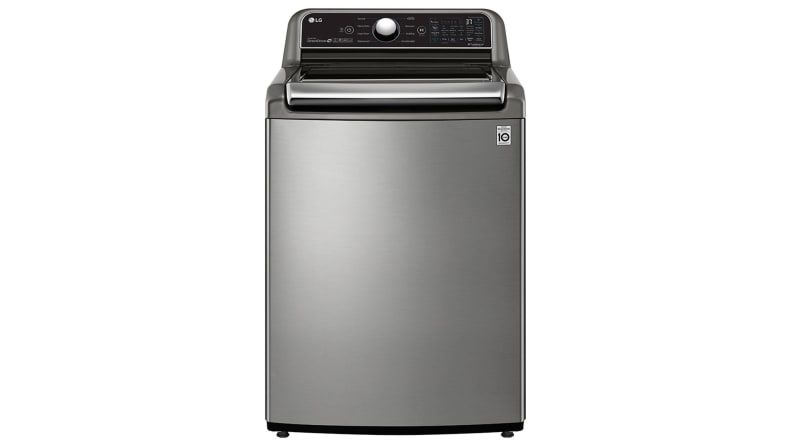 Laundry purists may stand behind a traditional washing machine design—a top loader with a pole agitator—such as the new LG WT7305CV, but those who can also geek out on special smart features will love this modern machine.
The WT7305CV comes outfitted with LG's ThinQ app, which lets you control the washer remotely, and, through LG's ProActive Care program, it uses AI and wifi to send LG usage diagnostics and appliance problems. It also has some other great features that actually add functionality, like its soft-close lid and a deep fill feature, which is great for users who get their clothes really dirty.
When it comes to cleaning power, the WT7305CV holds its own, but we would've liked to see a bit more stain-fighting power from a washer in this price range. Still, the WT7305CV is more than capable of handling the average load of laundry—just be careful around red wine and chocolate.

Get the LG WT7305CV at Home Depot Canada
7. Maytag MVW7230HW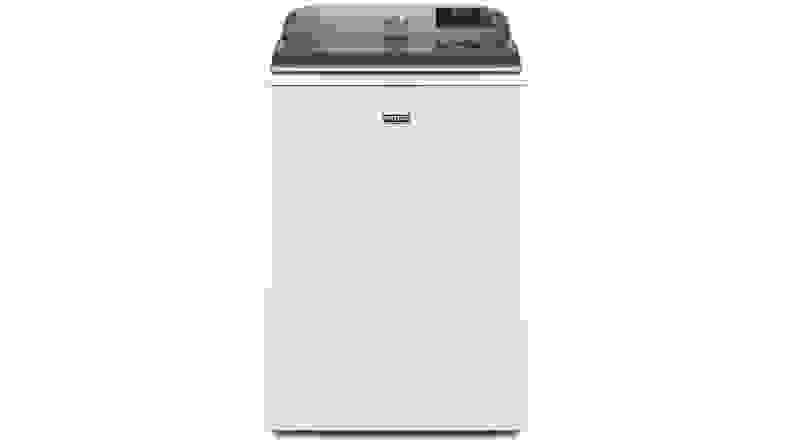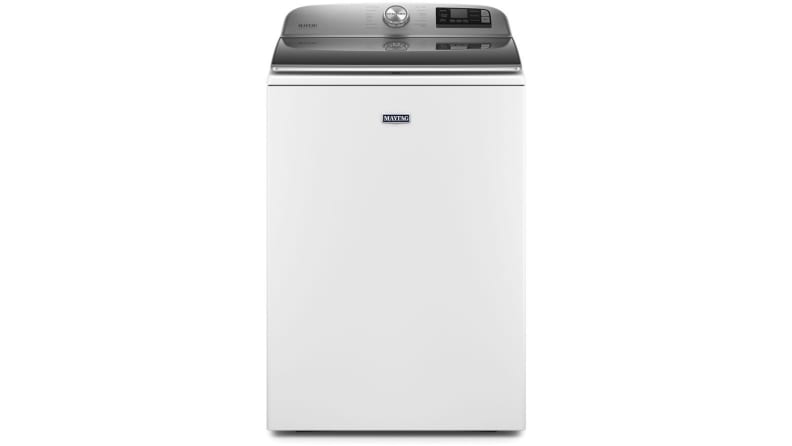 The Maytag MVW7230HW top-loader carries a premium price, but it offers some decent performance for a traditional top-loader if you can get it on sale. On our tests, we found it performed about as well as the average washer and also had some nice extras like a built-in faucet and an impressive, decade-long warranty.

Get the Maytag MVW7230HW at Best Buy Canada
The product experts at Reviewed have all your shopping needs covered. Visit Reviewed Canada for all the latest reviews, recommendations, buying guides, and coverage of all the best products available in Canada.
Prices were accurate at the time this article was published but may change over time.