As a professional chef, I have a healthy fear of mandoline slicers. I've seen my fair share of cooks cut themselves after a brief moment of misdirected attention. One minute you're slicing radishes and the next … well, it can be cringe-worthy, to say the least. For a while, I actually gave up on using them and just used my favorite chef's knife instead, but I came back to these slicers, because—like our winner, the KitchenAid Adjustable Hand-Held V-Blade Mandoline Slicer (available at Amazon for $16.41) —they're the best way to create perfectly uniform, thinly sliced vegetables.
I also realized that if trained professionals are just as likely to harm themselves as novices, maybe looking for a mandoline that focuses on safety is the key. With my new found realization, I wanted to find the best one that wouldn't break the bank. I discovered eight well-rated models: three standing versions and five that are hand-held. After slicing pounds of vegetables to see how each one stacked up, we found a few that made the cut.
Here are the best mandolines we tested ranked, in order:
KitchenAid Adjustable Hand-Held V-Blade Mandoline Slicer
Prepworks by Progressive Handheld Slice and Julienne Mandoline
Kyocera Advanced Ceramic Handheld Mandoline Slicer
OXO Good Grips V-Blade Mandoline Slicer
Mueller Austria V-Pro 5-Blade Mandoline Slicer
OXO Good Grips Handheld Mandoline Slicer
Benriner Vegetable Slicer
Swissmar Börner V-Prep Mandoline V-5000, 7-piece
Advertisement - Continue Reading Below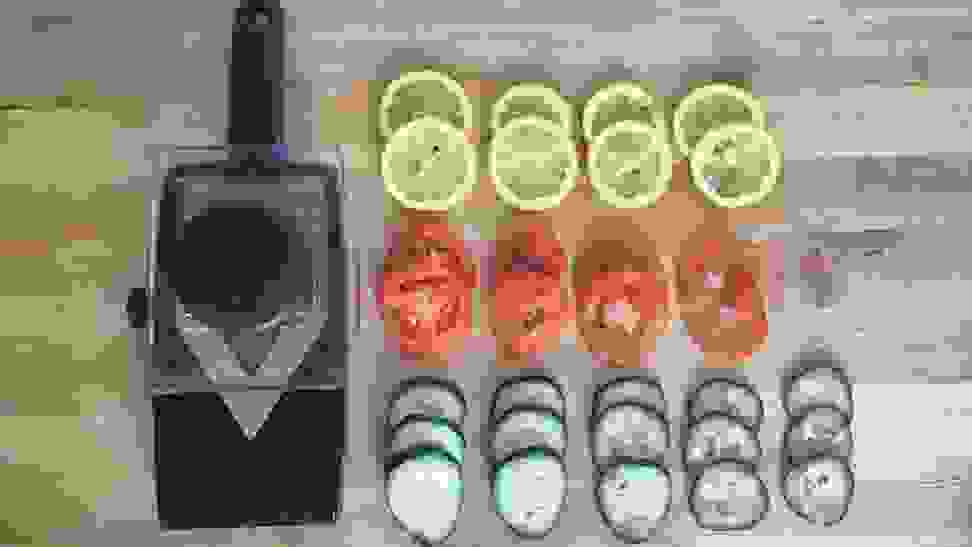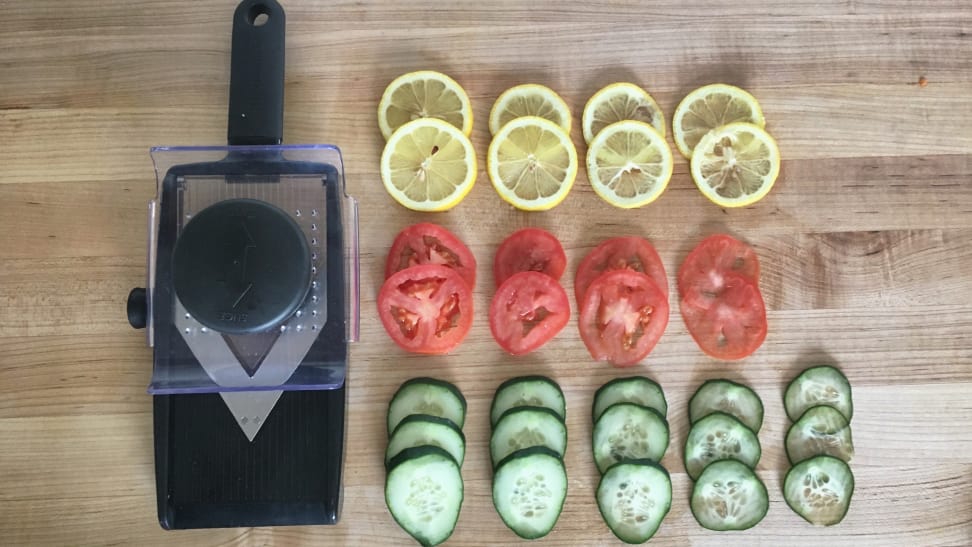 How We Tested
The Tester
Hi, I'm Lindsay Mattison, a trained professional chef and a serious fan of thinly sliced vegetables. I love farm-fresh produce, so I've been known to make elaborate vegetable salads in the summer and I frequently layer root vegetables for au gratin dishes in the winter. I already put the mandoline to the test when I found out it's the best way to make consistently sliced pieces. Now, I'm determined to find one that's also super safe and easy to use!
The Tests
After we set up the mandolines, it was time to get slicing! We wanted to test each model to see if they were safe, sharp, and easy to use.
Our primary concern was safety, so we needed to know that each mandoline had a few features to protect its user. For example, almost all mandolines come with a finger guard, so we tested to see how useful they were. We also wanted to test whether each model would stay in place during use, and could be safely stored without the risk of slicing your fingers when reaching for them.
Once we determined that they were safe to use, we tested how sharp the blade was and assessed how each one's design affected the blade use. We didn't want a mandoline with a design that required us to use too much pressure to create slices. We tested with easy-to-slice cucumbers, delicate tomatoes, rough lemons, and hard sweet potatoes. The results displayed the mandoline's ability to create uniform slices with consistent thickness.
Finally, we looked at whether each mandoline was easy to use. If it wasn't easy to store, and if it was difficult to change the thickness and optional attachment settings, you would be less likely to use it.
---
Other Mandoline Slicers We Tested
More articles you might enjoy
Advertisement - Continue Reading Below