The Best Pour-Over Coffee Makers of 2019
By Lindsay D. Mattison, January 25, 2019, Updated February 14, 2019
Coffee is a highly polarizing topic: Ask 100 people how they like their coffee, and you're likely to receive 100 different answers. While most coffee drinkers are familiar with automatic drip coffee machines, you might prefer manual brewing methods like French Press or pour-over coffee makers (sometimes called coffee drippers). A few years ago, I would have told you that I don't have time for those types of coffee making, even if it improves the quality of my morning cup of joe. As it turns out, using a pour-over coffee maker—like our top pick, the Hario V60 Coffee Dripper 02 Ceramic (available at Amazon for $18.50)—is surprisingly easy. You simply set it on top of your mug, add hot water, and a perfectly brewed cup of coffee appears like magic!
It's not just about ease of use, either. Many coffee aficionados prefer pour-over coffee because it allows you to control every aspect of the brewing process, from the temperature of the water to the specific amount of coffee grounds used per cup. And, depending on how much time and attention you want to put into it, it's possible to achieve brighter, bolder flavors by slowing down or speeding up the steeping time.
The only problem with pour-over coffee makers is that they can be confusing. Do you want glass, ceramic, plastic, or stainless steel? Should it fit over a coffee mug or is it better to spend more on a carafe-style, multi-cup pour over like the Chemex (which, incidentally, made our favorite cup of coffee during our tests)? What kind of gear do you need to make it all happen, and, in the end, does any of that actually affect the flavor? To find out, we picked up 10 top-rated pour-over coffee makers and compared them to each other. We were shocked to find that each one created a unique cup of coffee, some of which were definitely better than others.
Here are the best pour-over coffee makers we tested ranked, in order.
Hario V60 Coffee Dripper 02 Ceramic
OXO Pour-Over Coffee Maker with Water Tank
Kalita #185 Wave Glass Dripper
Yitelle Stainless Steel Pour-Over Coffee Cone Dripper
Melitta 1-Cup Pour-Over Coffee Brew Cone
Clever Coffee Dripper
Chemex Eight Cup Classic
Bee House Ceramic Coffee Dripper
Bodum Pour Over Coffee Maker with Permanent Filter
Zevro Incred 'a Brew
Updated February 14, 2019
Advertisement - Continue Reading Below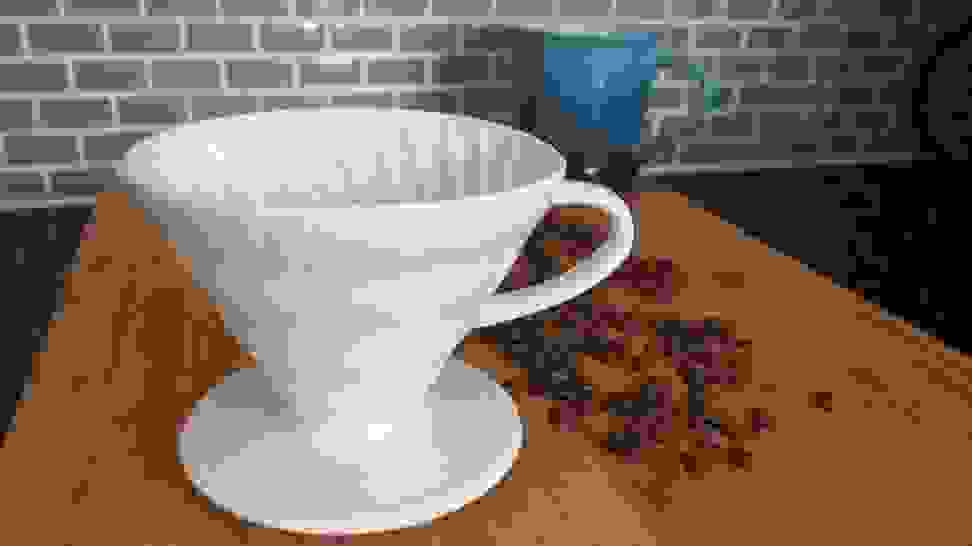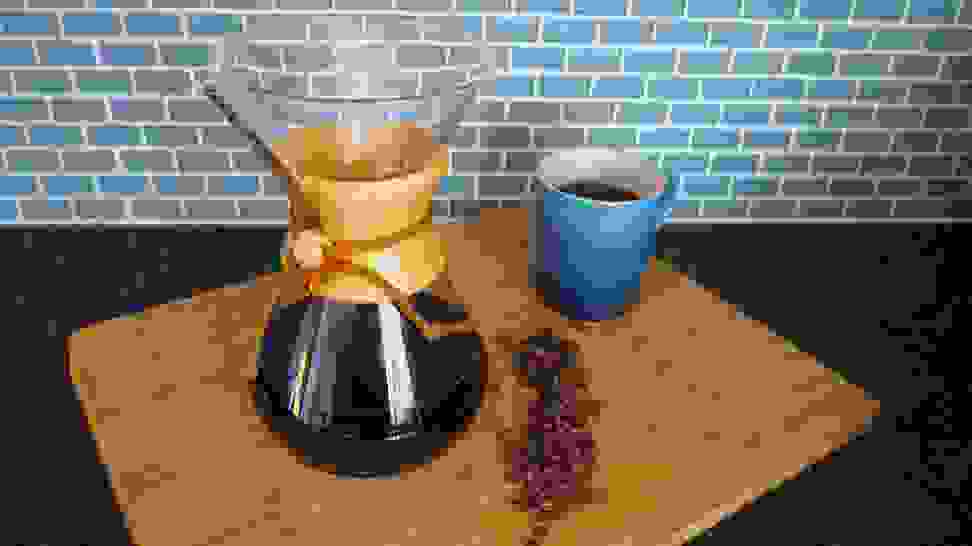 How We Tested
The Tester
Hi, I'm Lindsay Mattison, a trained professional chef and total caffeine addict. After living in the Pacific Northwest for four years, I developed an affinity for good coffee. I don't like to call myself a coffee snob, but I'll be the first to admit that I'm just shy of the title! My favorite way to enjoy high-quality, locally roasted beans is by using a pour-over coffee maker, so I was thrilled to help find the best of the best.
The Tests
We selected 10, highly-rated pour-over coffee makers of all different materials, shapes, and sizes. Most of them were designed to brew directly over a standard coffee mug, but we also selected two hybrid models. These hybrids brew coffee in an immersion environment (similar to how a French press works) before draining directly into the coffee mug. To round out the group, we picked two larger glass carafes capable of brewing more than one cup at a time.
To test each pour-over's ease of use and brew quality, we placed 24 grams (about 3 tablespoons) of coffee grounds in each filter and slowly added 400 grams of hot water (heated to just before boiling, or 205°F). We timed the process to see how long it took to brew coffee when we poured all the water in at once, and we also used an infrared thermometer to measure the side of each pour over to register temperature loss. Then, after taking the final temperature of each cup of coffee, we tasted each cup and assessed the color and character of the finished product. Although we were sufficiently caffeinated after one round, we repeated the process three times to see how the coffee makers worked under a variety of conditions.
After brewing three cups of coffee with each pour-over, we were stoked that not a single coffee ground made it into our cups—I know my automatic drip coffee maker doesn't have that kind of record! That being said, there was a surprising distinction between the flavors created by the different pour-overs, even though we used the exact same coffee grounds and identical brewing conditions. Some produced thin, bitter coffee while others created complex, full-bodied cups. We awarded bonus points to our favorite brews, as well as scoring each one on how well it balanced on the mug, whether it was easy and comfortable to use, if the filter stayed in place as we brewed, and overall ease of cleaning and storage.
What You Should Know About Pour-Over Coffee Makers
Pour-over coffee makers, automatic drip, French presses, and espresso machines; with so many options on the market today, how do you know which coffee maker is right for you? Ultimately, it comes down to a few factors: time, patience, and quality of the brew. While using an automatic drip coffee maker might seem like the quickest, easiest, and the most hands-off way to brew a cup of coffee, it will also never make the world's greatest product. The water gets way too hot, and there are too many factors you can't control. Once you get your gear in order, using a pour-over will seem just as easy as using the machine, and it tastes a thousand times better!
Like a French Press, you'll need a kettle, a coffee grinder, and a tiny bit of patience to bring it all together. Once you've selected your pour over, you'll also need some filters. Most of them work with the standard paper cone fare, although a few have proprietary filters. After running our tests, I'd recommend using a filter even with the models that come with reusable metal ones. It might not be green, but the paper prevents the coffee from becoming murky and oily.
After filling the pour-over with ground coffee (we like 24 grams, or about 3 tablespoons, per cup), bring the water to the point just before it boils–200 to 205°F degrees. If you accidentally boil it, no worries; you can let it cool for a few minutes before pouring. Then, slowly pour the hot water over the grounds, allowing most of the liquid to drain before adding additional water. Depending on how much of a rush you're in, the process could take anywhere from two to four minutes.
By regulating the water temperature and steeping time, you get ultimate control over the quality of the brew, creating a coffee that's as robust or complex as you like. You can also experiment with the fineness of the grind, but that's a whole other conversation.
---
Other Pour-Over Coffee Makers We Tested
More Stories You Might Enjoy
Advertisement - Continue Reading Below