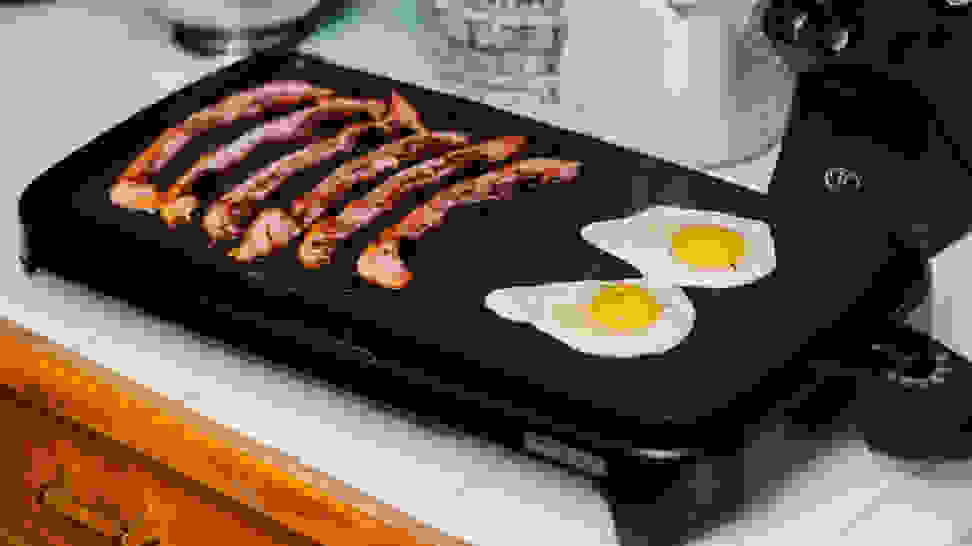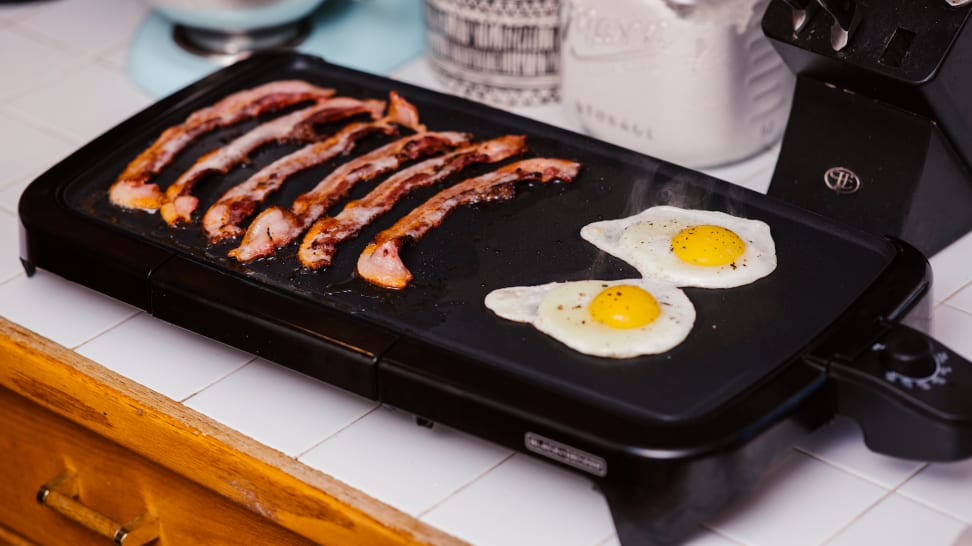 Credit: Reviewed / Jackson Ruckar
Have you ever tried preparing pancakes for your family and serving everyone at once without half the stack getting cold? Or attempted to flip a fried egg, only to struggle to fit the spatula around the curved dome of a pan? Or create crispy sizzling bacon without grease puddling at the bottom, bathing your food in fat? Then chances are you haven't tried making breakfast using an electric griddle.
These flat appliances free up your stovetop (unlike the cast iron versions, which actually sit on top of a stove's burners), and can be plugged into any wall socket in your kitchen (or wherever you prefer to cook your meal). More importantly, they can quickly and evenly cook up lots of food all at once.
And while they come in a range of prices, most are a great value, like our favorite model, the Hamilton Beach 3-in-1 Electric Smokeless Indoor Grill and Griddle (available at Amazon for $59.99). And it's hardly a one-trick pony. More than just a breakfast-making machine, the Hamilton Beach's removable plates allow it to transform from griddle to grill in seconds; allowing you to not just give your stovetop a break, but your barbecue as well!
These are the best electric griddles we tested ranked, in order:
Hamilton Beach 3-in-1 Electric Smokeless Indoor Grill and Griddle
Black & Decker Family-Sized Electric Griddle
Presto Tilt n' Drain Big Griddle
Oster Titanium Infused DuraCeramic Griddle
Zojirushi Gourmet Sizzler
Presto 22-Inch Electric Griddle
Cuisinart 5-in-1 Griddler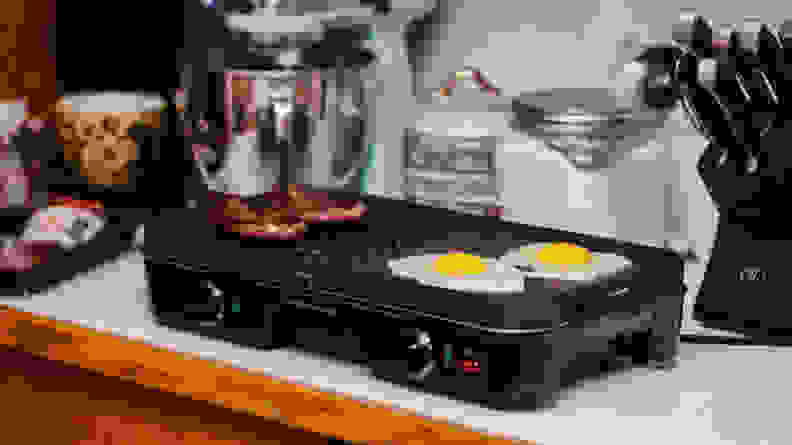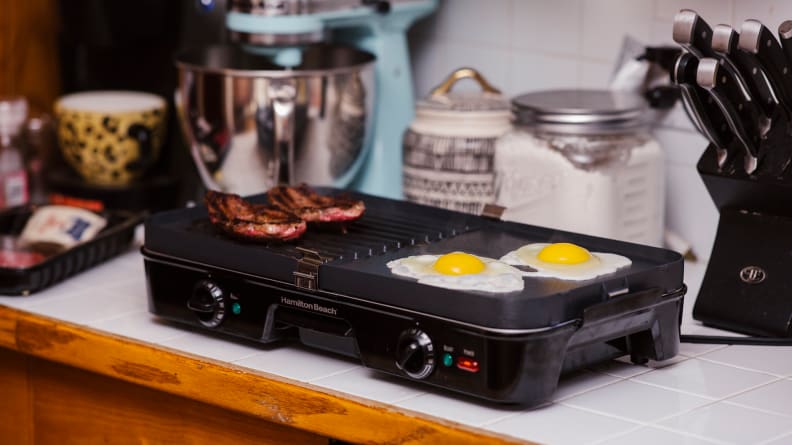 Best Overall
Hamilton Beach 3-in-1 Grill/Griddle
Meeting (and in some cases exceeding) our basic expectations for an electric griddle, the Hamilton Beach has a series of notable special features, which catapulted it right to the top of our list. It's equipped with two reversible, easy to snap in, non-stick plates (which are PFOA-free, too) with flat griddles on one side and ridged grills on the other. And while the tradeoff here is usually surface area (you often lose a significant amount of cooking real estate where the plates connect), the transition is nearly seamless. Its 180 square inches allowed us to fit four big pancakes, three pieces of bacon, and two eggs on our griddle without a hitch. Cleanup was also easier since you can remove and wash the plates without having to stick the entire unit in the sink (bonus: the plates—and the grease tray included with the griddle—are also dishwasher safe).
Another savvy addition to this griddle is that each side of the unit has its own heating control, so you can adjust the temperature under each plate. That's highly useful when cooking a variety of items at once. Unsurprisingly, the heating consistency of the Hamilton Beach 3-n-1 griddle also rated highly in our tests. In addition to uniformly griddling our breakfast items, the Hamilton Beach executed a perfect grilled cheese—evenly browned outsides and fully melted interiors. And it did it in less time than the other models we tested.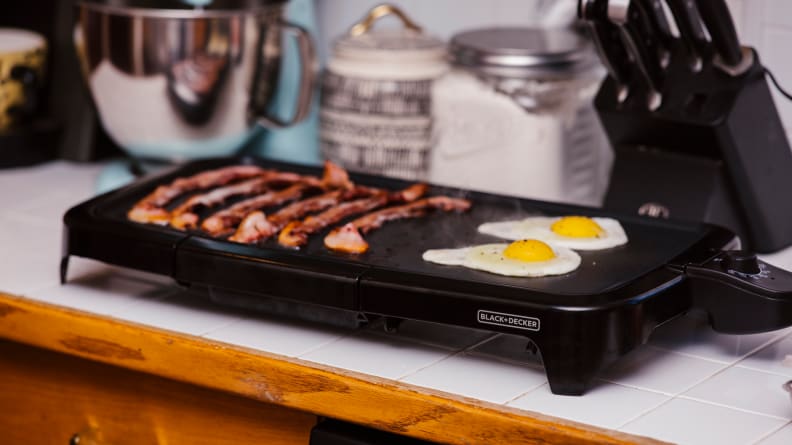 Best Flat Top
Black & Decker Family-Sized Griddle
If you're really not interested in bells and whistles, the Black & Decker scored top marks for a standard flat top griddle. This family-sized unit is all about its cooking surface, offering 200 square inches of room to griddle and groove. Temperature can be easily adjusted with a click and lock thermostat, and all the items we tested cooked through evenly and quickly (it produced wonderfully crispy bacon and a mean grilled cheese). And although you can't remove and wash the surface separately, the entire unit can be submerged in water, and since it's so light and streamlined—also a plus for storage—washing it by hand isn't a pain. It helps that a bare minimum of grease is needed on the ultra-slick, nonstick coating and that it cools down quickly after unplugging. The only real downside to the Black and Decker is that the cord for the plug is extremely short, which—unless you get an extension cord—will determine where you can use it in your kitchen.
How We Tested
The Tester
My name is Sarah Zorn, and I've been a professional food writer and recipe tester for more than 10 years. As much as I love dining out, I especially enjoy recreating restaurant experiences at home, and electric griddles are perfect for that — allowing me to turn my kitchen into a short-order diner, 7 days a week and 24 hours a day.
The Tests
For our first round of testing, we loaded each griddle with three strips of bacon, four average-sized pancakes, and two eggs, to see if all the food would fit without Tetris-style maneuvering or crowding, and how long it took the bacon to get crispy, the pancakes to brown evenly, and the eggs to cook over medium heat. We analyzed the performance of the units by measuring heating consistency, how straightforward it was to use/read the heating controls, how simple it was to remove food from the surfaces and how easy the griddles were to clean (both the surfaces and fat collectors). We also assessed how much counter space they used, how seamless they were to store, if they came with any special features or accessories, and how useful those actually were. After tabulating our first round of scores, we made grilled cheese sandwiches on our three top-testing griddles, seeing how well, quickly and evenly they melted and browned.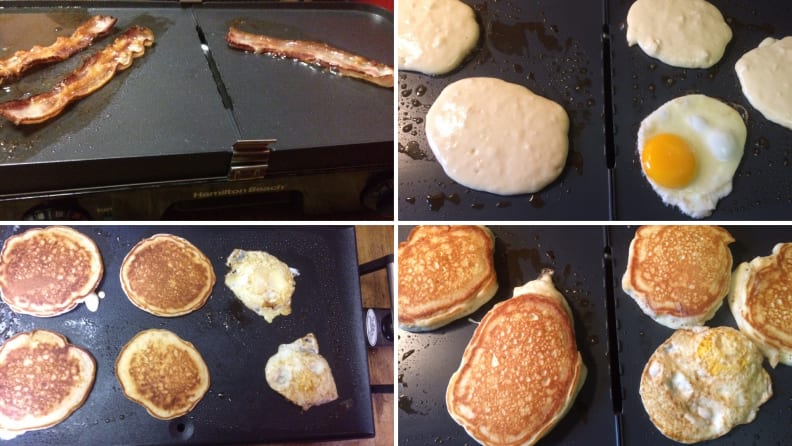 What You Should Know About Electric Griddles
What exactly is an electric griddle anyway? And why should you consider spending money on and devoting kitchen space to one? As opposed to loading your stovetop with all different kinds of pans, you can hook up a griddle wherever you have an electrical outlet and use it to make your favorite breakfast foods (or other items that benefit from a completely flat cooking surface) at once.
Their flat, rectangular surface is warmed from below by a built-in heating element that's powered and regulated by temperature controls, as opposed to significantly smaller (and awkwardly-shaped) pans, which inevitably have cold and hot spots as they're heated by a single, round, hard to stabilize flame (or electric coil) on a stove.
Electric griddles provide even heating, so no matter where you place your food on it, the food can all cook at optimum temperatures. Plus, griddles offer significantly more square footage than your average pan, so you won't need to cook in batches (no one needs to wait for their turn at pancakes!) helping you feed a crowd without any of the meal's elements sitting around and getting cold. The surfaces are nonstick (or generally are, watch out for options that aren't), so you can cook with less grease—in fact, many models have features that allow fat to actually leach away from your food. It also makes them easy to clean, especially if the griddle comes with removable plates; with little to no scrubbing required.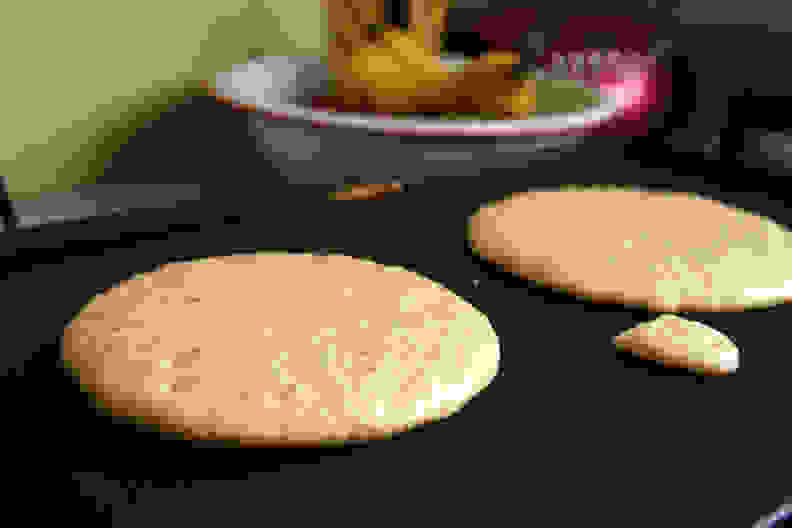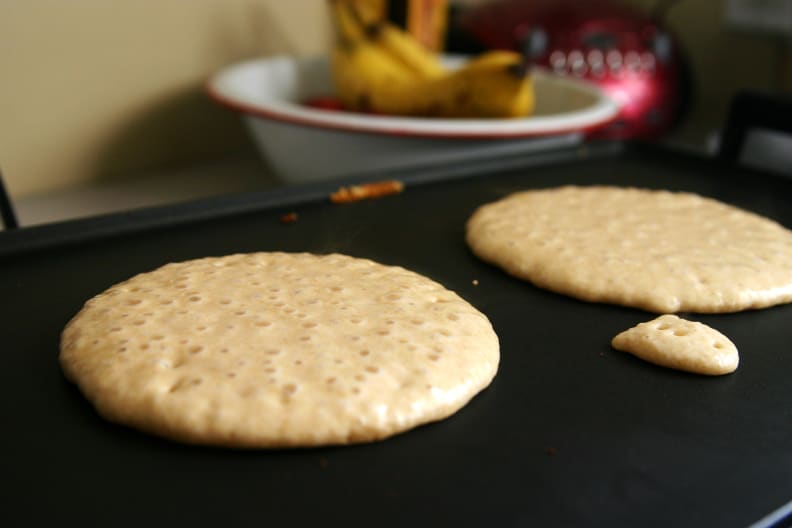 When it comes to buying an electric griddle, size definitely matters. There are smaller, sometimes collapsible models, which are easier to keep in tiny kitchens, and perfectly adequate if you don't often invite lots of people over for brunch. But you'll probably want to go with a larger option for families since these griddles make it easier to cook entire meals at once and allow everyone to eat at the same time. Either way, make sure you have the storage space to accommodate one; griddles tend to be the size of oversized cutting boards, but are much bulkier and heavier. Also, look for units that include heating controls with an extensive temperature range. Some griddles even come with dual thermostats, so you can select different heats on each side (a higher temp for searing burgers, perhaps, and a lower one for eggs). Other electric griddles offer detachable grill plates as well, so you can mix up your cooking methods by making steak or pancakes.
---
Other Electric Griddles We Tested
Presto Tilt'nDrain BigGriddle
Electric Griddles are great for their ability to cook with less fat, due to their easy release, nonstick surfaces, and the Presto Tilt n' Drain further facilitates that. When its handles are lifted outward, the surface tilts, allowing excess grease to flow into the attached trap. The griddle's generous capacity and almost-square shape (its dimensions are 23 by 17.25 inches) allow the griddle to potentially hold more pancakes than your average rectangle. The front and sides remain cool to the touch, and (minus the removable heat controller), the griddle can be fully immersed in water. That said, this thing is a beast to clean and store, and takes up lots of countertop space. It's bulky from its size and handles, and difficult to fit and maneuver in your average sink.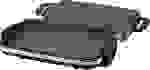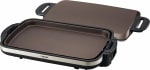 Zojirushi EA-DCC10 Gourmet Sizzler
When it comes to consistency, the Zojirushi doesn't miss a beat—effortlessly cooking up a breakfast's worth of identically crunchy bacon strips, golden pancakes and soft-centered eggs. It boasts an impressive temperature range (a 175 degree keep warm function, all the way to a smoking 425 degrees), and a sizable surface, at 237.5 square inches. The griddle actually has raised edges, which is helpful for flipping food over, and it's the only model we tested that comes with a lid—meaning you can steam things too. Oddly, it's also the only option we evaluated that doesn't include a fat collector, so excess grease has nowhere to go. And while it can be fully immersed in water, it's also heavy and unwieldy, making it awkward to store, and tricky to wash in the sink.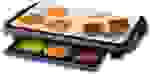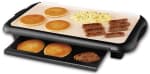 Oster Titanium Infused DuraCeramic Griddle with Warming Tray
The fun thing about the Oster is it comes with a warming tray: The perfect place to store sausages or pancakes if you're cooking for a crowd. It has a PTFE and PFOA-free ceramic coating that doesn't flake or peel and is purported to last eight times longer than ordinary nonstick finishes. We did find that it released an odor when heated, as well as a good amount of smoke. And while it definitely heats quickly and for the most part, evenly (producing wonderfully crisp bacon in less than 10 minutes) perhaps that comes at a cost, as the butter burned under our pancakes and eggs.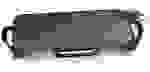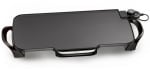 Presto 22-inch Electric Griddle
Especially for a basic, value griddle, there's nothing actively wrong with the Presto. It's roomy (accommodating our pancakes, eggs, and bacon without issue), light (it won't damage your countertops, and is easy to clean) and has cool touch handles, which can be simply unclipped without using tools, allowing for seamless storing in standard-sized cabinets. What drove it down in the rankings is that consistency proved an issue — and when it comes to griddles, there's little more important than that. Some of our bacon strips were sort of soggy, while others cooked to a crisp, and the nonstick wasn't quite as slippery—despite adding butter, some of our eggs and pancakes got caught slightly on the griddle's surface.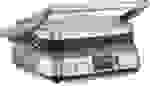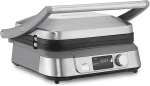 Cuisinart Griddler Five
Especially when you're strapped for cash and space, who wouldn't want an appliance that can execute five different tasks at once? The Cuisinart definitely makes a compelling elevator pitch, performing alternately as a full griddle, full grill, combination half griddle/half grill, contact grill, and panini press. The problem is (as a griddle, at least, the only function we tested), it pretty much tanked. For starters, it was difficult to tell when the Cuisinart was properly preheated (our pancakes dried out, before they became remotely brown). And for some reason we still haven't determined, it shut off partway through our bacon's cooking time, leaving the rashers flabby and sad. While it's fun to have use of two separate plates, the way they're divided seriously diminishes surface area. The Cuisinart couldn't fit four pancakes and two eggs at once, and the strips of bacon were longer than the griddle, meaning they couldn't be set down straight. And even when opened and set down as directed, the back half of the unit (which also functions as the lid), didn't lie flat. When we tried to break an egg on it, it slid right off the griddle and into the fat collector. Granted, the removable plates and folding lid makes the Cuisinart easy to clean and store, but if you're looking for a combo grill/griddle, we have to suggest the (less expensive and much more consistent) Hamilton Beach.
More Articles You Might Enjoy
Up next
Get Reviewed email alerts.
Sign up for our newsletter to get real advice from real experts.