Kitchen & Cooking
The Best Loaf Pans
Want perfect banana bread or meatloaf? Find the right pan.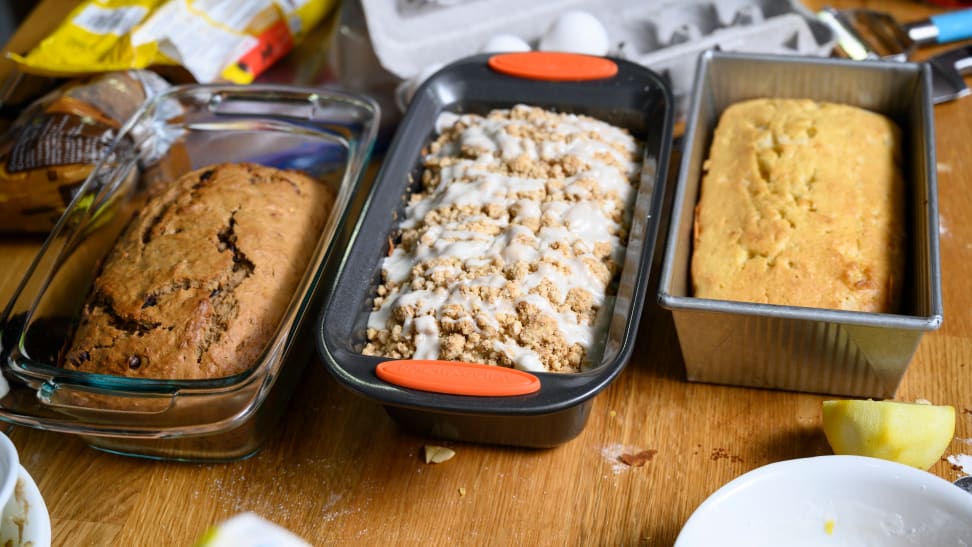 Credit: Reviewed / Betsey Goldwasser
Wonder why your banana bread doesn't come out so great? Maybe the problem is your pan. In a good loaf pan, your quick breads will bake within the time called for in your recipe. They'll come out rounded on top with crispy (but not thick or tough) crusts, with moist and tender interiors. In other words, they'll bake perfectly.
So, we spent several weeks making lots of white bread, banana bread, and meatloaf to find the best loaf pan for your baking needs. Our winner, the Rachael Ray Yum-o! Oven Lovin' Loaf Pan (available at Amazon for $8.99) is reasonably priced and super easy to use in addition to giving great baking results. However, if you prefer a pan for tender cakes with a light-colored crust, you might like the USA Pan Loaf Pan—they also make one of the best pie pans we tested—(available at Amazon). And, if you're trying to avoid a pan with a nonstick finish, our top choice is the Pyrex Easy Grab Loaf Dish (available at Amazon).
To help you spend wisely, we tested eight popular loaf pans, each roughly 9-by-5-by-3 inches, and compared their grip, ease of use, and how well they baked our recipes.
These are the best loaf pans we tested, ranked in order:
Rachael Ray Yum-o! Oven Lovin' Loaf Pan
USA Pan Loaf Pan
Pyrex Easy Grab Loaf Dish
Wilton Perfect Results Loaf Pan
AmazonBasics Nonstick Carbon Steel Bread Pan
Nordic Ware Naturals Loaf Pan
Emile Henry Ruffled Loaf Pan
Chicago Metallic Textured Loaf Pan.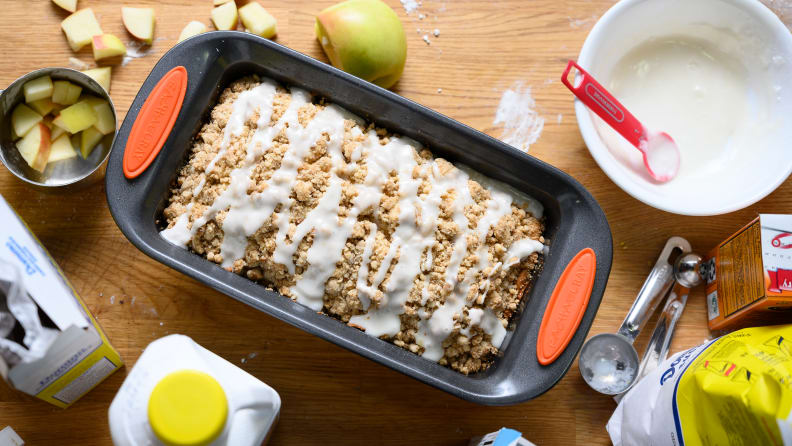 Best Overall
Rachael Ray Yum-o! Nonstick Oven Lovin' Loaf Pan
It has a silly name and it doesn't look like a professional tool, but when it came to results and ease of use, we liked everything about the Rachael Ray Yum-o! Oven Lovin' Loaf Pan for loaf baking. First of all, the handles are large and have silicone inserts in Rachael's signature orange color that make it super easy to get a firm grip on the pan. The nonstick finish never faltered, even when we didn't grease the pan. And because the nonstick finish is dark, it gave a nice deep crust to white bread. The Rachael Ray is roomier than some of the others we tested, so meatloaf juices never bubbled over onto the oven floor. As it's safe up to 500°F, you can quickly brown off a crumb topping, if need be.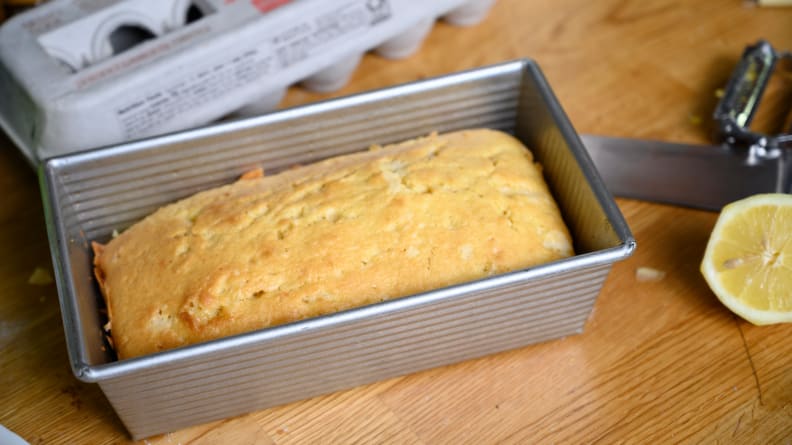 Best for Tender Cakes
USA Pan 1 1/4 Lb. Loaf Pan
When you're baking a lemon pound cake, bread loaf, or a blueberry quick bread, you probably don't want a thick and deeply browned crust. For those times, it's best to choose a pan with a light-colored finish. Our top performer in this category was the USA Pan Loaf Pan, which is made of steel coated with aluminum. It has a colorless silicone nonstick finish that helped everything we baked pop right out of the pan and made hand washing a cinch. The downside to this pan is that it has no handles so you have to grasp it firmly on the sides.
How We Tested
The Tester
Hi, I'm Sharon Franke, and I've been reviewing kitchen equipment for more than three decades. Before that, I cooked and baked professionally in New York City restaurants for seven years. I know that as simple as quick breads and pound cakes sound, they're not that easy to get right. A good loaf pan can help you get Instagram-worthy and delicious results.
The Tests
We tested eight loaf pans. In each, we baked two banana breads from two different recipes, two white breads using store-bought dough, and a classic meatloaf. As we worked, we noted if we could get a good grip on the pans, how well-baked items released from the pans, how easy the pans would be to transport, whether or not they were dishwasher safe, and how much effort needed to be put into cleaning them by hand. We noted if the pans could withstand a high temperature if you wanted to brown off a crumb topping on a coffee cake or a glaze on a meatloaf.
How to Choose the Best Loaf Pan
Loaf pans come in a variety of sizes, colors, and materials. For best results, it's important to use the size called for in your recipes. If you use a different size, your baked goods may not come out with the texture and/or height that you expected and may also take more or less time to bake than specified in the recipe.
Dark-colored pans hold in more heat and consequently give a darker, thicker crust, which makes them excellent for breads. However, you may also want to have a lighter colored pan in your collection for those times when you're baking cakes and prefer a lighter, more tender crust.
For ease of use, you can't beat metal pans. They're lightweight and easy to handle and of course, pretty much unbreakable. If you plan to serve right from the pan, ceramic or glass pans are more attractive. However, they may not brown as deeply or evenly as metal pans.
Our tests proved that nonstick pans really help when it comes to releasing baked goods and cleaning up. But even when you use a pan with nonstick finish, it's best to grease the pan as extra insurance against sticking.
---
Other Loaf Pans We Tested
Best Non-Nonstick Loaf Pan
Pyrex Easy Grab 1.5-qt Loaf Pan
If you're hell-bent on avoiding nonstick, consider the Pyrex Easy Grab Loaf Dish. Just be absolutely sure to grease the glass well before using it for baked goods. With its large handles, the Easy Grab is a great upgrade on the classic Pyrex glass pan as it lives up to its name and lets you get a really good grip even with bulky oven mitts. Unlike many of the metal pans, this one can be cleaned in the dishwasher and can also be used for microwaving meatloaf.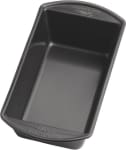 Wilton Perfect Results 9.25 x 5.25 Large Loaf Pan
The measurements are embossed right on the handle of the Wilton Perfect Results Loaf Pan so you never have to wonder if you're using the right size pan for your recipe. With its dark-colored nonstick finish, it gave our white bread beautiful crusts. But we did get some sticking, so make sure you grease this pan well. When it comes to clean up, the nonstick finish does come in handy.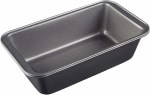 AmazonBasics Nonstick Carbon Steel Bread Pan
You can't beat the price on the Amazon Basics Nonstick Carbon Steel Bread Pan which is sold as a set of two. If you're baking pumpkin or zucchini bread to give as a gift you can gift the pan right along with the loaves or if you bring one to a party, not worry if you forget to bring home the pan. The dark nonstick gave a nice dark crust to bread but occasionally failed to release cleanly. While the pan does have handles, they're small and can be hard to grasp with bulky oven mitts.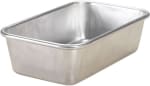 Nordic Ware Naturals 1.5 Pound Loaf Pan
This is a simple light-colored aluminum pan without a nonstick finish of any kind. By using the Nordic Ware Naturals Loaf Pan, you'll avoid over browning which you'll appreciate when you're baking a pound cake but might miss if you're the kind of person whose favorite part of a loaf of sourdough is the crispy chewy crust. You will definitely want to hand wash the Nordic Ware or the aluminum will discolor and could skew your results.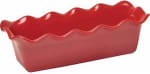 Emile Henry Ruffled Loaf Dish
Made in France, the ceramicware Emile Henry Ruffled Loaf Pan comes in several sophisticated colors including burgundy, charcoal, and oak and has a decorative edge which makes it a smart choice if you opt to serve whatever you bake right from the pan. While it's not really a good idea to cool breads and cakes in the pan, you could use the Emile Henry for a twist on the usual mac 'n cheese or a lasagna. Plus, it's microwave and dishwasher safe. However, it has no handles and it's heavy so it's not easy to maneuver in and out of the oven. In addition, it has a smaller capacity so the juices from a two-pound meatloaf boiled over onto the oven.
Chicago Metallic Uncoated Textured Aluminum 1-Pound Loaf Pan
While white bread rose high and beautiful in the Chicago Metallic Uncoated Textured Loaf Pan, our loaves came out with barely any browning on the sides or the bottom. In addition to not having a nonstick finish, this pan has very sharp corners where food gets stuck and is hard to get off. Plus, the pan has no handles so you have to grasp it by the sides to take it out of the oven.
More Articles You Might Enjoy
Up next
Get Reviewed email alerts.
Sign up for our newsletter to get real advice from real experts.