Kitchen & Cooking
The Best Mandoline Slicer
After slicing pounds of vegetables, which mandolines made the cut?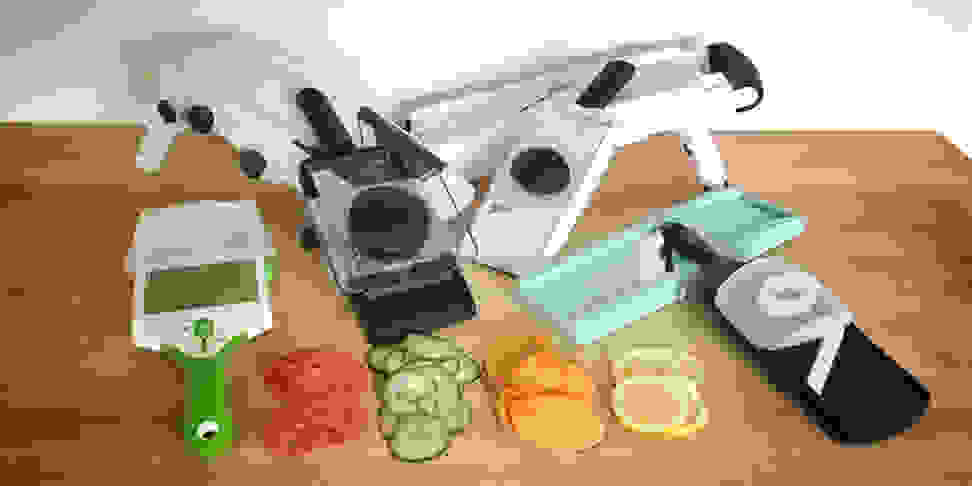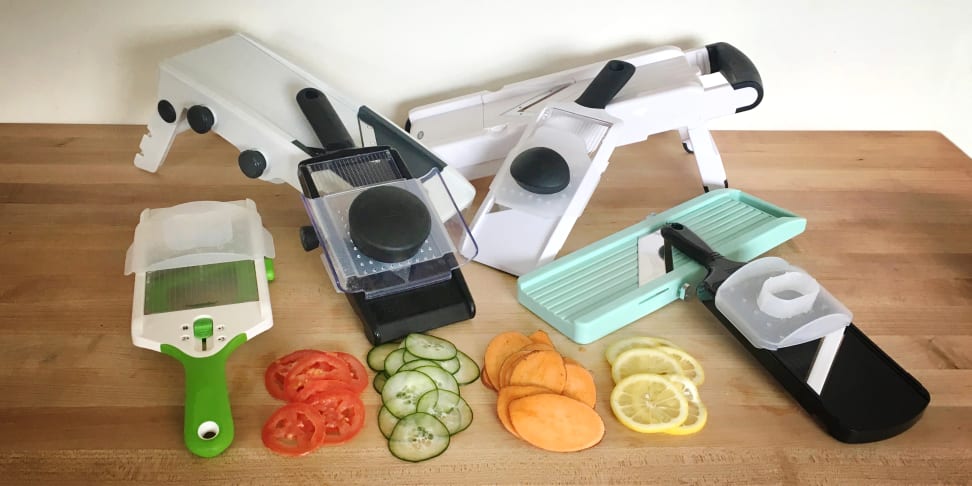 Credit: Reviewed.com/Lindsay D. Mattison
As a professional chef, I have a healthy fear of mandoline slicers. I've seen my fair share of cooks cut themselves after a brief moment of misdirected attention. One minute you're slicing radishes and the next … well, it can be cringe-worthy, to say the least. For a while, I actually gave up on using them and just used my favorite chef's knife instead, but I came back to these slicers, because—like our winner, the KitchenAid Adjustable Hand-Held V-Blade Mandoline Slicer (available at Amazon for $22.97) —they're the best way to create perfectly uniform, thinly sliced vegetables.
I also realized that if trained professionals are just as likely to harm themselves as novices, maybe looking for a mandoline that focuses on safety is the key. With my new found realization, I wanted to find the best one that wouldn't break the bank. I discovered seven well-rated models: both standing versions and hand-held models. After slicing pounds of vegetables to see how each one stacked up, we found a few that made the cut.
These are the best mandolines we tested ranked, in order:
KitchenAid Adjustable Hand-Held V-Blade Mandoline Slicer
Prepworks by Progressive Handheld Slice and Julienne Mandoline
Kyocera Advanced Ceramic Handheld Mandoline Slicer
OXO Good Grips V-Blade Mandoline Slicer
OXO Good Grips Handheld Mandoline Slicer
Benriner Vegetable Slicer
Swissmar Börner V-Prep Mandoline V-5000, 7-piece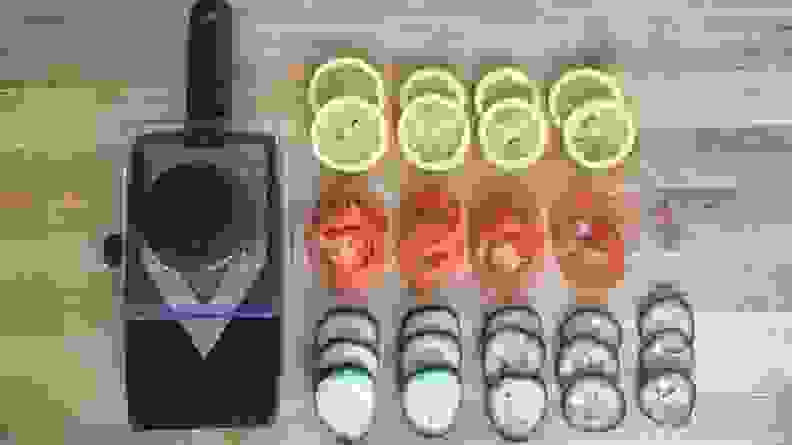 Best Overall
KitchenAid Adjustable Hand-Held V-Blade Mandoline Slicer
Our top two picks were in a tight race, but in the end, the KitchenAid Adjustable Hand-Held Mandoline just barely edged out the Prepworks model. It was the only hand-held model we tested with a V-shaped blade, which allowed it to smoothly slice through everything from hard sweet potatoes to tender tomato skins. It's five thickness settings—from 1/4-inch to 1/32-inch—were easily changed with a twist of a knob.
The rubber feet at the bottom kept the KitchenAid from moving as you comfortably gripped it by its rubber handle. The plastic finger guard was fairly effective with its larger-than-most size and super sharp prongs to grip onto the food. This model was immediately my favorite during testing and its score backed it up, solidly placing this mandoline in its spot as best overall.
How We Tested
The Tester
Hi, I'm Lindsay Mattison, a trained professional chef and a serious fan of thinly sliced vegetables. I love farm-fresh produce, so I've been known to make elaborate vegetable salads in the summer and I frequently layer root vegetables for au gratin dishes in the winter. I already put the mandoline to the test when I found out it's the best way to make consistently sliced pieces. Now, I'm determined to find one that's also super safe and easy to use!
The Tests
After we set up the mandolines, it was time to get slicing! We wanted to test each model to see if they were safe, sharp, and easy to use.
Our primary concern was safety, so we needed to know that each mandoline had a few features to protect its user. For example, almost all mandolines come with a finger guard, so we tested to see how useful they were. We also wanted to test whether each model would stay in place during use, and could be safely stored without the risk of slicing your fingers when reaching for them.
Once we determined that they were safe to use, we tested how sharp the blade was and assessed how each one's design affected the blade use. We didn't want a mandoline with a design that required us to use too much pressure to create slices. We tested with easy-to-slice cucumbers, delicate tomatoes, rough lemons, and hard sweet potatoes. The results displayed the mandoline's ability to create uniform slices with consistent thickness.
Finally, we looked at whether each mandoline was easy to use. If it wasn't easy to store, and if it was difficult to change the thickness and optional attachment settings, you would be less likely to use it.
---
Other Mandoline Slicers We Tested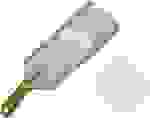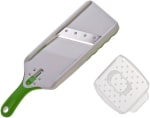 Prepworks by Progressive Adjust-A-Slice Mandoline
The Prepworks by Progressive performed almost as well as our best overall pick, except that it doesn't have a setting for super thin slices like the KitchenAid. Otherwise, it was well performing on all the vegetables, including the rough lemons and super hard sweet potatoes. While it's the largest and heaviest of the hand-held mandolines, it's also an attractive little piece. It comes with a julienne blade attachment, which can be switched on with the flip of a dial. The blade size switches with the click of a button and safely locks into place for storage. It's also the least expensive in the group we tested.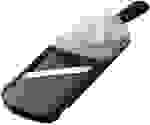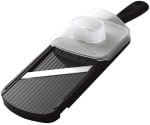 Kyocera Advanced Ceramic Adjustable Mandoline
The Kyocera Adjustable was the smallest and lightest-weight model we tested. It's also the only one with a ceramic blade, which means it's not only super, super sharp but it should also last longer than stainless blades without dulling or rusting. The four slicing settings were easily changed by turning the dial on the back, which also allowed you to lock the blade safely into a storage position. The finger guard left something to be desired, but since the blade was so sharp I didn't have to use too much effort to slice the vegetables. Since it's so small, you will need to remove your stacked slices more frequently than with a larger model, but that's a sacrifice I'm willing to make for paper-thin slices!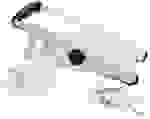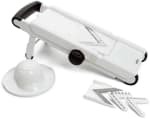 OXO Good Grips V-Blade Mandoline Slicer
While we generally felt that the hand-held models tested better, the OXO Good Grips V-Blade was our favorite standing model. It sits at a diagonal angle, so it had the same effortless ergonomic setup as the handhelds to slice in a downward motion. It did struggle a bit with the hard sweet potatoes, but it had our favorite finger guard of the group. The metal tongs solidly pierced the food and the top was retractable, allowing you to slice almost the entire vegetable and creating very little waste. The thickness settings were easily changed by twisting the dial, but the two julienne blades and a crinkle cut blade were quite a bit harder to change out.


OXO Good Grips Adjustable Handheld Mandoline Slicer
I really liked the small profile and the clip-on finger guard on the OXO Good Grips Handheld Mandoline. It performed really well on the thicker settings—which were controlled by a slide dial that includes a lock setting—but it didn't make uniform slices on the thinner settings. The rubber feet gripped nicely and the handle was comfortable, but some of the other hand-held models had an edge up when it came to performance.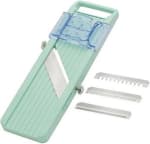 Benriner Mandoline Slicer
I've owned this Benriner vegetable slicer for almost five years, carrying it around with me in my knife roll from job to job. So, I was shocked when it underperformed on these tests! I knew that the finger guard was a joke (you may as well throw it out, it's more dangerous to use it), but I thought this model would have one of the sharper blades. While it is the best for adjusting blade size (a screw allows you to choose any size you like), and it is comfortable to hold, the bridge is susceptible to kickback as you use it. This all adds up to make it significantly more dangerous than the other models.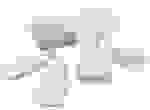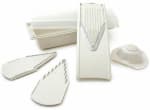 Swissmar Börner V-Prep Mandoline V-5000
The box-style model of the 7-piece Swissmar Börner is great for storing the slicer and its attachments, but it has a major design flaw. This mandoline doesn't have a hand-held grip or retractable feet, so the storage box is also used as the mandoline's base while you slice. That makes it convenient for catching your sliced vegetables, but the design requires you to to remove all the attachments from the box before using the mandoline. Then, since the base is also the storage unit, you have to wash the mandoline and the box before putting it back together for storage. It's not a hard process, but it is cumbersome and more time consuming than the other table-top models. In addition to the annoyance factor, the design also forces the mandoline to sit flat as opposed to being at a slight angle like the other mandolines. This made it especially difficult to slice hard vegetables like sweet potatoes.
More Articles You Might Enjoy
Up next
Get Reviewed email alerts.
Sign up for our newsletter to get real advice from real experts.