Kitchen & Cooking
10 Valentine's Day recipes that are more romantic than dining out
Light some candles and indulge in a delicious homemade meal.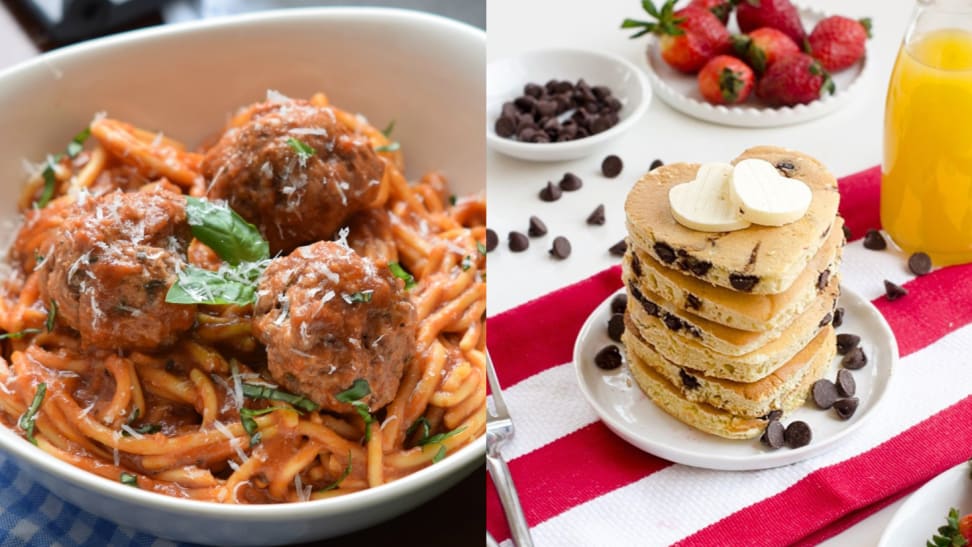 Credit: Serious Eats / Chic and Sugar
Want to switch things up for Valentine's Day this year? Instead of heading out to a busy restaurant, treat yourself and your partner to a romantic homemade dinner. All you need to create an unforgettable evening is a few candles, fresh flowers, soft music and one of these amazing recipes.
1. Spaghetti and meatballs
Whenever I think about spaghetti and meatballs, I picture that scene from Lady and the Tramp. It's just so classically sweet and romantic, and that's why you should consider whipping up a batch of this amazing Instant Pot Spaghetti and Meatballs from Serious Eats for Valentine's Day. You can even do the cute spaghetti kiss if you're feeling extra cheesy!
Get an Instant Pot LUX60 V3 6-qt. 6-in-1 Muti-Use Programmable Pressure Cooker on Amazon for $79
2. Sous vide steak
There's a fine art to cooking the perfect steak, and if you struggle to get it just right, you're certainly not alone. Luckily, you can cook your Valentine's Day steak to edge-to-edge perfection with the help of a sous vide cooker. Then you just sear it to crisp up the edges for a restaurant-worthy meal. Use this Sous Vide Steak recipe from Serious Eats to guide you.
Don't have a sous vide cooker yet? We'd recommend the Bluetooth model from Anova Culinary, which took home our Editor's Choice award.
Get the Anova Sous Vide Precision Cooker on Amazon for $119.99
3. Seared scallops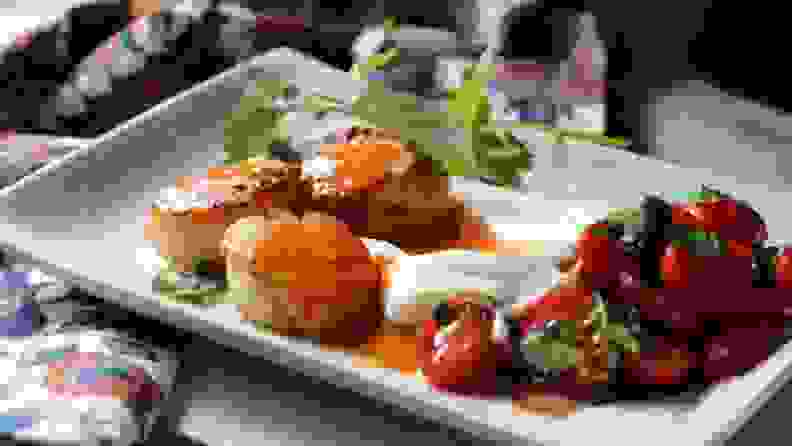 Perfectly prepared scallops are a luxurious meal, and oh, did I mention they're also thought to be an aphrodisiac? You can wow your partner with this Valentine's Day Seared Scallops Dinner from PaleOMG. Just make sure you have a high-quality frying pan to sear the scallops in—we recommend the 12-inch Fry Pan from All-Clad.
Get the All-Clad 4112 Stainless Steel Tri-Ply 12-inch Fry Pan on Amazon for $154.50
4. Zucchini Cacio e Pepe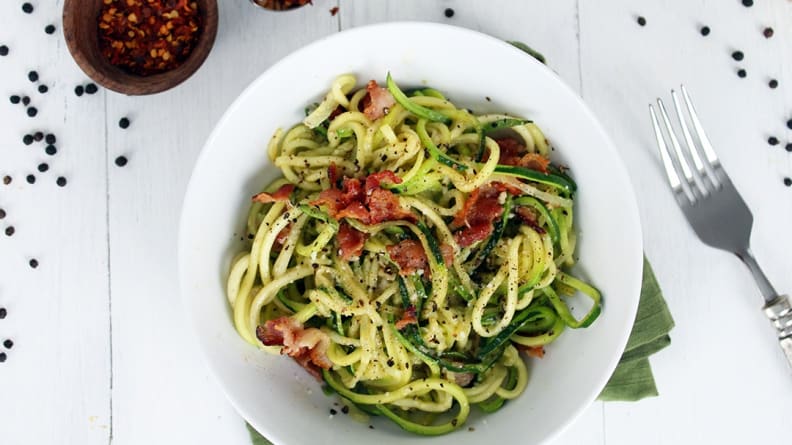 If you want to romance of a spaghetti dinner without all those heavy carbs, this recipe for Zucchini Noodle Bacon Cacio e Pepe from Inspiralized is perfect for you. Just break out your spiralizer (we love the tried-and-true Veggetti), and you'll have an amazing and healthy Valentine's Day dinner in no time.
Get the Veggetti on Amazon for $9.99
5. Heart-shaped pancakes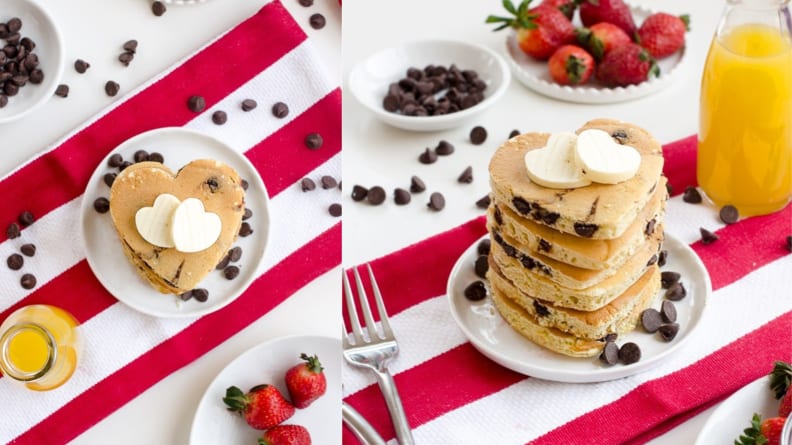 Breakfast for dinner is amazing, and so are these Chocolate Chip Heart Pancakes from Chic and Sugar. They're sweet, chocolatey, and a fun way to have a low-key but still romantic date night with your lover.
Get the Wilton Red Metal Heart Shaped Cookie Cutter on Amazon for $4.79
6. Pink garlic and cauliflower soup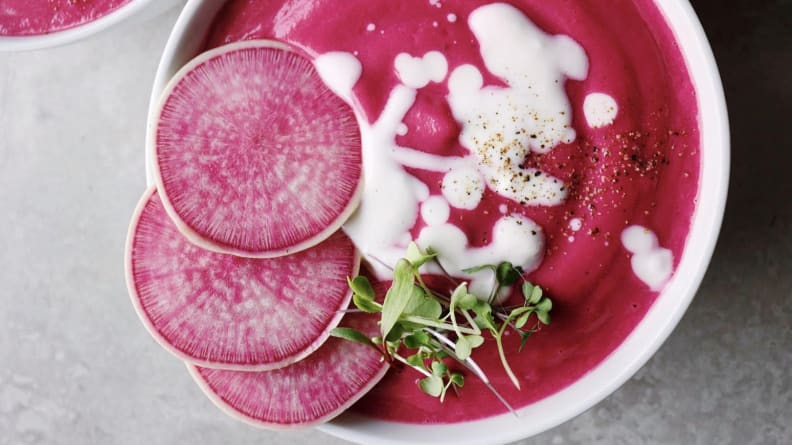 This soup is just so vibrant! The recipe for Pink Roasted Garlic and Cauliflower Soup from Plant Based Blonde uses beets to get that rich pink color—perfect for first course on your Valentine's Day menu.
You'll need a powerful blender to get this soup as smooth as can be, and if you don't have one already, our editors recommend the Breville Boss Super Blender or the more affordable KitchenAid Diamond Blender.
Get the Breville Boss Super Blender on Amazon for $329
Get the KitchenAid 5-Speed Diamond Blender on Amazon for $101.82
7. Three-cheese fondue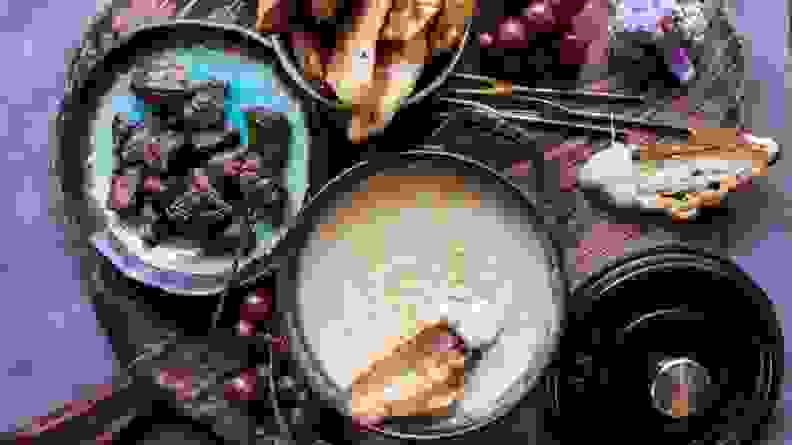 You wouldn't necessarily think a vat of melted cheese would be sexy, but trust me, it is. You'll have a fun, romantic Valentine's Day dinner with your special someone when you whip up this Smoky 3-Cheese Fondue from Half Baked Harvest. Get creative with your dippers—you can use vegetables, meats, bread, and more!
Get the Cuisinart Electric Fondue Maker on Amazon for $42.63
8. Mini heart-shaped pizzas
Who doesn't love pizza? These adorable Heart-Shaped Bee Sting Mini Pizzas from Pretty in Pistachio are definitely more gourmet than your average pepperoni pie, but they're still really easy to make! Pro tip: Be sure to use a high-quality baking sheet like the best we've ever tested to ensure your pizzas cook evenly.
Get the Nordic Ware Natural Aluminum Commercial Baker's Half Sheet on Amazon for $9.97
9. Poached salmon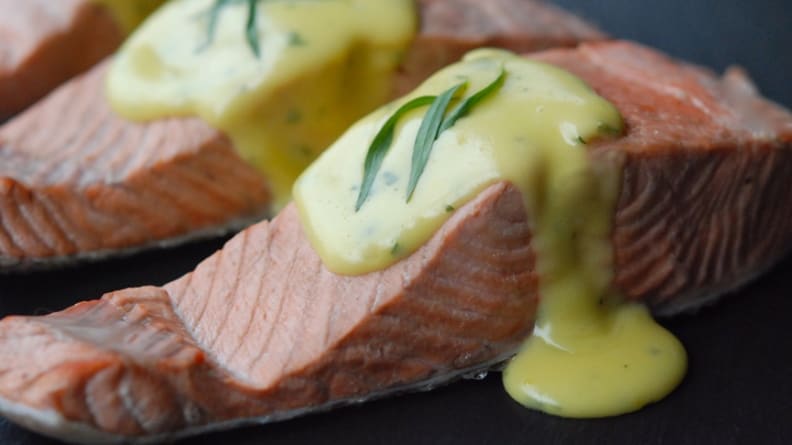 Even if you've never poached anything before, you'll be able to handle this easy recipe for Poached Salmon from Andrew Zimmern. You'll need a deep skillet or saute pan so you can cover the fillets completely with water. With a few vegetables on the side, this seafood dish is truly an entree worthy of Valentine's Day.
Get the Cuisinart Chef's Classic Stainless Saute Pan on Amazon for $42.12
10. Bacon-wrapped chicken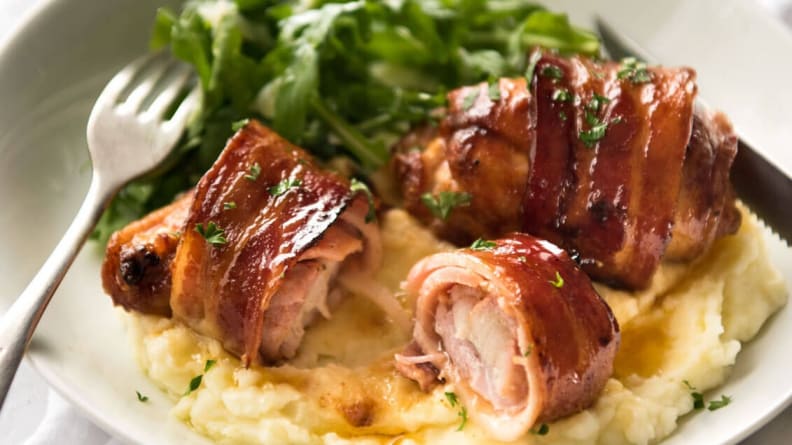 When in doubt, opt for bacon. You can't go wrong with this simple recipe for Bacon-Wrapped Chicken from Recipe Tin Eats. It's straightforward enough for novice chefs, yet so incredibly delicious you'll feel like a professional chef. Don't forget to brush the extra juices onto your chicken at the end for an additional kick of flavor!
Get the OXO Good Grips Silicone Basting & Pastry Brush on Amazon for $7.99
Bonus: Chocolate-covered strawberries
No Valentine's Day dinner is complete without a decadent dessert—how about some chocolate-covered strawberries? This recipe for Chocolate Dipped Strawberries from Savory Simple is as easy as they come, and it's sure to set the mood for any romantic post-dinner activities. You'll need parchment paper to keep things neat and pretty while the chocolate sets.
Get a box of Reynolds Kitchens Pre-Cut Parchment Paper on Amazon for $3.48
Prices are accurate at the time of publication, but may change over time.