If you're updating your kitchen, you'll probably replace your current appliances. Of course, in your dream kitchen, you'd wish for luxury appliances. You'll buy the best ones you can afford. But they don't have to bust your budget.
Here at Reviewed, we're seeing a trend: Affordable appliances with luxury features. Budget machines no longer have to look or work like their old-school counterparts. For a reasonable price, they incorporate new technologies and chic looks to elevate the kitchen. This is great news for your reno.
Here are some appliances we've tested that bring you high-end function and contemporary design while making every dollar count.
1. Stainless steel appliances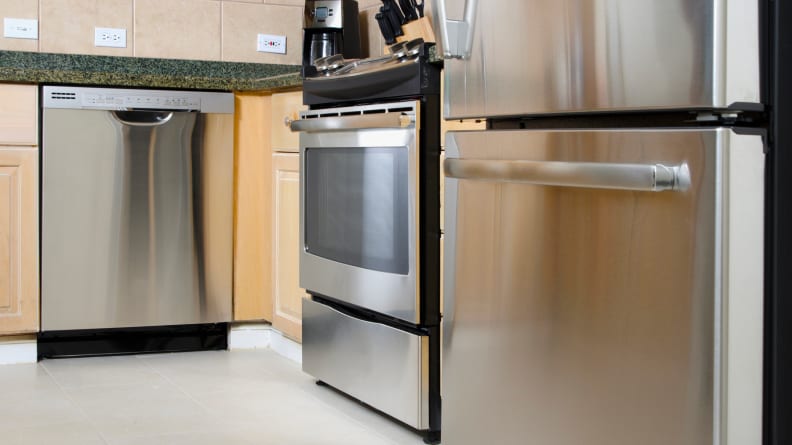 Despite yearly color introductions from the brands, stainless steel finishes remain classic, and they're more affordable now than before. Stainless gives any appliance a pro look. While a finish like Whirlpool's Sunset Bronze looks pretty, in a few years, it will go the way of Bisque—another weird outlier that's hard to match with anything today. Stick with stainless, or stainless-look. At the lower end, you may have to live without fingerprint resistance, so be prepared to polish off smudges.
2. Third rack dishwashers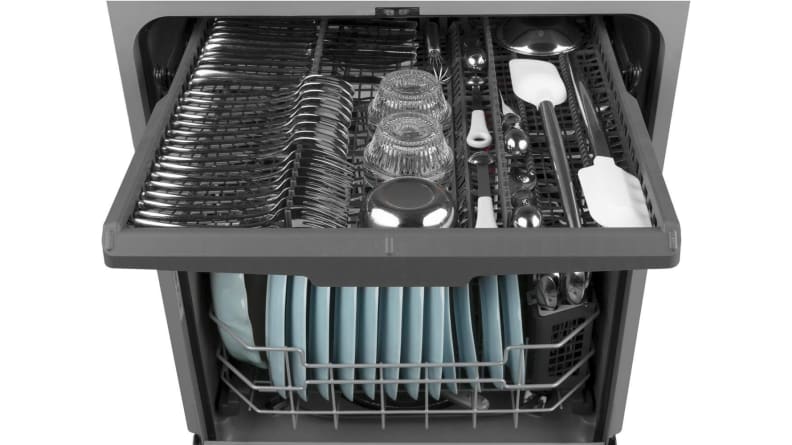 GE Appliances has come out with a third rack for dishwashers with plastic interiors. This coveted feature, which offers extra space for cutlery and longer kitchen tools, used to appear only in stainless steel dishwashers in the $800 - $1,000 range. Recently, we saw it on the GDF630PGMWW, which retails for under $500. With bottle wash jets, an adjustable middle rack, good cleaning and perfect drying, this dishwasher gets a thumbs up, as long as you're not in a hurry. (Its cycles are long.) If your GE dishwasher lacks the rack, newer models can be retrofit for an extra $100.
Get the GE Appliances GDF630PGMWW for $492 from AppliancesConnection
3. French door refrigerators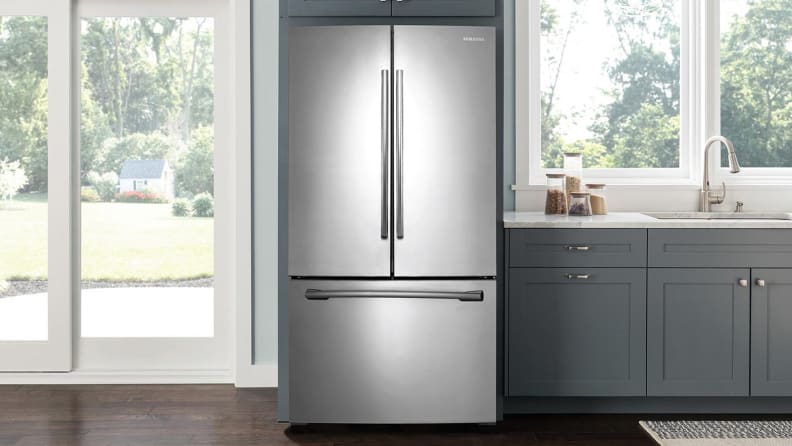 When it comes to refrigerator style, side-by-side is out and French Door is in. It used to be the case that a French door fridge would set you back $3,000 or more. But now there are a number of fridges on the market that bring French door class to the kitchen for under $1,500. At that price point, you might have to give up a through-the-door ice dispenser, but the sleek look may be a trade-off you can live with.
The stainless steel Samsung RF260BEAESR rocks expensive looks at a price that often dips below $1,000. Inside, it has LED lighting, an internal deli drawer with three temperature settings, and a cooling system that discourages freezer burn. You do get an icemaker, but it's inside the freezer.
For a unique look, you could reach for the dazzling quad door Haier HRQ16N3BGS, an affordable counter-depth model. From the pocket handles to the two separate freezer sections, this model offers a one-two punch: A modern look and efficient operation.
Get the Samsung RF260BEAESR for $1,595.30 from AppliancesConnection
Get the Haier HRQ16N3BGS for $1,044 from Abt
4. Washers with faucets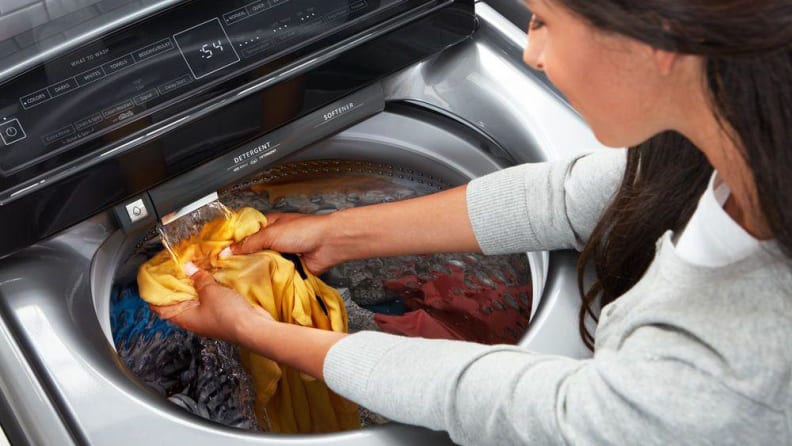 If your laundry room has a utility sink, you probably use it to hand wash, soak, and treat stains. If there's no room for a sink, think about buying a top-loading washer with a built-in faucet. Whirlpool's WTW500GC. is easy to use. Run the internal faucet and let the garment soak in the tub. After an hour, the water drains, and you can go ahead with the laundry. For an under-$700 machine, this generously sized (4.8 cu.-ft.) Whirlpool model is also loaded with features that tell you how to wash every kind of laundry.
Samsung's version of a machine with a sink, the WA54M8750AW costs a little more but has a basin inside the machine.
Get the Whirlpool WTW7500GC for $673.60 at AppliancesConnection
Get the Samsung WA54M8750AW for $749.30 at AppliancesConnection
5. Robot vacuum cleaners
High-end robot vacuum cleaners can run you close to $1,000, but you can get one for a lot less—a third of that. Okay, a robot vac won't clean as well as an upright, but the convenience is unbeatable. With the Neato Botvac D3 Connected, you can tell Alexa or Google Home to send it out to conquer the floors anytime. Or just start it from your smartphone.
Get the Neato Botvac D3 Connect for $399 from Amazon
6. Induction cooktops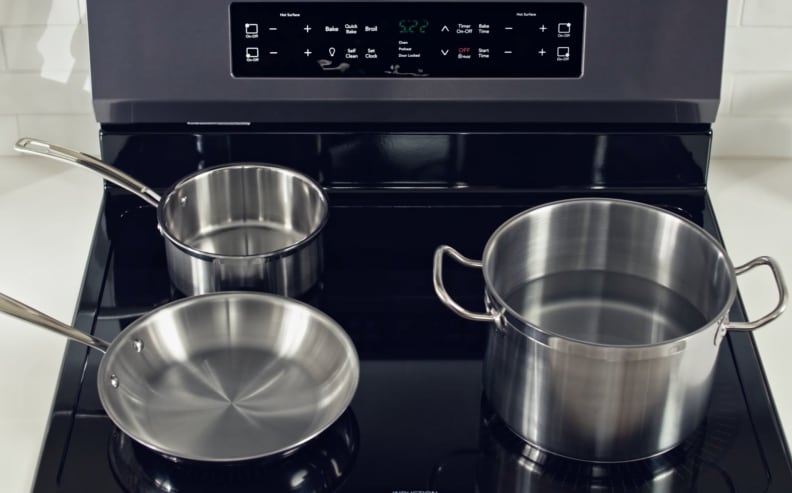 Not everyone is familiar with induction cooking, which uses an electromagnetic field to heat the pan instead of the cooking surface. Professional chefs have long loved induction cooking, with its speedy boil and consistent temperatures that beat gas and electric. Now that Frigidaire has broken the $1000 barrier with a very good entry—the FFIF3054 induction range. For homeowners replacing an electric range, a change to induction could be a no-brainer.
Get the Frigidaire FFIF3054TD for $983.10 from AppliancesConnection
7. Shop package deals and sales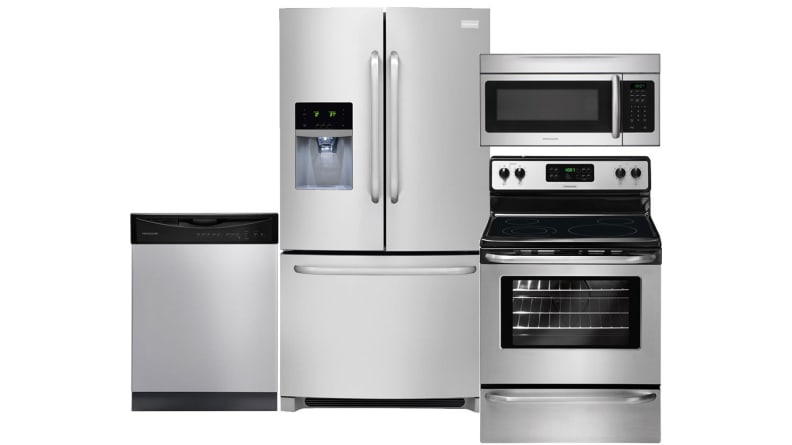 Good luck with your kitchen reno. Be on the lookout for package deals and sales—you can often score better appliances with the looks and features you're craving at a more reasonable price point than you ever thought possible.
Prices are correct at the time of publication, but may change over time.