Kitchen & Cooking
These $30 chocolate chips are designed by a Tesla engineer—are they worth it?
They might make for the very best chocolate chip cookies.
Credit: Reviewed / Valerie Li Stack
Besides being the birthplace of America's oldest sourdough bread, San Francisco is home to "Maybe the Very Best Chocolate Chip Cookies," which are from a small-batch, bean-to-bar chocolate factory nestled in the Mission District. To some Bostonians, claiming the "best chocolate chip cookies" come from anywhere outside of Massachusetts is akin to starting a war—which is why I was intrigued by Dandelion Chocolate, whose pastry chef Lisa Vega designed and hand-piped their unique, original chocolate discs (later known as the Large Chips) that made the treats famous.
However, as demand went up, the slow hand-piping method became a roadblock—to solve this, Remy Labesque, Tesla's senior industrial engineer and fan of the chocolate store, redesigned the Large Chips and created a mold that made larger scale production possible.
What are the Large Chips?
The faceted, flat-pyramid chocolate chips are thick on two edges while sloping to a thin edge on the other two, making sure the chocolate maintains its shape throughout baking. The thin edges are engineered in such a way that they melt in the mouth, according to Labesque. Thanks to the flat and square design, the chips have a huge amount of surface contact with the dough, ensuring every bite is buttery and chocolatey.
To find out whether these chocolate chips ($30) are worth shipping across the country, I ordered the 70% Costa Emeraldas Large Chips. A single bag contains 17.6 ounces (500g) of chips, which can make about two dozen large cookies. Weighing in at 3.5 grams each, these single-origin chocolate chips feature notes of buttercream frosting and banana, making them perfect for desserts like cookies and brownies.
We baked cookies with the Large Chip—are they any good?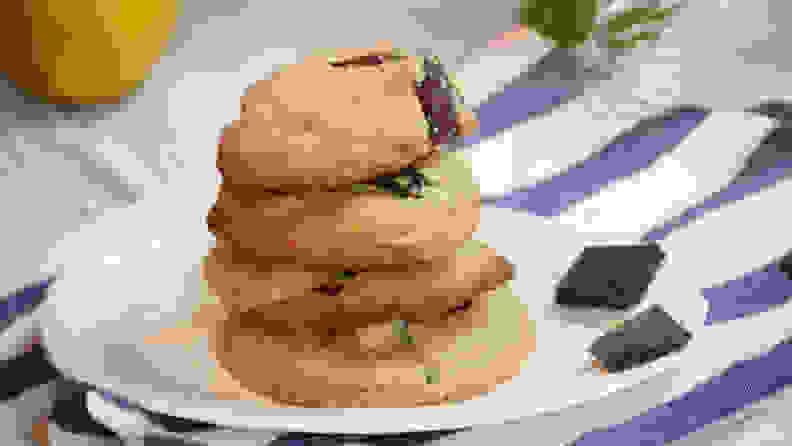 To create these "Maybe the Very Best" chocolate chip cookies, I followed Dandelion's recipe from their cookbook, Making Chocolate, and made a batch of cookies.
Though the recipe recommends using a stand mixer, I found it just as easy using a hand mixer or mixing by hand.
The chips are large and relatively thin, making them just a bit brittle. I initially had my stand mixer on low speed with the paddle attachment, but after hearing a few cracking sounds, I decided to mix by hand. If you decide to bake with these chips, be gentle!
Also, because these chips are much larger than your average teardrop-shaped chips, you may want to avoid using them in tiny treats and finger desserts as they may not fit into molds or hold onto tiny dough balls. Instead, plan to make large chocolate chip and thumbprint cookies.
Dandelion's Large Chips vs. regular chocolate chips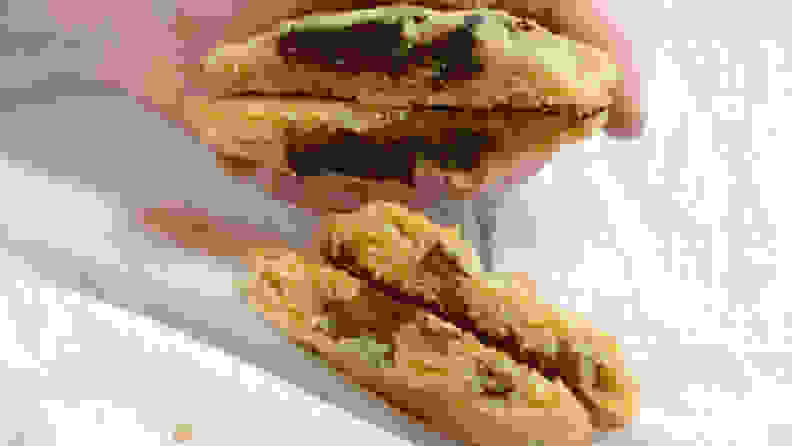 To prove (or disprove) that the engineered chips are actually good, I baked a different batch of cookies using chips from Ghirardelli and took notes on the texture, mouthfeel, and taste. Both batches came out nicely but differed significantly in the way the chips had melted.
Judging by the cookies' appearances, I found the traditional teardrop-shaped chips melted and blended with the dough after baking, whereas the Large Chips remained intact. Taking the first bite of the Large Chips cookie, I was impressed by the creamy texture and intense, pronounced flavor, like nibbling a piece of warmly melted, high-quality chocolate and a shortbread-like cookie simultaneously. In comparison, the Ghirardelli cookies tasted more like a sugary cookie with chocolate flavoring, as the chips lost their integrity completely.
Unsurprisingly, regular chips are no match for Dandelion, as they make sourcing and quality their priority. When my food-obsessed husband noticed the shortest ingredient list on the label, he exclaimed in bemusement, "You know the chocolate is good when there are only cocoa and sugar in it!"
Should you get the large chips from Dandelion Chocolate?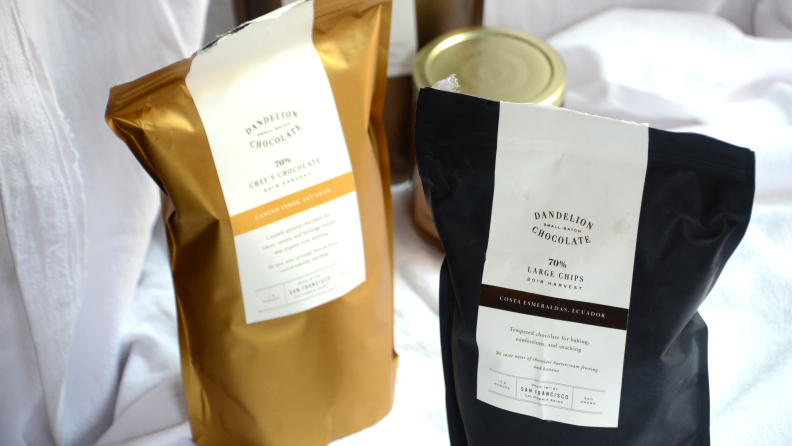 Absolutely! Whether you've been to their physical location in San Francisco or are curious about what their "Maybe the Very Best" chocolate chip cookies taste like, this is a unique opportunity to try their offerings without traveling to the West Coast (or Japan) and queueing in line for hours.
If you want precisely the same experience of chocolate chip cookies you'd get at Dandelion but don't want to start from scratch, you may also consider this ready-to-bake cookie dough ($36), which is pre-portioned to make 12 perfect cookies.
Or, if you aren't sold on dropping $30 on a bag of chocolate chips, you can hack it by using a good kitchen knife to chop up some bittersweet chocolate bars to mimic the disc-like shapes of the artisanal chips. With the right tools and best recipes, you'll be able to bake the most delicious treats in your own kitchen.
The product experts at Reviewed have all your shopping needs covered. Follow Reviewed on Facebook, Twitter, and Instagram for the latest deals, product reviews, and more.
Prices were accurate at the time this article was published but may change over time.