Kitchen & Cooking
7 products you need to transport food for potlucks
Bring your holiday meals everywhere, safely.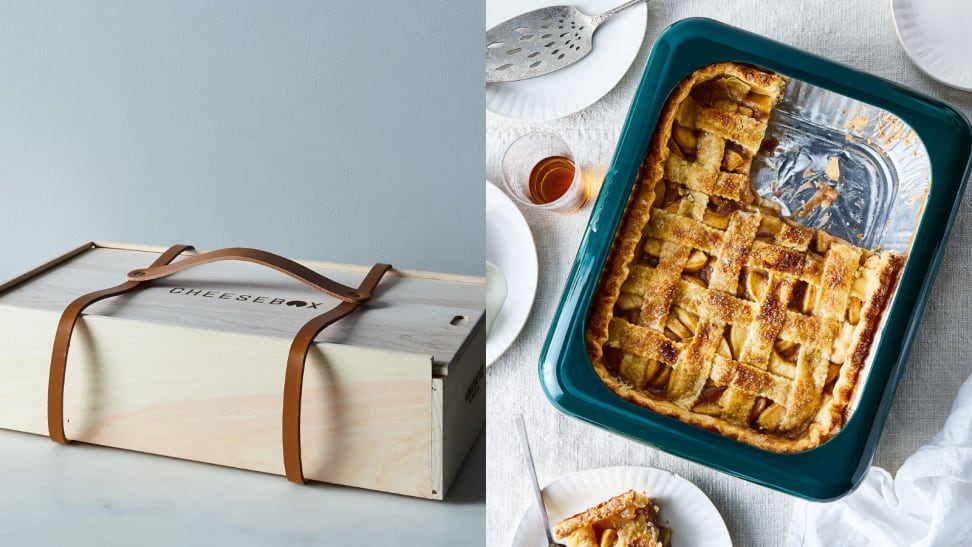 Credit: Food52
As the holiday season nears, I've started dreaming about the mountains upon mountains of mouth-watering food I'm going to dive into at parties. If you're like me, you probably love bringing some special seasonal dishes to these events to share with family and friends.
But what's the point of using all your best kitchen gadgets if you can't guarantee your food will arrive intact? Here are some helpful tools to safely transport all your hard work from your kitchen to your destination, even across bumpy car rides.
1. A set of aluminum pans with lids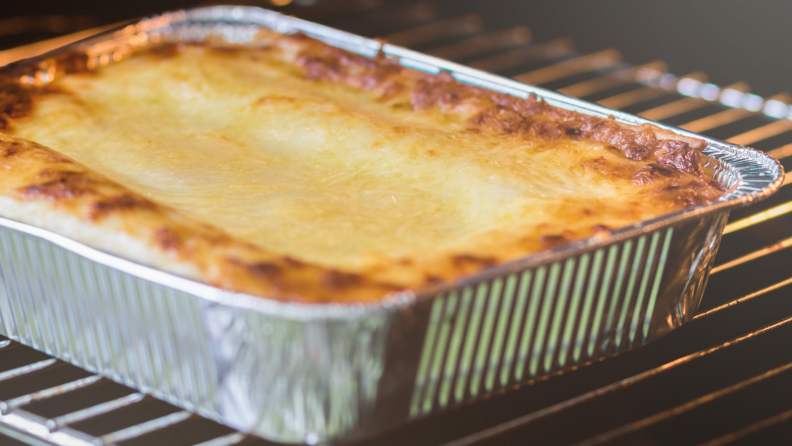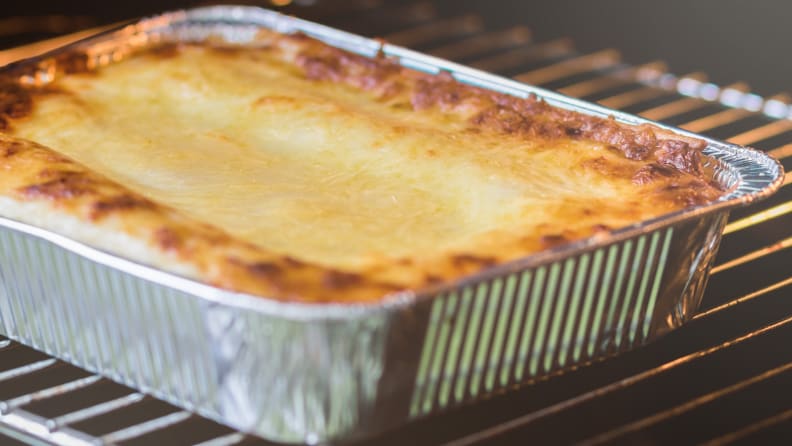 Let's talk about those aluminum pans that make regular appearances at potlucks. They can carry everything from savory dishes to sweet desserts, making them versatile, inexpensive tools. To prevent spilling, I suggest buying the pans that come with lids and clamping them together with some binder clips. If you're transporting cakes with a heap of frosting, turn one pan upside down and place it on top of the cake pan.
Due to the popularity of these pans during the holidays, it's always good to stock up as they're still available. Don't wait until the last minute to get them in stores—I did this one Thanksgiving and was sorely disappointed to find they had sold out.
Get AmazonBasic Binder Clips 4 Sets of 12, on Amazon for $13.99
2. A casserole carrier for easy transport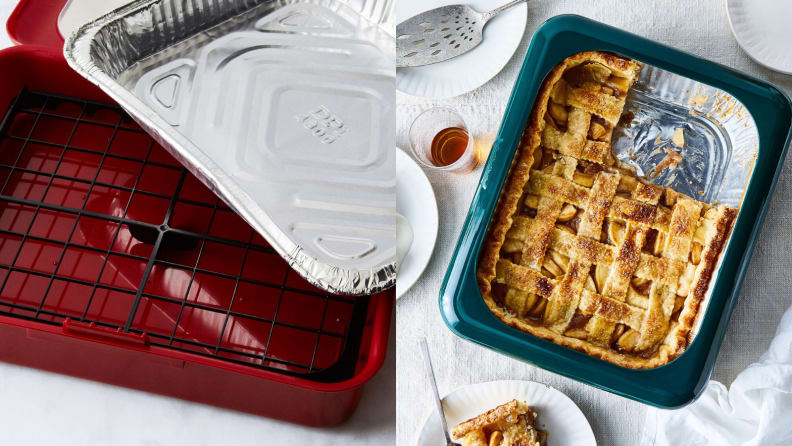 There's a lot to be said about the benefits of using aluminum pans for tailgate parties, cookouts, and potluck dinners—they can hold enough food for large groups, and they're oven-safe for quick and mess-free cooking. However, these light pans could often use some structural support for the journey to your party.
This sleek-looking casserole carrier from Food52 can fit either a standard sized half-pan or a 12-piece muffin tray, guaranteeing a spill-free ride with its airtight, windowed lid. What's more, the window can be popped out for easy serving. This carrier comes in some beautiful colors, making it a sophisticated serving vessel at dinner parties.
Get the To-Go Casserole Carrier, Set of 2, at Food52 for $40
3. A cupcake carrier for desserts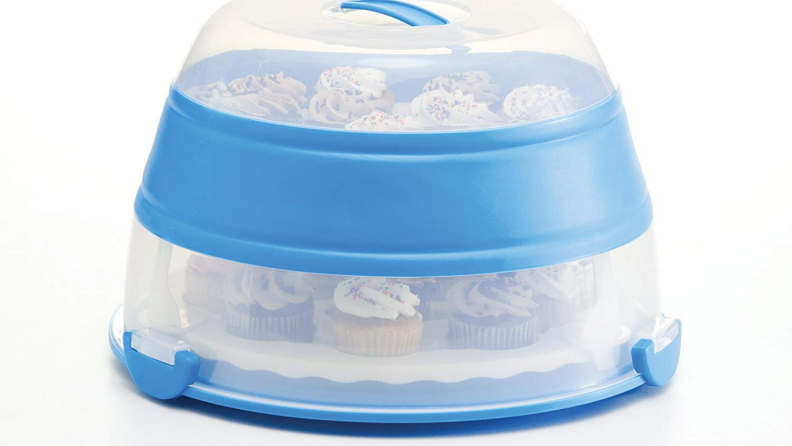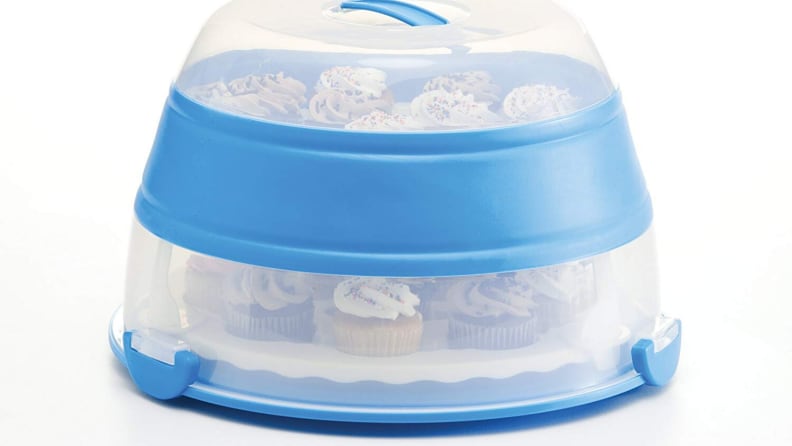 At any given time, adorable cupcakes can easily become the center of attention at a party. I love making cupcakes for the joy of impressing my friends and family, but bringing the perfectly frosted cupcakes to my destination can be a hassle. My future in-laws told me about this carrier that takes the stress out of bringing cupcakes around: The two-tier design allows you to carry either 24 cupcakes (12 per tier) or a whole cake when the cupcake trays are removed.
The tall dome allows room for decorative frosting and the cake base has a slicing guide that helps you cut even slices. Plus, its collapsible, meaning easy storage when it's not in use.
Get the Prepworks by Progressive Collapsible Cupcake and Cake Carrier on Amazon for $28.99
4. A cheese box for the cheeseboard expert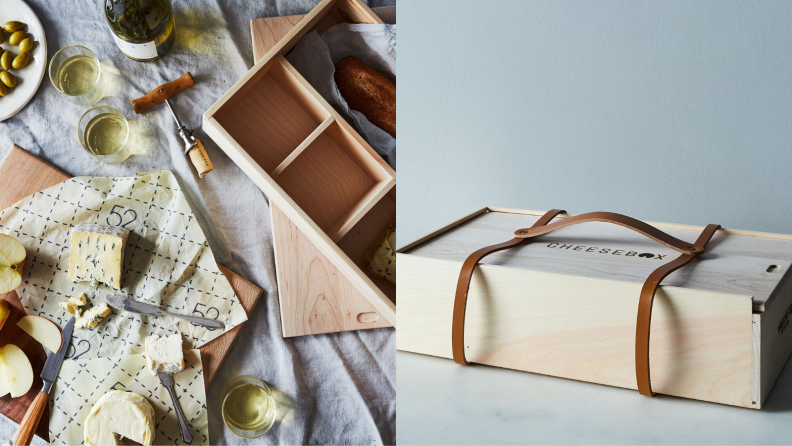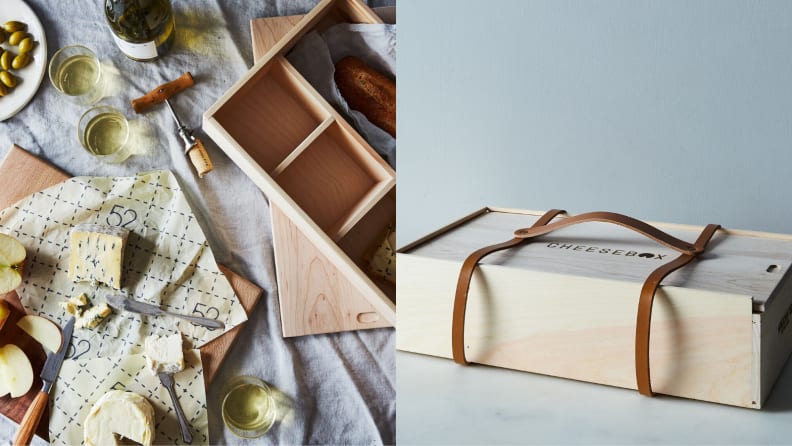 Similar to a cheese vault that gives artisanal cheese some room to breathe, this cheese box can hold up to three types of cheese and make transportation a breeze. It features three separate compartments for cheese of various types and sizes and one compartment for a bottle of wine, a demi-baguette, or a sleeve of crackers. You can also customize this sturdy pinewood cheese box with leather straps so you can travel with your gourmet cheese in style. Upon arrival, you can turn the box lid into a wooden serving board by sliding it off and flipping it over.
Get the Cheesebox at Food52 for $85
5. A set of adjustable dish covers to keep your salads fresh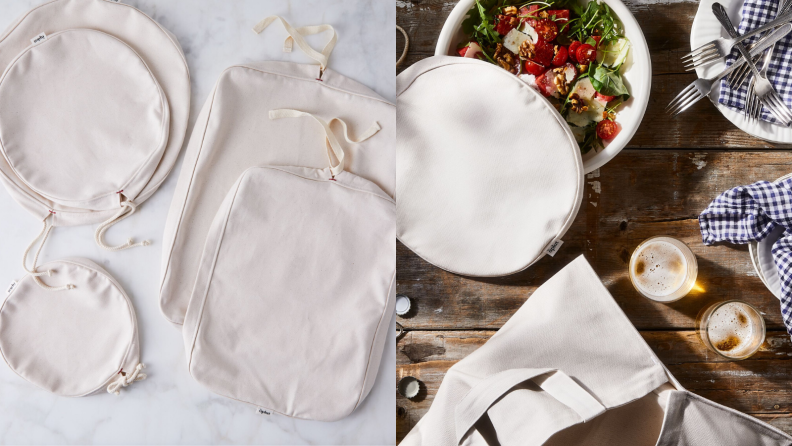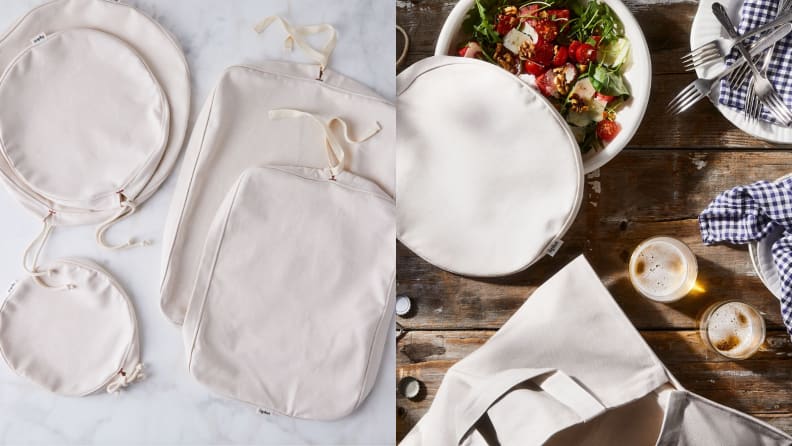 It's time to break the cling wrap habit and try something more environmentally sustainable (and ultimately, less expensive). This dish cover is made of organic cotton and is heat-resistant if you need to reheat the food in the microwave (just dampen it with a few drops of water before heating). There are two options available: A rectangular one for casseroles and a round one for bowls and pie dishes.
Get the Aplat Adjustable Canvas Bowl and Dish Cover on Food52 for $50
6. A well-insulated tote that keeps food hot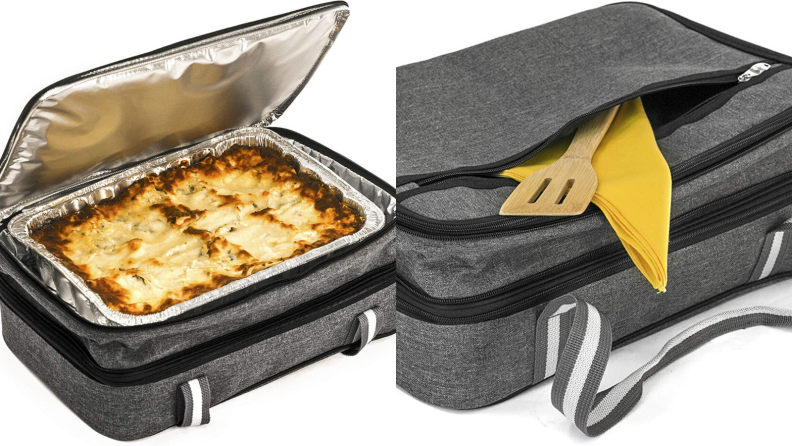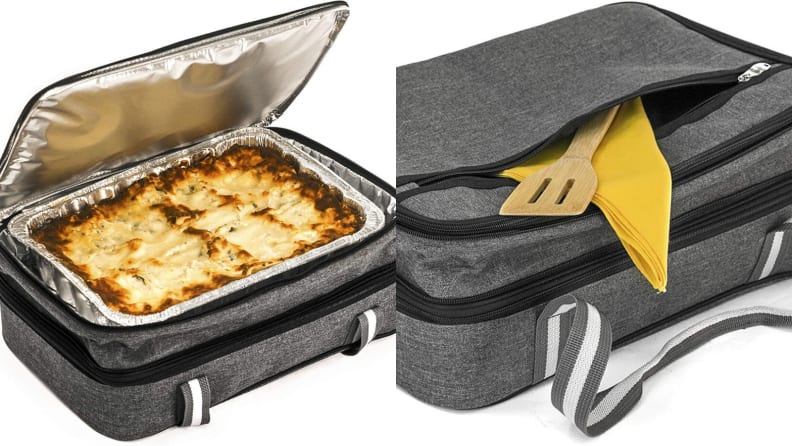 Depending on where you're traveling, you can't always guarantee there will be a free burner or oven for reheating your dish. If you're bringing food hot from home, we recommend this large, well-insulated food tote. This bag has one large main compartment and an expandable top compartment, and each can hold a standard 5-quart casserole dish. It's double-insulated, which means the bag retains temperature longer than the single-insulated ones. The design also features exterior pockets, allowing you to carry accessories such as serving utensils, wine openers, and cutlery.
Get the Domestic Diva LA Insulated Casserole Carrier on Amazon for $29.97
7. A heavy-duty glass casserole with an airtight lid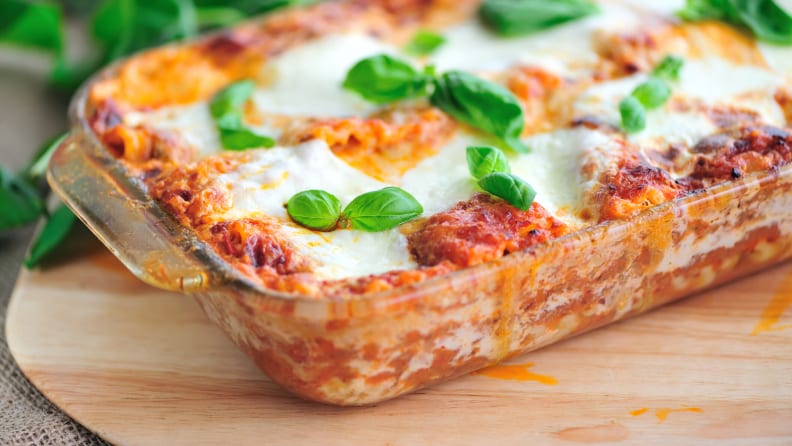 If you're looking for something reusable and you like to cook for big groups on a regular basis, look no further than this Pyrex glass casserole with secure-fitting lid. It's durable and functional—the glass build makes it ideal for both cooking and transportation because you can visually monitor the process.
As with the Pyrex food storage containers that won our hearts at Reviewed, this casserole has a plastic lid that seals the food airtight. You can simply pop off the top and stick it in the oven when it's time for dinner, and then serve the food right out of the casserole.
Get the Pyrex Easy Grab Bakeware Set with Red Lids on Amazon for $13.43
The product experts at Reviewed have all your shopping needs covered. Follow Reviewed on Facebook, Twitter, and Instagram for the latest deals, product reviews, and more.