Kitchen & Cooking
Food processor and blender: Does the new Magic Bullet work?
This mini countertop gadget may help you eat healthier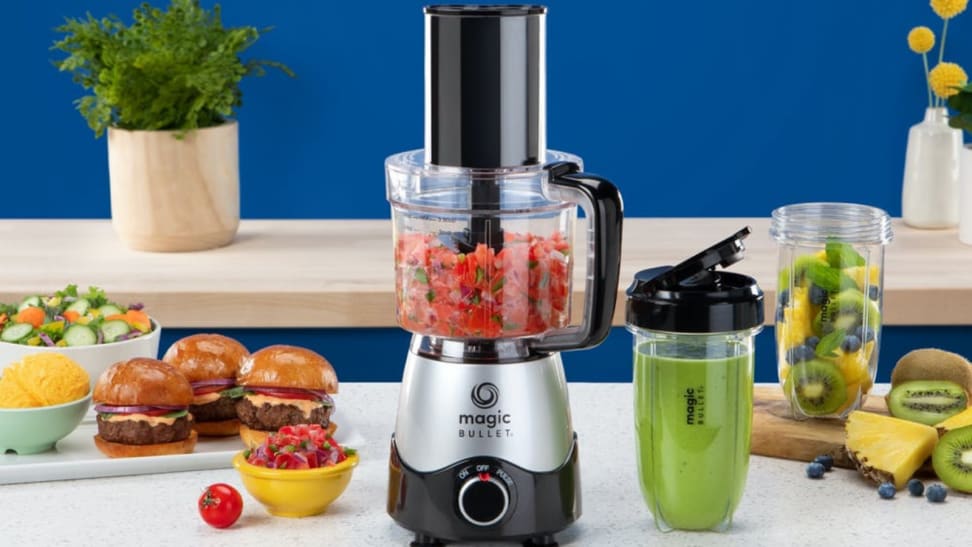 Credit: Magic Bullet
As our interest in cooking has grown exponentially these past months, the demand for versatile kitchen appliances has also increased. For cooks of all levels, a food processor often ranks near the top of the list of 'must have' appliances. But not everyone has the storage or countertop space for a traditional food processor, as they tend to be bulky and sometimes expensive.
Popular personal blender brand Magic Bullet comes to home chefs' rescue with a mini food processor—the Kitchen Express. It packs a 3 ½ cup food processor and a personal blender into one, allowing users to whip up healthy meals quickly and easily.
What is a Magic Bullet Kitchen Express?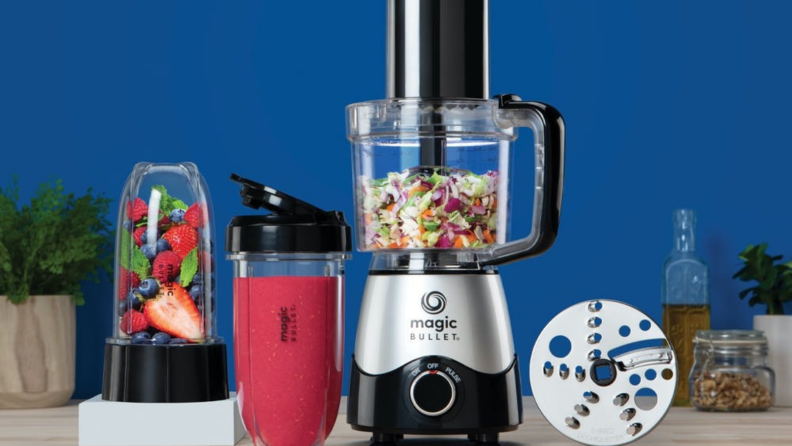 The Kitchen Express ($69.99) mini food processor takes no more space than a personal blender, like our favorite one from the same manufacturer.
It's designed to fit in small kitchens that lack an extensive countertop area. In addition to the 3 ½ cup processing chamber, food pusher, and a recipe book, the Kitchen Express comes with a blender attachment and a to-go bottle, which can transform the food processor into a personal blender.
The food processor has two types of blades: one S-blade (cross blade) to coarsely chop, mince, and puree, and one reversible shredding disc to shred or slice foods. Three modes are available: On, Off, and Pulse.
To find out how such a tiny device can take on the tasks of a food processor, we ran it through tests to see how it blends, chops, minces, shreds, and slices. Here's what you need to know before you make a purchase.
What we like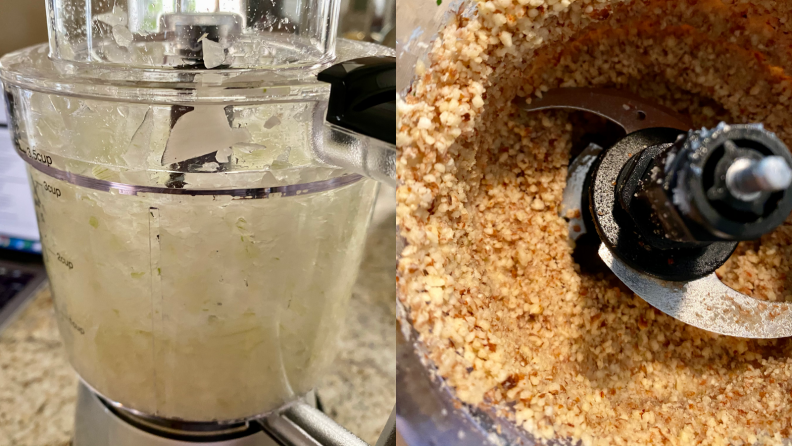 We like how quickly and evenly it chops onions. The high torque, 250-watt motor base makes it possible to mince onions in seconds. The onions were mostly finely chopped with some pieces slightly larger than the others. In our almond and mozzarella tests, we were able to grind almonds into a powdery texture and shred the mozzarella into fluffy mounds in the blink of the eye.
Another benefit of having the Kitchen Express is that you'll end up saving space by having a two-in-one gadget in your kitchen. Simply place the blender attachment onto the motor base and then you have a personal blender! Like the Magic Bullet blender that we loved in our roundup, this versatile food processor can also make delicious smoothies.
To keep cleaning work to a minimum, all parts of the blender (except the motor base) are top-rack dishwasher safe.
What we don't like
Though the Kitchen Express does a fine job of mixing, blending, and chopping, this mini food processor isn't without flaws. In our parsley test, it didn't mince the parsley well. There was a noticeable amount of untouched parsley stuck on the wall of the chamber.
The same goes for slicing potatoes and tomatoes. As the feed tube is smaller than a traditional food processor, I had to trim the potatoes down more than usual, which was a minor inconvenience. It sliced half of the potato cubes, and smashed about half of them. Stranger still was the tomato slicing test. Once the machine was on, the tomatoes that went through the feed tube just turned into juice.
Should you buy it?
Maybe. If you have to be space-conscious in your kitchen and think a food processor can help you with meal prep, then you may benefit from a mini food processor that doubles as a personal blender. As the Magic Bullet earned our seal of approval in our blender roundup, we trust its ability to quickly whip up a fresh snack like hummus and blend up a healthy smoothie.
However, if you're looking for something that can efficiently slice, knead dough, and mince herbs, you'll be better off investing in a food processor, like the best one we've tested.
Get the Magic Bullet Kitchen Express on Amazon for $69.99
The product experts at Reviewed have all your shopping needs covered. Follow Reviewed on Facebook, Twitter, and Instagram for the latest deals, product reviews, and more.
Prices were accurate at the time this article was published but may change over time.