Too often summer barbecues are all about the meat. Burgers, sausages, steak—yeah, they're delicious, but they're far from the only things that can be masterfully cooked on a grill. In fact, whether you're vegetarian or just really into good eats, I'd argue that vegetarian grilling offers more interesting options for preparing truly unique food that uses the grilling medium to its best advantage than the strictly carnivorous variety. Whether it's that perfectly caramelized peach, hearty eggplant steak, or crispy-edged cheese, there are a wide variety of delicious vegetarian foods that you'll be glad you threw on your grill—whether as a fresh side dish or an enticing main course.
Corn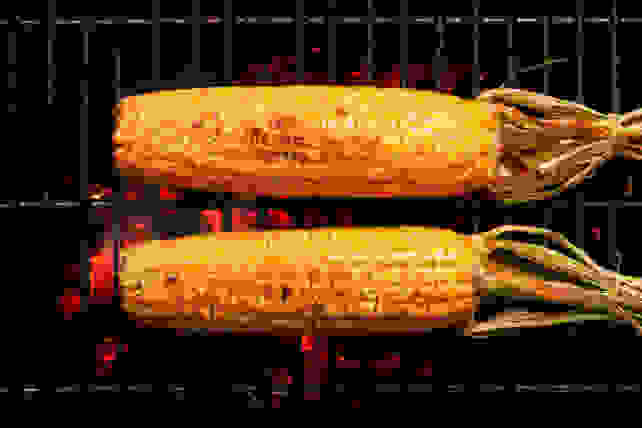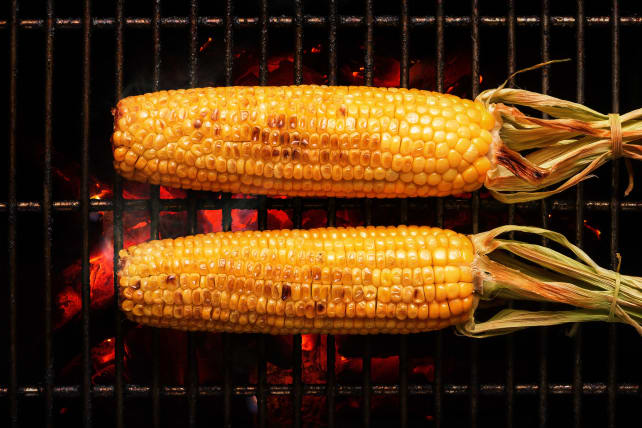 As far as I'm concerned, corn is at its best when it's grilled. The process brings out the sweetness of those golden kernels. You can grill the corn right in the husk if you want your end result to be steamed and tender, but I think the way to go is to remove the husk and place your corn straight on the grill so it gets nice and charred.
From there, you can eat as is or add some spices. Serious Eats has more complete instructions, or you can check out Bon Appetit to learn how to make elote, the cheesy, flavorful Mexican grilled street corn.
Cheese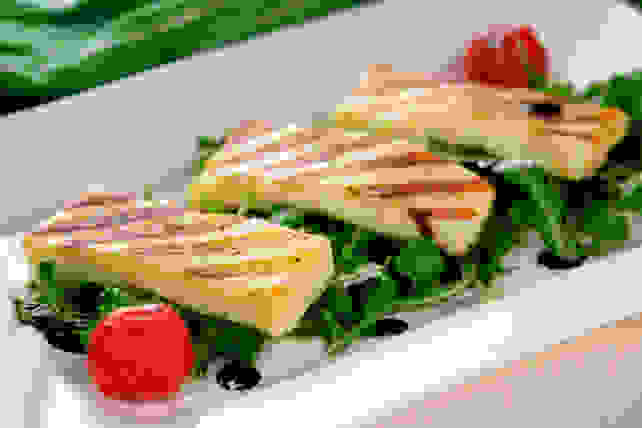 If you haven't tried grilling cheese yet, you should fix that ASAP.
Halloumi cheese has an extremely high melting point, so it won't ooze all over the grates. Instead, it'll get nice and crispy on the outside, but warm and chewy on the inside. Kitchen Treaty has more info on that.
You can also place a wheel of brie on your grill for a short time to end up with a masterpiece Martha Stewart calls "warm, luscious, and smoky."
Eggplant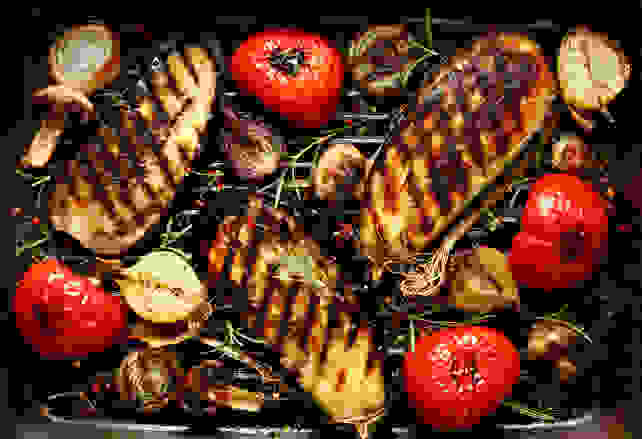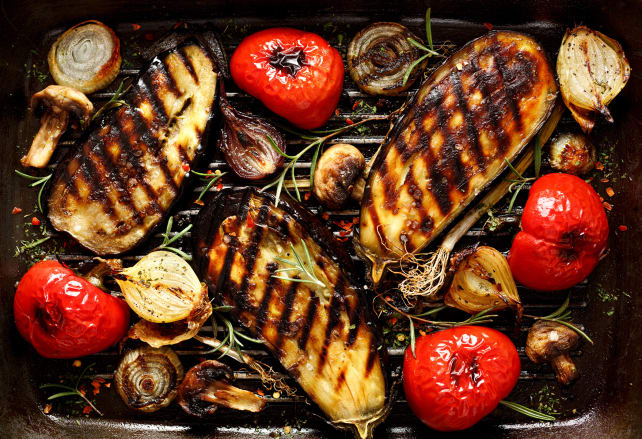 As far as vegetables go, eggplant is probably one of the meatiest. That's why it stands up so well to grilling—cut it into thick "steaks," marinate it, toss it on the grill, and reach cookout excellence.
Minimalist Baker has a recipe for Jamaican jerk eggplant, while Food 52 throws some balsamic vinegar and Thai chilies into the mix and Saveur flavors with basil and capers.
Fruit
Fruits like peaches, apricots, watermelon, pineapple, or figs are truly transformed by the humble grill. Grilling caramelizes their sugars, making their sweetness more complex. It brings out new flavors, adds a hint of smokiness, and draws out juices. Serve on skewers, in salads, or for dessert. Toss with citrus juice, spices, or mint—or eat plain. Either way, it's quintessentially summery and astoundingly delicious. Find out more on the New York Times' wellness blog.
Potatoes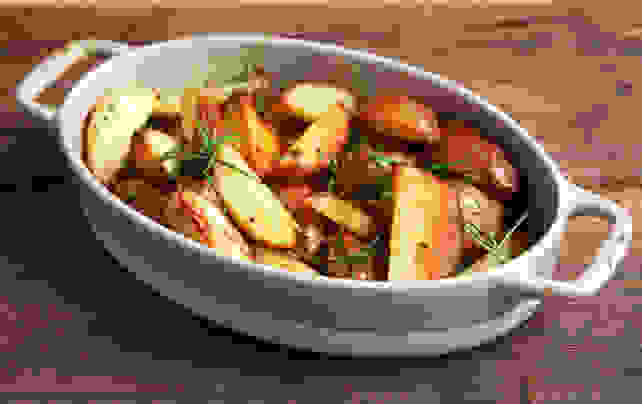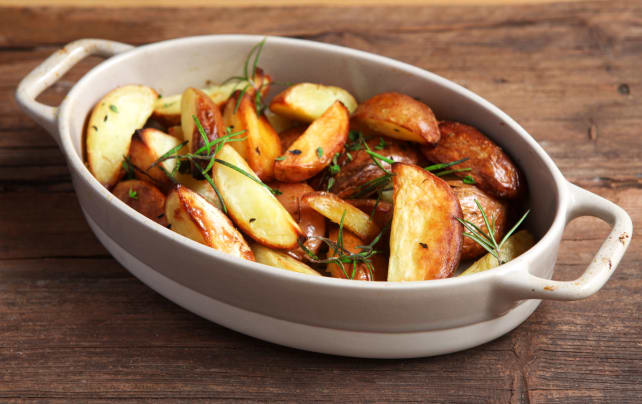 Hearty and starchy, potatoes stand up well to a little grilling. Make the humble potato salad into something special by finishing the potatoes on the grill before tossing into a salad. That bit of charred flavor goes a long way. Learn how to do it with this recipe from the Food Network.
Asparagus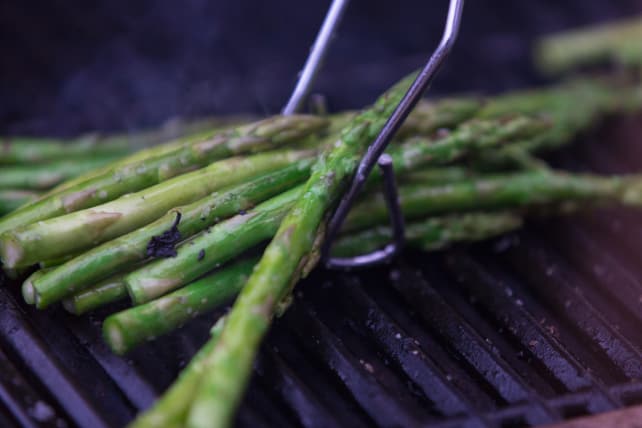 I never used to be a fan of asparagus. It was bitter and stringy and however adventurous I was with my veggies, asparagus was just not for me. But my parents knew the one way I'd happily consume it was hot off the grill. A little salt and olive oil are all you'll need to make your asparagus delectable. You want enough of the two to make it as addictive as a potato chip, and you'll want to grill until the stalks are tender and meaty at the base, charred and crispy at the tip. Yum! Epicurious has the deets.
Polenta
Polenta is one of those foods that can be rubbery and terrible if prepared poorly, but incredible when done right. Grilling your polenta is definitely doing it right. Those classic grill marks are utterly appealing, but more than that, it's the contrast of the crispy exterior and the creamy interior that make grilled polenta truly special. The Spruce will tell you how to do it.
Related Video
Our editors review and recommend products to help you buy the stuff you need. If you make a purchase by clicking one of our links, we may earn a small share of the revenue. Our picks and opinions are independent from any business incentives.