Kitchen & Cooking
Sous vide is my secret to easy meal prep
The fancy technique is actually effortless.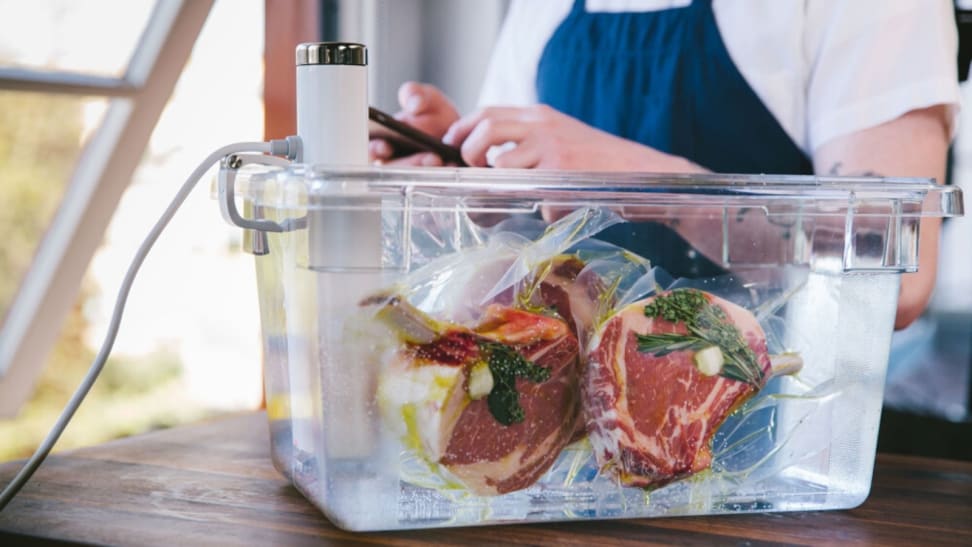 Credit: ChefSteps / Breville
Quarantine cooking is exhausting. Sure, all the extra time at home has allowed me to take on big projects I might otherwise have saved for weekends, and the scarcity of certain ingredients has pushed me to experiment. But at this point, I'm just really, really tired of trying to get excited about feeding myself every night after work—even as my housemates and I have taken turns cooking for each other.
That's where meal prep comes in. Historically, I've reserved meal prep for when I know I'm going to be too busy throughout the week to make myself proper dinners and lunches every night. But even though I'm not busy in the same way now, having real food ready to eat at any time has helped me cope with the stress of quarantine cooking and prevent over-snacking.
Having the right food storage containers is critical to meal prep, but I owe my current success to an actual kitchen device: my sous vide immersion circulator. (Technically, the gadget was a gift I gave to my partner, but borrowing things you've gifted is an underrated perk of cohabitation.)
With our Anova Precision Cooker, I'm able to prepare a week's worth of meat, vegetables, and eggs in one day, and I don't have to worry about constantly monitoring them for overcooking. Here's exactly how I use my sous vide cooker to meal prep—and which immersion circulators are worth your investment.
Here's how I meal prep with a sous vide cooker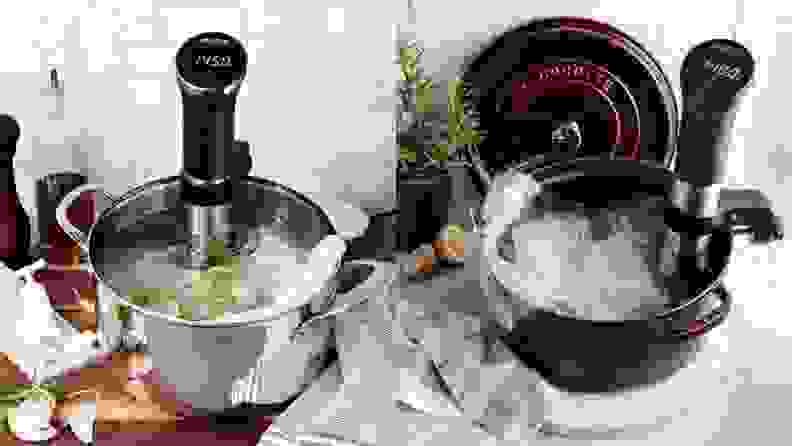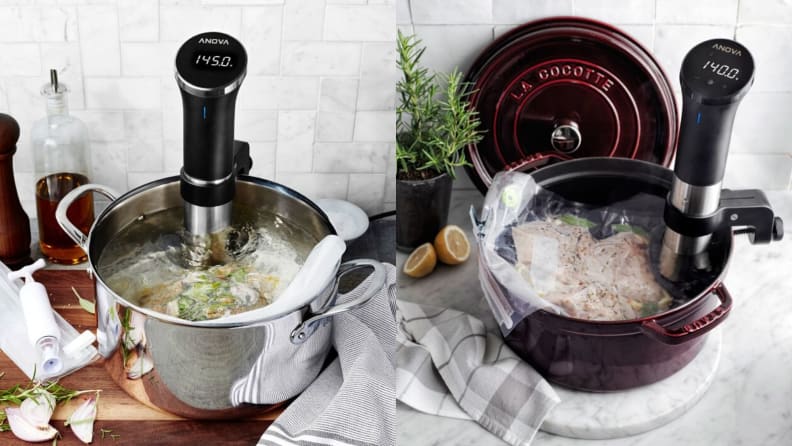 As with so many of my cooking habitats, I owe my sous vide meal prep routine to my partner. A few months back, he had an idea—why not buy steak to sous vide and turn into sandwiches throughout the week?
Okay, having a steak sandwich for lunch every day in a week isn't compatible with most diets, but the core idea of using sous vide to prepare a good cut of meat (or a batch of veggies) on the weekend was there.
Immersion circulators work by circulating water at a precise temperature, creating the perfect environment to sous vide, or cook "under vacuum" in French. Restaurants have been using sous vide to batch prepare food to perfection in advance of the dinner rush for decades—the food is then seared or warmed prior to serving.
The water is warm, but much lower in temperature than any oven or boiling pot of water, so the food cooks low and slow for a long time, making it almost impossible to overcook (think 140°F for two to four hours to cook some thick bone-in pork chops).
We bought a couple pounds of steak (anything works, but sirloin is the best here), sous vide them to a perfect medium-rare at 130°F (according to recommendations from Anova and Serious Eats), seared them on a good cast iron, and sliced one up to enjoy on sandwiches that day—saving the others in the fridge for more sandwiches, salads, and wraps throughout the week.
You can do this with just about any meat, taking into account that different types of meat will last longer in the fridge than others (you shouldn't, for example, sous vide some salmon and expect it to stay fresh a whole week).
But sous vide isn't just for animal proteins. I've used sous vide to batch-cook asparagus, broccoli, carrots, and eggs—those iconic egg bites from Starbucks are sous vide, after all.
While these foods generally aren't as difficult to cook as a good cut of meat, sous vide still allows me to set it and forget it, meaning I don't have to hover over the stove or check the oven when I'm trying to do other things. (This is also critical in the summer, when I'll do anything to keep the temperature in my house as low as possible.)
With other meal prep essentials and sous vide basics by my side, I'm able to sous vide a ton of food at the beginning of the week to enjoy while I'm busy trying to work—and relax.
Which immersion circulators work best?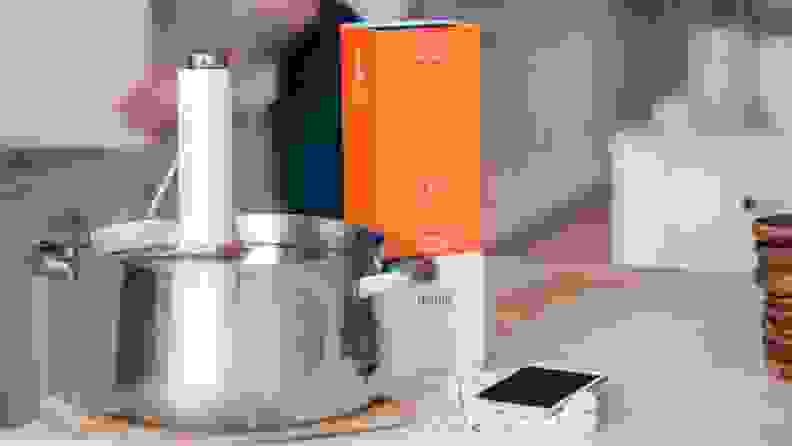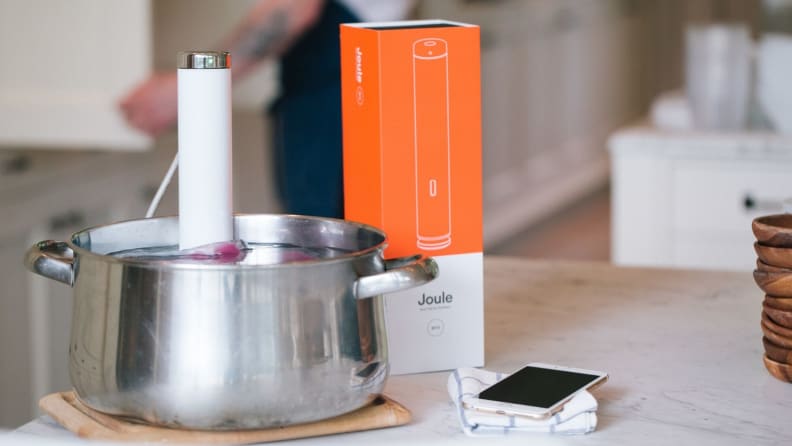 We've extensively tested sous vide immersion circulators in our lab and in our own kitchens. While I love the Anova Precision Cooker I use at home, our best overall pick for immersion circulators is the ChefSteps Joule, a sleek and incredibly precise device. The Joule is controlled entirely from your smartphone, comes with an ever-expanding library of recipes, and can easily be stored away in a drawer when not in use.
Get the ChefSteps Joule from Breville for $249.95
The product experts at Reviewed have all your shopping needs covered. Follow Reviewed on Facebook, Twitter, and Instagram for the latest deals, product reviews, and more.
Prices were accurate at the time this article was published but may change over time.