Kitchen & Cooking
This is the best pie dish of 2020
Your holiday baking just got better.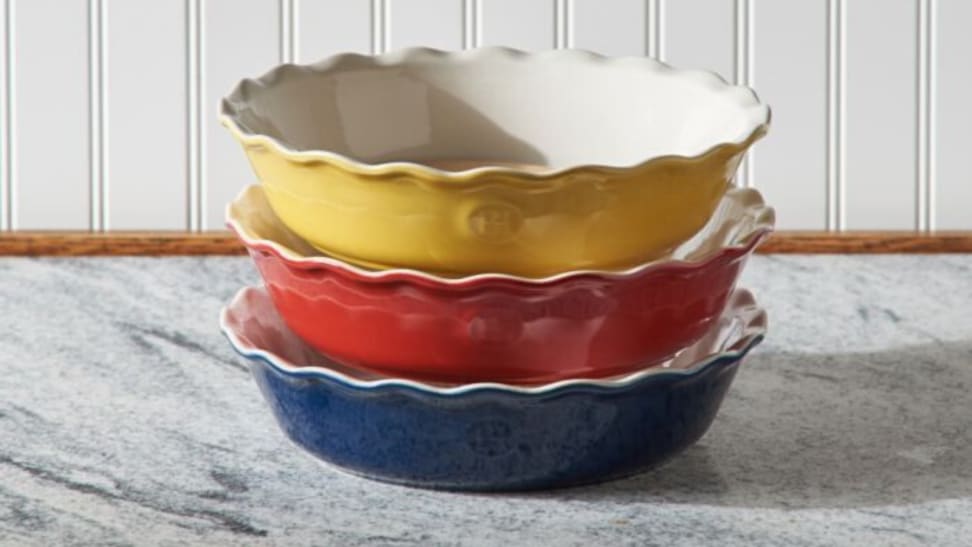 Credit: Emile Henry
You might have heard that the big secret to baking the perfect pie lies in the crust. You'll need the right ingredients, the right blending tools, and the right dish to get your crust flaky and flavorful.
A good pie dish not only conducts heat evenly to form a golden-brown crust but can withstand high temperatures in situations when broiling is required. With the holidays around the corner, we did some testing and found the best pie dish for all your entertaining needs: the Emile Henry Modern Classics Pie Dish.
Why we love the Emile Henry pie dish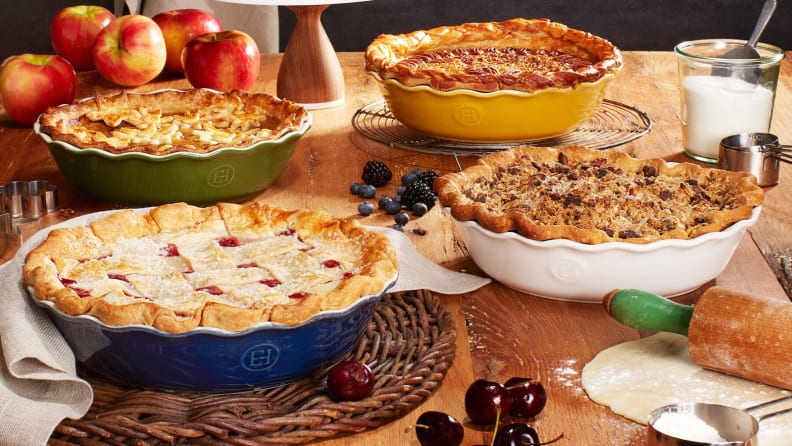 This ceramic plate from Emile Henry cinched the top spot in our roundup after earning high marks for form and function. The classic, glazed ceramic exterior of the pan hints at the durability and even performance we found during testing. It baked the flakiest pumpkin pie crust of the bunch and a perfectly tender graham cracker cheesecake pie base. In the apple pie test, it helped evenly brown both the top and bottom crusts.
Our tester had had nothing but praise about the dish, writing, "It bakes up beautiful pies of all types and can double as a casserole dish for scalloped potatoes and candied sweets." The 9-by-2 inch dish is able to hold almost two quarts of filling or savory dishes like mac and cheese.
Coincidentally, this is also the pie dish I've been using since I started mixing my own dough. I've made a peach pie with whipped cream, pumpkin pies with scorched meringue, and broccoli cheddar quiche in this pie dish.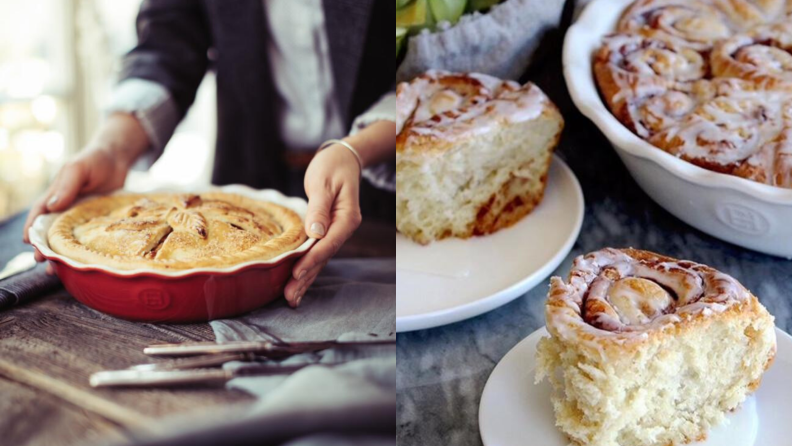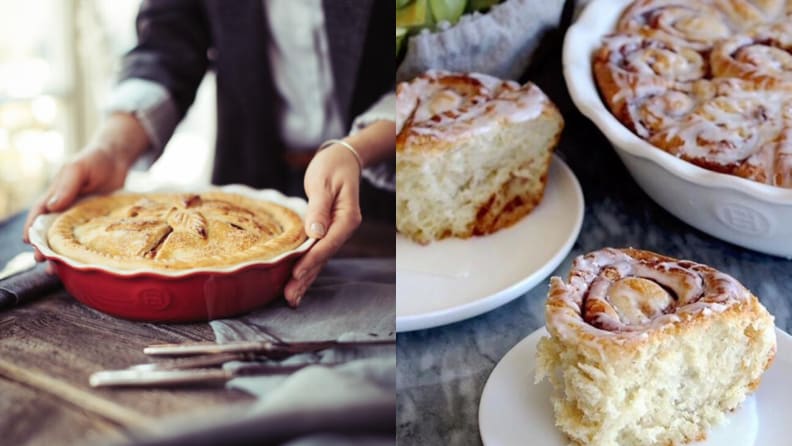 Aside from its performance, this pie plate is also one of the most beautiful plates I've used. Made in France, the glazed Burgundy clay pie dish is offered in Rouge (red), Sugar (white), Twilight (blue), Leaves (yellow), and Spring (green). I can't tell you how many compliments I've received when presenting my pie within it.
I've also been impressed with the Emile Henry's durability. After going through high heat in the broiler and a few runs in the dishwasher, its appearance still hasn't aged a day since its first use. The only fault I've found? Its heavy weight makes it difficult to bring to potlucks or hand wash without taking extra care.
What to look for when choosing a pie dish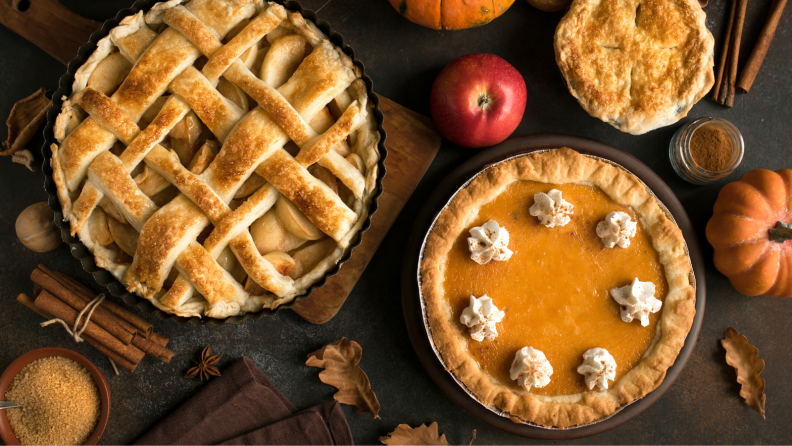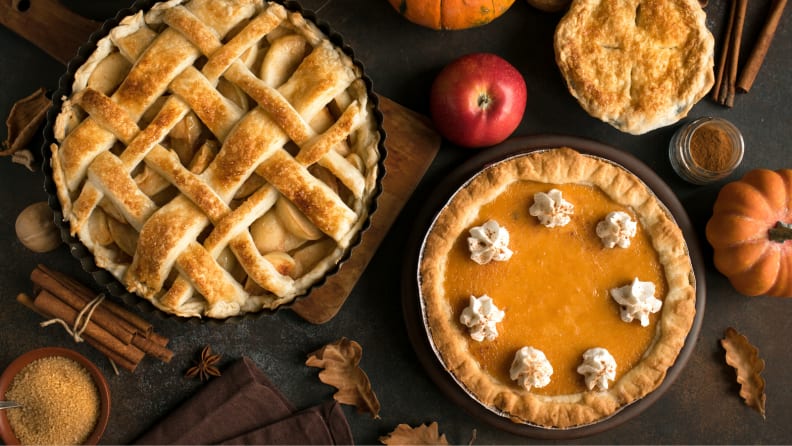 While you may already have a beautiful, vintage-looking pie dish that you inherited from your grandma, older dishes may contain lead. Avoid using old pie dishes when possible. If you're uncertain, you can get a home lead test kit to find out.
While researching pie dishes, I found that many professional bakers recommend glass dishes. The benefits are clear: Glass dishes allows bakers to see through to the bottom of the pie to determine whether the crust has reached their desired browning level. However, reports of Pyrex bakeware shattering have made them less popular in recent years. The shattering is due to Pyrex changing one of the key materials from borosilicate to soda-lime glass, which is much weaker. For this reason, we suggest that you choose ceramic over glass bakeware. Find more pie dish recommendations in our roundup of the best on the market.
The product experts at Reviewed have all your shopping needs covered. Follow Reviewed on Facebook, Twitter, and Instagram for the latest deals, product reviews, and more.
Prices were accurate at the time this article was published but may change over time.