The is all over the place. Let us be clear: some of its cycles were among the best we've ever tested, but overall it's a bit more complicated than we would have liked. For example, the interface is frustrating and takes some patience to figure out, and while the wash performance and efficiency scores were pretty darn good, they varied greatly between cycles. Much of this has to do with the fact that all of the main cycles are automatic, so the intensity of the wash depends on soil levels. These complaints would be easy to overlook were this a mid-range dishwasher, but it's not. This is an extremely pricey machine (good luck finding it for less than $1,400), and that fact is difficult to ignore. Even so, the outstanding efficiency scores, large capacity, and speedy cycles are enough to warrant some favorable recognition for buyers who aren't concerned with price. The fancy touch-screen control panel is more convoluted than it's worth. Like most high-end dishwashers, this has a certain elegant simplicity. While this is evident in most aspects of the machine's design, it's unfortunately lacking in regards to the interface. The electronic control panel is cool—one of the niftiest we've come across—but it's not exactly practical. To scroll through the options you must hold a finger above a touch-sensitive button for what seems like a long time. Also, menus don't loop around when you've finished scrolling through cycles. Choosing customizable options can be a bit tricky, too, since some are buried within other settings. Honestly, as cool as the interface looks—including the display on the front that shows cycle data—we prefer a standard button arrangement.
Honestly, as cool as the interface looks, we prefer a standard button arrangement.
Like the exterior finish, the wash tub is also stainless steel; this makes for a quiet wash—not to mention a more thorough drying stage. Both racks are sturdy and adjustable. While we wish some of the tines in the top were closer together, it doesn't blight the machine's large capacity. The six rows of angled tines on the bottom of the dishwasher made for a challenging loading process—especially with bulky dishware like pots and pans—but we were still able to fit plenty of items. The detergent dispenser features two lines for measuring detergent volumes. It also has a standard rinse aid container. While the actual number of options is pretty standard for a high-end machine, it's the presentation that sparked our interest... and then our frustration.
The wash options include a delay, three drying programs, an Eco function, and four wash programs.
This appliance offers four main cycles, all of which can be modified or customized. They include Party Wash (a quick cycle—not a sprayjet soiree), Auto Wash, Super Auto Wash, and Auto Delicate Wash. The wash options and customization features—all of which can be added to any cycle—include a delay (up to 24 hours), three drying programs (Economy, Normal, and Extra), an Eco function, and four wash programs (Regular, Enviro Care, Glass Care, and Extreme Wash). Whew! The wash arms themselves are a bit flimsy and feel surprisingly cheap for such an expensive machine, but in our tests their curved design did help spread water and maximize rinse exposure. Sure, it's fast and thorough, but inconsistent results make it hard to justify this machine's high-end price tag.
The Super Auto Wash probably ranks among the best heavy cycles we've tested.
Like so many other things with this dishwasher, the wash performance was a bit temperamental. For instance, the Super Auto Wash probably ranks among the best heavy cycles we've tested, but the Party and Auto Washes were average. The Auto Wash, aside from being extremely efficient, showed decent performance. For any dishwasher under $1,000, we'd be impressed, but at $1,600, "decent" isn't good enough. Once again, although we can call this dishwasher technically proficient, because of its inconsistency, we can't say it's a great value. This is an European model of elegance and efficiency, yet all the positive elements are weighed down by shaky performance and an overblown price tag. The is an impressive, elegantly designed model of German appliance manufacturing. It performs pretty well, looks nice, feels like a high-end appliance, and uses a minimal amount of water and electricity. For a $1600 MSRP, though, it was too inconsistent for our tastes, and the controls had a somewhat steep learning curve.
If you can get your hands on one of these for less than a grand, then we'd say go ahead.
If you can get your hands on one of these for less than a grand, then we'd say go ahead; it's a worthy investment. You'll be hard pressed to find a new one for less than $1500, though, and that's just too much money for this Bosch's shaky performance. With above-average capacity and some excellent energy efficiency ratings, we wanted to be able to recommend this dishwasher. Given the shaky washing quality, though, we'd have to recommend that you keep looking for a better deal. Taking a cue from the cycle name, the Super Auto Wash did exceptionally well; the other cycles, though, did little to ease our disappointment with the high price tag. The Party Wash finished in a whopping half-hour, and had some trouble with protein stains, particularly our egg, milk, and meat tests. It did better with tea and oatmeal, but we still wouldn't recommend using it for regular dish loads. While this cycle is intended for lightly soiled dishes, we imagine it'd be very helpful for a mid-party rinse—hence the name. The Auto Wash and Super Auto Wash took 88 and 93 minutes to finish, respectively. While the Auto Wash did a decent job, by far the best performing cycle was the Super Auto Wash. It consumed more water and electricity but not enough to discourage frequent use. It also had perfect or near perfect scores on many of our tests. It even did well on our lipstick stain, which is rare. We would recommend using this cycle often. If it weren't for the ridiculously efficient Auto Wash, this appliance would only offer average efficiency. The is suspiciously energy efficient, but not across the board. Some of the cycles were found to be shockingly low on consumption while others were just average, something which may have to do with role the stain sensors play in each of the main wash cycles, all of which are "automatic." The Auto Wash—the equivalent of a Normal cycle on this machine—used a mere 0.37 kWh, which makes for an electricity cost of about 4 cents per wash. It's also the most water efficient cycle, consuming a mere 1.83 gallons of hot water per use (about 2 cents worth of water per wash). The Party and Super washes, on the other hand, consumed 0.39 and 0.78 kWh, respectively, with water usage rates of 3.29 and 5.74 gallons—on par with the average market standard. Assuming you use Auto Wash about 50 percent of the time, the whole yearly operating cost of the machine down to just $19.46. Above-average space for an otherwise average dishwasher. When filled to capacity, we were able to fit 11 standard place settings and one serving setting in this dishwasher at a time. This is impressive, and definitely above average for the market norm.
Meet the tester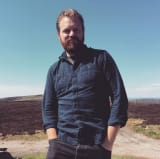 Tyler Wells Lynch
Contributor
@tylerwellslynch
Tyler Wells Lynch is a freelance writer and journalist whose work has appeared in Vice, Wirecutter, Gizmodo, The Rumpus, Yes!, and the Huffington Post, among others. He lives in Maine.
Checking our work.
We use standardized and scientific testing methods to scrutinize every product and provide you with objectively accurate results. If you've found different results in your own research, email us and we'll compare notes. If it looks substantial, we'll gladly re-test a product to try and reproduce these results. After all, peer reviews are a critical part of any scientific process.
Shoot us an email