While the brand logo at the bottom of the machine may be a bit large and distasteful, it's offset by a cool digital display that shows how many minutes are left in a cycle. Our one problem with this feature was that it only counts up to two digits, and since most of the cycles are more than 99 minutes long it doesn't accurately inform you of cycle durations.
boasts of a protective coating that reduces fingerprints and smudges, but this substance must be missing on the handle since fingerprints were clearly visible after only a few uses. Otherwise, the external stainless steel finish is smooth and clean.
The controls are concealed at the top of the washer door, with selections illuminated by a faint green light.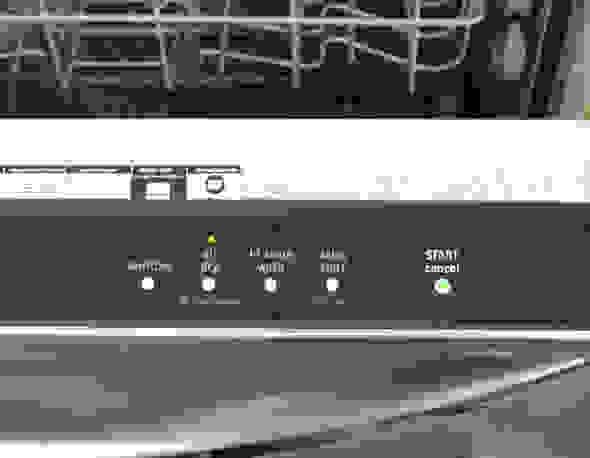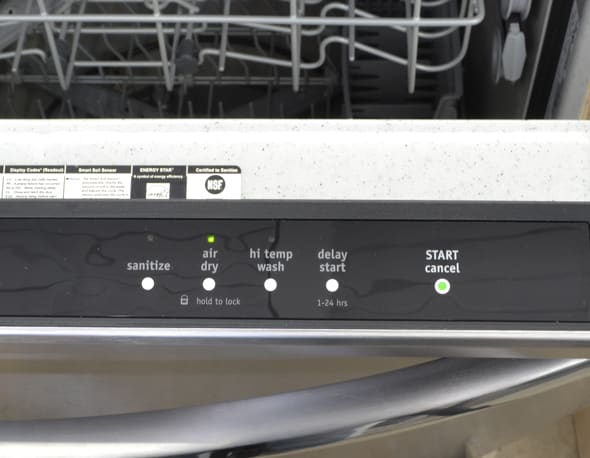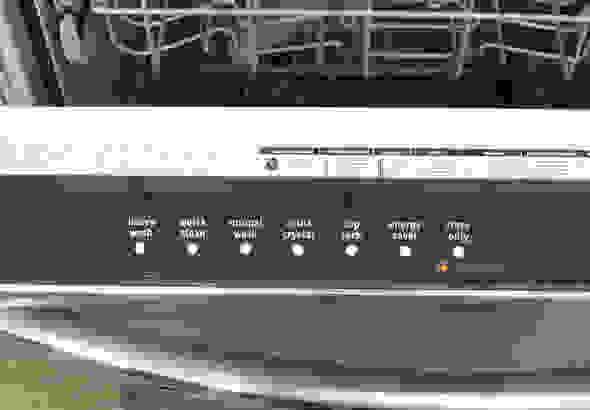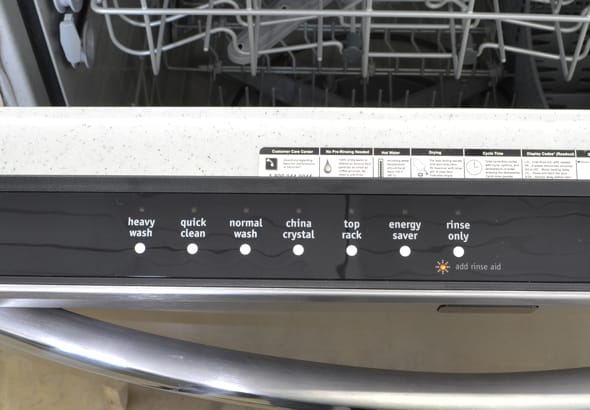 The wash tub is less attractive than its exterior. The material is a cheap-looking plastic that causes quite a bit of noise in small loads with plenty of water sloshing around, but most loads are actually pretty quiet.
It's also important to note that plastic tubs can't withstand high water temperatures as well as stainless steel interiors, so drying might take longer. This made us feel somewhat cheated by the interior construction.
The top rack is neatly designed and allows for optimal space, although we would have preferred it to be easily removable. There's also a precious little logo on the handle in case you forget who made your dishwasher.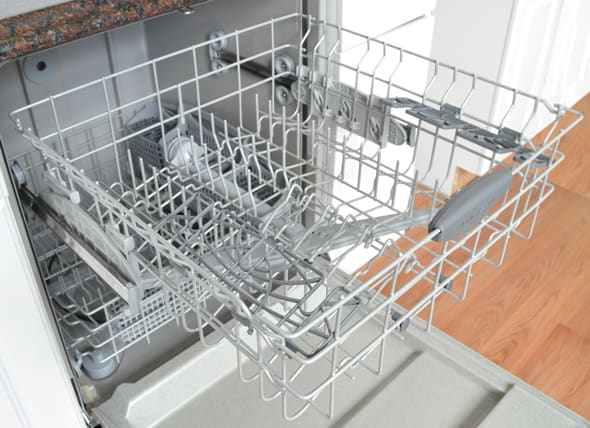 The bottom rack is made of a plastic-coated metal. It includes a total of eight wheels that slide easily enough in and out of the dish tub.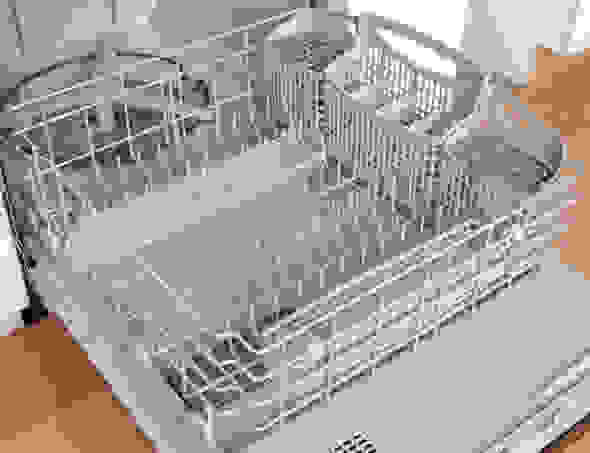 In addition to the adjustable holders in the top rack, there are two removable cutlery baskets, one of which runs the entire width of the bottom rack. While they offer plenty of room, their sheer size limits the amount of places you can put them.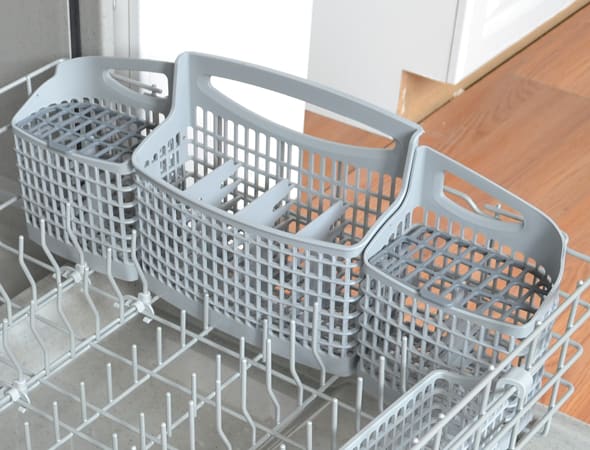 The Quick Clean consumed a mere 0.46 kWh of power—the equivalent of roughly $0.05 per wash. While this cycle is fairly efficient, it's probably worth the extra cost to use a more powerful cycle. The Normal Wash used 0.77 kWh ($0.08) per cycle, and the Heavy Wash expended 0.97 kWh ($0.10) per load.
As for the Energy Saver cycle, it consumed slightly less power than the Normal Wash, but it also used more water and took considerably longer to complete.
Water consumption varied greatly depending on the chosen cycle. While the Normal Wash required a mere 4.53 gallons per load, the Heavy Wash consumed more than twice that amount (9.23 gallons). This made for a cost range of $0.04 to $0.09 per wash.
The performs slightly better than average in regards to yearly operating costs—but not significantly so. In all, the machine will demand about $33.24 per year.
If you're a stickler for quick washes then this machine may not be for you. Although the Quick Clean completed in 53 minutes, the Normal Wash saw the clock tick for 102 minutes, and the Heavy Wash for a whopping 151 minutes.
The is not perfect but the clean it offers is likely worth the price, perhaps even the lengthy wash time too. The Quick Clean cycle had major trouble removing some of our toughest stains (milk, spinach, lipstick, egg), enough to drag down the machine's overall performance score. However, the Normal and Heavy Washes performed significantly better.
One complaint would be the so-called "self-cleaning" filter, which will need to be manually rinsed from time to time. That's not necessarily a deal breaker, but we found it frustrating that only a negligible portion of the filter could actually be removed (see photo). This made scrubbing out large particles difficult (and kind of gross).
We would not recommend using the Quick Clean for heavy or even some medium-sized loads, unless you plan on doing some serious pre-wash scrubbing. A substantial portion of the entire load came out dirty—to a degree that would repel most eaters. And since this cycle is almost as efficient as the Normal Cycle, we found its speed to be the only incentive for using it.
The Normal Wash scored pretty well, although it definitely seemed to struggle in our lipstick test. This cycle is also cheaper to operate (and faster) than the Heavy Wash, so this is probably going to be your go-to selection.
Normal Cycle
The Heavy Wash performed well is nearly all categories, although it failed to come close in passing our cheese test, which involves baking a slice of cheese to the bottom of a pan. It also fell somewhat short on the burnt sugar component, as we found tiny sugar particles throughout the load. But in nearly all other categories the Heavy Wash shined. The only thing to consider is its duration (see above) and the roughly $0.22 it will cost you per load.
Pots & Pans Cycle


There are three basic wash options: Heavy Wash, Normal Wash and Quick Clean. In addition to these cycles there are four specialized washes: China/Crystal, Top Rack, Energy Saver and Rinse Only.
The does not allow you to customize individual wash cycles; there are only preset options.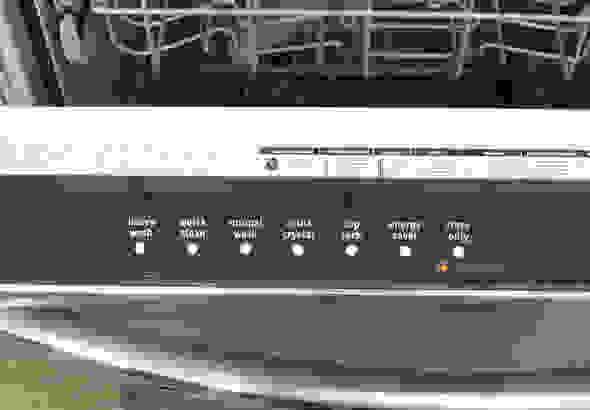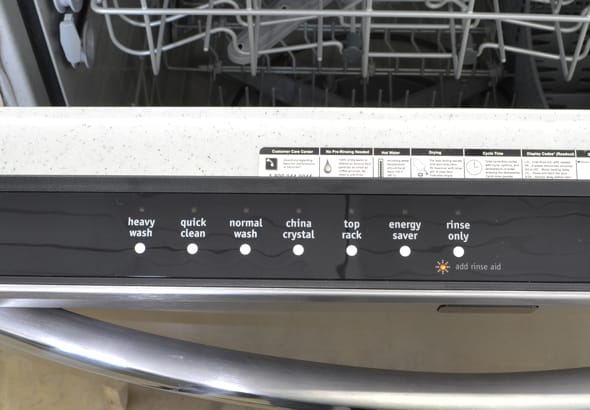 There are four additional wash options: a sanitize rinse, a high-temperature cycle, an air dry feature and an impressive delay button that allows you to postpone the start of a wash by up to 24 hours.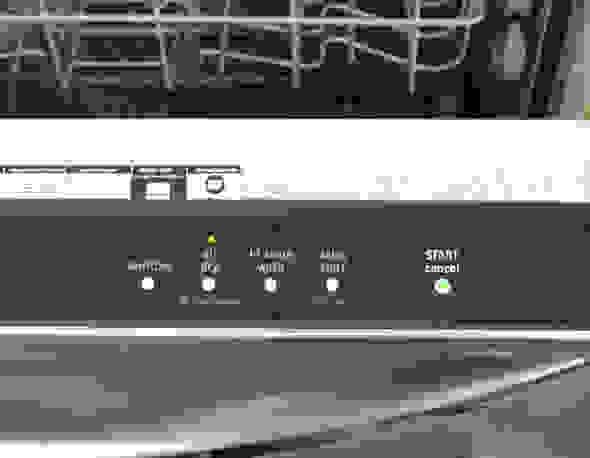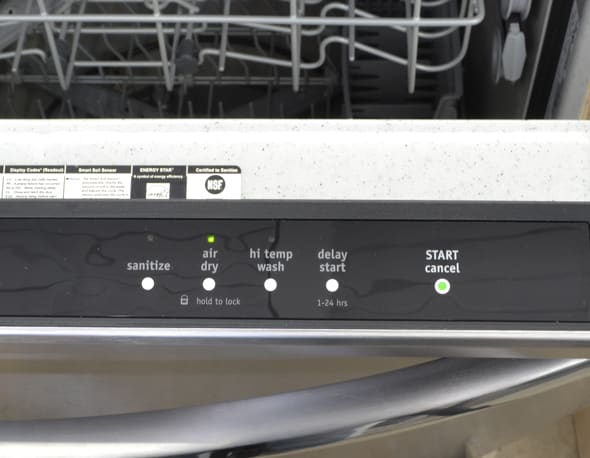 We were able to fit up to ten place settings in the , including a full serving setting. While this capacity is sufficient for most applications—and certainly on par with market standards—it's well below the 14 settings advertised by .


Top Rack
Bottom Rack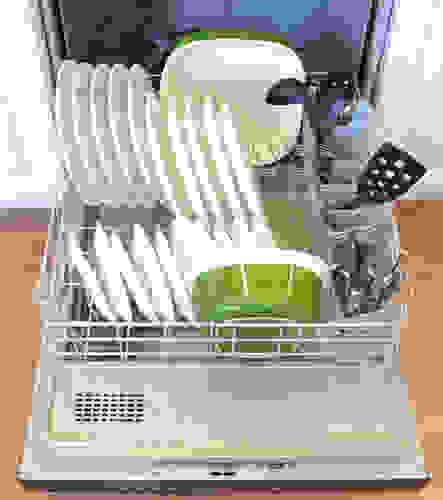 A three-pronged wash arm sits at the base of the tub, and a straight arm is attached to the top rack. There is also an upper spray arm at the top of the tub. The bottom arm is circled by a heating element used to expedite the drying process.
The filter includes a glass trap and a removable filtration component. It is self-cleaning, but large particles are apt to get stuck and require manual removal.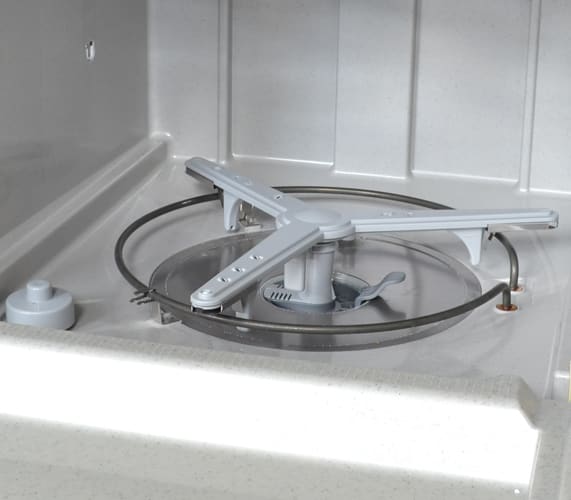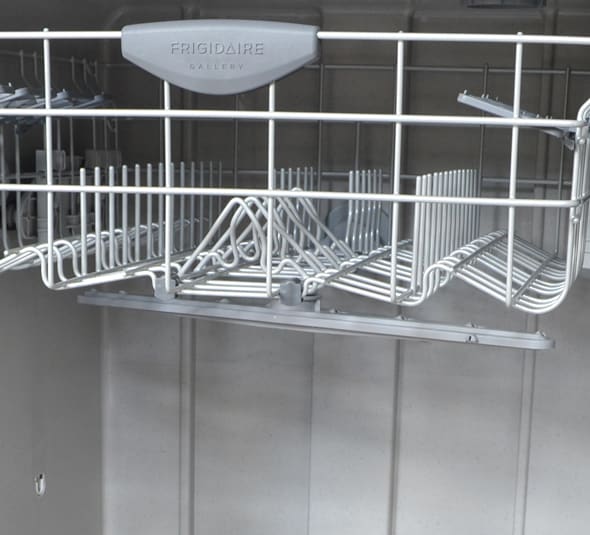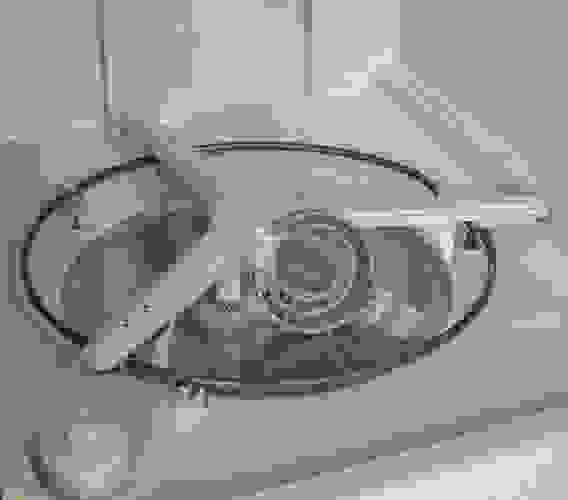 There are two rows of adjustable tines (out of 6 total), but we found their placement to be somewhat frustrating for large dishware, unless you remove the cutlery baskets entirely. This may account for why we could fit only 10 place settings ( claims the can hold up to 14).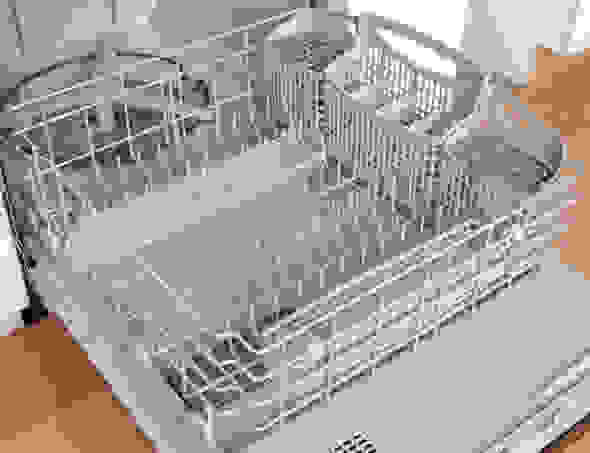 The upper rack includes two hinged rows of bowl tines in the center, as well as collapsible cutlery holders on both sides. There is also a handle on the front for easy maneuvering, but the rack itself is not easily removable.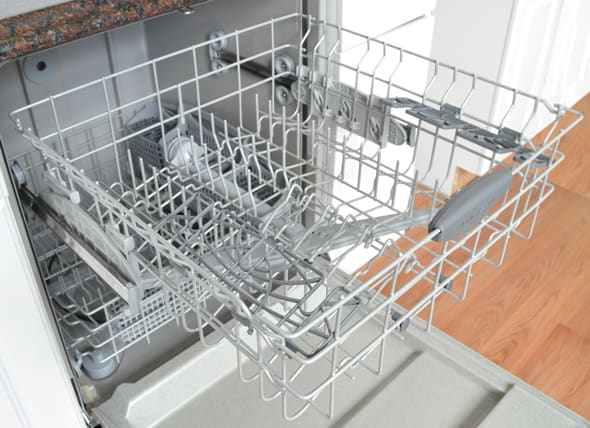 One thing the has an abundance of is room for cutlery—perhaps even too much. While the machine shouldn't have a problem handling all your silverware needs, the sheer size of the main basket may limit the amount of dishware you can actually load.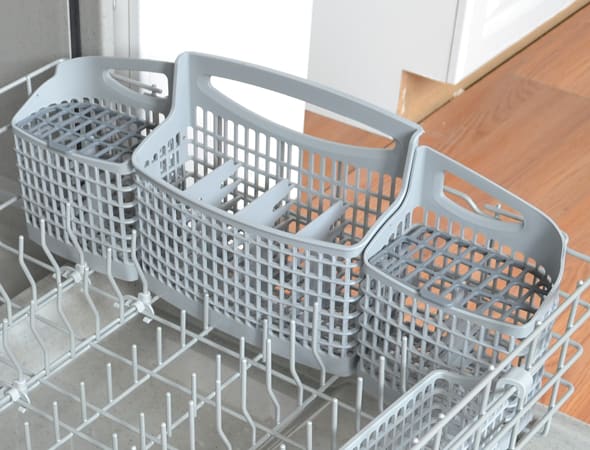 The dispenser flips open to reveal two containers: one for detergent, the other for pre-wash. As simple as it is, the rinse aid receptacle includes a spin-off top—not the most pleasing feature for folks with clumsy butterfingers.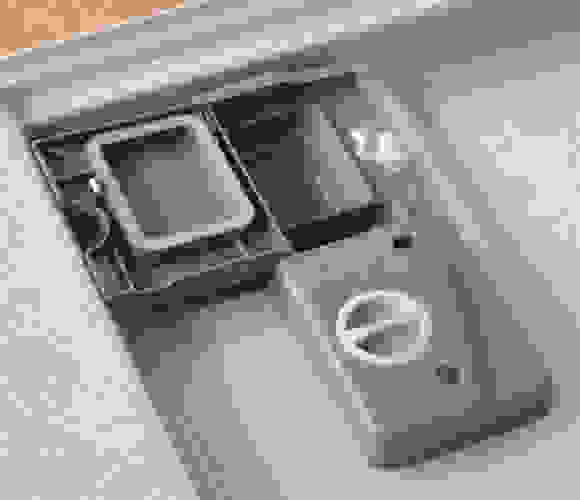 When it comes to product design and construction, the is fairly straightforward. The control panel, cutlery holders, baskets and front display are all intuitive, even if the touch controls lack adequate sensitivity.
As mentioned, the is mostly quiet—at least quieter than your grandma's dishwasher. However, the water spray on a mostly empty load is actually quite noisy, and it is generally louder than similar models.
The interface includes touch-sensitive controls that aren't that sensitive to touch, requiring what seems like excessive force to engage. While the placement of the interface at the top of the door makes for an appealing anterior design, it precludes operation during a wash cycle.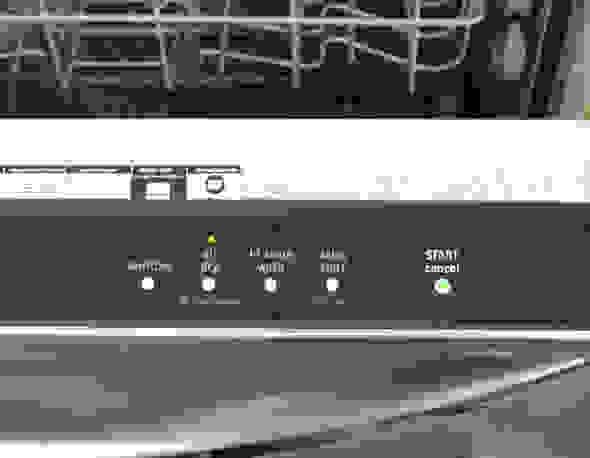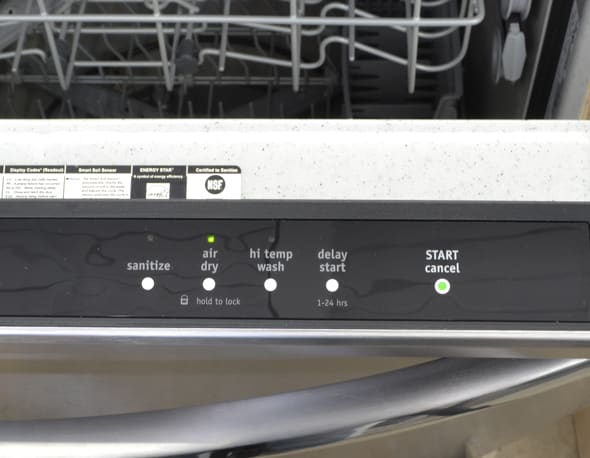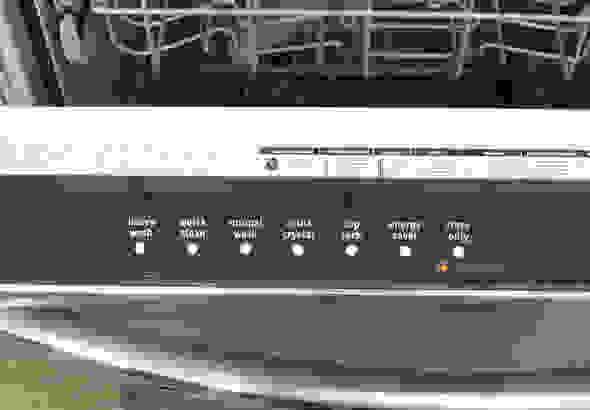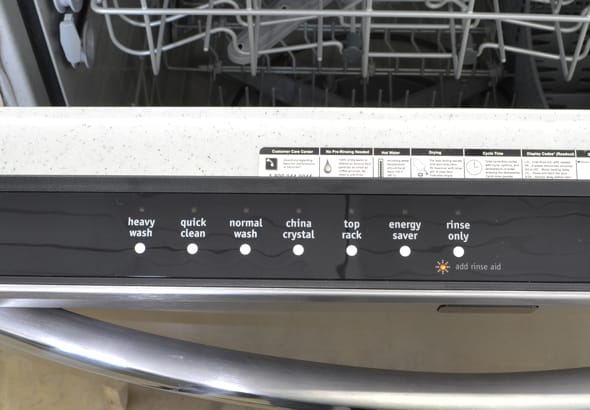 While the and the Evolution Ascenta are nearly identical in price, the is clearly a better option if you're in the market for a high-performing and well designed machine. The Bosch also lacks a quick cycle, despite having a stainless steel tub. Really, the only reason to go with Bosch would be if you're seeking a speedy machine with a high-capacity load and efficient power demand.
For the same price, the LG LDF7932ST is a bit slower and less efficient than the . However, it does have the beat when it comes to performance. It also has superior washing features, as it includes a wide range of customization options. Given the price similarity, we'd recommend the LG over the .
Washing Performance
At a yearly operating cost of about $33.24, the is average. The Heavy Wash demands a considerable volume of both water and electricity, and the duration of each cycle certainly doesn't help. However, it's important to note that the is more efficient than several market equivalents, with solid performance to boot.
If we had to choose the two best parts about the , it'd be its design and performance—slick construction for a thorough clean. While the Quick Clean was substandard—and at 53 minutes, not very quick—the Normal and Heavy Washes can handle most cleaning needs, even if they take a while. For the Heavy Wash, you won't even need to scrub your dishes before loading them.
The includes four additional wash cycles: China/Crystal, Top Rack, Energy Saver and Rinse Only. There is no way to customize individual loads, but there are a few more wash options, including a high temperature rinse, a sanitize feature, an air dry and a start delay of up to 24 hours. These features should be able to satisfy most consumer demands, especially when it comes to washing cutlery, for which there is plenty of room.
Meet the tester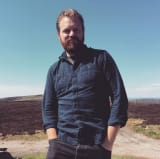 Tyler Wells Lynch
Contributor
@tylerwellslynch
Tyler Wells Lynch is a freelance writer and journalist whose work has appeared in Vice, Wirecutter, Gizmodo, The Rumpus, Yes!, and the Huffington Post, among others. He lives in Maine.
Checking our work.
We use standardized and scientific testing methods to scrutinize every product and provide you with objectively accurate results. If you've found different results in your own research, email us and we'll compare notes. If it looks substantial, we'll gladly re-test a product to try and reproduce these results. After all, peer reviews are a critical part of any scientific process.
Shoot us an email