The basic idea of a dishwasher is simple enough to explain to an orangutan, but every once in a while a product comes along that's just stunning. What makes the so amazing is not that it's super efficient (like the Bosch SHX98M09UC), well designed (Asko D5434XLS), or innovative (Miele Futura Crystal); it's that it excels at the most important function of a dishwasher: wash performance. In fact, the just about trounces every other machine we've tested when it comes to cleaning power. What's more, it costs a mere $800—far less expensive than all the above mentioned dishwashers. These two factors—price and performance—make the the best dishwasher of 2012.
The front of the features a rounded metal handle, a small KitchenAid logo at the bottom, and an operational light in the upper right corner.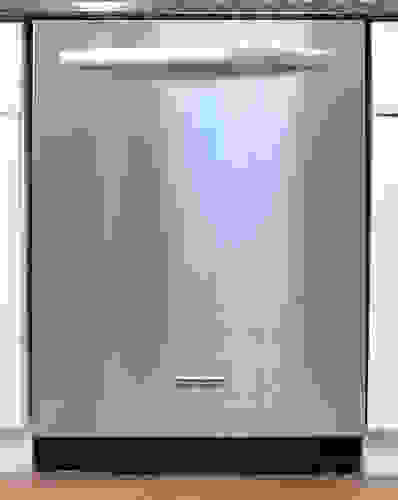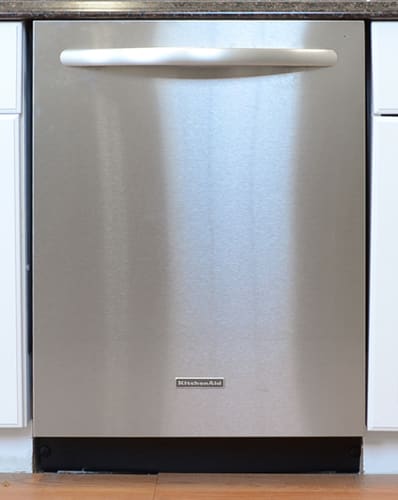 The has a stainless steel finish, both inside and out.
The control panel seems a bit cluttered, but that's mainly because of its range of options. While there seems to be a lot of text, the interface is fairly intuitive and straightforward. The blue indicator lights are also helpful—as is the status display.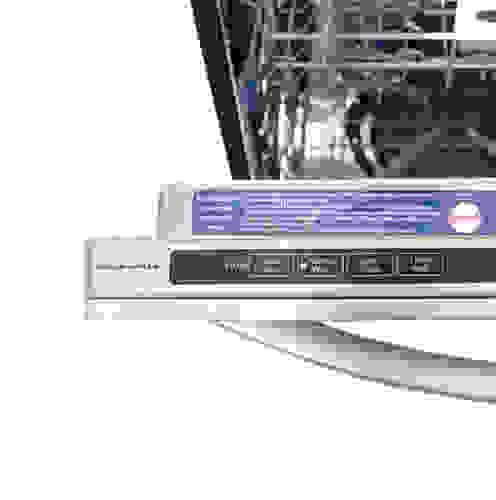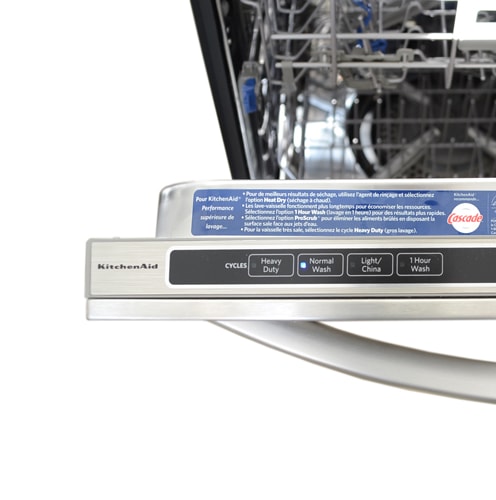 The wash tub is stainless steel, which reduces noise and helps in the drying process. There's also a set of jets at the back of the tub; these are part of the 's "PowerScrub" option, and a key reason for the machine's superior performance.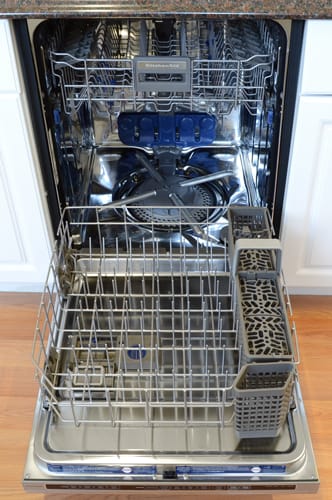 The top rack is sturdily constructed and flexible enough for most small-sized dishes. The tines are also intuitively placed and include a couple of adjustability options.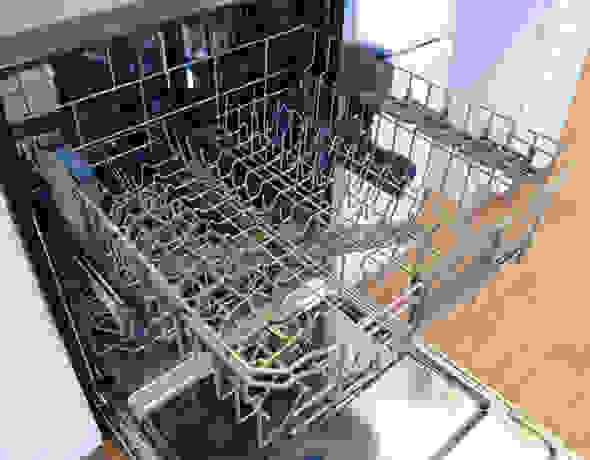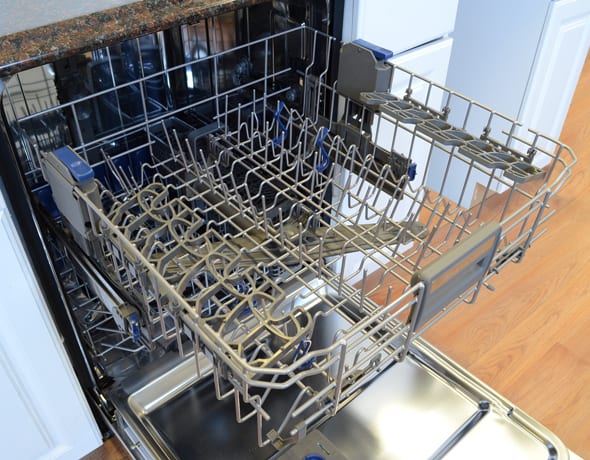 While not adjustable, the bottom rack is designed in such a way that loading dishes should not be any sort of challenge. Like the top rack, it is also pretty sturdy and rolls easily in and out of the tub.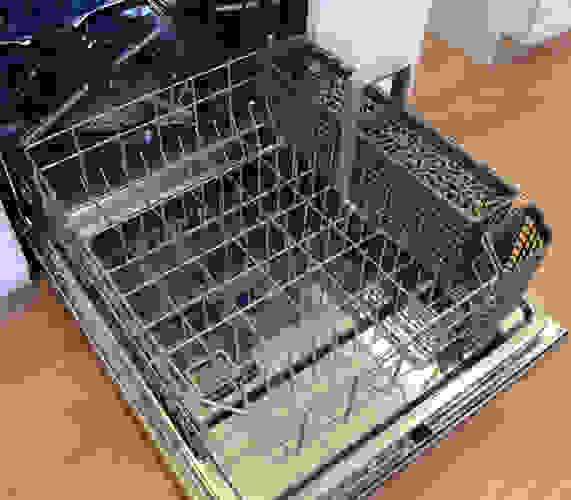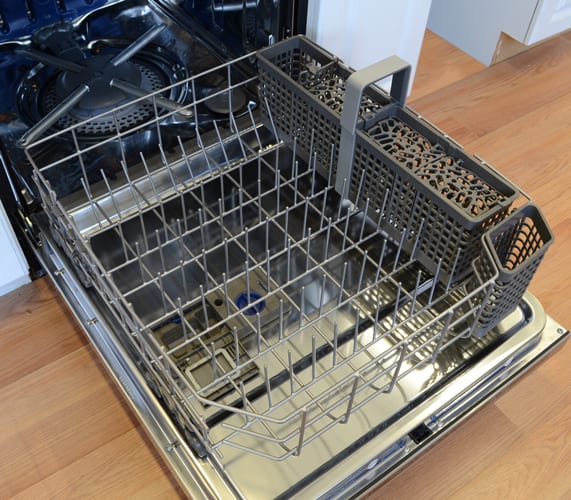 The cutlery basket is very spacious, if a little flimsy in its construction. One convenient feature: owners can remove the basket entirely (to make room) and still use the smaller basket (attached to the right side of the lower rack) to load a small load of utensils. Doing this would significantly increase the machine's capacity.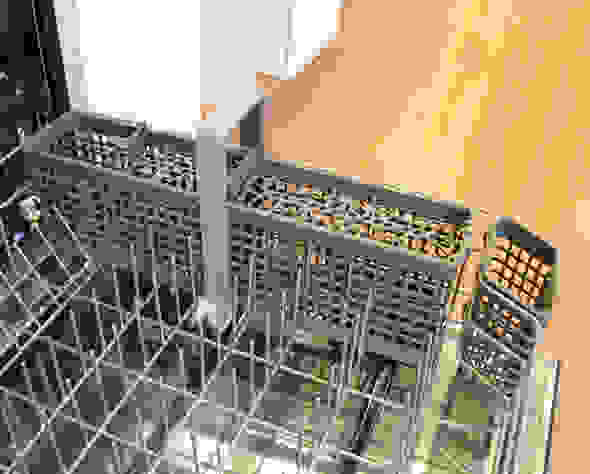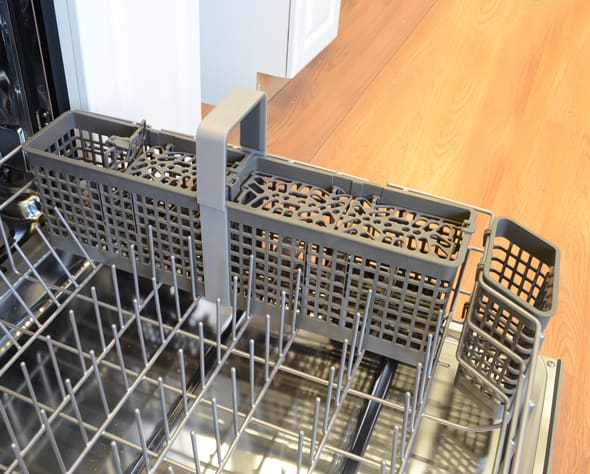 Energy consumption wasn't too bad—at least by comparison to its water use. The 1 Hour Wash drained 0.64 kWh of electricity, while the Normal and Heavy Duty washes consumed 1.00 and 0.90 kWh, respectively. This makes for an energy cost of about 7 to 10 cents per cycle.

Here's where the is an environmentalist's nightmare: it soaked up 6.63 gallons of hot water on the 1 Hour Wash alone. This figure climbed to 7.08 and 7.54 gallons for the Normal and Heavy Duty cycles, respectively (which makes for a water bill of 6 or 7 cents per wash). We've tested dishwashers that use up to 9 or 10 gallons per cycle, so this is by no means an abhorrent level of inefficiency, but it's still significant.
Based on the estimation that the Normal wash is used 50 percent of the time, the above data make for a yearly operating cost of $39.60 -- a few bucks higher than most other machines we've tested. This is pretty darn high, and is due almost entirely to its high water consumption. Also interesting is the fact that the Normal Wash is more costly than the Heavy Duty, since it uses more electricity and lasts a few minutes longer.
As mentioned, we didn't find this to be much of a downside considering the 's superiority in other categories, but it's certainly worth considering as a consumer.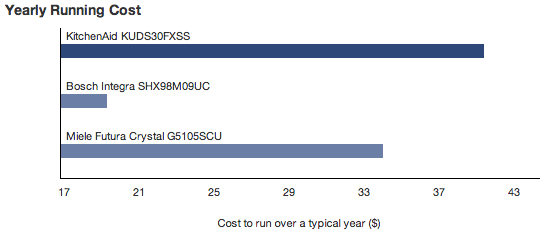 The Normal and Heavy cycles seemed to take their time, but not to the point of frustrating us. The 1 Hour Wash lived up to its name by clocking in at 59 minutes, while the Normal and Heavy Duty cycles lasted 155 and 149 minutes, respectively.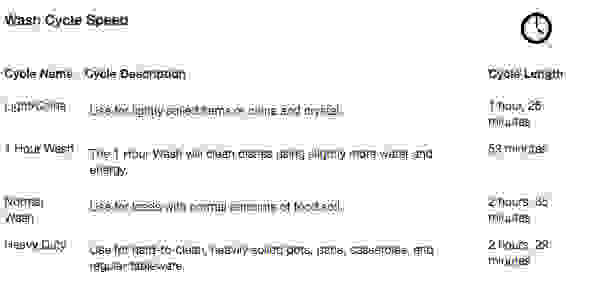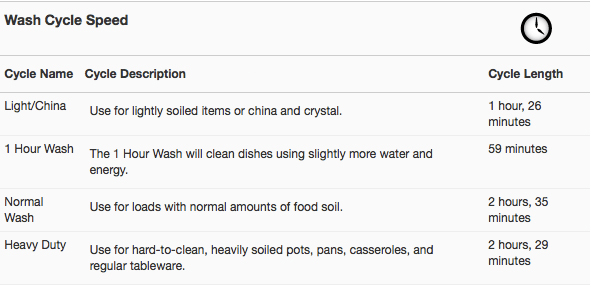 The makes use of a unique spray system to clean dishes—not to mention an absurd amount of hot water and an electric food disposer in lieu of the filters found on other models, such as the KitchenAid KUDE60FX. We concluded that these three factors contributed mostly to the suspiciously strong performance, but the machine still seems to have this mysterious quality, as if some kind of dishwasher gnome were living inside it (yes, dishwasher gnomes are a thing now).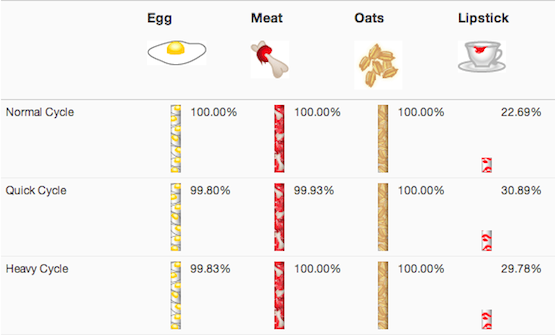 Each of the wash cycles showed strong performance, even the quick cycle, which is usually significantly weaker than the other main washes. For example, it scored perfectly on our dried oatmeal test and near-perfect on our meat, tea, egg, and spinach tests. For a quick cycle, that's saying something. Keep in mind, though, that the 1 Hour Wash is barely more efficient than the Normal and Heavy cycles.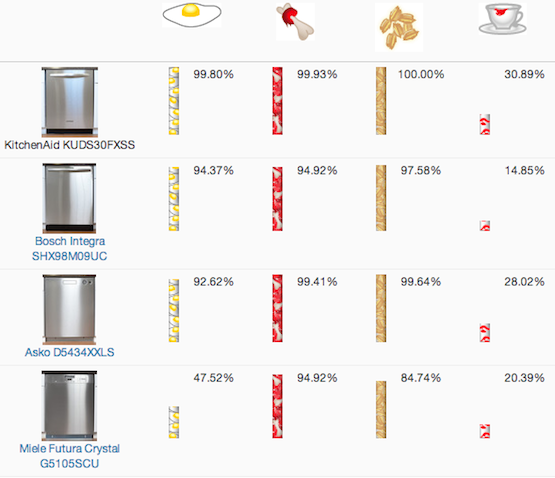 So here are the stain tests on which the scored perfectly: dried milk, dried tea, baked-on meat, baked-on egg, dried oatmeal, and margarine. There are only two others stains (lipstick and baked-on spinach) that we test on the Normal wash, and they are traditionally the most difficult to remove. Also, let us point out that "perfection," in this sense, means 100 percent clean across two separate passes!
Normal Cycle
The Heavy Duty wash was equally impressive, although it scored slightly lower because it involves three additional stain tests (burnt sugar, burnt cheese, and baked-on lasagna). Still, the Heavy Duty was spot on; it scored perfectly on dried milk, dried tea, baked-on meat, dried oatmeal, baked-on spinach (a first), burnt sugar, and baked-on lasagna (also a first). Excuse us if we're more excited than you, but we make these stains and know how hard it is to remove them, so we're just amazed. Amazed!
Pots & Pans Cycle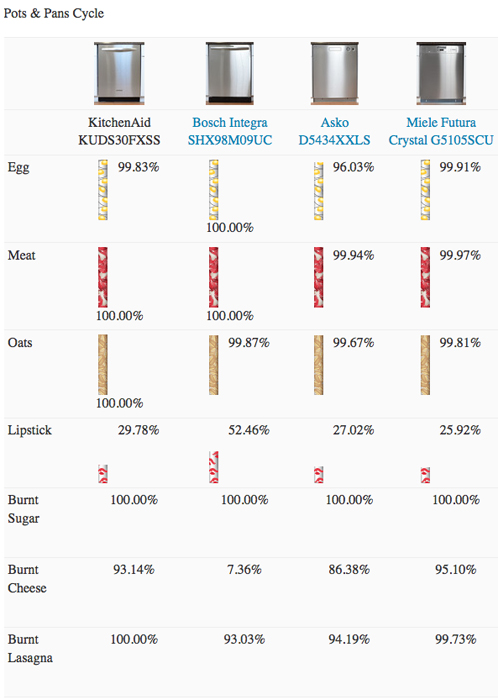 In addition to the three main cycles (1 Hour, Normal, and Heavy Duty), there is also a Light/China cycle intended for delicate dishes and glassware. While the Heavy Duty cycle was the most impressive, it actually used less power and took less time to complete. Since the cost per cycle between the two washes is pretty similar, you don't have to worry about the Heavy Duty plaguing your utility bill.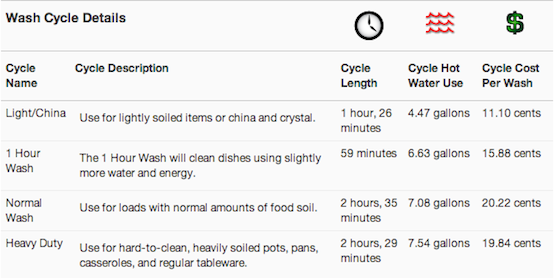 The includes a few additional wash options that can be added to individual cycles. The most head-turning of these features is the "PowerScrub" option, which engages a series of additional spray jets to ensure a more robust wash. While this accounts for some of the 's superior performance, the high volume of water used in each of the main cycles deserves more of the credit.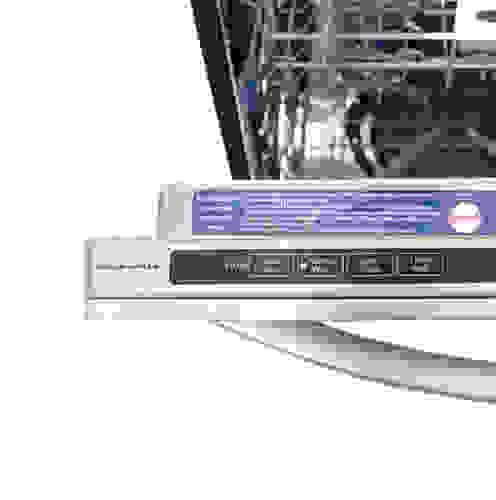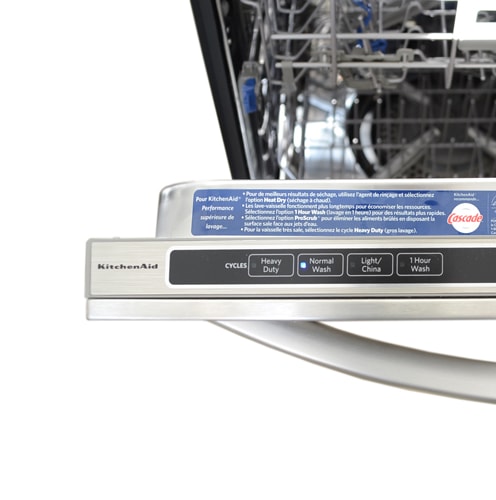 In addition to the PowerScrub option, there is a high-temperature scrub, sanitize rinse, heated dry cycle, and a 4-hour delay. There's also a child lock and a status display.
We were able to fit 10 place settings, including a serving setting. This is an average score and should suffice for most dish sizes and shapes.
Top Rack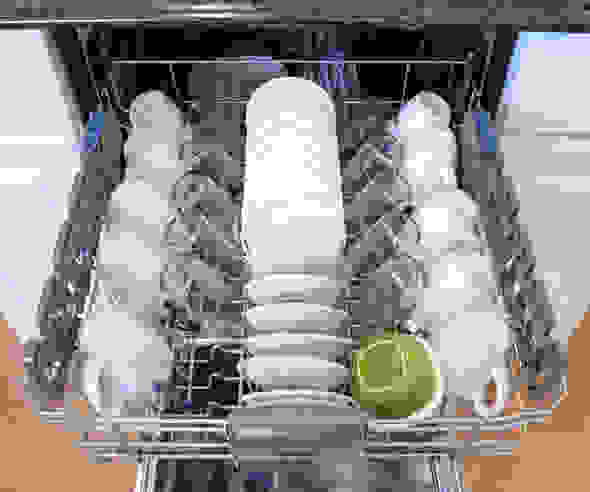 Bottom Rack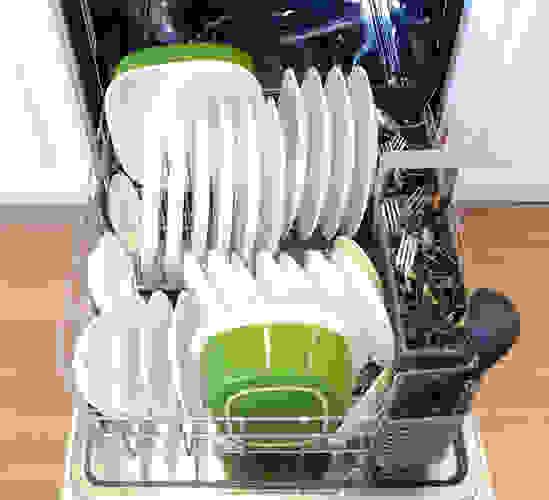 The wash arms are pretty basic, although the four-pronged bottom arm allows for a wider area of spray exposure. The filter, which cannot be removed for easy cleaning, includes an electric disposal that grinds up small food soils. This helps limit backup and ensures a thoroughly clean wash. Some dishwashers that lack a disposal will redistribute the little flecks of food that are too large to be trapped in the filter. Gross.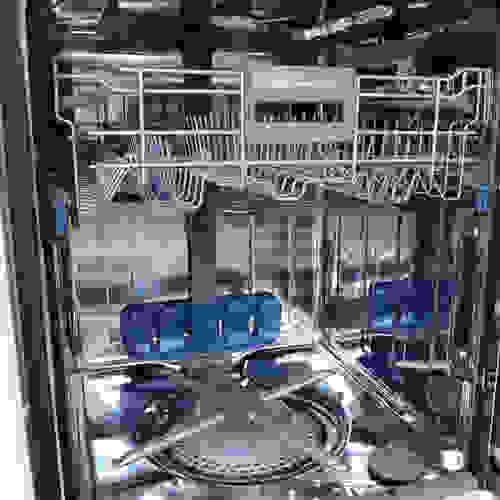 For a dish rack that cannot be adjusted, the is pretty flexible. The tines are spaced evenly apart, so you shouldn't have trouble fitting even the most bulky or awkwardly shaped dishes.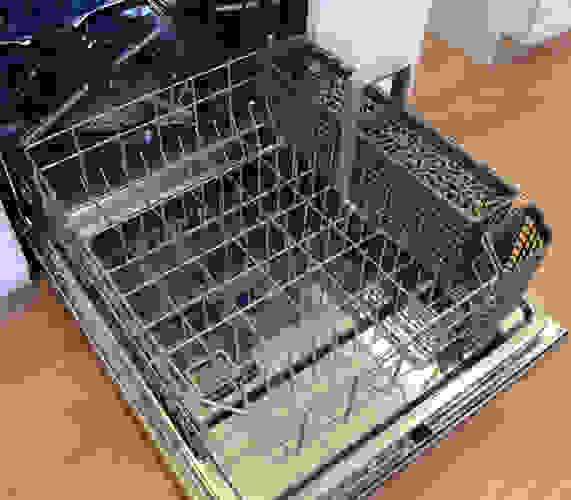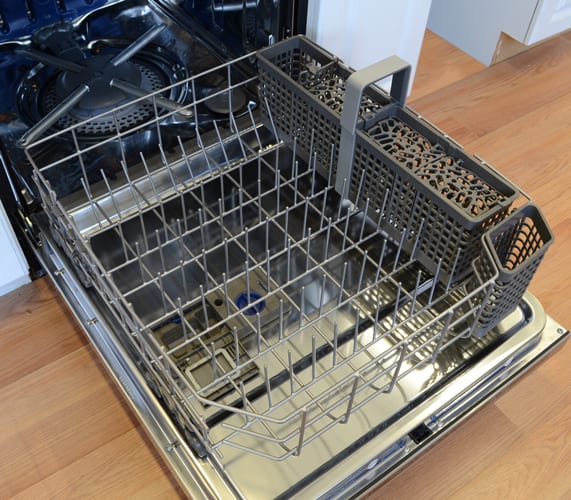 The upper rack is also limited in terms of flexibility, but we didn't really have any trouble fitting glassware, mugs, or even small plates and bowls. The two levers on either side of the rack are a bit bulky, but are helpful in that they allow you to raise of lower the rack within the wash tub.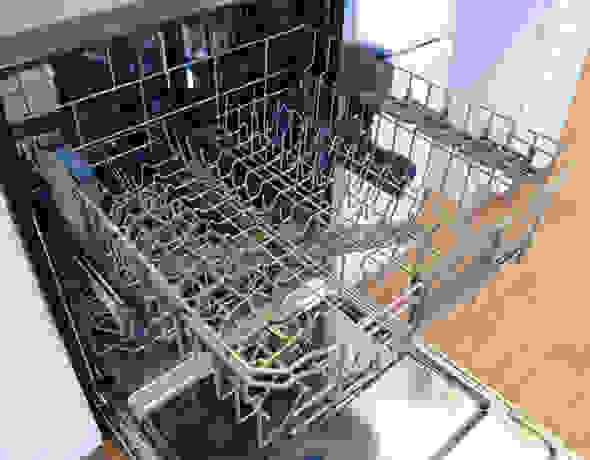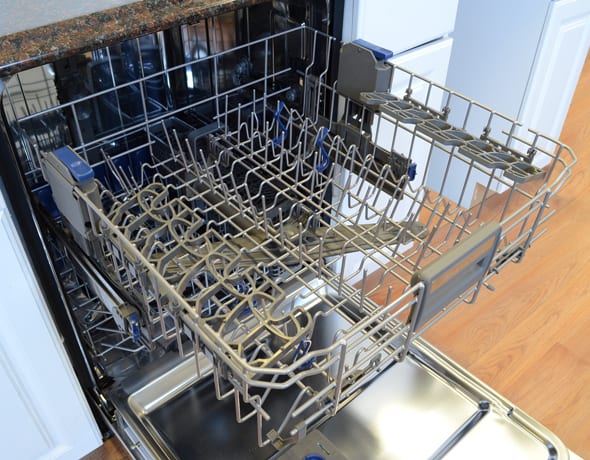 The cutlery basket isn't anything to write home about. It features four foldable lids with silverware holders in each. These lids cover four interior bays. There is also a separate, smaller basket that can fit small loads of utensils if you want to remove the larger basket for a load.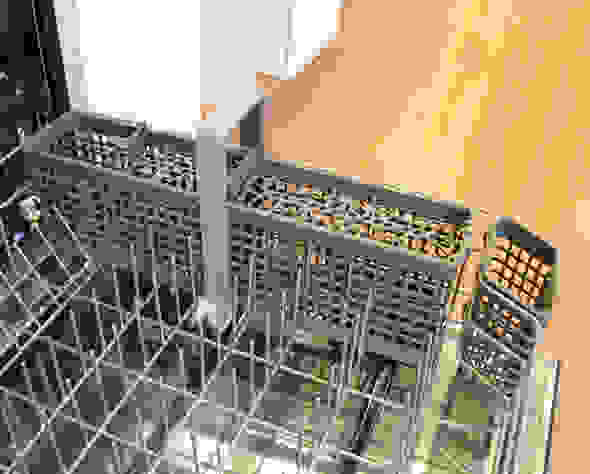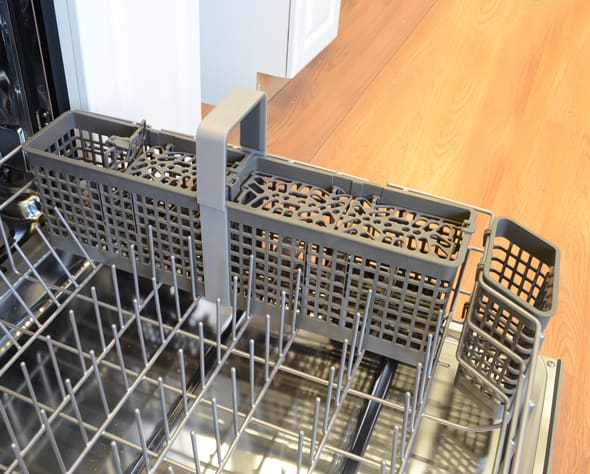 The detergent dispenser includes one line measure, a rinse aid dispenser with meter, and a pre-wash container.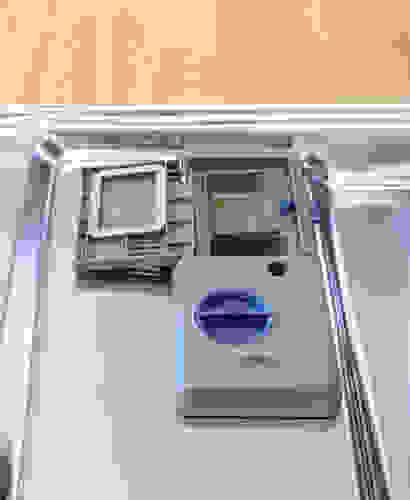 As mentioned, the is easy to operate and understand. The inability to remove and manually clean the filter may seem frustrating at first, but—with the exception of extremely tough, large-soil stains—we were never forced to get in there and clean it ourselves.
The stainless steel interior makes for very quiet operation. If you're looking for a dishwasher that hums along without making much noise, the should certainly be considered.
The simply designed control panel looks cluttered at first glance, but upon inspection you realize that all the buttons are familiar, with the options neatly separated from the cycles. The presence of a cycle status display also helps give users a rough estimate of when their dishes are finished being cleaned.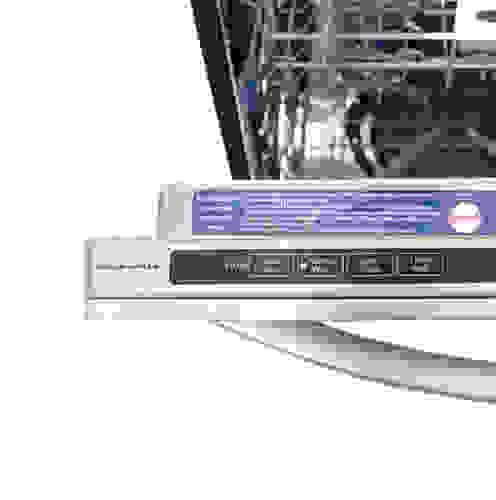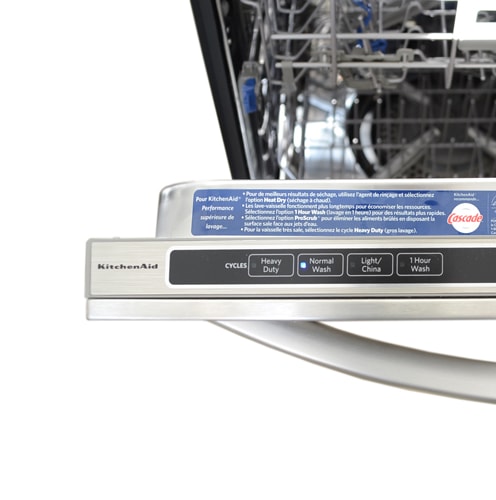 Not exactly dismal but definitely subpar, the is one of the least efficient dishwashers we've tested (and it still received our top score!). This is mainly due to its high water consumption (6.63 gallons of hot water on 1 Hour Wash, 7.08 on Normal, and 7.54 on Heavy Duty), but it drained a good deal of electricity too. Based on our data, we expect the to cost an average $39.60 per year to operate, which is around ten bucks more than many other machines.
La crème de la crème. The combines a lot of water, a food disposer, a unique spray jet design, and a bit of magic to create one of the most impressive wash performances we've ever seen. It scored near-perfect on a range of stain tests in both the Normal and Heavy Duty cycles, and the 1 Hour Wash was one of the best performing quick cycles we've ever tested. And for a mere $800 or so, the is basically a steal. If all you're looking for is a dishwasher that does it's darn job, then this is your guy.
The 's extra features are pretty basic, but there's nothing crucial missing. The Sani Rinse reaches a high enough temperature (156.2 degrees Fahrenheit) to do its job of sanitizing the wash load, and the "PowerScrub" feature unleashes an additional army of spray jets on food soil. There is also the standard delay (4 hours), control lock, Hi-Temp Scrub, and Heat Dry.
Meet the tester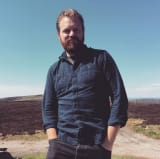 Tyler Wells Lynch
Contributor
@tylerwellslynch
Tyler Wells Lynch is a freelance writer and journalist whose work has appeared in Vice, Wirecutter, Gizmodo, The Rumpus, Yes!, and the Huffington Post, among others. He lives in Maine.
Checking our work.
We use standardized and scientific testing methods to scrutinize every product and provide you with objectively accurate results. If you've found different results in your own research, email us and we'll compare notes. If it looks substantial, we'll gladly re-test a product to try and reproduce these results. After all, peer reviews are a critical part of any scientific process.
Shoot us an email