The steel-backed control panel fits well with the rest of the front, without too much attention given to the Miele logo in the upper right.
The finish is a stainless steel that's sturdy and somewhat resistant to fingerprints.
Many consumers prefer the control panel to be situated at the top of the door, as it offers a more minimalistic design element for their kitchens. But the 's interface is not too obtrusive. It is a bit text-heavy, by virtue of the machine's extensive wash options, but it's not likely to be a deal-breaker.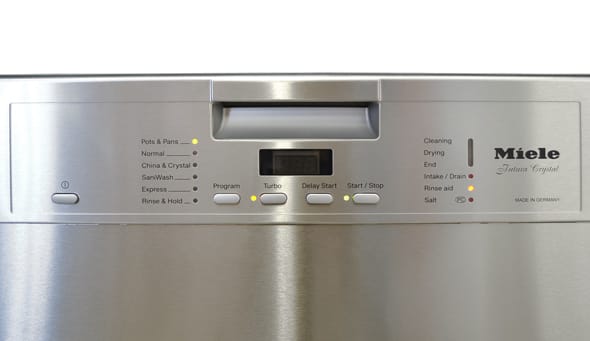 The 's racks both feature a unique take on basket design and layout. The tines and spindles are narrowly spaced and angled to allow for greater rigidity. When viewed as a whole, the machine appears truly unique.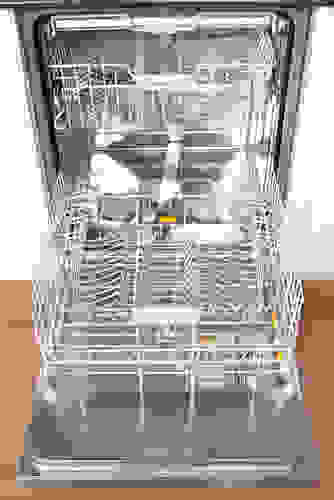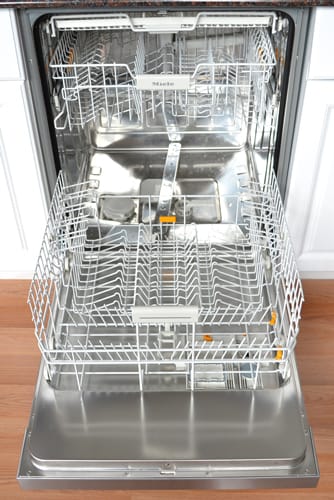 What the top rack has in adjustability it lacks in flexibility. We didn't have much trouble fitting our dishes, but it definitely took some careful maneuvering to get right. That being said, the layout is practical, with plenty of consideration given to all kinds of dishware.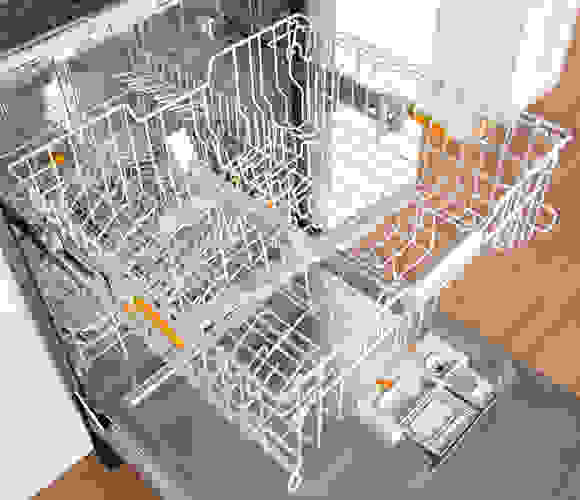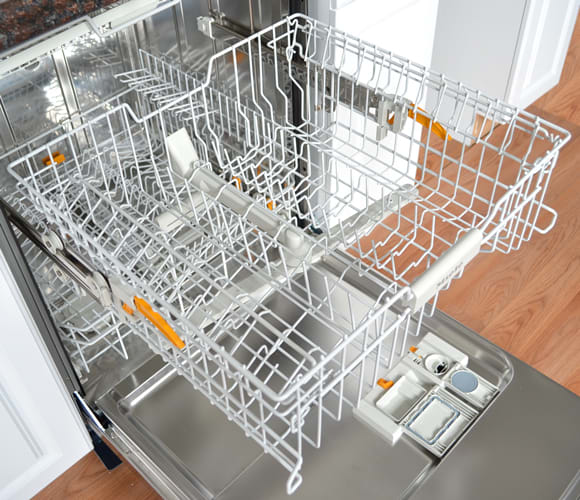 We had some trouble—just some—fitting larger, bulkier pots and pans in the lower rack, mainly because the layout is so narrowly woven. But it still allowed for considerable flexibility in loading regular plates, bowls, and other dishware.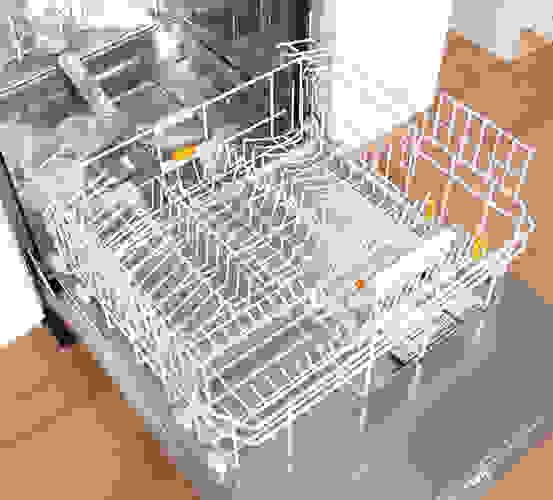 One of our favorite things about the : there is no cutlery basket! It has it's own rack. Tuh dah! We just thought this was really cool; it allowed for greater capacity in the lower rack and also ensured a fairly uniform utensil clean.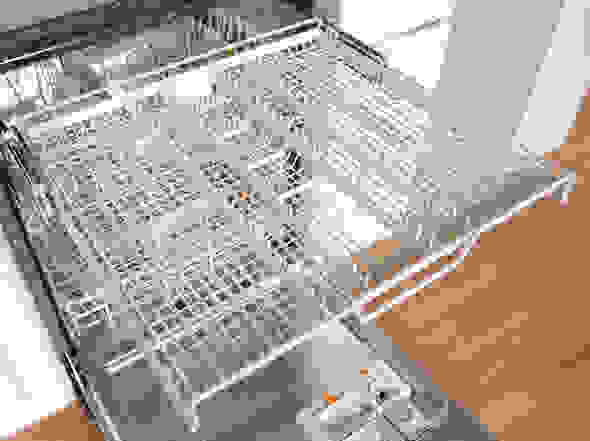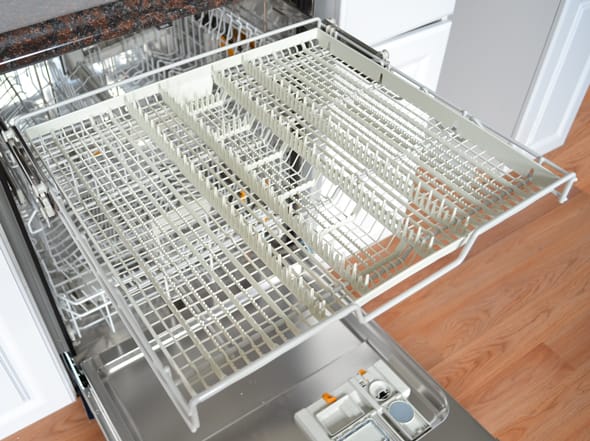 The Crystal's power use was slightly above average, particularly in the Normal wash. We found the machine consumed 0.12, 1.05, and 1.50 kWh between the Express, Normal, and Pots & Pans cycles, respectively. This makes for an electricity cost of roughly 1 cent per Express wash, 11 cents per Normal, and 16 cents per Pots & Pans.


While the Crystal seemed a little excessive in its power consumption, it made up for it with its hot water use. We found the machine consumed 3.92, 5.19, and 5.18 gallons of water between the Express, Normal, and Pots & Pans cycles, respectively. This makes for a hot water cost of just 4 or 5 cents per cycle.
Based on the above efficiency data, we calculated the will cost about $34.19 per year to operate. This based on the assumption that the Normal wash will be used 50 percent of the time.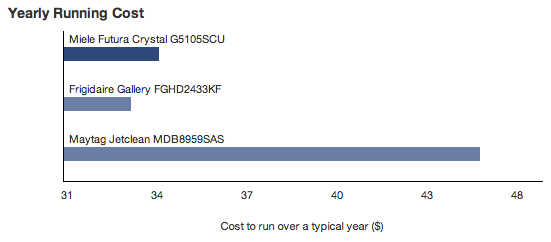 This dishwasher takes its time, but that's because it's busy cleaning your dishes. Let it be. The one exception is the Express wash, which clocked in at a breezy 37 minutes. But it's brevity was matched by its lackluster cleaning power. The Normal and Pots & Pans cycles took 149 and 203 minutes, respectively.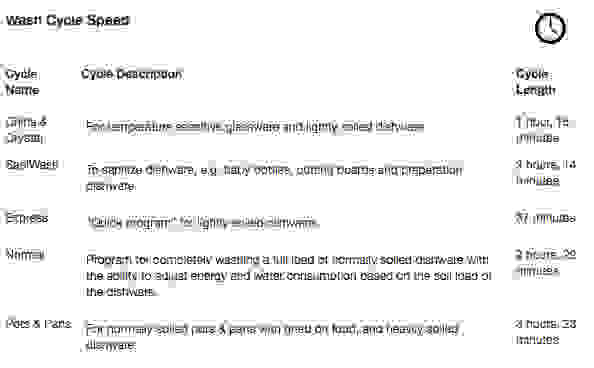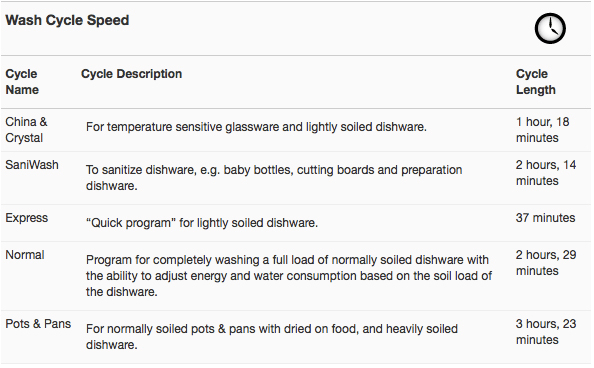 As mentioned, both the Normal and Pots & Pans cycles performed extremely well, but the Express wash was just plain bad. Unless you're super picky about quick cycles—in which case you probably wouldn't buy this $1,400 dishwasher—we don't imagine this will be a problem.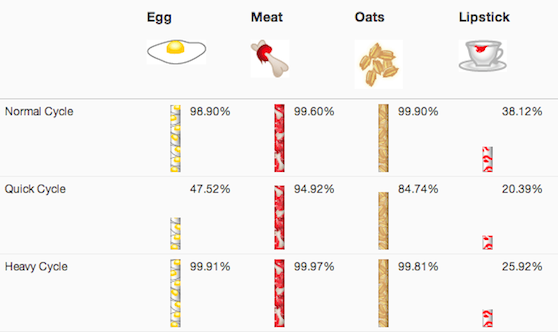 The Express wash struggled in nearly every stain category, particularly proteins (meat, egg, and milk). It was also downright abysmal in our spinach test. What's worse, it was inconsistent across multiple passes. We wouldn't recommend using this cycle much, unless you have a very small dish load and are super concerned about energy and water consumption, or if your dishes are just dusty from storage as opposed to food.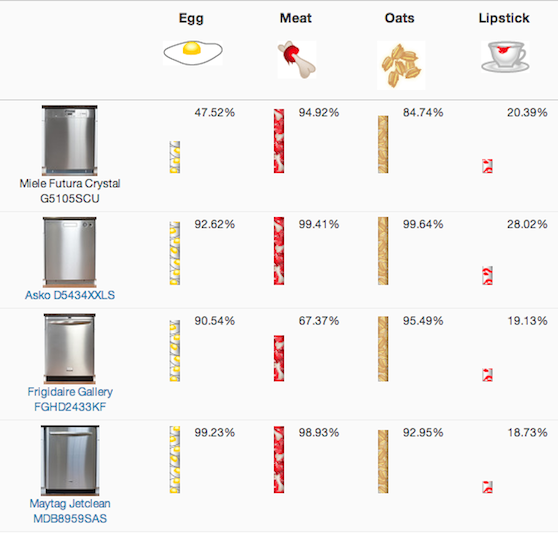 The Futura Crystal performed much better on the Normal wash, with near-perfect scores on our meat, baked oatmeal, and dried milk tests. While the spinach stains still proved challenging, it wasn't to the point of being a major concern. We imagine this will be the go-to option for most washing needs.
Normal Cycle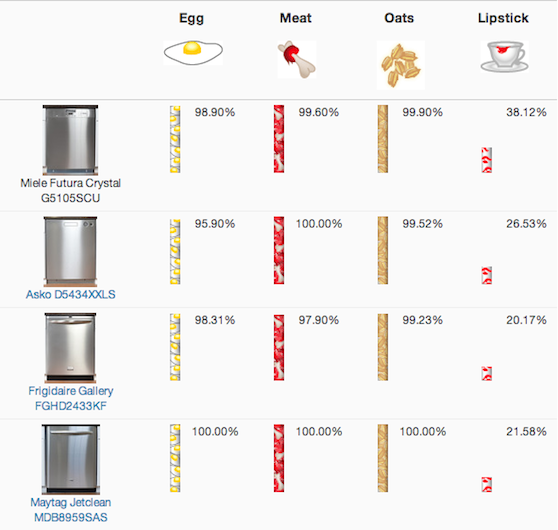 The Pots & Pans wash was even more impressive than the Normal. While it takes a bit longer to complete, its relatively strong efficiency performance ensures it as a viable cleaning option. What was most impressive about this cycle was its near-perfect score on our burnt cheese and lasagna tests, which are usually two of the most difficult tests we've created. Most dishwashers fail to even remove burnt cheese from the bowl its burnt into.
Pots & Pans Cycle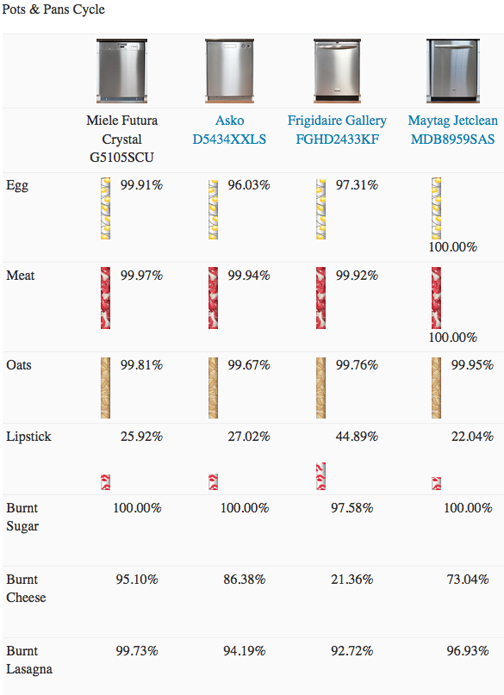 In addition to the three main washes—Express, Normal, and Pots & Pans—the Futura Crystal includes a SaniWash, China & Crystal cycle, and a Rinse & Hold wash.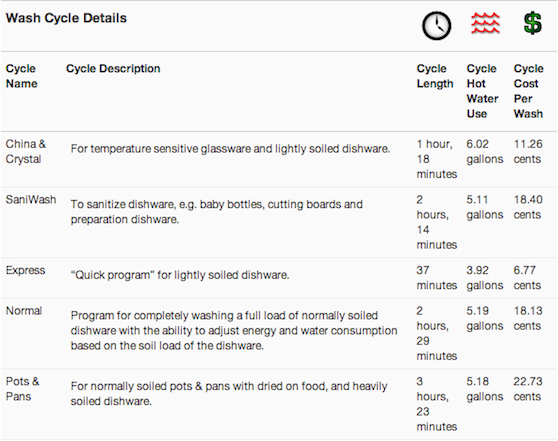 There's not much in terms of cycle customization, as most of the features one would expect from their dishwasher are included within their own cycle (i.e. SaniWash, Rinse & Hold). However, there is a "Turbo" add-on that shortens the timespan of a given wash cycle, thereby using more water and energy to complete the wash. There's also a Delay feature, allowing you to postpone the start of a wash by up to 24 hours.
A salt dispenser is included to neutralize pH levels, in case you have hard water. There's also a status display and lights indicating whether you need to add more rinse aid or salt.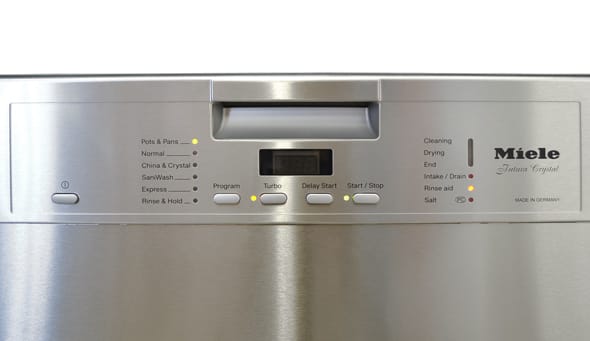 We were able to fit 10 place settings, including one serving setting. This is a very standard capacity score, but it's worth noting that the rack layouts—not to mention the separate cutlery rack—allow for significant flexibility when loading dishes.
Top Rack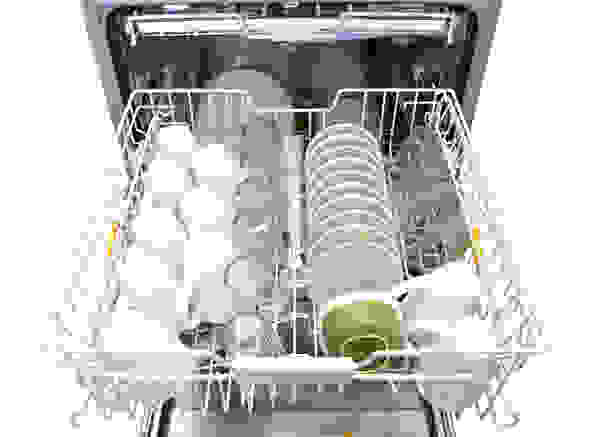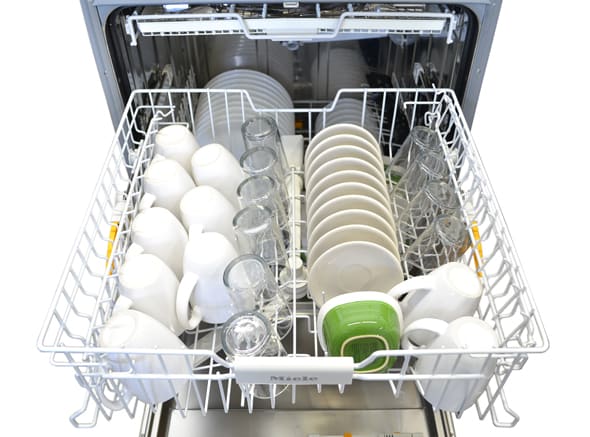 Bottom Rack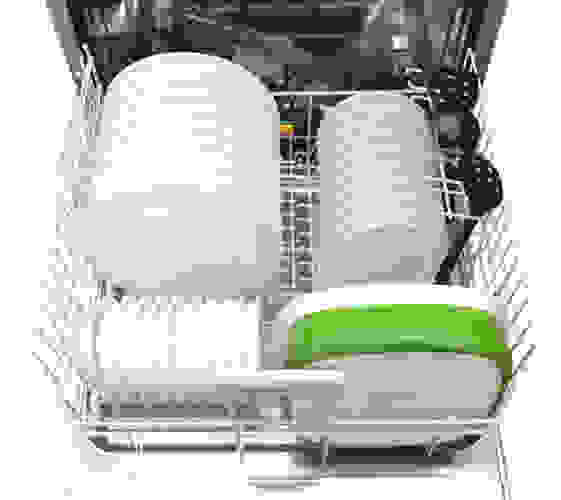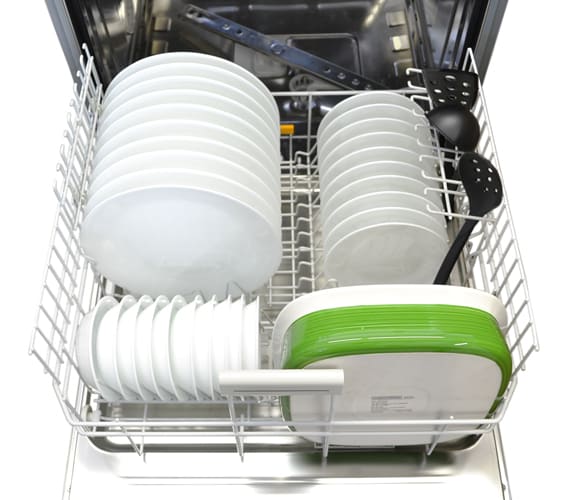 The includes three wash arms—one for each rack. The bottom arm is metal, allowing for greater durability and sturdiness.
The filtration system can be easily removed for cleaning, which we'd recommend doing somewhat frequently, especially after a particularly filthy dish load. The cool thing about this filter is that it is essentially three units in one—in that, the three main filtration segments are all attached, allowing for easy removal and cleaning.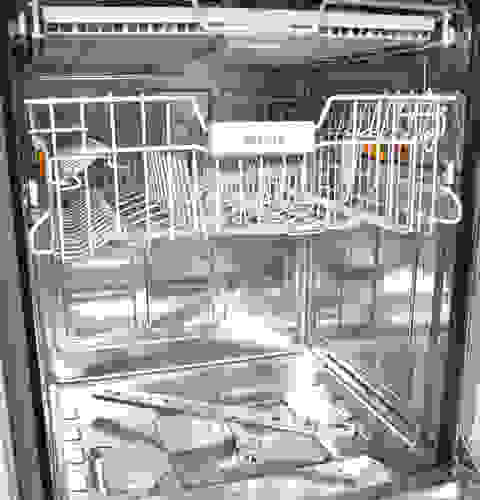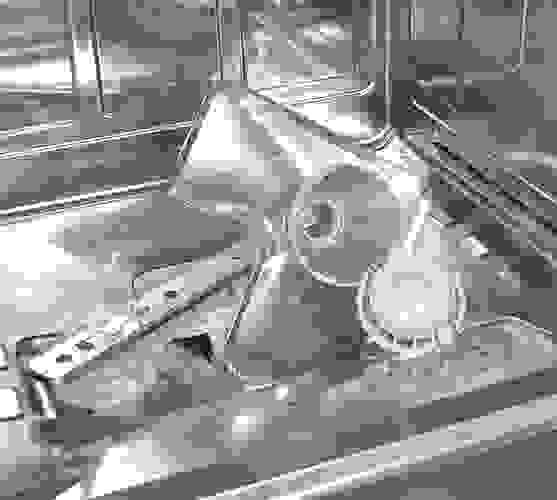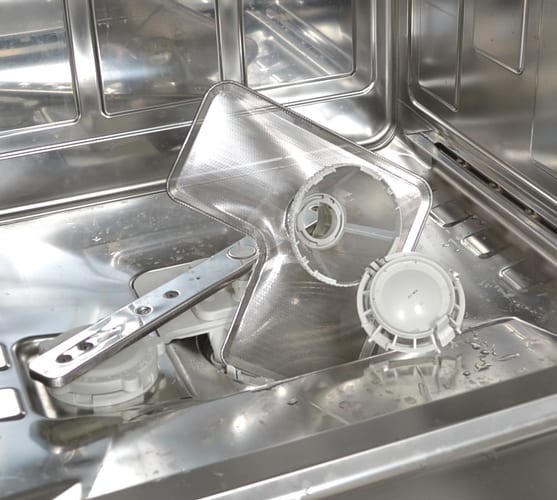 This is one of the most uniquely designed dish racks we've come across. Typical of German design and manufacturing, Miele seemed to rethink the process of loading dishes in designing this machine. The spindles are situated so that plates face the front of the machine, and the lack of a cutlery basket allows for greater capacity. However, we did have some trouble fitting larger, bulkier dishware such as pots and pans.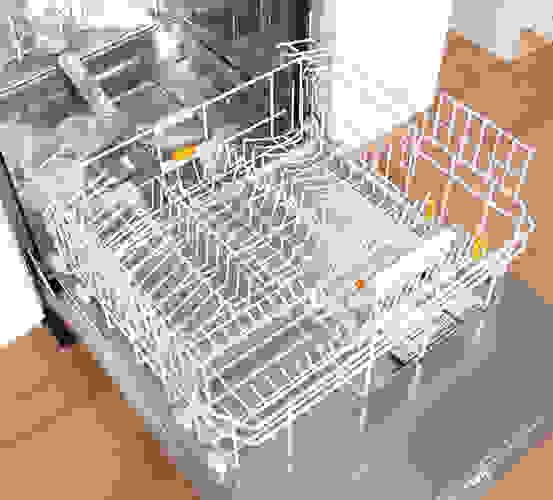 The upper rack is also solidly constructed and includes a lever for raising and lowering the basket within the tub. While we would have appreciated some more adjustability, there wasn't a whole lot trouble fitting dishes and glassware.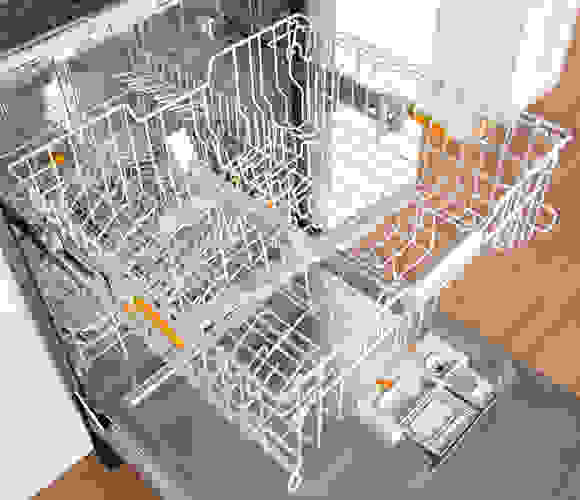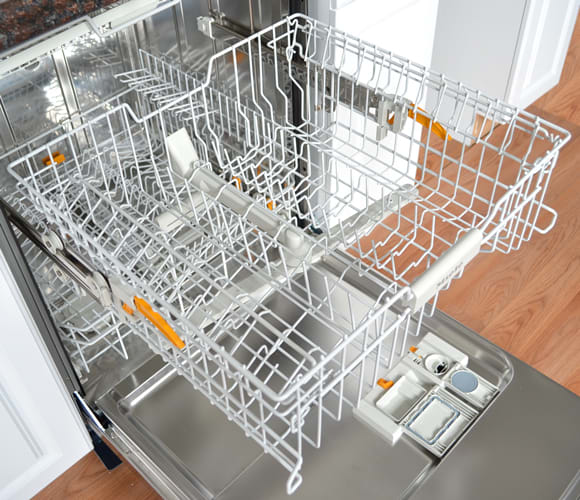 One of our favorite features, the cutlery rack is situated above the upper rack and has its own wash arm. There's also plenty of space for silverware of virtually any size (ladles, spatulas, and other large serving utensils can be loaded in the other racks). We did notice, however, that the farther utensils were from the center the less thorough their clean.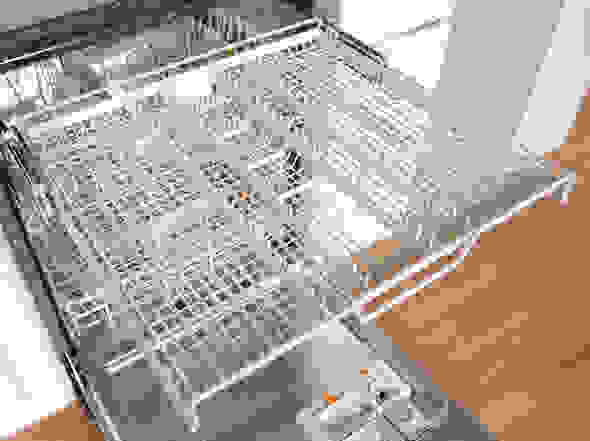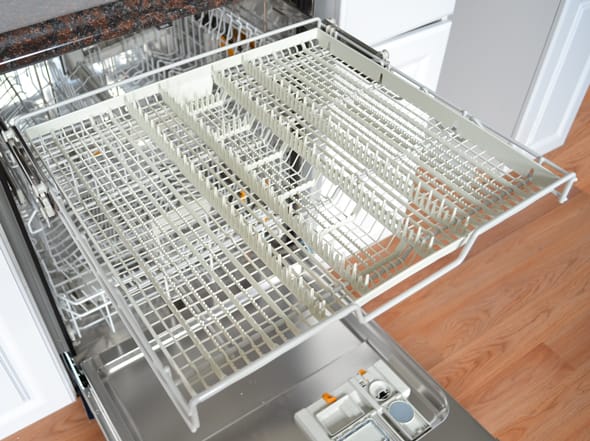 Probably the most familiar component of the Futura Crystal, the detergent dispenser is a standard contraption. But the Rinse Aid light on the control panel was a nifty perk.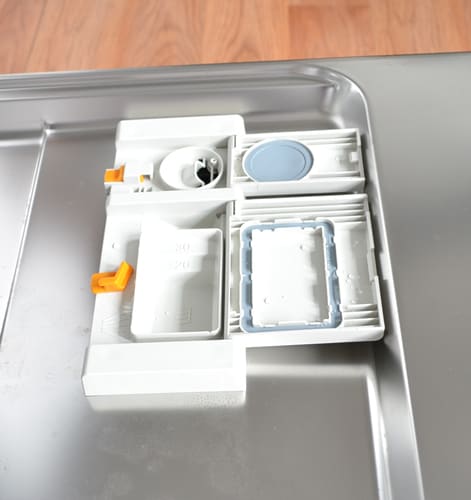 Any trouble owners may have operating this machines would have to do with its innovative design. Even then, though, it's nothing revolutionary. Racks slide easily and can be maneuvered and adjusted, the buttons are responsive, the status indicator notifies you of wash stages. Even the filter is easy to work around by virtue of its single-unit construction.
The Futura Crystal is quiet to the point of being forgettable. Even if you sleep in your kitchen you'll be soothed by the calm whooshing. But you probably shouldn't buy with your ears anyway.
If you have to consult the manual to figure out the control panel then you probably have no business complaining about usability. The interface is clearly labeled and features a status indicator with Salt, Rinse Aid and Intake/Drain notifications. Cycles are engaged by scrolling through the wash options and simply hitting the Start/Stop button. Easy enough.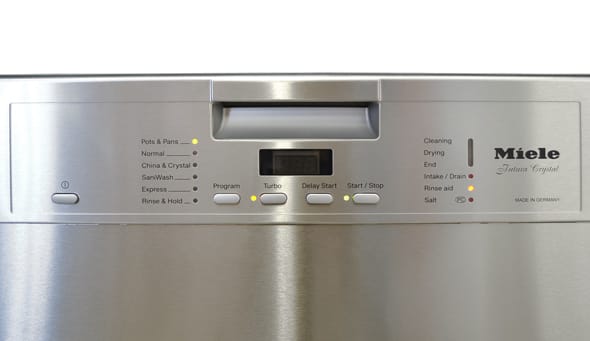 The Crystal will cost roughly $34.19 per year to operate, with much of that expense stemming from its substantial power consumption. The water use was actually pretty decent, with no cycle exceeding 5.2 gallons of hot water. These figures are by no means outrageous, but when we think of the Asko D5434XLS's yearly operating cost of $24.22 we know it could be better.
Both the Normal and Pots & Pans cycle were stellar performers, with the latter having the distinction of being the only dishwasher we've tested to nearly ace our burnt cheese and lasagna tests. The Express wash, on the other hand, was pretty bad. With a cycle duration of just 37 minutes you have to expect inferior performance, but even when compared to other quick cycles it was pretty bad.
We appreciated the unique control panel design, despite the fact that the interface is housed on the outside of the machine, as opposed to the top of the door. Beyond this subjective design concern, the Futura Crystal has a bunch of cool features, including a cutlery rack, a 24-hour delay, extra wash cycles, and a "Turbo" customization option that allows you to quicken a chosen cycle.
Meet the tester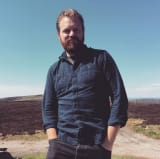 Tyler Wells Lynch
Contributor
@tylerwellslynch
Tyler Wells Lynch is a freelance writer and journalist whose work has appeared in Vice, Wirecutter, Gizmodo, The Rumpus, Yes!, and the Huffington Post, among others. He lives in Maine.
Checking our work.
We use standardized and scientific testing methods to scrutinize every product and provide you with objectively accurate results. If you've found different results in your own research, email us and we'll compare notes. If it looks substantial, we'll gladly re-test a product to try and reproduce these results. After all, peer reviews are a critical part of any scientific process.
Shoot us an email