Before researching this article, my husband was the nearest thing in my life to a closet organizer. I used a pile system: a pile for work, a pile for clean clothes, a pile for sorting later. When my "sorting later" pile got too large, parts would migrate into the closet, usually nudged in there by my better half. Now that we live in a smaller space, the pile system doesn't work and I've been forced to be more organized.
The only thing that's helped is installing a closet organizer—like the Rubbermaid HomeFree Series Closet Organizer (available at Lowe's for $96.98), which is our best-tested closet organizer. It offers the most bang for the buck with the least amount of installation aggravation.
To help you stay better organized, we tested eight of the best-selling do-it-yourself all-in-one closet kits, evaluating them for easy installation and whether they're strong enough to hold all your belongings.
If a closet organizer feels like too big a step towards tidy living, start by organizing your home and decluttering your stuff with smaller products. Then build up to a bigger investment.
Here are the best closet organizers we tested ranked, in order:
Rubbermaid HomeFree
Rubbermaid Configurations Deluxe Custom Closet Organizer
ClosetMaid White Wire Kit
Knape and Vogt Closet Culture Steel Closet Organization System
Martha Stewart Deluxe Starter Wood Closet System Kit
Allen and Roth Wood Closet Kit
ClosetMaid SuiteSymphony 25-Inch Starter Tower Kit
Easy Track Basic Starter Kit
Advertisement - Continue Reading Below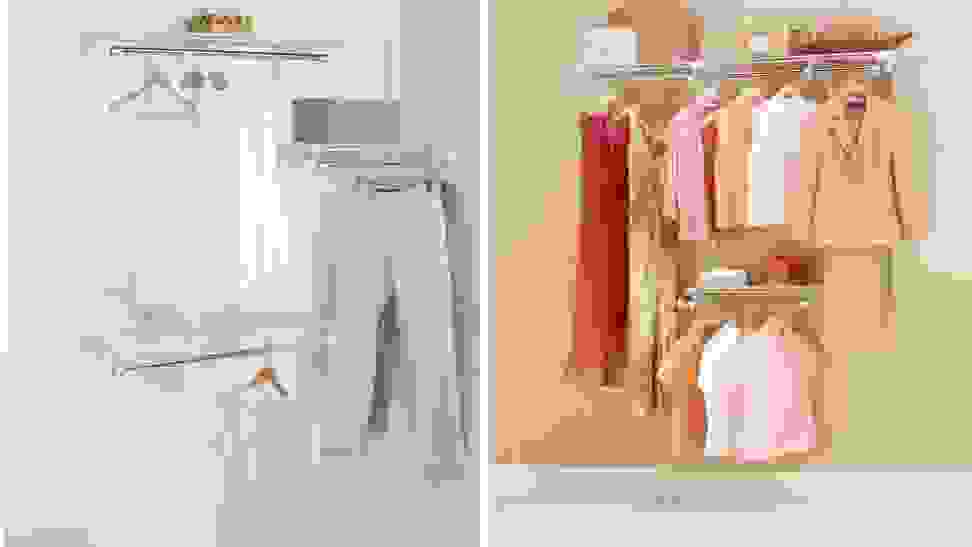 How We Tested
The Tester
My name's Rebecca Boniface. My curiosity and frugality fuel my enthusiasm for DIY projects. My experience ranges from wrenching on cars to RV repairs, furniture hacks, and small engine maintenance. Since I live full-time in an RV and travel frequently, I find that clever use of my small living space keeps my belongings organized and safe. Being mindful of my stuff allows me more time to do things I love and less time sifting through piles, my previous organizational system. I want to help you find the products that will enhance your space, as well as save yourself time and money.
The Tests
To find the best closet organizers, my testing focused on assessing the quality of each organizer for how customizable each system was, and whether the experience of assembling one might drive someone to the brink of madness. However, before I could begin to answer these questions, I had to figure out which closet organizers I should call in for testing.
Closet organizers can be roughly divided into two categories: freestanding or attached units. Since models that are attached to the wall of a closet are more common and I focused on those for this guide. Next, I looked at which brands and models were the most popular, based on online product ratings. I tested each by:
Assembling and installing the organizer on a latticework of exposed wall studs.
Arranging/hanging a primary set of items (clothing, shoes, folded sweaters) into the organizer, followed by a secondary set of items (books, hairbrush, hats, makeup items) on each organizer's shelves/clothing rods.
Placing a 35-pound kettlebell its bottom shelf to test each organizer's load-bearing capacity.
After these tests were completed, I assessed the organizers on the overall installation experience and evaluated how easy each was to clean, its aesthetics, and if there were any special features worth noting.
Things to Consider When Buying a Closet Organizer
If you own your home (or are a long-term renter with no plans to move), installing a closet organizer that is attached to your wall makes sense. However, if you might be moving shortly or are averse to putting holes in your drywall, a freestanding closet system might better suit your needs. Unlike the closet organizers tested here, a freestanding storage unit does not need to be attached to the wall. For example, I used the Elvari set from Ikea for years as I moved from apartment to apartment, adding pieces as I needed them. Instead of using screws to attach to drywall and wall studs, this closet organizer used poles that created tension between the ceiling and the floor to support its shelves. In my final apartment, I didn't have a closet at all and used my organizer as a room divider to create a kitchen and living room space. While often a bit more expensive and a little finicky to set up, organizers that don't put holes in your wall are ideal for renters.
Customization
A couple of the closet organizers I tested labeled their shelving as customizable, indicating in the instructions that hacksawing off a section of that shelving results in the desired shelf size. Cutting clothing rods, as long as the end-caps are removable, feels reasonable to me; the end product still looks finished. However, hacking away at plastic coating wire shelving or veneered particle board will not result in an attractive finish. If having an attractive closet organizer is important for you—for example, your closet space is open and visible—having a clean finish on your shelves will make it more attractive.
Delivery
If you take a quick look at the weight of the organizers, you'll notice most are hefty, weighing in between 40 to 70 pounds. For me, sweating as I shove 70 pounds of closet organizer into the back of my Jeep isn't appealing. With heavy products like this, having it shipped to your front door is the way to go. Shipping is free or included for several online retailers, making it a no-brainer.
Tools For Easier Assembly
There are a couple of tools that will make assembling your organizer easier. First, having some type of electric screwdriver or a cordless drill will make assembling and mounting your organizer quicker. If the organizer is one of the heavier laminate or wooden units, an electronic stud sensor will help you find the studs under your drywall to make mounting your organizer easier. Finally, a level will help you mount your organizer in a way that will help keep your items where you put them. If you'd like a quick overview of how to mount shelving, This Old House has a good guide to help with the instructions that came with your organizer.
---
Other Closet Organizers We Tested
More Articles You Might Enjoy
Advertisement - Continue Reading Below