The Best Dog Leashes of 2019
By Sarah Zorn, April 03, 2018, Updated January 02, 2019
Most dog owners would agree that leashes are the most crucial tool in their arsenal. And yet, the seemingly unassuming item is so often undervalued as merely a means of transporting one's pup from point A to B, so that they might entertain, exhaust or relieve themselves. Yet not only do leashes, like our favorite Lead Mate and Leash Combo (available at Amazon), ensure security in the most perilous situations—navigating sidewalks, streets, hikes, bikes, fire engines, darting squirrels and other dogs—they serve as a primary instrument of communication between a canine and their handler.
When it comes to walking, every tug of the leash translates to the wordless transmission of "look," "listen," "leave that," or "turn right here." So, we tested some of the most popular leashes to find out which would best facilitate that ongoing conversation, as well as provide safety and comfort for both the dog and owner.
From all-purpose flat leashes to specialty leads, here's how some prominent options on the market stacked up, in order:
Lead Mate and Leash Combo
Primal Pet Gear Dual Handle Long Leash
Pets Lovers Club Heavy Duty Long Leash
Signature K9 Biothane Leash
Ruffwear Knot-A-Leash
Max and Neo Reflective Nylon Dog Leash
In addition to these all-purpose flat and rope leashes, we also tested leashes designed for specific tasks, such as dog training, walking two pooches at once, or if you want to walk your dog hands-free.
Updated January 02, 2019
Advertisement - Continue Reading Below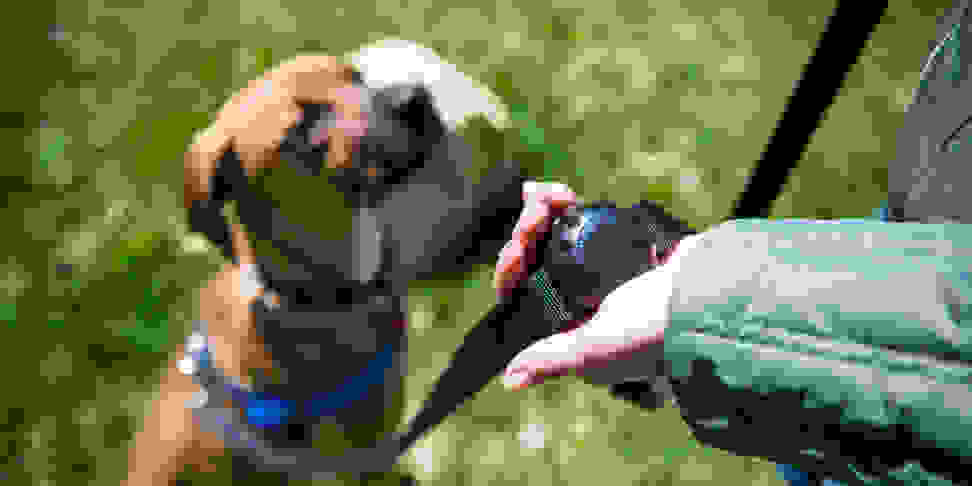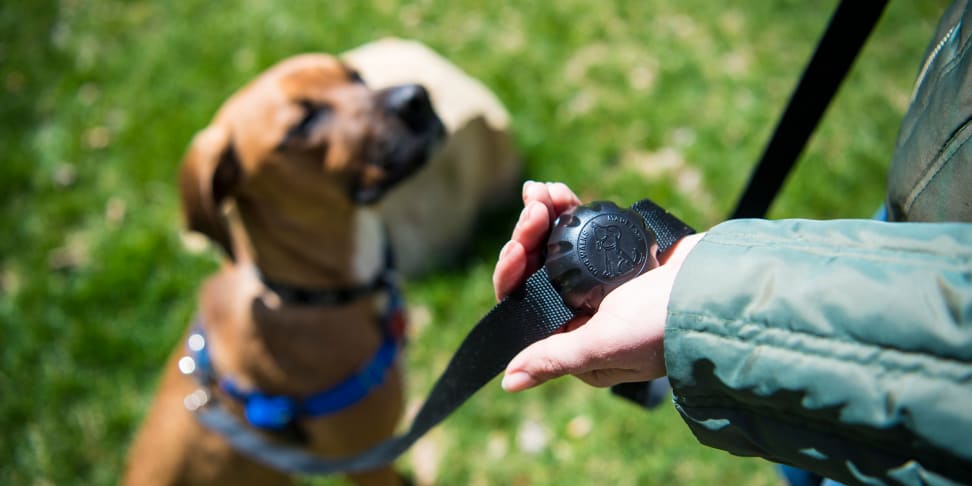 Lead Mate and Leash Combo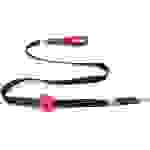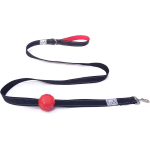 Lead Mate and Leash Combo
Best Overall
Designed specifically with arthritic or carpal tunnel-plagued owners in mind, the Lead Mate is an ergonomic attachment that ingeniously eliminates hazards that clutching at, tying knots in, or wrapping a leash around your wrist for greater control, can impose. When simply clipped on the desired portion of the leash, the lightweight, no-slip sphere—made of 100 percent recycled ABS plastic—provides superb grip and a thoroughly comfortable hand-hold, allowing walkers to effortlessly deal with pullers, and clearly transmit commands. The Lead Mate can also be used to couple two leashes together for a double dog walk, fasten a leash around your waist for a hands-free jaunt or jog, or used as a tether, for securing a leash to a table at an outdoor cafe.
While you can purchase the Lead Mate with a 6-foot reflective nylon lead with padded neoprene handle, the Lead Mate attachment can be purchased separately and be used with any leash—magically transforming it into one pretty near perfect product.
And as if this weren't already a strong enough sell for animal lovers, the company donates its products and 10 percent of all profits to animal shelters. Several shelters were also involved with development and initial prototype testing. The Lead Mate comes in five colors, and two models intended to fit either flat or rope leashes.
How We Tested
The tester: I'm Sarah Zorn, and I've reviewed dog products, developed pet-friendly recipes, and written animal rescue stories for outlets like Rachael Ray Every Day and Animal Fair magazine for almost 10 years. My husband is a professional dog trainer, which means our 8-year-old hound mix, Rowdy, is truly living his best life. Not only is he gainfully employed as a trainer too (being that the best model for an unstable dog is a stable one), he also frequently assists his mom, as official house recipe taster and product tester.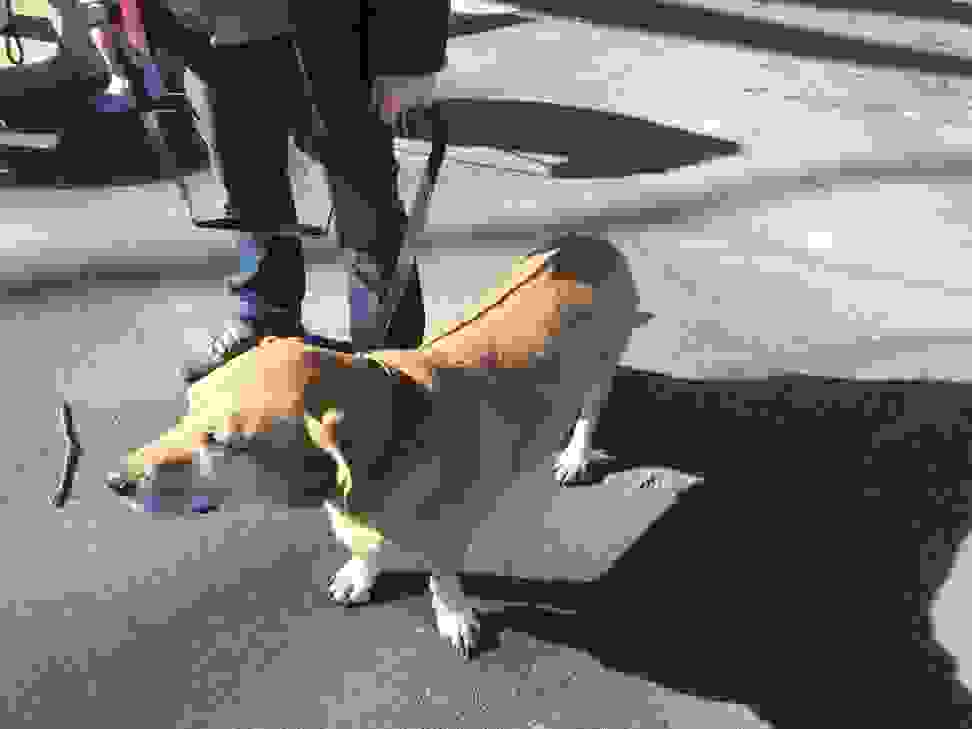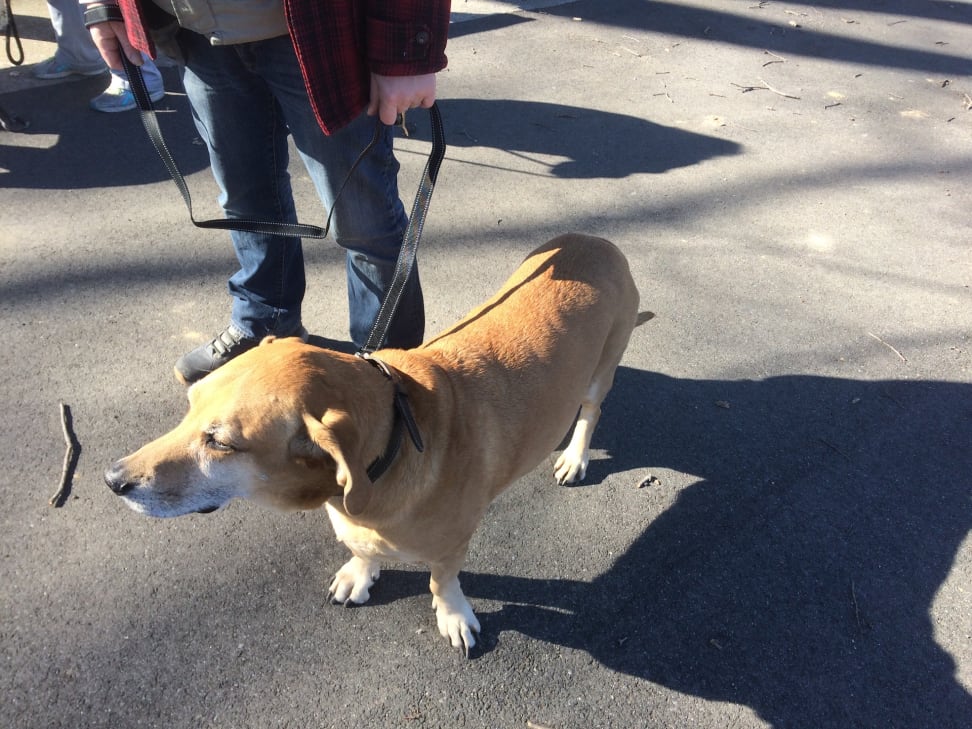 The tests: Since a 6-foot flat or rope leash is a must-have for any dog owner, we tested six different options side by side, in addition to six other task-specific leashes. All 12 were used for walking both a sedate dog (Rowdy), as well as an exuberant one (any number of his more high-spirited friends), at both short and long intervals. Leashes were judged on how comfortable they were to hold, how easy they were to use (especially in regard to transmitting commands), how painless they were to store and clean, and the durability of their craftsmanship, with respect to potential pullers and biters.
What to know when buying a leash: Yes, size does matter. No matter how big or small your dog, you're going to want a 6-foot leash. Anything shorter is too restricting; it's better to simply lower your grip on the leash in order to bring a dog in closer, rather than have no means to give it space. On the other hand, except for training or hiking purposes, there's little reason to allow your dog to roam, unchecked, more than 6 feet away from you. In fact, it's actively unsafe when walking down the sidewalk or crossing the street (to say nothing of how difficult it is to wrangle that much leash).
While a basic flat leash is surprisingly adaptable, look for features that best suit you; whether it's a dual handle for a dog that pulls, or a certain material that provides a comfortable grip. Durability is the most important factor when buying leashes–weak or faulty clasps and bolt snaps can cause it to pop right off the collar, with dangerous or deadly results. So, to make sure your leash isn't likely to detach, fasten it on a collar and shake it as hard as you can before entrusting it on your dog.
Before you hit the streets with your new leash, walk your pup around the house with it first, so you can both get used to how it feels. There are already so many new experiences and stimuli for your dog to contend with in the great outdoors, a strange leash shouldn't be one of them.
---
Other All-Purpose Leashes We Tested
Primal Pet Gear Double Handle Dog Leash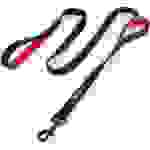 Primal Pet Gear Double Handle Dog Leash
Made with durable but soft heavy-duty nylon, and with extra neoprene padding on the handles for added comfort, this leash is lightweight enough to use on small dogs, but more than stands up to larger breeds and pullers. An added benefit is that it features two handles, one at the end of the 6-foot leash, and another situated 1-foot from the clip that's connected to the collar. The long one is perfect for casual, loose-leash walking, while the shorter one is ideal for busy sidewalks, bike paths and crowded areas, since it closes proximity and increases control. The leash has strong, especially attractive hardware, and solid, double-sided reflective stitching (helpful for nighttime walks), as well as a D-ring, from which you can attach poop bags or keys. You can also clip the end of the leash to the D-ring when not in use, for easy, over the shoulder carrying or at-home storage. It comes in seven colors and two sizes (6-feet and 8-feet).
Pets Lovers Club Heavy Duty Dog Leash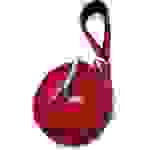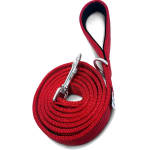 Pets Lovers Club Heavy Duty Dog Leash
Like a good character actor in a movie, this leash does precisely the job its meant to do, without distracting from the main event. Made with two layers of nylon that are strongly stitched and finished with super solid hardware, this was definitely the thickest—and potentially, the most durable—of the flat leashes we tested. That said, it's probably a bit heavy to use on the smallest of dogs. It features a D-ring and reflective lines that help enhance exposure in the dark and comes in four different colors.
Signature K-9 Biothane Leash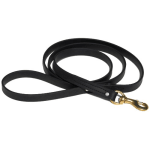 Signature K-9 Biothane Leash
Crafted from Biothane—a type of especially strong and flexible urethane and vinyl-coated polyester webbing—this American-made leash is long-lasting, and as easy as it gets to keep clean. Since it doesn't get slippery when wet like nylon, or waterlogged like leather or rope, the Biothane is ideal in inclement weather. And since the material has a little bit of give, it's a good safety-guard against pullers, as well as an appealing alternative to flexible leashes like retractables and bungees. On the downside, it lacks a helpful D-ring, and the clasp is a bit small and potentially weaker than on other leashes we tested, meaning it would likely be better for smaller dogs. With only two rivets attaching the handle and clasp, it could also be more strongly reinforced. The leash comes in six different colors.
Ruffwear Knot-A-Leash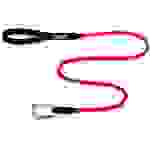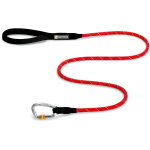 Ruffwear Knot-A-Leash
As far as basic leashes go, many owners find rope easier to hold and manipulate than nylon. And this leash has a tubular webbing handle that makes it especially comfortable. The real standout feature on Ruffwear's version, however, is it has impenetrable locking carabiner instead of a regular bolt snap, essentially eliminating any possibility that it would ever detach (making it ideal for dogs that like to yank, breakout artists, or dogs that tend to walkthrough harnesses), and enabling it to withstand a whopping 2,425 pounds of pulling weight. It's also reflective and comes in two width sizes for small and large dogs, as well as four different colors.
Unfortunately, it's a bit on the short side at 5-feet, as well as rather expensive, and as strong as the carabiner is, pups that bite can chew through the rope in a snap. Worth noting: since Ruffwear specializes in outdoor products for athletic dogs and owners, the company is environmentally-conscious, and says they continue to review and improve their products and practices.
Max and Neo Reflective Nylon Dog Leash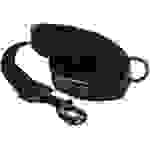 Max and Neo Reflective Nylon Dog Leash
The most lovable thing about Max and Neo is that they are devoted to dog rescue. For every product sold, they donate an equal number to rescues and shelters throughout the U.S. They also actively design products with the needs of shelters in mind, which is how they came up with this leash—rescue operators asked for leashes that were tough (2mm-thick nylon webbing), comfortable (padded neoprene handle) and affordable ($14.99). And while not on the original request list, it also happens to be among the most attractive flat leashes we've come across, sporting gorgeous, black-burnished, high quality hardware. It also comes in five colors with reflective stitching on both sides, and has that helpful D-ring. Honestly, we don't have anything actively negative to say about this wonderful workhorse of a flat leash; the only reason it's bringing up the rear is it doesn't have any defining features, like the double handled Primal, extra durable Pets Lovers, all-weather Biothane, or impenetrably carabinered Ruffwear.
Other Specialty Dog Leashes We Tested
EzyDog Track and Train Leash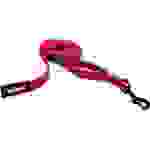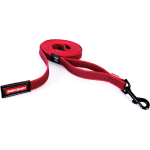 EzyDog Track and Train Leash
While this 16-foot, no-handle leash is certainly not intended for standard walks, it's indispensable when teaching dogs to "come," "heel," and other commands in wide-open spaces. It can also be used to safely acclimate your dog to off-leash walking, letting them run free in fields, or accompanying you on hikes and other athletic ventures. That's because the thin lead allows for plenty of freedom and flexibility, but is made from a trademarked, rubber Lokgrip webbing. This ultra-grippy material allows you to quickly and comfortably grab hold of any section, or step down on with your foot, in order to stop or retrieve your dog, and bring them back to you. You'll want to wash this leash by hand (and since it's meant to drag on the ground, it will definitely get dirty!) because the long length can cause it to get tangled in a machine. The leash comes in two colors.
Leerburg Leather Prong Leash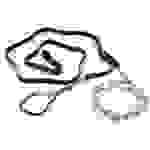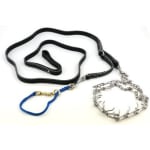 Leerburg Leather Prong Leash
A favorite of Police K9 handlers, military working dog handlers, trainers in every major dog sport as well as professional dog trainers, this dual clasped leash is designed to be clipped to two collars at a time. It's especially useful for dogs that wear prong collars (which are prone to detaching), as well as any sly dog adept at slipping out of their collar, as it provides a much-needed safeguard and backup system. This is also amongst the most durable and best-crafted of all of the leashes we tested, being made of high-quality leather that's double stitched with firm grommets at all junctures. Made entirely in the U.S.A. and wholly hand-forged, these Latigo leather leashes are also practically works of art. The thickest cow hides available are especially selected for Leerburg and undergo an 85-step tanning process that takes over a month. Once tanned, they're delivered to an Amish family in Wisconsin, that hand cuts, sews, pop-rivets, and tailors everything by hand. The leashes come in three lengths (4, 6 and 10-feet), and three shades.
Vaun Duffy Double Dog Leash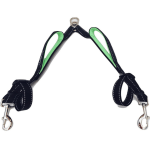 Vaun Duffy Double Dog Leash
Made for walking two dogs at a time, the Vaun Duffy is comprised of a 24-inch primary leash with soft padded handle, that attaches to a coupler with a no-tangle swivel and a pair of reflective, adjustable leashes (if your pups are different heights), each with their own neoprene hand holds. The leash comes with a lifetime guarantee and in one color (black and green). An inherent design issue, however, is that the only way to detach the dogs from each other (in the event that they are fighting, playing, get tangled despite the swivel etc.), is to unclip Fido's collar or harness from the entire system. That leaves an owner with no way to safely hold on to them. And while it's good for sporting activities (such as having a team of Huskies pull you), we can only comfortably recommend this item for experienced handlers with two responsive, well-heeled dogs of similar (low key) energy level. The primary leash doesn't provide enough leverage against exuberant pullers, and there's no way to address individual behavioral issues or transmit individual commands. And incidentally, the coupled leashes should really be attached to harnesses only, not collars, which could easily tangle around a dog's neck.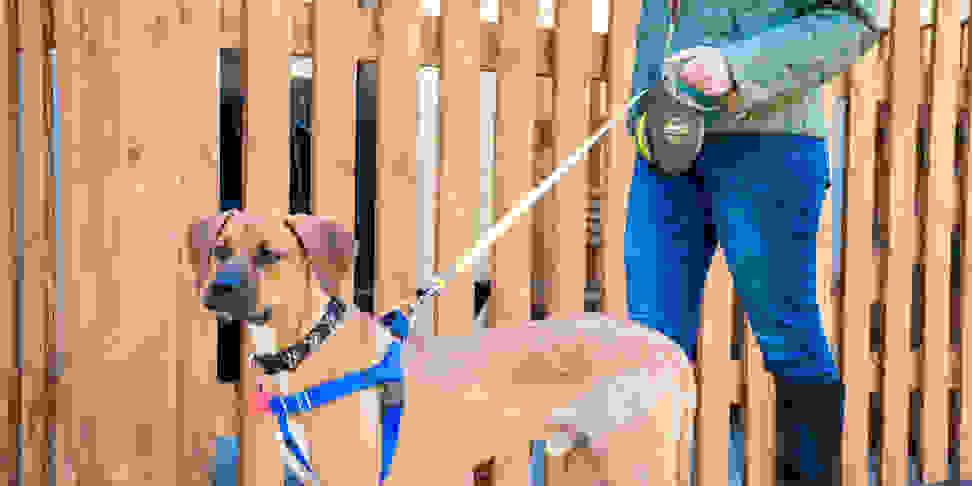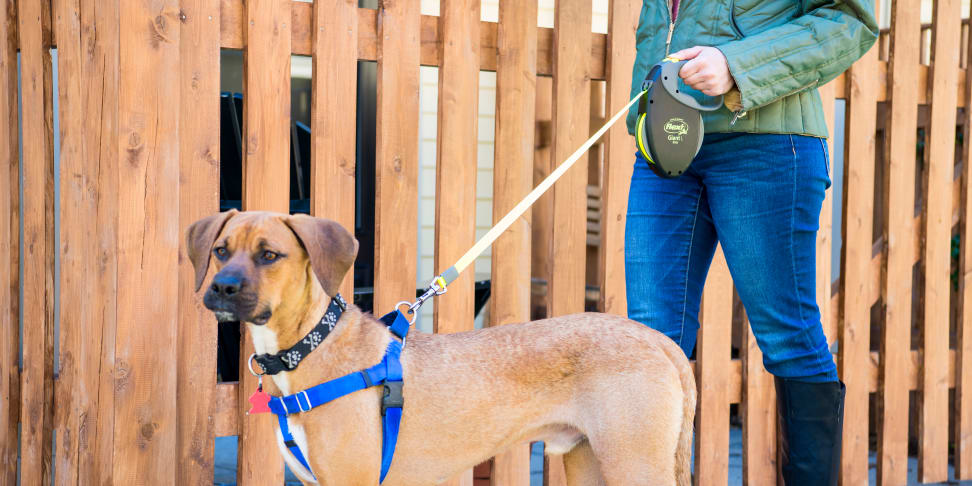 Flexi Giant Tape Leash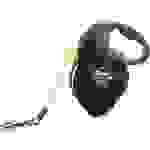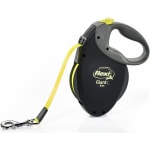 Flexi Giant Tape Leash
Made in Germany, sporting a solid soft grip handle and snazzy, sturdy neon belt that extends up to 26-feet, and covered by limited manufacturer warranty, Flexi's are rather the Rolls Royce of retractables, admired for their quality craftsmanship, superior durability and attractive design. Yet retractables in general are highly divisive among the dog-owning community and thumbing through the sizable pamphlet accompanying the Flexi only serves to underline why. You know those commercials advertising medications, that are essentially a rundown of deadly side effects? Equal real estate is devoted in the Flexi booklet, issuing dire warnings about amputation/cutting/burning hazards, as well as injuries to the eye and face if used without the accompanying safety collar, operated incorrectly, or if the system or dog's collar breaks. It's also very heavy, so could prove uncomfortable to hold on longer walks, and is difficult to clean since you can't submerge it (and 26 feet of tape makes for a lot of skinny, slippery surface to hand wash). It's worth noting that retractables were originally designed for hikers and are best used in rural areas where there's more room to groove. It's hard keeping track of a dog that's wandered 26 feet away from you on a city street.
OutdoorMaster Bungee Dog Leash
OutdoorMaster Bungee Dog Leash
Made from stretchy material meant to absorb shock and guard against injury if a dog pulls, Outdoor Master's bungee also has a soft padded handle for increased comfort and comes in three different colors with a six-month warranty. It's better for smaller dogs, as the leash is only 3 feet when contracted and 4 feet when fully stretched, and doesn't have particularly tough hardware. That could especially prove a problem if the clasp fails when the leash is fully extended, as it could snap back and hit you or the dog. And while intended to guard against injury, this type of leash is a real pain in the neck to clean. Dirt gets pushed inside of the scrunched grooves, and you can't put it in a washing machine, as it will wear out the elastic.
Kurgo 6-in-1 Quantum Hands Free Dog Leash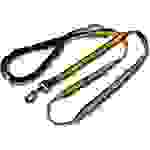 Kurgo 6-in-1 Quantum Hands Free Dog Leash
Kurgo 6-in-1 Quantum Hands Free Dog Leash: Basically the Swiss Army knife of leashes, the Quantum (available in six different colors and made from regular or reflective nylon) can serve six different functions with the adjustment of a carabiner, transforming it into a 6-foot leash, a 3-foot training leash, a hands-free over the shoulder leash, a hands-free around the waist leash, a double dog walker or a tether. But while it's incredibly versatile in theory (and potentially in practice), it's quite confusing to set up and adjust, and there aren't clear-cut instructions on the packaging or the website (we eventually figured out the various setups by watching a YouTube video). Needless to say, configuring the leash incorrectly could prove incredibly dangerous. Not to mention the carabiner clasp is spring-loaded instead of having a winding lock, which means it could pop open more easily. In short, this could certainly be a useful hands-free leash if set up correctly and used in appropriate situations, such as jogging or biking with high energy dogs, or walking or doing errands with low energy ones.
Advertisement - Continue Reading Below