The Best Automatic Pet Feeders of 2019
By Sarah Zorn, Updated April 18, 2019
From the best dog leashes to the best poop bags, here at Reviewed, we're really committed to testing our favorite pet products. So after focusing on what happens outside your home, we're turning our attention inside. Up first: The best way to feed your pooch or feline friend. While we all recognize the importance of eating dinner together as a family, work commitments, last minute obligations and extended vacations often throw a wrench in our schedules. But where does that leave your pup? If you're running late for supper, he can't exactly stick a square of last night's lasagna in the microwave.
That's where automatic and smart pet feeders come in. By digitally configuring mealtimes (or when it comes to smart models, using a dedicated app), Fido will receive perfectly portioned amounts of his favorite wet food or kibble at the exact days and times you choose—whether or not you're around to manually open a can or scoop from a bag.
And when it comes to top makers of smart and automatic feeders, we found that WOpet really delivers. With its battery-operated dial and easy-to-clean feeding tray, the WOpet Automatic Pet Feeder (available at WOPet for $39.99) is practical and intuitive. If you're looking to remotely adjust feeding times and amounts from your smartphone, the WOpet SmartFeeder is a great high-tech option. But they're not the only worthwhile options on the market.
Here are the best automatic pet feeders we tested ranked, in order:
WOpet Automatic Pet Feeder
WOpet SmartFeeder
Cat Mate C500
PetSafe 5-Meal Pet Feeder
Arf Pets Automatic Pet Feeder
PetSafe Healthy Pet Simply Feed
Petnet SmartFeeder
Qpets Automatic Pet Feeder
PETKIT Fresh Element Smart Pet Feeder
Advertisement - Continue Reading Below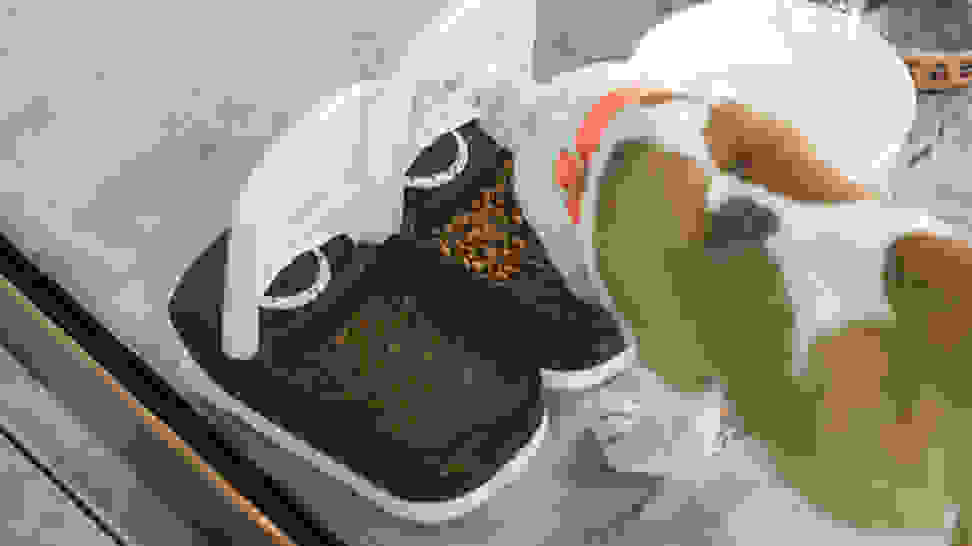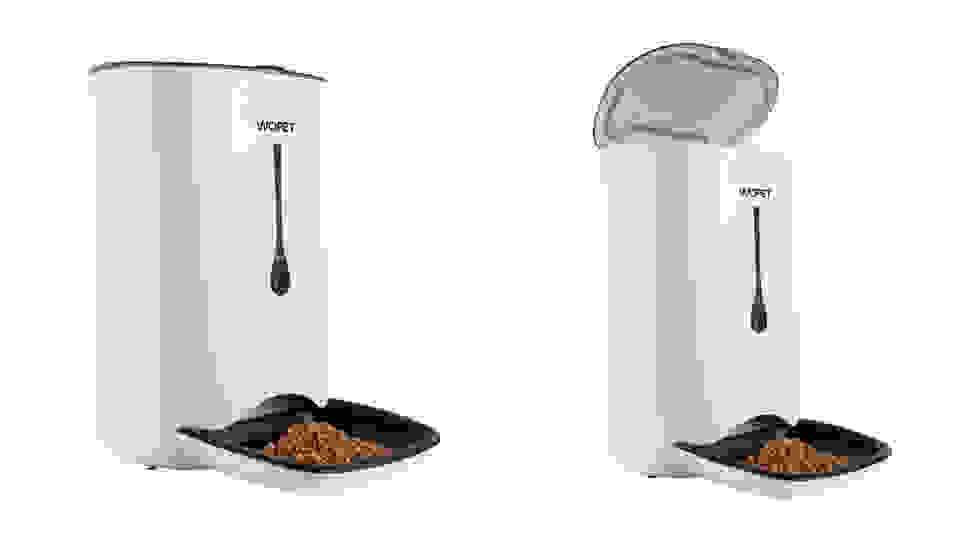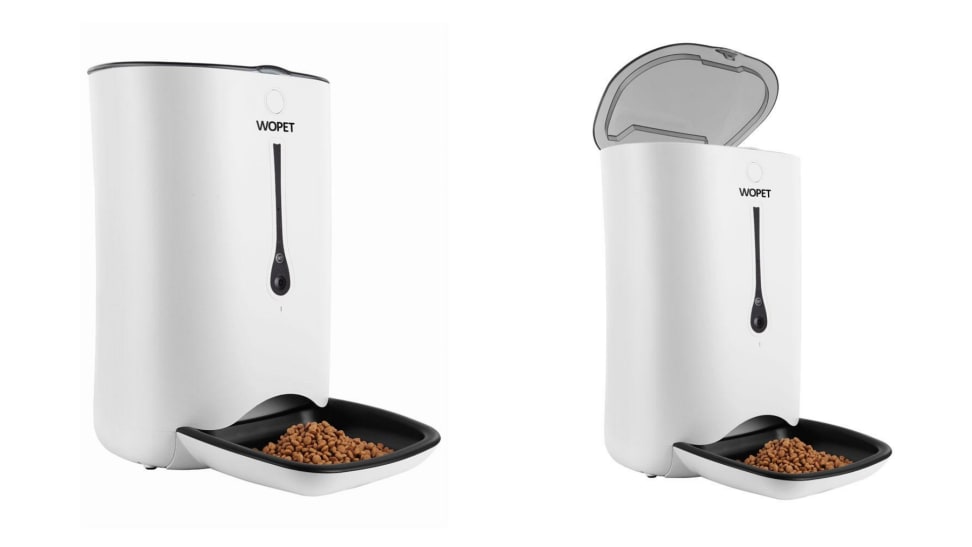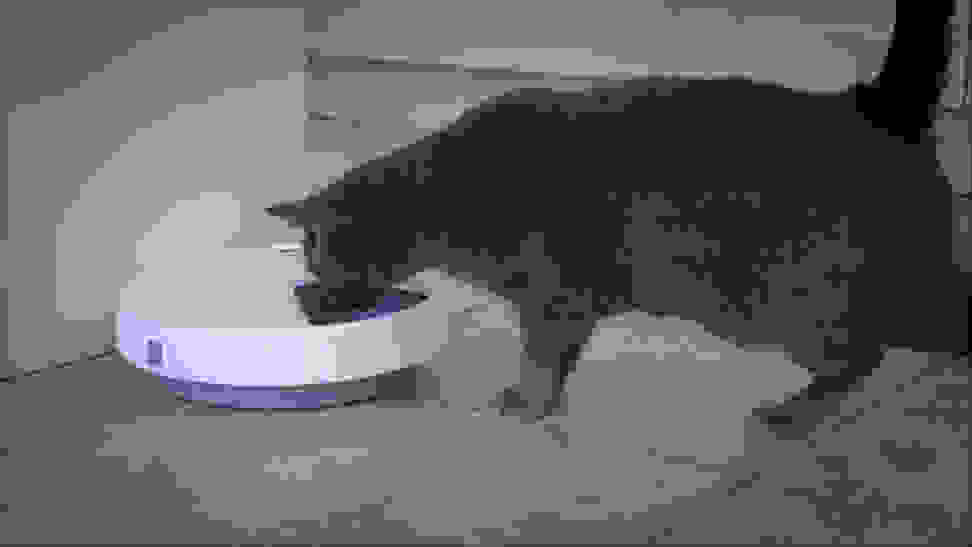 How We Tested
The Tester
I'm Sarah Zorn and I've reviewed dog products, developed pet-friendly recipes, and written animal rescue stories for outlets like Rachael Ray Every Day and Animal Fair magazine for almost 10 years. My husband is a professional dog trainer, which means our 8-year-old hound mix, Rowdy, is truly living his best life. Not only is he gainfully employed as a trainer too (being that the best model for an unstable dog is a stable one), he also frequently assists his mom, as official house recipe taster and product tester.
The Tests
We assembled each feeder, taking note of how easy (or difficult) they were to put together and scheduled two timed meals for each feeder. One for an hour after setup using dry food and the other for 6 hours after setup using provided ice packs and wet food where applicable. If the feeder was smart, we set up the app and evaluated how easy it was to load and operate, and if it effectively worked both in the house and far away from home. We operated the smart feeders both manually and with the app. We looked at whether or not the feeders dispensed the correct amount of food at the proper time, whether they provided any audible notifications to pets during feeding time, whether our pets were able to easily access their food, and if the feeders seemed like they could withstand a bit of knocking around from motivated critters. We evaluated extra features on both automatic and smart models to determine how useful they actually were, as well as how portable and attractive each model was and, after dissembling, how easy they were (or weren't) to clean.
What You Should Know About Automatic Pet Feeders
The primary purpose of automatic feeders is to ensure your pets receive their meals on schedule, whether you're simply running late from work, or intend to be away for extended periods of time. As such, flexibility and reliability are the most important factors—models should allow you to set regular meals at precise portions and periods that work for you and your pet. Meaning, avoid feeders with pre-set modes, that you have no opportunity to tweak, or that don't allow for the use of wet food if that's what Fifi is used to. Larger dogs will be better served by models with hoppers that store lots of food at a time and are fitted with bowls that accommodate their sizable portions and snouts. On the flip side, compartmentalized, carousel-style models are generally preferable for cats and non-kibble eaters, as they can accommodate wet food, and often come with ice packs for keeping it fresh.
Feeders should also provide the peace of mind that they'll operate consistently and effectively. An upside of smart models is that they'll inform you via the app that they've successfully completed a feeding, or if their stores of food are running low. For machines that run on electricity, you'll also want a backup battery option, in the event of some sort of power failure while you're gone. And of course, functionality is key. What good is a feeder if you can't figure out how to set it up? Or operate the app? Or has loads of special features, but none of them actually achieve the number one mission—keeping your pet regularly fed? Finally, sturdiness is an important factor in evaluating pet feeders. Not only is it vital that mechanisms remain operational in your absence, but you also need to know that your pup can't break in, smash the thing to bits, consume 5 days of food in a single sitting, then get sick or go hungry until you return.
---
Other Automated & Smart Pet Feeders We Tested
Other Articles You Might Enjoy
Advertisement - Continue Reading Below