The Best Smart Pet Cameras of 2019
By Sarah Kovac, Updated April 11, 2019
As a pet owner, you may wish that you could be there for your fur baby at all times. But unless your pet is small enough to fit in a handbag, you probably can't get away with taking it with you everywhere you go. Sometimes the dog or cat just has to stay home. But thanks to modern technology, your four-legged friend never has to be alone.
Many of the more affordable "pet cams" you'll find are nothing more than wi-fi security cameras. If all you want is to see and talk to your dog, a security camera will work just fine. The pet cams we chose, however, have features designed specifically for pets—from the ability to remotely toss treats to playing with a laser.
There are several very promising pet cams on the market today that allow owners to video chat, throw treats, play games, and even roam the house with their pets. I spent some time using four of these popular cameras with my dog, Stanley, who starts incessantly yelping every time he's left in a room, to see how well they actually worked and whether they would help him get over his separation anxiety.
The result? Stanley definitely was not cured of his anxiety, however the Furbo (available at Furbo for $199.00) kept him somewhat distracted from his anxiety, and it was a pleasure to set up and use.
Here's how the pet cams we tested ranked, in order:
Furbo
PetChatz HD
Petcube Bites
Advertisement - Continue Reading Below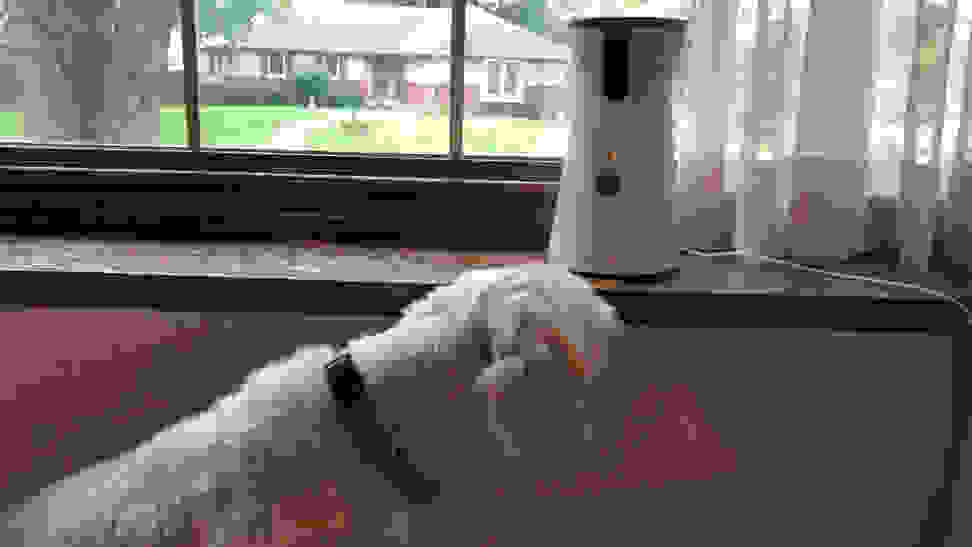 Furbo Dog Camera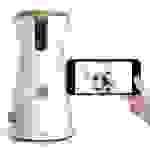 Furbo Dog Camera
Best Overall
The Furbo is Amazon's best selling dedicated pet camera, and after spending some time with it, we agree. It's the best. It is reliable and easy to refill, the video quality is great (day and night), it uses colors a dog can see to let Fido know when you check in, and it looks beautiful on the side table thanks to its bamboo cover.
Going beyond basic motion detection, Furbo uses artificial intelligence to understand exactly what the dog is up to and push a notification to the owner's phone when the pup is playing or barking, when he stops in front of the Furbo for a "selfie," or when a human arrives home. These "Smart Dog Alerts" are part of a premium service that, for now at least, is free. This dog camera is also Alexa compatible, so you can ask your Amazon Echo to toss the dog a treat by voice or via the app from wherever you may roam.
It may not have the bells and whistles of more complex models like the PetChatz HD or the Playbot Q, but what the Furbo does, it does well. The base and apps are a pleasure to use at every point. The Furbo gets it right.
How We Tested
The Tester
Hi, I'm Sarah Kovac, a smart home writer for Reviewed. I've been a pet owner for as long as I can remember, and know well that guilty feeling you get when you see your dog watching forlornly from the window as you leave. Somehow I always manage to feel bad leaving my cat alone, too, despite the fact that none of my cats ever seemed to care about or even notice my presence unless they're hungry.
The Tests
Pet cams might be able to help relieve some of that guilt for pet owners who have to be away from their furry friends. You can check in, chat with, and toss treats to your dog or cat from anywhere with an internet connection… but will your dog find it calming or creepy?
We tested four of the best-selling pet cams with my Lhasa Apso, Stanley, by closing him in a room alone and seeing if the interactions with the pet cams helped calm his separation anxiety. We could have tested these on our cat also, but (surprise!) she couldn't care less whether we're around or not. We tried the cameras in various lighting conditions, over data and wi-fi, and on both iOS and Android. All units performed similarly across connections and platforms (except the FunPaw Playbot, which we couldn't get to work at all).
---
Other Smart Pet Cameras We Tested
PetChatz HD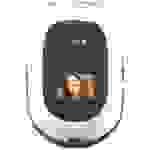 PetChatz HD
PetChatz HD bills itself as a "Digital Daycare" for your pet, and while it can't clean the litter box or take the dog for a walk, its array of other capabilities give you the best shot of finding a way to connect with and soothe your home-alone pet. While the app isn't as polished as that of the Furbo or Petcube, and the video quality is just so-so, the Petchatz offers lots of interesting options.
This pet cam has two-way video chat, essential oil diffusion, motion/audio alerts, treat refill subscriptions and an optional PawCall button that allows your dog to call you or play games and earn treats. But the biggest hit with my dog was PetChatz's ability to play DogTV (a $9.99/month subscription TV channel designed to entertain dogs) at a dog-height screen on the front of the PetChatz unit. Instead of immediately starting with his yelping and whining when I shut him in the room, he stayed mesmerized with DogTV for a good 10 minutes. It was big for him.
All these options will set you back a few bones, though. The PetChatz HD is the most expensive we tested, at $379.99. If you want to try everything possible to help your dog, it might be worth it. But if you think your voice and some treat-tossing will be enough, go with our top pick, the Furbo.
Petcube Bites
Petcube Bites
The Petcube is very similar to Furbo. It has great video quality, it throws treats, and it's super easy to set up and refill. The app is easy to use and offers an activity timeline of three to 30 days as part of the optional Petcube Care membership, which ranges in price from $4.99 to $24.99 per month. It sits on a table top and offers a wide-angle view of the room, and its minimal design comes in three finishes to blend well with just about any decor.
Like the Furbo, Petcube is compatible with Alexa, so you can toss the pup a treat with just your voice. But, unlike the Furbo, Petcube automatically starts recording when it detects activity. Those clips are capped at ten seconds of length and available for four hours, though, unless you subscribe to Petcube Care. The Furbo and Petcube are comparable in many respects, but for the lower price, we liked the Furbo better.
Advertisement - Continue Reading Below