The Best Hair Dryers of 2019
By Jessica Teich, Updated July 10, 2019
No matter your hair type, "A good blowout is the key to great hair," my hairstylist always tells me, and it's no big surprise that a good hair dryer is the key to a good blowout. However, many women struggle with achieving salon-level blowouts at home.
For example, whenever my stylist wields a round brush and dryer, my hair transforms into something fresh out of a magazine; a silky cascade of smooth, bouncy locks. But whenever I try to blow dry my own hair, it's a nightmare of sweat, frizz, and fatigued arms. I know I'm not alone: That's why we tested the top-rated dryers across price points to find the best blow dryer you can buy.
We ended up loving the Harry Josh Pro Tools Pro Dryer 2000 for its compact size and hair drying efficiency. However, the drugstore Revlon 1875W Infrared Dryer is a steal for what it offers—it's lightweight, inexpensive, but dries hair in a snap.
We tested these top-rated hair dryers for heat adjustability, loudness, speed of drying time, weight, and much more. To learn how we tested and selected these hair dryers, jump to how we tested or scroll to the bottom of the article.
Here's how the best hair dryers ranked, in order:
Harry Josh Pro Tools Pro Dryer 2000
Revlon 1875W Infrared Hair Dryer
Dyson Supersonic Hair Dryer
BaBylissPRO Nano Titanium Dryer
Drybar Buttercup
Conair Infiniti Pro
T3 Featherweight Luxe 2i
Remington Damage Protection Dryer
Conair 1875-Watt Mid-Size Styler
Advertisement - Continue Reading Below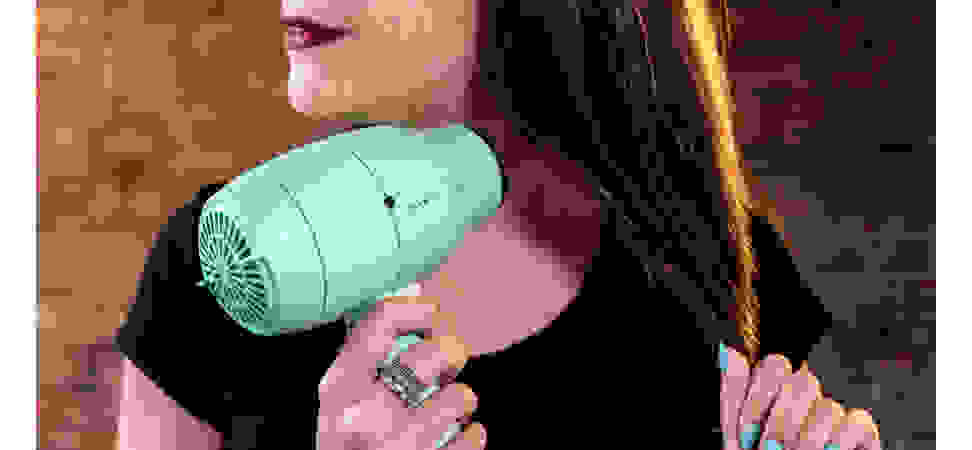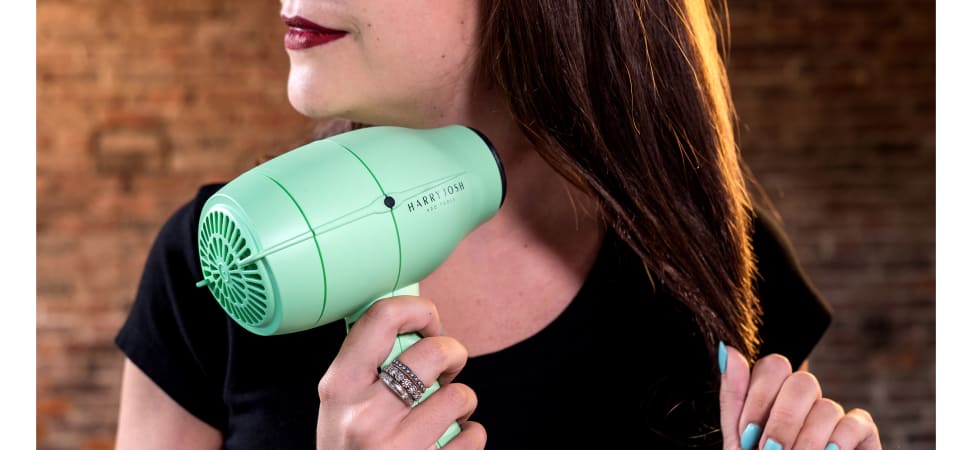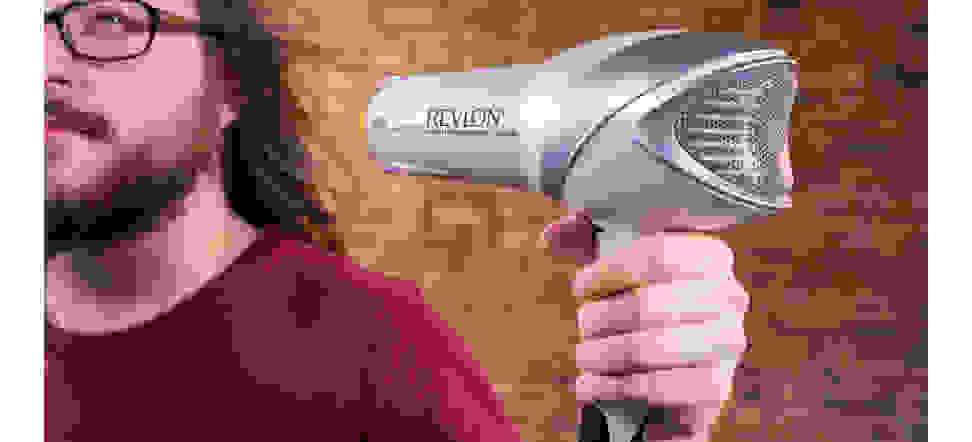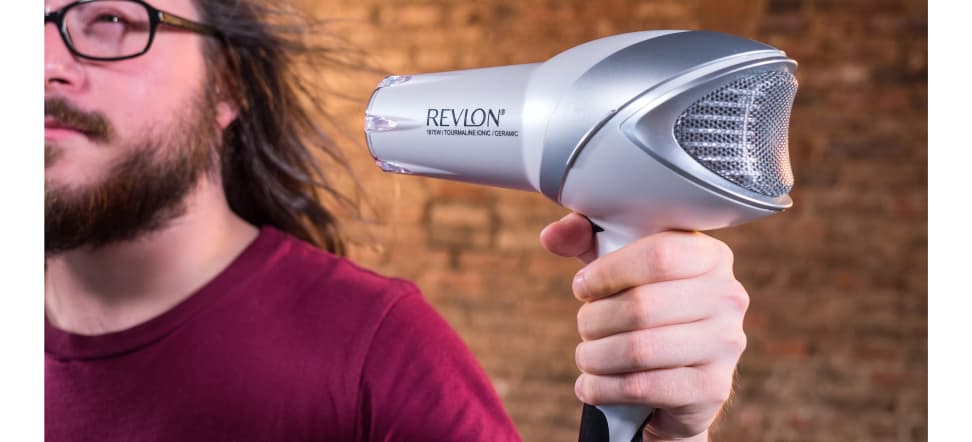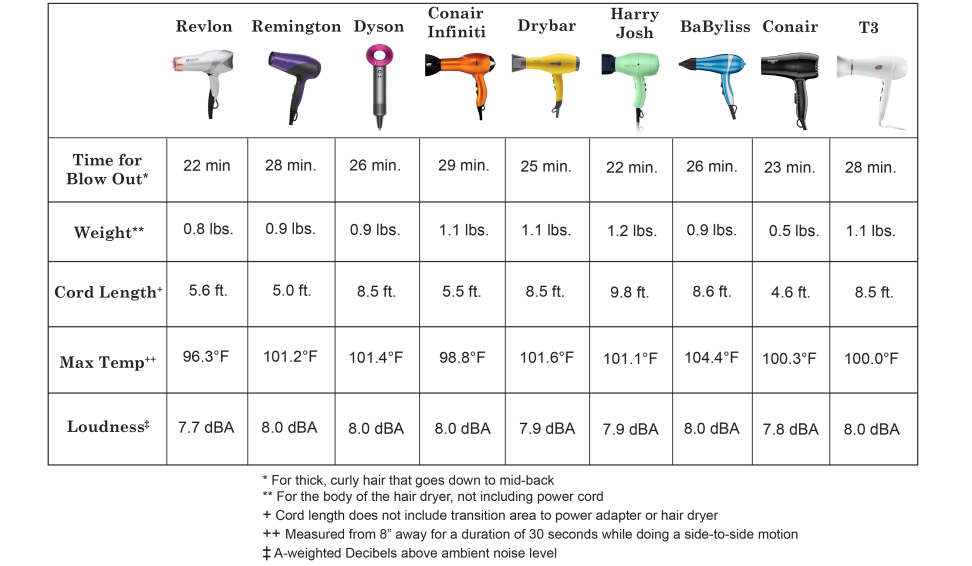 How We Tested
Who am I?
I'm Jessica Teich, the editor of health and beauty at Reviewed. I've tested everything from makeup (like liquid eyeliner and long-lasting lipstick) to hair tools (like flat irons and curling wands).
While yes, professionally, I am an authority on beauty products and tools, I also happen to have a ton of thick, long, and very curly hair that I've been trying to tame since I could hold a brush. In an era (and a part of the world) where straight hair is a beauty ideal and norm, I endured many years of bad hair and teasing (both kinds: from peers and from a comb).


My difficult hair makes me a prime candidate for testing hair dryers: I can't just flip my head upside down and blast my hair with air until it's dry like someone with fine hair can, or else I'll wind up with a mane that looks a lot like it did in '92 (please see above). To avoid looking like a human pompom, I need a) at least 20 minutes, a round brush, and a very good hair dryer with velocity to dry my hair into a sleek style, or b) 15 minutes, lots of hair product, and still, a very good hair dryer with varying speed and heat settings and a diffuser attachment for non-frizzy curls.
Don't worry: for those of you who do have the blast-your-head-and-go type of hair, our data on hair dryers is relevant for you just the same. That's because, regardless of how you plan to use your dryer, a controlled blowout on crazy hair tells you everything you need to know: from speed of styling to comfort of use. Here's what we found.
The Tests

Finding a great hair dryer can be a daunting task. There are thousands of brands and models for sale everywhere from drugstores to hair salons—and that's without considering the millions of bold claims to give you the best hair of your life. To help demystify the process and help you buy the hair dryer you need, we carefully combed through best-of lists, top-sellers, and cult favorites to narrow things down to the best of the best: our findings down to the best flat irons out there.
After we settled on the best hair dryers from $12 to $400, we pitted them against each other in a hair drying battle royale, from everyday usability to the technical stuff few people think of when drying their hair. Our goal? To see if a pricier dryer is really better, or if those hefty price tags are just from brand notoriety.
So, armed with the best hair dryers money can buy, I tested each one to see how long it took to achieve a smooth blowout and recorded data on the resulting style and its texture. I also took notes on the weight and balance of each dryer, and how loud it seemed compared to the rest.
THE PREPARATION
Before each hair dryer test, I, of course, washed my hair. But I was sure to do it the exact same way every time. Why? Because a scientist must control variables in an experiment. I double-cleansed my hair, first using this clarifying shampoo and then this moisturizing shampoo, and then conditioned with a hydrating conditioner. I towel-dried my hair and combed through a controlled amount of Marula oil cream to aid in the smoothing process.
HOW I STYLED
Next, I pointed the dryer down and rough-dried my hair on high speed, high heat to remove excess moisture and encourage smoothness. Once my hair was about 80 percent dry, I sectioned it, attached each dryer's thinnest nozzle, and used a round brush to blast my curly hair straight—or as straight as I could. To keep results consistent, I waited three days between washes and I conducted each test in the same air-conditioned room.
Testing hair dryers in our labs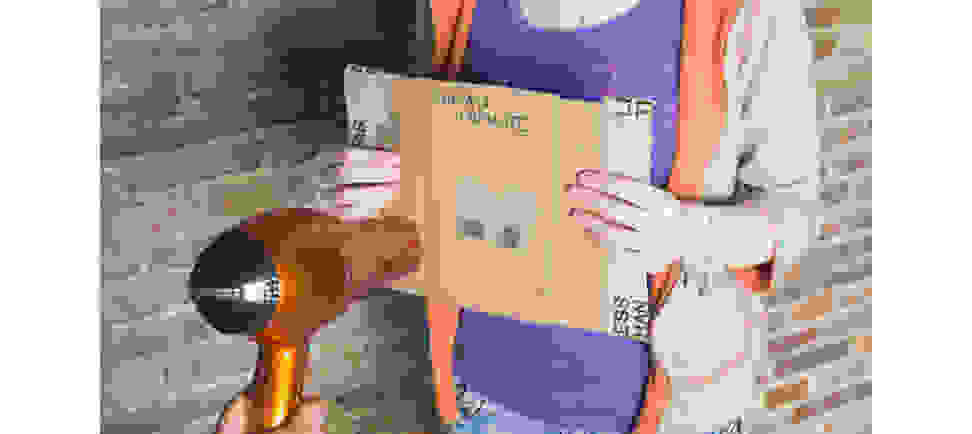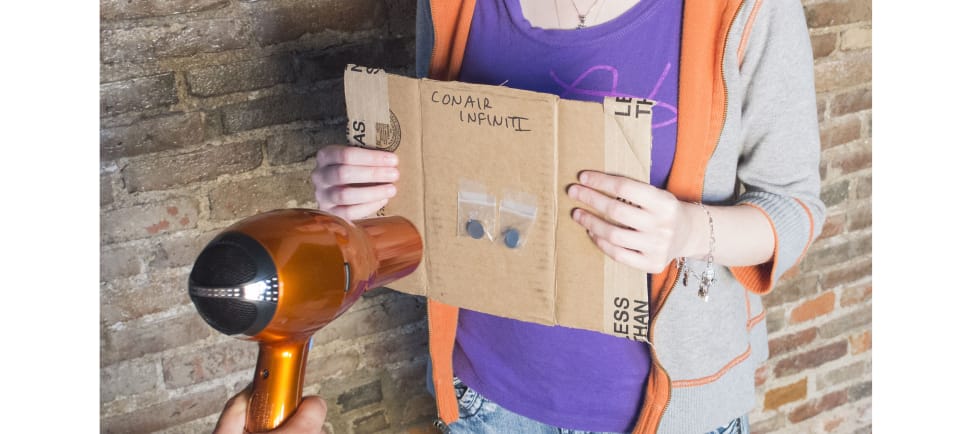 As professional testers, science nerds, and beauty geeks, there's no way we could just stop at subjective testing: We needed to scientifically test the claims and technology on each dryer. To do so, we took each hair dryer into our state-of-the-art testing labs, where we put each one through a gamut of tests to measure maximum speed, heat, weight of the dryer, and sound. And most importantly, find out if any of these aspects actually have an impact on what makes a good hair dryer.
TESTING THE STRENGTH OF THE HAIR DRYER
Strong hair dryer = good hair dryer? Not quite. To test each dryer's wind current, we balanced a ping pong ball on the nozzles. We then turned each dryer on its highest speed and heat setting, and recorded the speed and height of the ping pong ball.
The Harry Josh and the Dyson aced these tests, sending ping pong balls soaring far above the rest. But in our at-home testing, we found that the strength of the wind current doesn't necessarily dictate the best or fastest dry. Our favorite Revlon had the weakest air stream of all, but dried my hair the fastest. On the other hand, the Dyson's current was so strong that I had to use it on a lower speed setting to keep my hair from wildly whipping around into a nest of tangles.
MEASURING MAXIMUM AND MINIMUM HEAT
Is hotter always better? Short answer: no. For this test, we pointed each dryer at thermocouples adhered to cardboard and simulated the back-and-forth motion of blow drying from 8 inches away to see how much heat each dryer throws.
Here's why you should look for a hair dryer with adjustable heat settings, though: The BaBylissPRO Nano Titanium was the hottest dryer we tested, and it also resulted in a noticeably frizzy, fried-looking style. Sometimes, a lower temperature is necessary to keep your hair from sizzling.
CONSIDERING THE WEIGHT OF EACH HAIR DRYER
For me, the hardest part of drying my hair is holding the hair dryer above my head for upwards of 20 minutes at a time: the little hair tool starts to feel like a little dumbbell very quickly. That's why we weighed each dryer, especially since you'll see that most hair dryers claim to be lighter-weight than the competition. In reality, they all weighed between 0.8 and 1.2 pounds. One dryer even claims to be "featherweight," and it was one of the heaviest that we tested—that speaks to the mistruths in beauty marketing.
It turns out that a hair dryer is comfortable to use due largely to its weight distribution, not its weight. The Harry Josh, despite being our heaviest dryer, has a very compact design that doesn't fatigue your arm. Another example: the Dyson's heaviest piece is in the handle, which makes maneuvering the dryer a little easier than say, the Conair Infiniti, which has a long head that houses a heavy motor that will quickly tire out your arm.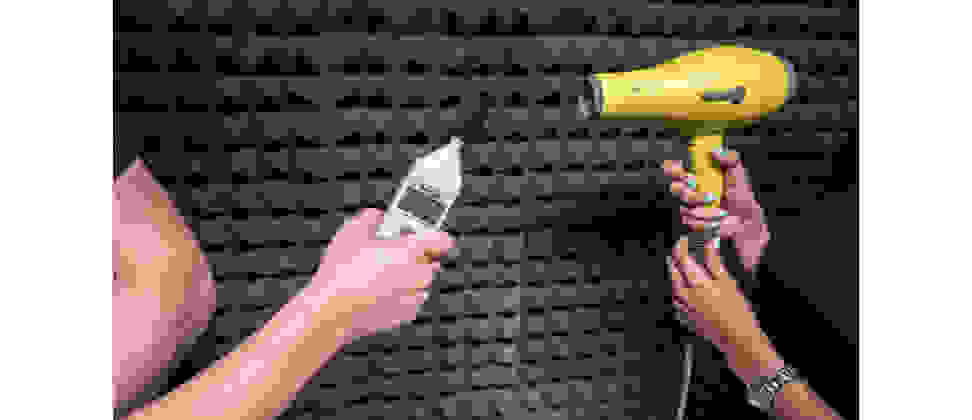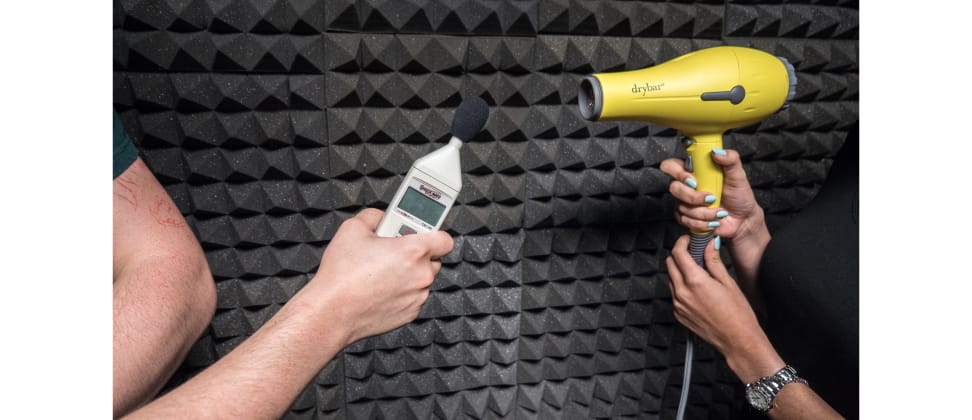 MEASURING HAIR DRYER LOUDNESS
Look at any hair dryer at the store and its box will say it's "quieter than the competition." To test that noisy claim, we brought the dryers into our soundproof headphone lab and measured the loudness of each hair dryer on its loudest setting. Shockingly, all of the dryers hovered around the same volume, between 7.7 and 8.0 dbA.
However, the hair dryers all sound markedly different than the next due to the pitch and speed of the motor. Even so, none of the dryers were quiet enough to have a conversation over. Don't believe the hype when you hear a new hair dryer is near silent, or even quieter than the competition.
How to choose the right hair dryer for your hair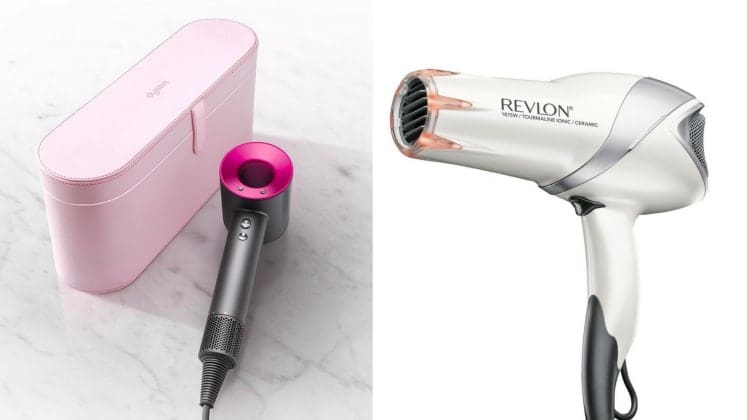 A great hair dryer can be found anywhere from the drugstore to a specialty store. What makes a great dryer is not how hot it can get, or how far it can rocket a ping pong ball into the air: It's how effectively and easily it can dry your hair. Yes, we love the Harry Josh and the Revlon 1875W Infrared dryers for their fast drying times and ergonomic handling, but regardless of the one you choose—in this list, or otherwise—here are some things to look for while you shop:
Comfort: Find a dryer that is comfortable in your hand, not too heavy to hold with a nice, even-weighted balance
Adjustable temperature: Look for adjustable heat settings to avoid damaging your hair—this should also include a cool shot to seal in your style
Different speeds: A good hair dryer should have at least two speed settings for varying styles
Attachments: Choose a dryer with attachments that make sense for your style (concentrator nozzle for smooth styles, diffuser for curly/wavy hair)
Cord length: Don't get pigeonholed by a too-short cord: look for one that will comfortably reach all the way from your outlet to your mirror
Follow your gut: Avoid getting distracted by bold manufacturer claims, which are often confusing and sometimes baseless. If it sounds too good to be true, it probably is.
And remember—a great dryer can come at any price point, from $16 to $300.
---
More Articles You May Enjoy
Advertisement - Continue Reading Below