UPDATE: August 20, 2019
After testing six new machines, our pick for the best single-serve espresso maker is the Nespresso Creatista Plus by Breville.
If you're a coffee nerd who assumes pod espresso is for the unenlightened—and trust us, we once thought that too—we're here to tell you you're wrong.
The best of these single-shot pod-based espresso makers are quick, neat, and give totally consistent results. Shot after shot comes out with a beautiful layer of crema, the signature of a true espresso. Add a bit of steamed milk and invest in some flavored syrups and you'll have a hard time telling the difference between the espresso drinks you make at home from those made in your favorite coffee shop.
Pod machines also save money and counterspace by combining up to five gadgets into one. Inserting a capsule is much easier than messy grinding and tamping, so these machines allow a few extra minutes to catch up on sleep each morning—and require very little skill to use.
To help you get the most bang for your buck, we chose 11 espresso machines that work with capsules, all priced under $500, and put them to the test. We examined the temperature, time to brew, affordability of the capsules, and density of the crema, among other features.
Our winner, the Nespresso Creatista Plus by Breville (available at Amazon for $499.00) isn't the cheapest of the pack, but its features make it worth the splurge. If you're on a budget but don't want to compromise on espresso quality, then the Nespresso Lattissima by De'Longhi is a strong choice, too.
These are the best single-serve espresso makers we tested ranked, in order:
Nespresso Creatista Plus by Breville
Nespresso Lattissima by De'Longhi
Nespresso CitiZ
Nespresso Essenza Mini
KitchenAid
Nespresso Pixie
Nespresso Expert
Lavazza
Nescafé Dolce Gusto Esperta 3 by De'Longhi
Mueller
ChefWave
If you're looking to make coffee and espresso, check out our guide to the best pod coffee makers.
Advertisement - Continue Reading Below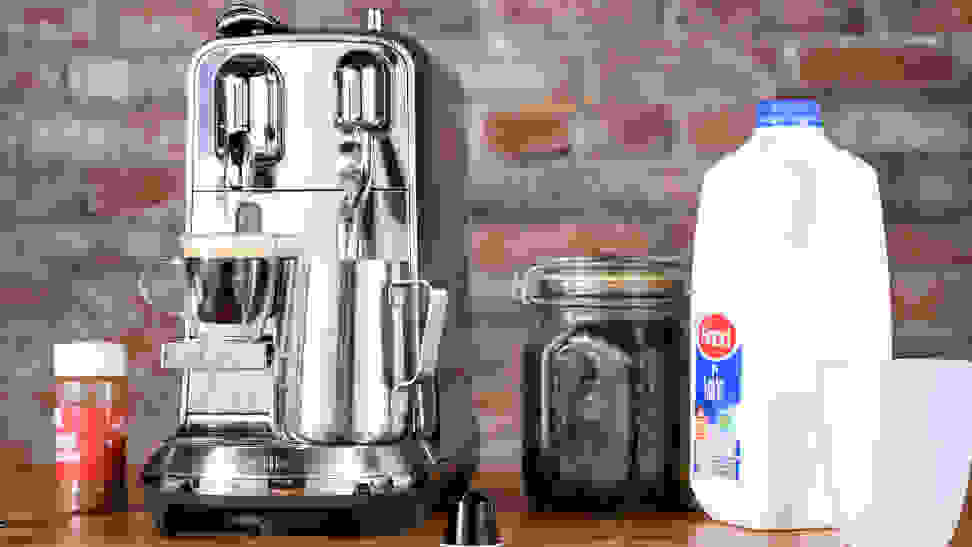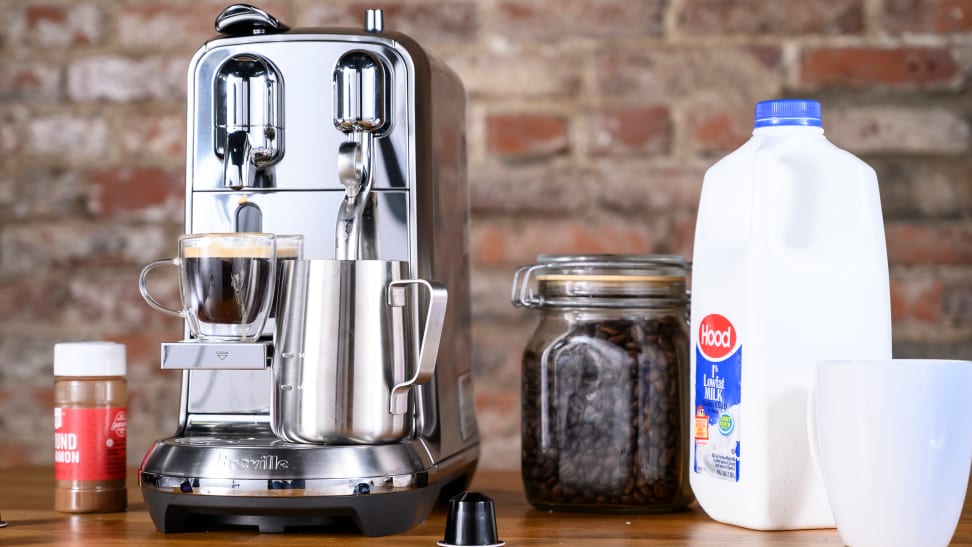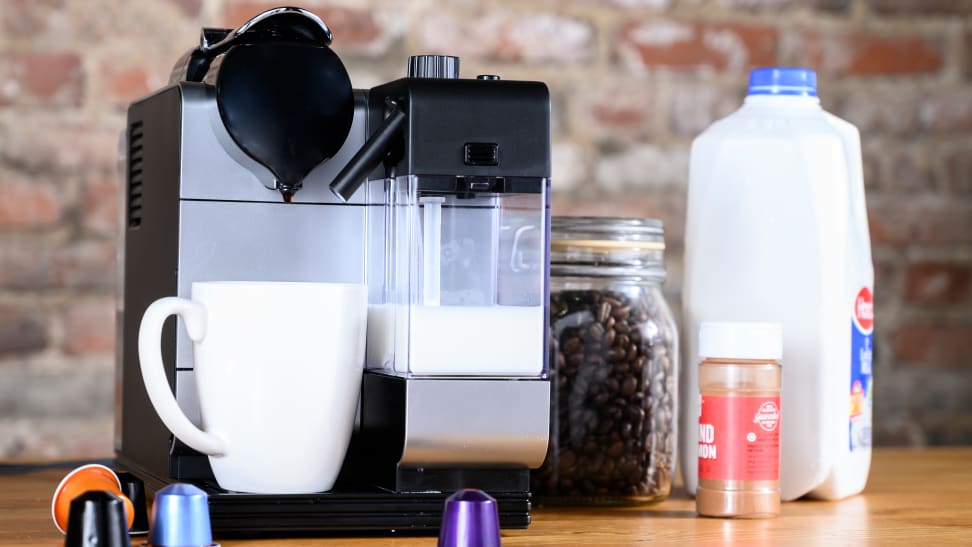 How We Tested
The Tester
This pod espresso roundup is a joint project by Sharon Franke, a food writer who's been testing kitchen tools for the past 30 years, and Valerie Li, our kitchen and cooking writer here at Reviewed. They're both avid coffee enthusiasts who are passionate about using scientific testing (and their refined palettes) to judge a good shot of espresso. Sharon published the original roundup in 2018, and Valerie tested six new products for the update in 2019.
The Tests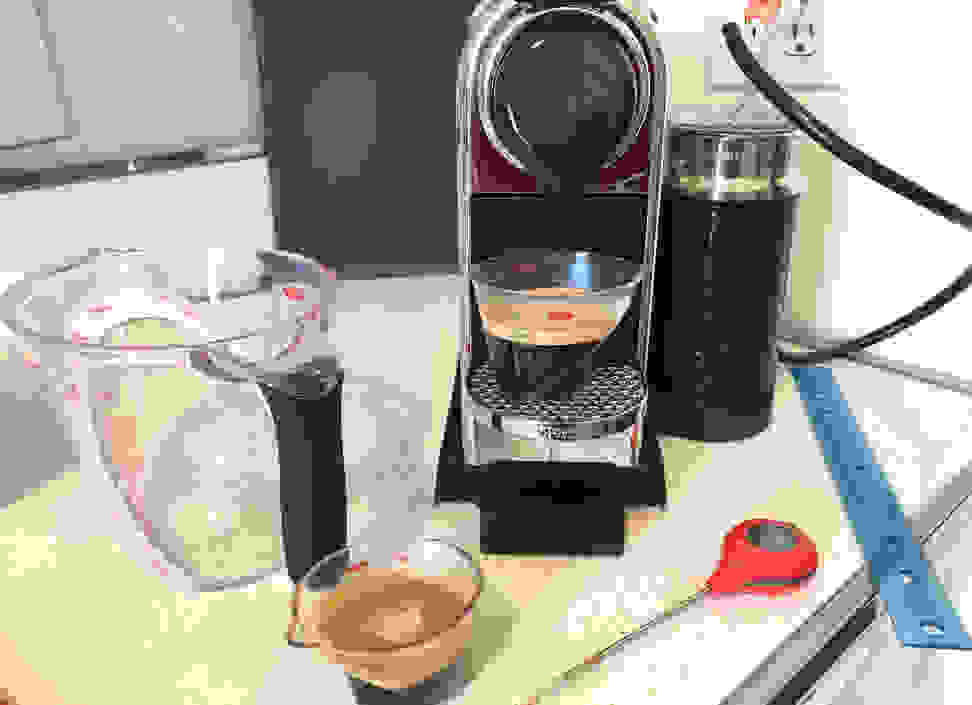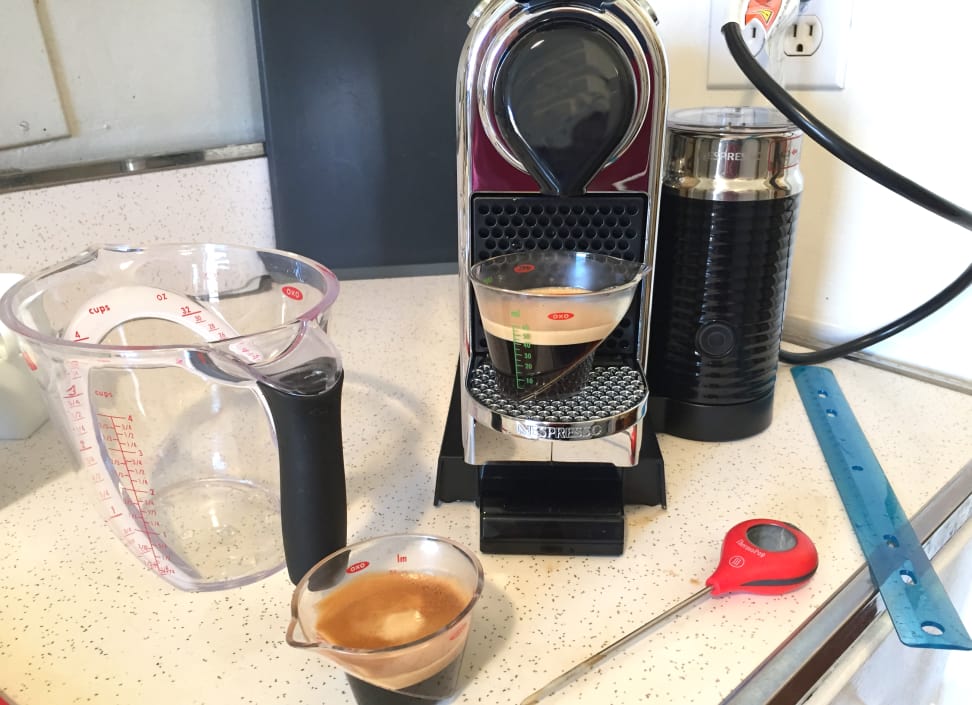 We tested 11 espresso machines, each under $500, that use capsules rather than ground coffee. We evaluated on design, ease of use, and most importantly, the quality of the cup of espresso and/or latte it delivered.
Since this is an appliance that is going to live on your countertop, how it looks and how big of a footprint it takes up is important to consider. Ultimately, it is up to you to decide what appeals to your sense of style and how much space you're willing to dedicate, but we gave high marks to "heavy builds." Pumping out a quality shot of espresso requires a sturdy and stable base that doesn't shake.
We considered the clarity of the manual, how easy it was to get the espresso maker up and running, fill the tank with water, use the controls, and clean the machine, as well as how many shots you can expect to brew without refilling the tank.
When it came to brewing, we measured the time it took to deliver an espresso shot, along with its volume and temperature once in the cup. Ideally, an espresso should brew in under 25 seconds, measure about two ounces, and be about 160°F. When a machine included a frother, we looked for whipped milk that was rich and foamy and was easy to fold into our coffee.
What's the Difference Between Pod Coffee Makers and Espresso Machines?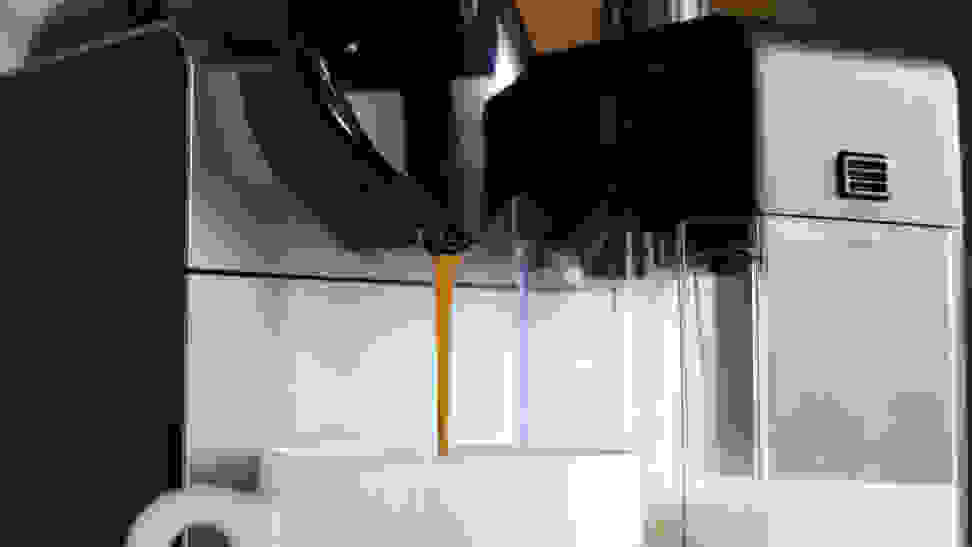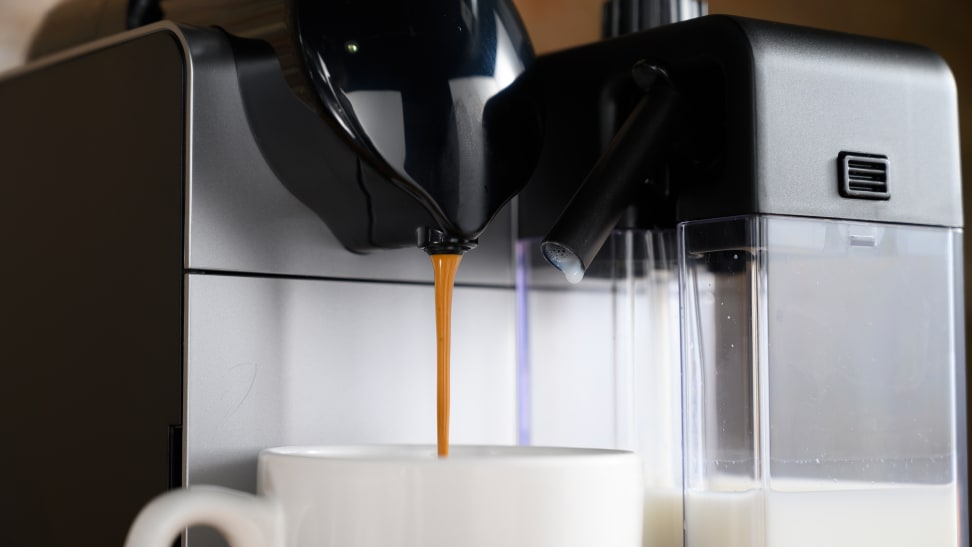 Firstly, the mechanics of pod coffee makers and pod espresso machines are rather different. Brewed coffee asks for a coarse grind to prevent the coffee from being too bitter. Espresso, on the other hand, requires a fine to medium grind so more bean surface is exposed to the hot water when it's pumped through. Coffee machines use hot water to slowly filter through the coffee grounds, while espresso machines pressurize and shoot boiling water through fine coffee grounds packed into "cakes," giving the resulting coffee its aromatic smell, velvety mouthfeel, and rich taste.
Are Espresso Makers Worth the Cost?
Getting professional espresso drinks at a coffee shop on a daily basis can cost a fortune. Therefore, investing in a pod espresso machine will inevitably save you some money in the long run. A one-coffee-per-day user would spend around $4 on coffee at the shop, and that's at least $120 per month. Using the Nespresso Creatista Plus with capsules, in comparison, will cost you $500 up front (which is as expensive as you can get), but only $21 per month for capsules in the months following. Those are savings we can get behind.
---
Other Single-Serve Espresso Machines We Tested
More Articles You Might Enjoy
Advertisement - Continue Reading Below