Home & Garden
This subscription service sends artisan goods every month—is it worth it?
I put my subscription box skepticism aside to try out this service that delivers beautiful home goods.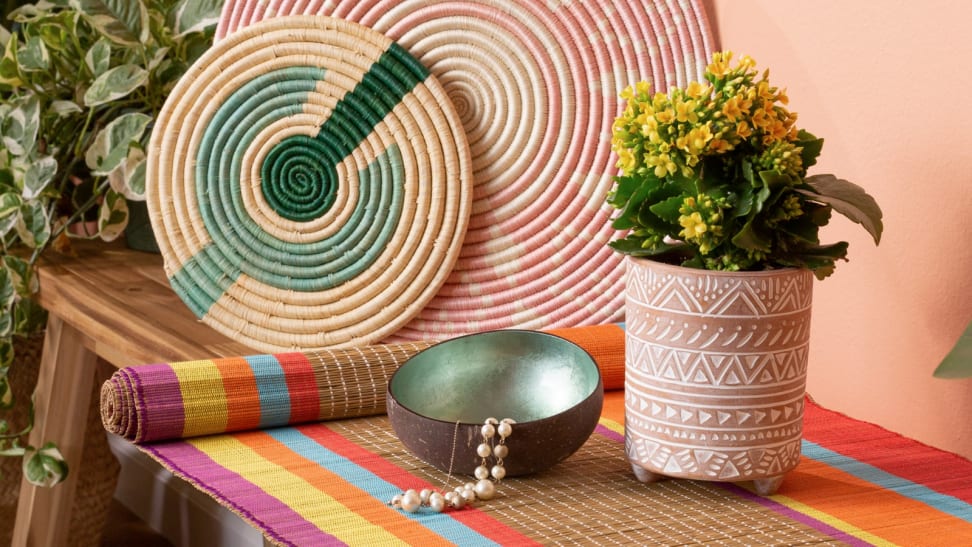 Credit: GlobeIn
Subscription boxes are everywhere. I mean, everywhere. You can get a subscription for beauty products, earrings, pregnancy goodies—if you can imagine a subscription service, it probably exists.
For the most part, these services make the same claims: They will bring curated goods to your door, for a price tag well under their normal retail value. The fun of getting a surprise in the mail is part of what makes boxes like GlobeIn popular. While some subscription boxes, like Dollar Shave Club, are all about convenience, GlobeIn focuses more on the fun of curation.
What even is GlobeIn?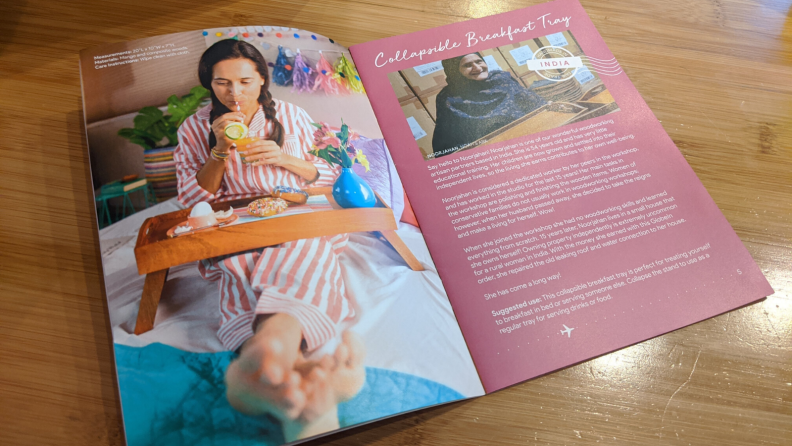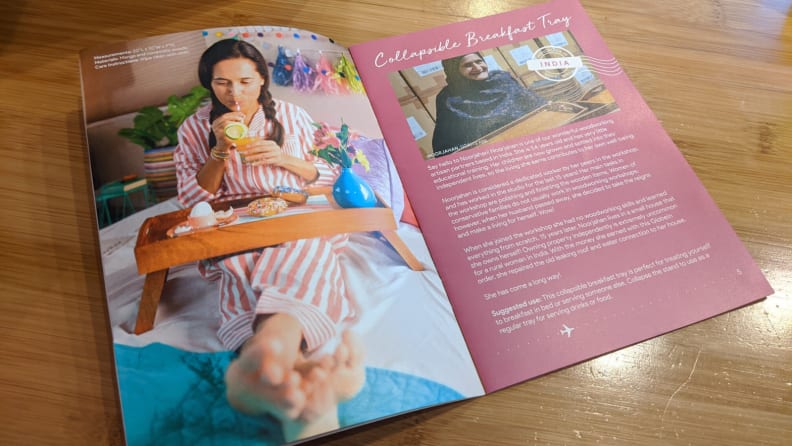 GlobeIn, a monthly subscription box with themes like "Cozy," "Bathe," and "Revive," stands out from the pack for its mission to provide ethical, fairly paid work to artisans around the world. Instead of buying wholesale products and repackaging them for consumers, GlobeIn actually works directly with designers to create unique goods that follow the monthly theme. GlobeIn calls their impact their "#1 Priority," and publishes a social impact report to give subscribers more information about how products are sourced and how artisans are paid.
Like the Instagram-famous FabFitFun, GlobeIn doesn't constrain itself to a single category. While most of its monthly boxes include some form of artisan homegood, they might also contain jewelry, clothing, drinks, and snacks. Yes, it's broad, but if you like the general concept of cozy home goods and artisan products, you will probably like at least some of GlobeIn's offerings.
GlobeIn also has the distinction of offering a preview of their box each month, and giving subscribers the chance to select which version of the box they'd like to receive. None of the options looking appealing? No problem. Subscribers can skip a whole month and get the cost of the box credited toward products from GlobeIn's store instead.
What was in my GlobeIn box?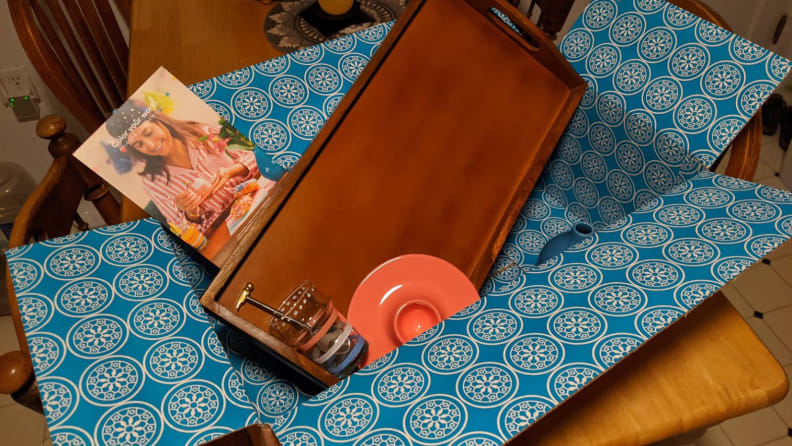 I tried GlobeIn's "Bonjour" box, with products designed by artisans in India and Morocco. This was basically breakfast-in-bed in a box. Here's what was inside:
Collapsible Breakfast Tray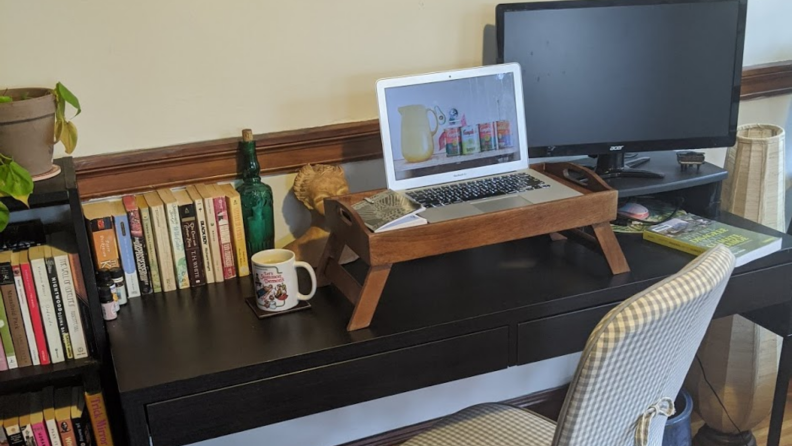 When I opened up my GlobeIn box, I immediately thought this tray was going to be the star of the box. The mango wood is seriously beautiful in person, and the tray absolutely feels well made. A breakfast tray is one of those unnecessary-but-lovely items I might fantasize about owning someday, so it was really fun to unexpectedly receive one.
That being said, I'm not a huge fan of breakfast in bed (unless we're talking about the Dusty Springfield song), so this tray very quickly turned into my new laptop stand. If you put the tray on top of a box, it makes a pretty good standing desk, although that doesn't look quite as charming as the pictures in the GlobeIn booklet.
Handmade Recycled Glass Beldi Cup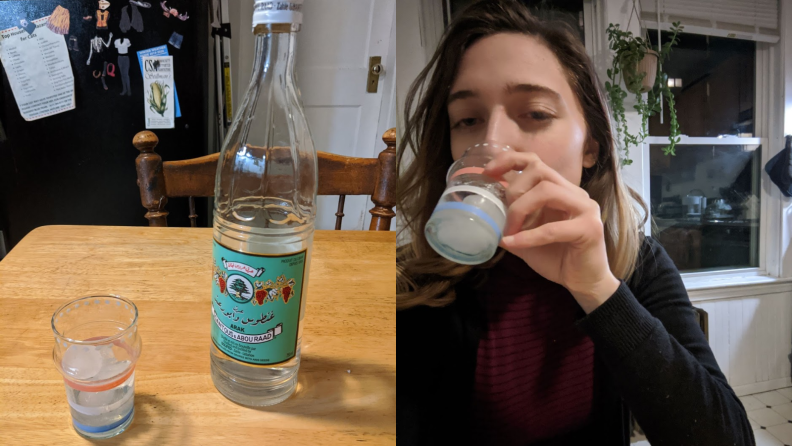 This hand-painted glass is definitely cute, but a little small for me. It probably makes sense for juice, but 99% of my hydration comes from massive Hydro Flasks full of water, so I was prepared to push this glass to the back of my cupboard and forget about it. Honestly, I already have way too many cups in this exact situation.
Luckily, I remembered my heritage just in time, and reclaimed this as an arak glass. Shoutout to my great uncle and his many stories about distilling arak in his tenement bathtub, all so I now have the privilege of drinking store bought arak alone in my dark kitchen out of an artisan glass. "Arak glass" is not a full time job, however, so I use this one pretty infrequently.
Ceramic Egg Cup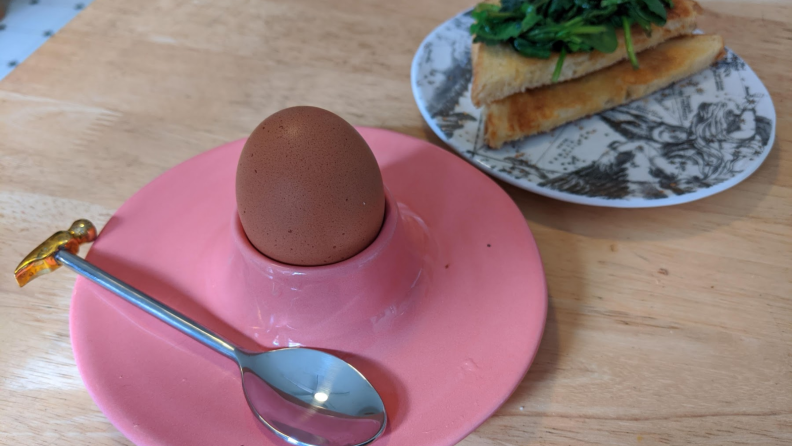 Now for my surprise winner. I am a big lover of eggs, but I have not, historically, been a big lover of soft-boiled eggs. When I pulled this out of the box, I thought I'd try it once and then give it away. Since then, I have learned two very important lessons: 1) soft-boiled eggs are actually delicious; 2) egg cups make them fun and easy to eat. This is definitely the product from the box that I use the most. I don't even want to guess how many eggs I have eaten since integrating this egg cup into my life, but you get the picture.
Ceramic Bud Vase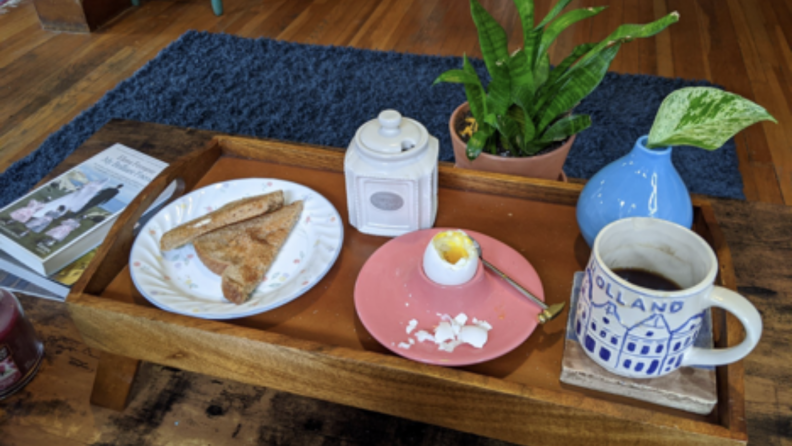 If the egg cup is the product I use the most, this bud vase is the product I have most completely forgotten exists. Sorry, little vase. You are very cute, and I like the idea of being a person who comes home from a whimsical stroll with a single flower in my hand—but so far, that's not proven to be the case. It's definitely me, not you. I haven't given up on us, but for now, I hope you can understand why you've been accumulating dust on my top shelf for the past three months.
Two-Tone Hammer Spoon


This might be the only spoon I have ever referred to as "genius." It feels a little unfair to discuss this spoon separately from the egg cup, as I almost definitely wouldn't use one without the other. That means that, like the egg cup, I now use this guy ridiculously frequently. One side of this utensil is a perfectly tiny egg spoon, and the other is a miniature hammer that you can use to crack open your egg! Thwacking things with a tiny hammer is exactly the kind of joy I want to experience first thing in the morning.
I still have to pry away the broken eggshell with my fingers, but maybe I need to work on my egg boiling method (we have a guide for that!). My only other complaint about this spoon is that I put it through the dishwasher, and it started to tarnish right away. The pamphlet does suggest handwashing—I just wish I had noticed the fine print!
Everything I loved about my GlobeIn box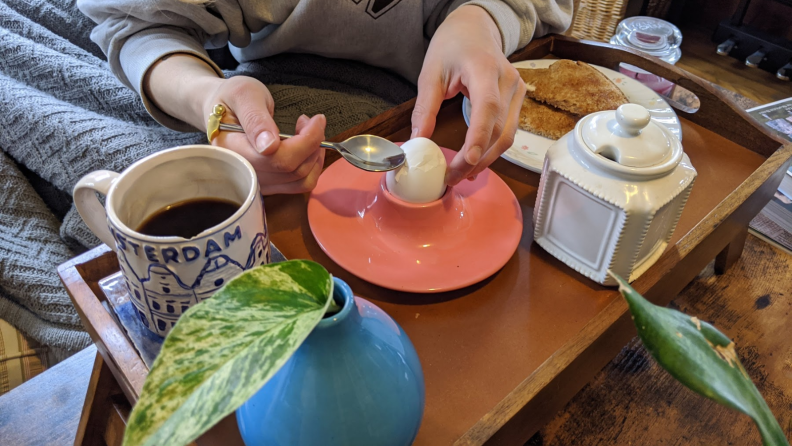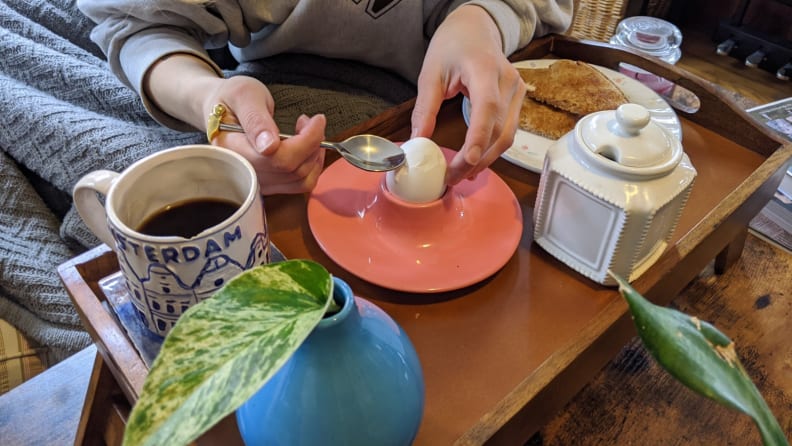 I had a lot of fun receiving my box from GlobeIn. Getting a package in the mail is always fun, and since I hadn't peeked at GlobeIn's preview, I was especially excited to find out what was included. Opening up the box, I felt exactly the way I wanted to feel: like someone had sent me a present just for my surprise and delight.
I was genuinely impressed by the craftsmanship and quality of my items (especially that gorgeous breakfast tray). Depending on how long you commit to a GlobeIn subscription, boxes cost between $33 and $38. For the quality of the items I received, I do think that price is reasonable—and it feels even more reasonable when you look at GlobeIn's commitment to paying artisans fairly.
Even though I didn't get the chance to look at the different options for boxes before receiving this one, I love the fact that different options exist. It feels like a huge waste to receive a box full of products only to decide that you don't really want them, so it's really nice that GlobeIn offers flexibility about what you get.
Of the five items I received, I've put three into regular use. This is actually a better success rate than I expected, especially considering how skeptical I was of the egg cup at first. Using the egg cup and spoon has definitely been my favorite part of my GlobeIn experience, mainly because I never would have thought to buy either of them. This is really what I want out of a curated subscription box: products that I will love, but that I wouldn't normally buy for myself. The surprise of enjoyment is what makes it feel like a thoughtful gift instead of just a box of random objects.
What I didn't love about GlobeIn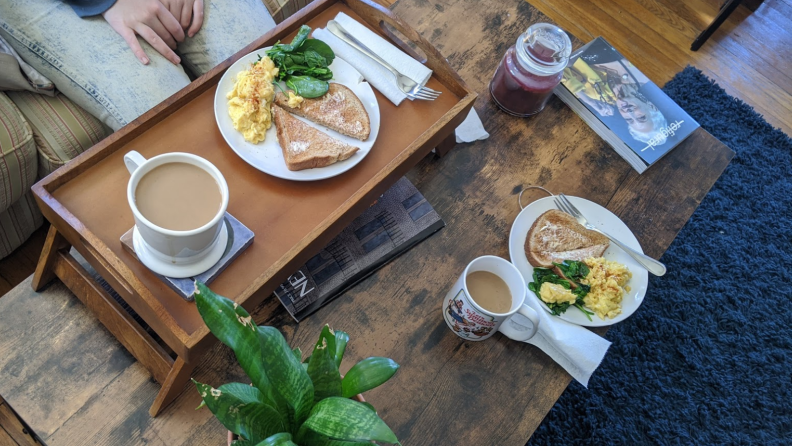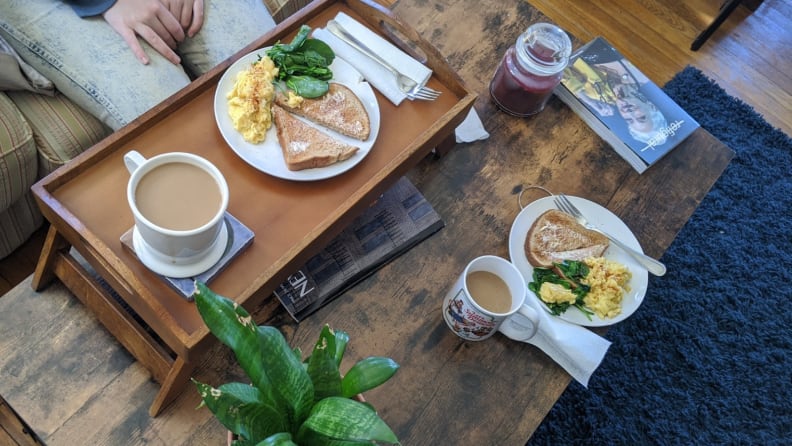 For all that I enjoyed my experience with GlobeIn, I was left with a few doubts. I wound up liking three of the five items I received, but that means I have two items (the hand-painted cup and the bud vase) that I hardly touch. Maybe I'll wind up using these more frequently, or maybe I'll just give them away. In either case, it feels a little wasteful to get a whole box if I only really want 60% of the items. It's in the nature of subscription boxes to be mixed bags, so I can't imagine getting a box that I unequivocally loved. That might not dissuade some people from subscribing to GlobeIn, but it does dissuade me.
You might notice this critique isn't really specific to GlobeIn. I might as well own up to it: I am a little skeptical of subscription services that don't focus on a specific product. My ideal subscription service is probably for something like wine, or perfume—products that I enjoy, but that I don't know much about. When it comes to home goods, snacks, and fashion, the simple truth is that I understand my own tastes better than a subscription service possibly could. Even if I bought a box for a fraction of its retail value, as long as it included some products I didn't use, it would be hard to see it as a great deal.
In general, I feel wary of subscription models that ask consumers to make a financial commitment first, and pick products later. I do think GlobeIn, as a fairly flexible service, handles this better than many other subscription boxes. But let's be honest. In this model, we aren't just committing to goods—we're committing to consumption. That won't bother everyone equally, and it would bother me less if I had a great plan for my unwanted items. Anyone out there desperately need an extra juice glass?
So, is GlobeIn worth it?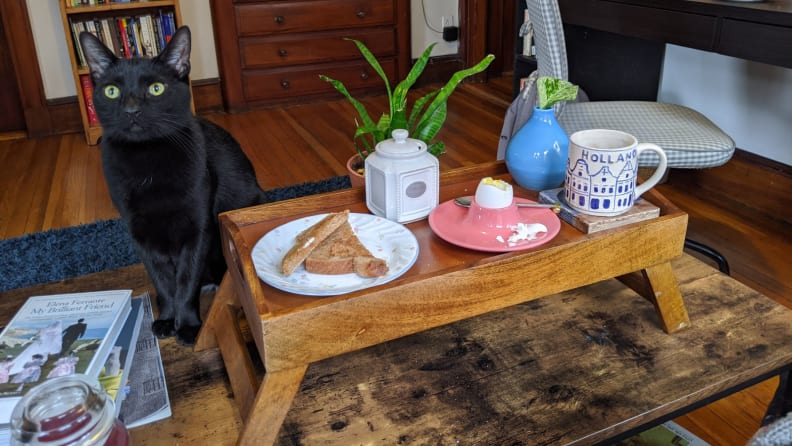 Should you get a GlobeIn subscription? That really depends. If you love artisan goods, have some discretionary income, and enjoy getting presents (who doesn't), you'll probably find GlobeIn delightful. If you, like me, are a little more of a control freak about the things you buy, it's probably not right for you. Use that money to pick out a monthly self-care gift to yourself instead.
Of course, even if GlobeIn isn't right for you, it could be perfect for someone you love. It would make a really fun, sweet gift for anyone who needs a little help sprucing up their home. I would have loved GlobeIn when I lived in a dorm, or even in one of my first apartments. I didn't always have the time, money, or motivation to fill my room with nice things, but I would have really appreciated them. Even more than that, I would have appreciated knowing someone was thinking of me and wanted me to feel at home.
GlobeIn doesn't make a lot of sense for me, but I did have a lot of fun checking out the box and trying out the products. If I was looking to subscribe to a service like this, I would want it to offer beautiful, unique items, and I would want to make sure it was committed to ethical trade. If this is you, GlobeIn could be a great choice.
The product experts at Reviewed have all your shopping needs covered. Follow Reviewed on Facebook, Twitter, and Instagram for the latest deals, product reviews, and more.
Prices were accurate at the time this article was published but may change over time.