If I could change anything about my house, it'd be my kitchen. I have ancient cabinets, linoleum countertops, and worst of all, a brown ceramic sink. But there's one thing I loathe even more than that brown sink—the lack of counter space I have at my disposal.
The one surface I have available for chopping is crowded by an air fryer, a seltzer maker, and a bottle warmer; the sliver of space to the right of the oven is overcome by a giant canister of kitchen utensils; and the corner between the oven and the sink has a toaster oven and a coffee maker tucked into it.
Here's the deal, though. I can't afford to make any major renovations to my kitchen right now. The counter space available to me is all I've got, which I why I decided to sniff out some other options. As it turns out, there are dozens of products out there that can help you maximize your kitchen's existing footprint, but make you feel like you've somehow managed to double it.
1. A rollaway island with stow-and-go stools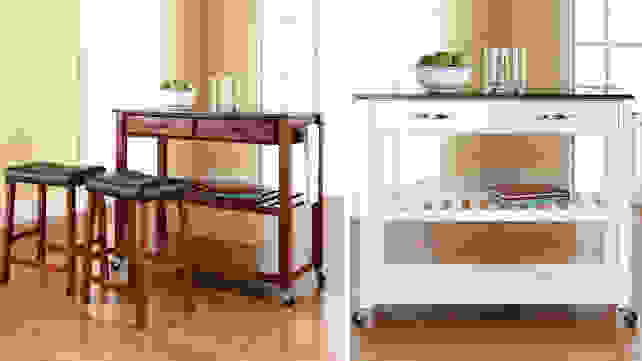 If you're short on counter space and seating, this moveable island will do the trick. The cherry wood piece includes a towel bar, two storage drawers for utensils or odds and ends, two shelves for cookbooks or pots and pans, plus two cushioned stools. To tuck the stools under the island, simply remove the shelves.
Number of reviews: 1,405
Average rating: 4.5 stars
Buy Crosley Kitchen Cart with Stools for $379 on Hayneedle
2. A hanging pot rack for overhead storage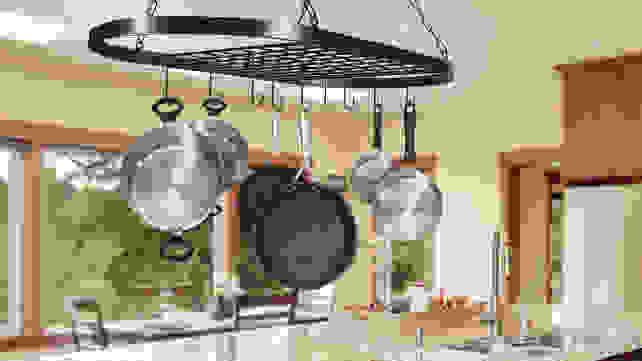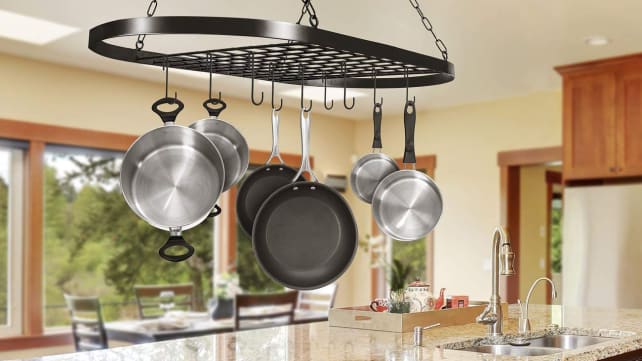 Do your pots and pans come crashing out of the cabinet every time you open it? Or maybe the stovetop is your pasta pot's permanent home? Mount this hanging rack, complete with 10 hooks, to your ceiling to keep cookware and bulky utensils out of your line of sight.
Number of reviews: 217
Average rating: 4.5 stars
Buy Sorbus Pot and Pan Rack for $31.99 on Amazon
3. An over-the-sink cutting board for extra prep space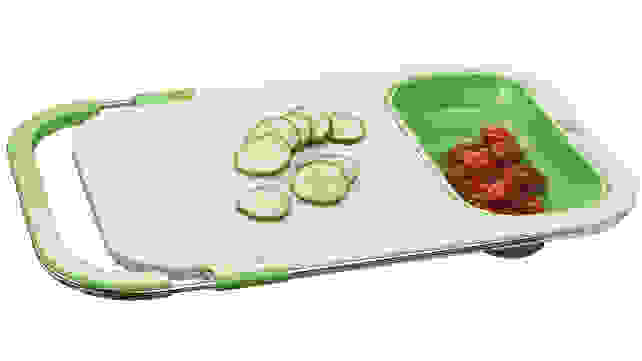 When appliances encroach on your prep space, this cutting board turns previously unusable space into your new work area. It extends to fit over any standard sink, turning it into a countertop ripe for chopping, and features a built-in colander to make washing fruits and veggies a cinch.
Number of reviews: 249
Average rating: 4.5 stars
Buy Prepworks by Progressive Over-the-Sink Cutting Board for $21.50 on Amazon
4. A knife strip to utilize wall space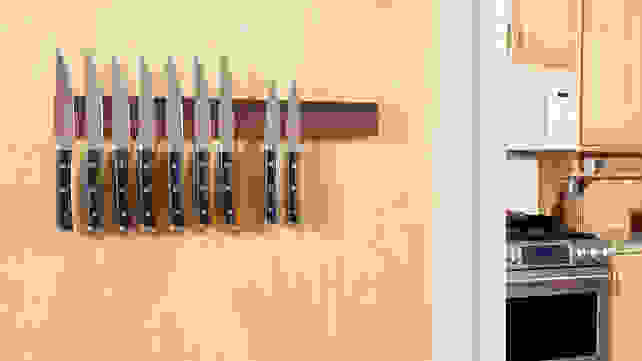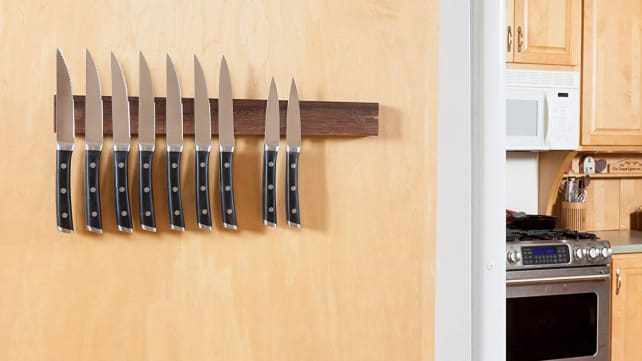 For such small utensils, knives really do take up a lot of room. But if you can eliminate the butcher block, you can win back a sizable amount of counter space. This magnetic strip keeps your knife collection safely secured, but off the countertop.
Number of reviews: 355
Average rating: 4.5 stars
Buy Magnetic Knife Strip for $42.95 on Amazon
5. A hanging basket to keep food out of fruit bowls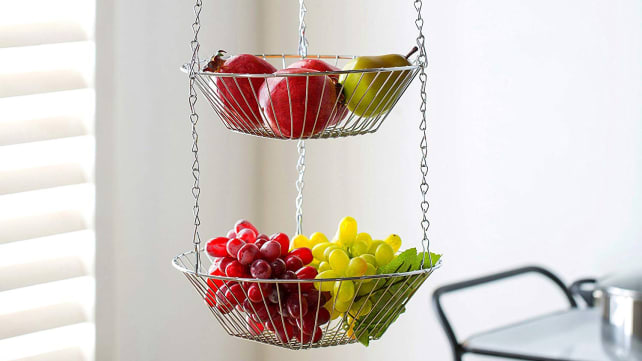 Studies show that keeping fresh fruit on the countertop is good for you, but what about those of us who don't have enough counter space for such a luxury? This three-tiered hanging basket is a great alternative—and it's sturdy enough to hold pineapples, potatoes, or whatever produce you prefer.
Number of reviews: 1,916
Average rating: 4.5 stars
Buy DecoBros 3-Tier Wire Hanging Basket for $14.87 on Amazon
6. A decorative shelf to arrange cleaning supplies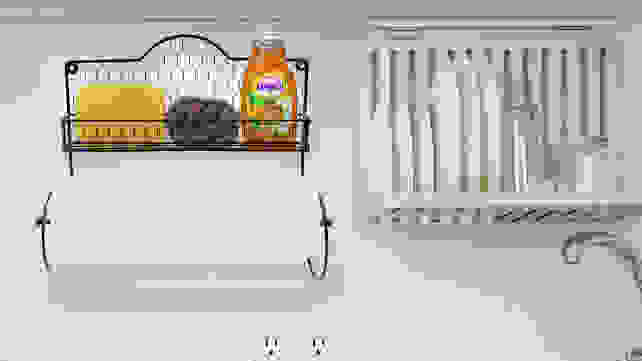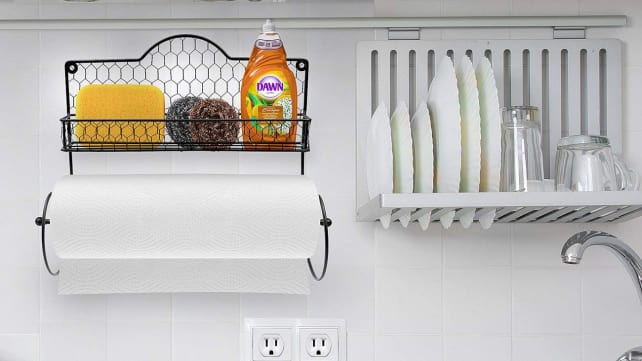 If your sink looks anything like mine, you've got two types of soap, two sponges, and a paper towel holder perched dangerously close to the edge. This hanging organizer is easy to install and keeps everything off the counter and tucked into one secure spot.
Number of reviews: 208
Average rating: 4 stars
Buy Sorbus Multi-Purpose Shelf for $17.75 on Amazon
7. Floating shelves for extra storage space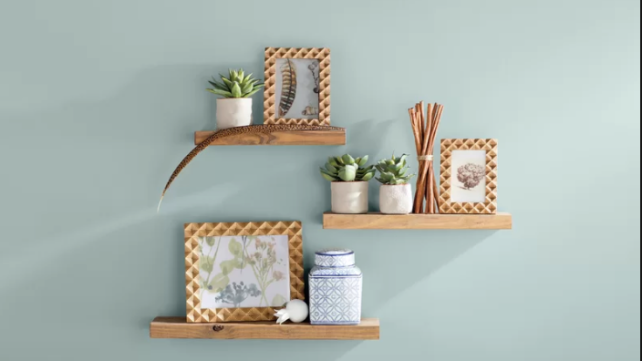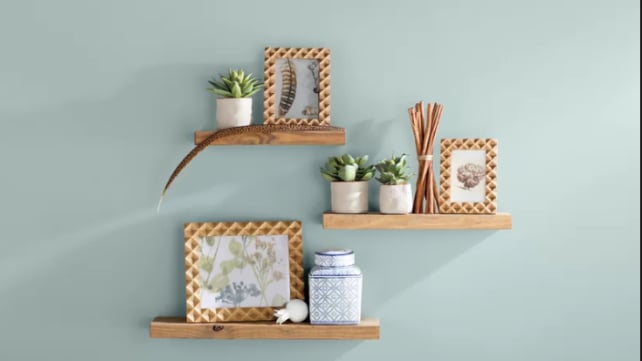 If you have empty walls and cluttered counters, you're missing a big opportunity. Fill empty walls with these attractive wooden floating shelves to corral cookbooks, dishes, glasses, or even pantry items like coffee, sugar, and flour.
Number of reviews: 769
Average rating: 4.5 stars
Buy Ines True 3-Piece Floating Shelf Set for $58.62 on Wayfair
8. A spice rack to corral small jars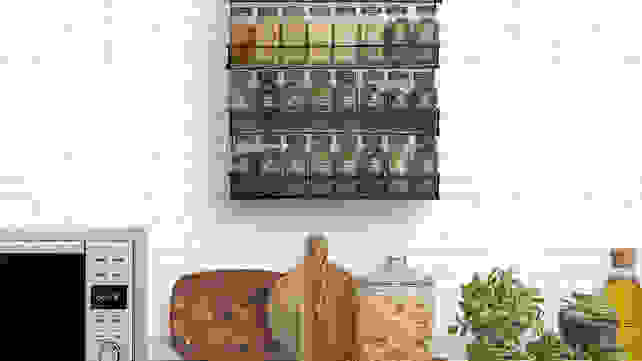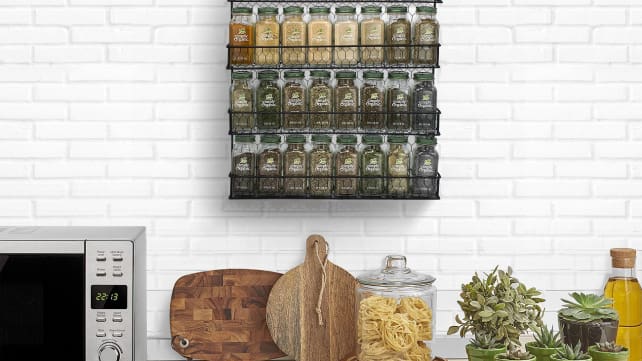 A spice rack seems like a great idea—until you realize the carousel requires a large portion of your countertop. Swap your existing spice caddy for one you can secure to the wall or the inside of a cabinet. This four-tiered rack is easy to install, sturdy, and can fit about 32 spice jars.
Number of reviews: 429
Average rating: 4.5 stars
Buy Sorbus Organizer for $27.19 on Amazon
9. An over-the-range microwave to keep appliances off the counter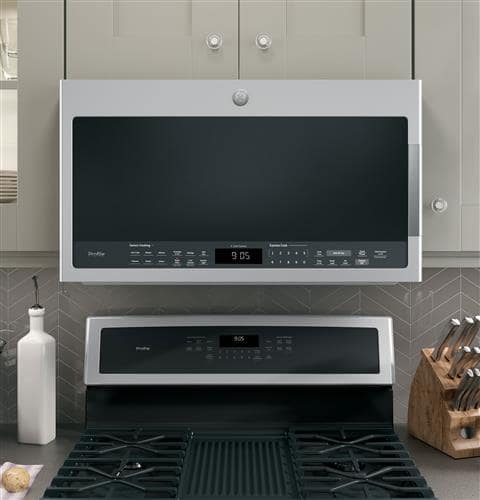 If you can't possibly fit another appliance on your counter, but can't imagine parting with your microwave, install one that hangs over the stovetop. This unit is just as powerful as other models, is quiet, and has an intuitive control panel. It's also equipped with an effective ventilation system that filters smoke and moisture.
Number of reviews: 36
Average rating: 3.5
Buy GE PVM9005SJSS Profile 2.1 Cu. Ft. Stainless Steel Over-the-Range Microwave for $488 on Amazon
10. A collapsible dish rack to minimize clutter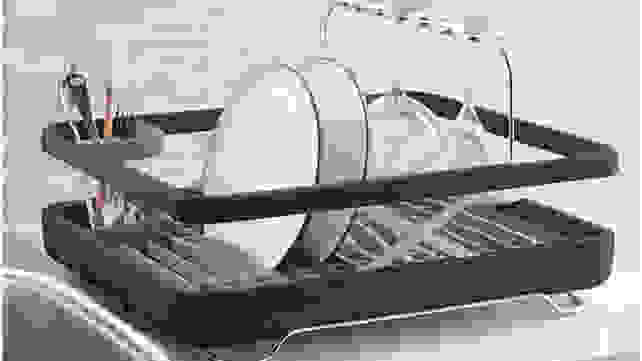 Even if you have a dishwasher, a drying rack is useful for wine glasses, pots, and other items that need to be hand-washed. The problem? There's nothing quite as bulky and inconvenient as a dish rack—except when it comes to this one. This innovative drying rack features a wine glass rack that folds down, a utensil cup that folds in, plus the whole thing collapses flat for easy storage when not in use. Plus, a sloped base drains water straight into the sink, and removable grates make cleaning a breeze.
Number of reviews: 40
Average rating: 4 stars
Buy KOHLER Large Collapsible & Storable Dish Drying Rack for $59.99 on Amazon
Our editors review and recommend products to help you buy the stuff you need. If you make a purchase by clicking one of our links, we may earn a small share of the revenue. Our picks and opinions are independent from any business incentives.