The Best Baby Bottle Warmers of 2018
By TJ Donegan
If you're looking for the best bottle warmer for your new baby, the Dr. Brown's Deluxe Bottle Warmer (available at Amazon)is the best that we tested. To find our winner, we researched nearly 30 models, consulted with experts, talked to pediatricians, and dug into medical research on the subject of properly (and safely) heating milk and formula, finally testing 10 top-selling models in our appliance lab in Cambridge, MA.
The Dr. Brown's Deluxe is great because it can quickly and easily warm up a bottle of refrigerated milk or formula with minimal effort—crucial when you're sleep-deprived and holding a crying baby. Trust me, I've been there; swishing a bottle of milk under a hot tap at 4AM is no fun.
And while none of the warmers we tested were significantly better or faster than the old fashioned method, they conveniently free you up to change your baby while the bottle warms up. If you want to dig into specifics of how we tested and why, check out our Testing Notes below, otherwise read on for our roundup of the best baby bottle warmers for you.
Updated November 18, 2018
Advertisement - Continue Reading Below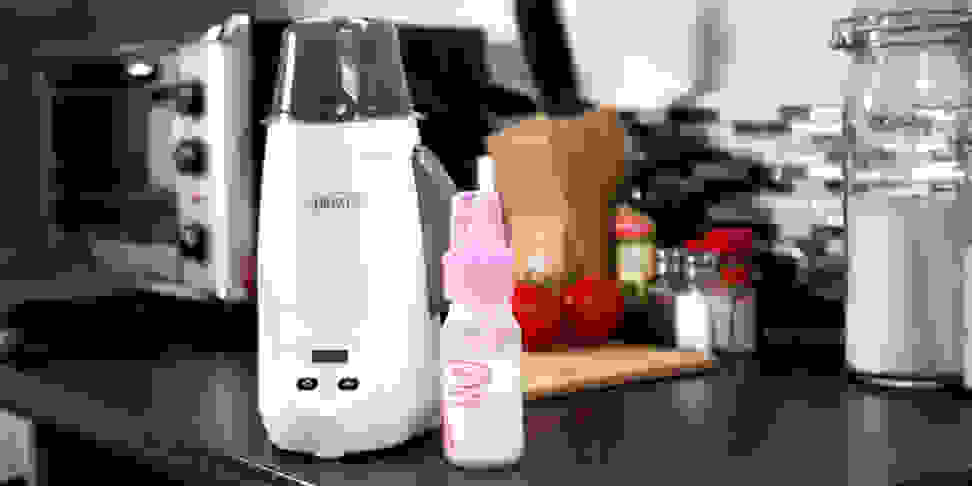 Testing Notes
Every baby is different, and many have very specific feeding needs or preferences that can be tough to predict. You should always discuss your options with your child's pediatrician for the most up-to-date guidance about how, when, and what to feed your baby, including if a warmer is right for you.
For our purposes, we tried to design our tests to mimic what we felt was a common and difficult scenario many parents face: warming a cold bottle from the fridge (40°F) up to somewhere between room temperature (72°F) and body temperature (98.6°F). This is because some babies may not take to cold milk or formula well, and overheating milk beyond body temperature (>104°F) can destroy some of the nutritional and immunological benefits of human milk. (Formula is less sensitive, but drastically overheating—such as in a microwave or with scalding water—can potentially burn your child's mouth)
We tested using 4 ounces of refrigerated water with a starting temperature between 38.8°F and 39.7°F, filling reservoirs with room temperature tap water and following the directions exactly. This should closely mimic both warming refrigerated human milk (which has thermal properties nearly identical to water) as well as formula that's been pre-mixed and refrigerated or mixed with refrigerated water.
All tests were conducted with the popular Dr. Brown's Natural Flow bottles, with two submerged temperature probes that record the change in temps over time from both the bottom of the milk and near the surface (which can differ dramatically even within a small bottle). Temperature results above are given in a range, representing the difference between the two probes. Beyond that, we also rated the warmers based on the clarity of their directions, useful features, price point, and ease of use.
---
If you're shopping for baby items, check out our guide, The Best Products for New Parents.
Advertisement - Continue Reading Below