It's 2018: If any of your devices still have a spinning hard drive–be it a laptop, gaming console, or PC—it's high time you upgrade to a solid state drive. SSDs are cheaper than ever and easy to install, so there's really no excuse. Even if your laptop came with a 128GB SSD, upgrading to a bigger one can just make your life easier.
But while buying an SSD is a no-brainer, actually picking one means navigating a sea of confusing buzzwords. We've got you: We've tested the most popular solid state drives, and we believe the best overall SSD for most people is the Samsung 860 EVO (available at Amazon for $97.99). It's fast, it's competitively priced, it will work with just about every laptop on the market, and it has a 5-year warranty.
That said, unless you have a high-end laptop that supports faster "NVMe" memory (we'll address these in a later roundup), pretty much all SSDs are going to perform about the same. While the Samsung 860 EVO is still our favorite for most people, it pays to shop around—and if any of the other drives we tested is substantially cheaper, you can go with that without losing out on much.
Updated May 01, 2018
Advertisement - Continue Reading Below
Who We Are
My name is TJ Donegan, I'm the Executive Editor of Reviewed. I've reviewed nearly every kind of tech you can buy, from cameras and camcorders to smartphones, laptops, and PC components. I've built numerous custom PCs for myself and others, and lost at least 20 screws inside of various computers over the years.
Handling the testing side of this roundup is Kyle Hamilton, our in-house Product Test Technician and reviewer. He is a former validation technician for Intel, where he was responsible for testing power, performance, and thermal throttling for solid state drives.
How We Tested
For testing, we are relying on the free and readily available Crystal Disk Mark, meaning you should be able to easily check our results. We picked our test batch by looking at market data, user reviews, current prices, and looking at other in-depth guides to the best SSDs at places such as Anandtech. We also reached out to each manufacturer to discuss their current product lines to see which drives may be replaced soon.
Though we're targeting laptop performance, for ease of use, each drive was tested using a Lenovo gaming desktop connected as a secondary drive via SATA III. For each test run, we used Crystal Disk Mark's full suite of benchmarks (set to repeat 9 times). We repeated the test run with each drive at least twice and checked our results against other outlets to ensure they were within expected norms.
SATA vs M.2 vs NVMe SSDs: What You Need To Know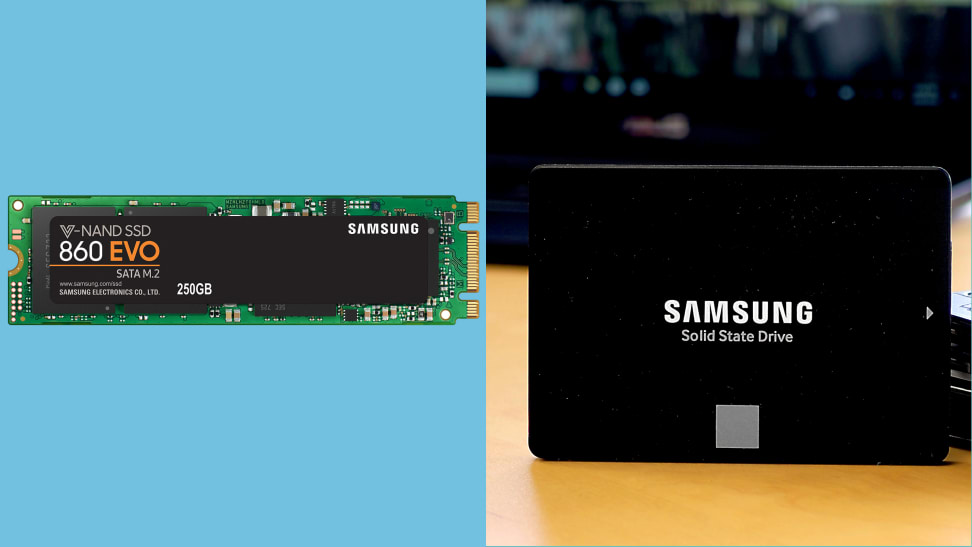 You could write 10,000 words on the different types of SSDs and still not explain all the differences, so we're going to keep it simple. When shopping for an SSD you first need to figure out what will fit into your laptop or PC. Most laptops, game consoles, and PCs take so-called "2.5-inch" drives that are a little bigger than a playing card. If that's what you need, just buy one and you know it'll fit perfectly.
In some slim laptops, however, you will find what is called an "M.2" port with SSDs that look like long, thin circuit boards. Why the drastic change? Because the actual memory in SSDs is really tightly packed, so most of the space in 2.5-inch drives is wasted. M.2 sticks are more space-efficient, which is perfect for today's laptops.
Most M.2 SSDs are 22mm wide sticks, but they come in various lengths up to 80mm long. (Such a stick usually has "2280" in the model name to denote its size). You can usually replace a longer M.2 SSD with a shorter one, but check with your manufacturer to be sure.
Some laptops have space for both kinds of drives, and there's not much to be gained just from using an M.2 SSD over a 2.5-inch one. Most of the drives we tested in this guide come in both form factors and have the same "speed limit" because of the SATA III standard—even M.2 versions. Just buy what you need and you should get roughly the same performance.
There is a new, faster kind of SSD out called NVMe, however. NVMe memory fits into an M.2 slot and can smash through that speed limit, but only if your laptop supports it. Since this is mostly limited to high-end machines and gaming laptops (and it's more expensive), we're leaving these for a future guide.
Advertisement - Continue Reading Below