Laptops
Can the iPad Pro replace your laptop?
The latest iPads are speedy and thin...but are they laptop killers?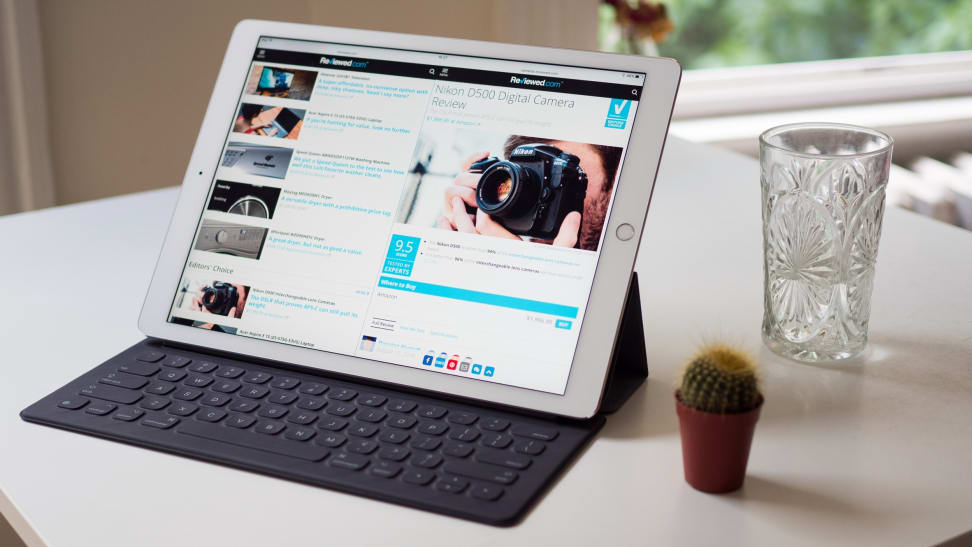 Credit: Reviewed.com / Brendan Nystedt
Apple's most recent advertisements ask a leading question to the audience: "Imagine what you could do if your computer were an iPad Pro." Okay, so that's not really a question. But it does raise an interesting one: can the iPad Pro replace your laptop?
It's not as crazy as it sounds. If you've shopped for a Windows-based PC recently, you've probably seen plenty of touch-friendly, pen-compatible, flipping 2-in-1 designs that the likes of Samsung, Microsoft, and Lenovo have pioneered. But, Apple has a point—the iPad Pro (MSRP $599 for the 9.7-inch version, $799 for the 12.9-inch) is the most feature-rich, robust iPad we've ever seen. And it got us thinking…what if you did use an iPad as your only computer?
For years, the comparison between a tablet and a MacBook or Windows PC running a full operating system just wasn't fair. The iPad was stuck running one app at a time, only had access to a limited supply of software, and it was poorly suited for anything resembling serious work. The iPad Pro—along with the new and improved iOS 10—is an entirely different animal.
And as it turns out, it makes for a pretty damn good laptop—under the right circumstances.
About the iPad Pro
The iPad Pro comes in two sizes: one with a 12.9-inch display and a more conventional 9.7-inch option. Both have some similar specs on the inside, but there are a few notable differences that make the smaller version a bit less capable than its big brother.

•Apple A9X Processor
•2 GB/4 GB RAM (9.7/12.9)
•9.7-inch IPS LCD touchscreen (2048x1536) with DCI-P3 color gamut/12.9-inch IPS LCD touchscreen (2732x2048)
•32 GB/128 GB/256 GB
•Lightning port with USB 2.0/Lightning port with USB 3.0
•Apple Smart Connector
•WiFi AC/Bluetooth 4.1, optional cellular internet.
The TL;DR version is that the 9.7-inch version of the Pro really doesn't have the same stuff as the larger one. The smaller one has half the RAM and it doesn't have USB 3.0 support, which is a big deal if you plan on using certain accessories or transferring photos to and from a camera. The smaller Pro does have a better, more color-accurate display, however, and for some reason it gets significantly better cameras on the front and back, including 4K recording with the rear camera.
But while the higher quality cameras are nicer, it's pretty clear: if you want the iPad Pro as a laptop replacement, the 12.9-inch is the way to go. That's the one we'll focus on here.
What We Like
Fast, sleek, easy-to-use
As with most Apple products, there's a certain level of quality that we've come to expect from an iPad. Not only is the iPad Pro well-built, but it's beautiful as well. Crafted from aluminum and glass, both iPad Pros exude the spacy-minimalism that Apple's known for.

From a performance standpoint, iOS 10 still holds up very well. It's fast, agile, and has access to a much wider array of software than in years past. The hardware and software work especially well together, ensuring zippy performance in all but the most extreme programs. Since Apple's Pros are based around its custom A9X chips, this tablet only gets a little bit warm to the touch, unlike some rival devices that still need fans to keep cool.
If you spend extra, you can get a usable keyboard cover and nice pencil
If Apple took a page from Microsoft's book when it came to the idea of the iPad Pro, its approach to a keyboard cover couldn't be more different. Instead of attaching the bottom, and using a kickstand to prop up like the Microsoft Surface Pro, the iPad Pro's cover is both a keyboard and a stand. It folds up, origami-like to give the tablet a nice position for writing. It's unquestionably a worse option, given that you can only prop it up at a fixed angle. It's just not nearly as stable as the kickstand on the Surface Pro 4.
That means that iPad Pro keyboard is best used on a table or desk, as it's a little too bouncy to use in your lap. Surface has come under fire for not being "lappable" enough, but the iPad Pro doesn't come close, as Apple clearly expects you to use it as a tablet when away from your desk. That's not a dealbreaker, but the 12.9-inch version is quite big to use that way for an extended period of time. The keys are fine for everyday typing, but the throw on each key is short and the fabric texture of the keyboard takes a little getting used to. Since iOS doesn't have any mouse support, you might miss the addition of a trackpad. It's a little irritating having to reach up to tap the screen for so many things, but iOS's improved keyboard shortcuts often save you the hassle.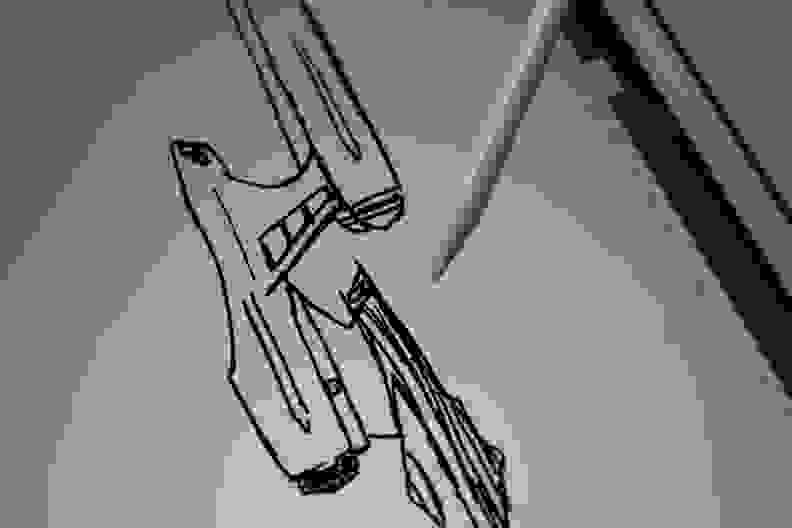 If you were hoping to use the iPad Pro with Apple's Pencil accessory, you'll be happy with the combo. Pencil is a great addition to the iPad, one that I think is long overdue. In apps like 54's Paper and Microsoft OneNote, sketching and note taking is easy. My only complaint is that there's no built-in eraser, meaning you'll have to select that tool on-screen each time you want to get rid of a portion of a drawing. It's not nearly as intuitive as pens on competing tablet computers.
iOS is much improved, especially for multitaskers
Apple's iOS has long been my personal favorite operating system on smartphones, but it's been less progressive when it comes to tablets. Features like true split-screen multitasking and keyboard shortcut support only got added in last year, and I'd say that both are necessary before I can think of replacing a laptop with an iPad.
iOS 10 adds a couple new iPad features, but it's far from ideal.
With iOS 10, the iPad Pro learns a couple new tricks, but if you had problems with the way iOS worked in iOS 9, the iOS 10 does little to remedy it. I'm hoping that if Apple is serious about replacing its Macs with iPads, that iOS will soon get an update that revvs productivity up to a new level. Right now, however, there are still some annoyances that I'll get into below.
Where the real magic happens on the iPad is when you take advantage of the rich app ecosystem. The app situation on iOS has always been excellent, and developers really spread their wings on the bigger canvas that iPads afford. Microsoft's Office apps, Adobe Lightroom, and exclusive programs like Pixelmator are gorgeous and lightning-fast on the iPad Pro.
What We Don't Like
There's no Goldilocks iPad Pro
Having used both sizes of iPad Pro, I'm pretty confident in saying that I'm not particularly happy with either of them. Whereas the 9.7-inch version is a great smaller companion for travel, it's just not large enough to feel comfortable typing for long stretches at a desk. The 12.9-inch one is better for that, but it's just too darn big to relax with on the couch.
I vastly prefer the size of the smaller Surface Pro 4, which is closer to 12 inches and balances the two scenarios well. A big screen is great for productivity, but the big Pro's size impacts its portability too much, making the footprint of the device in a bag scarcely different than that of a laptop.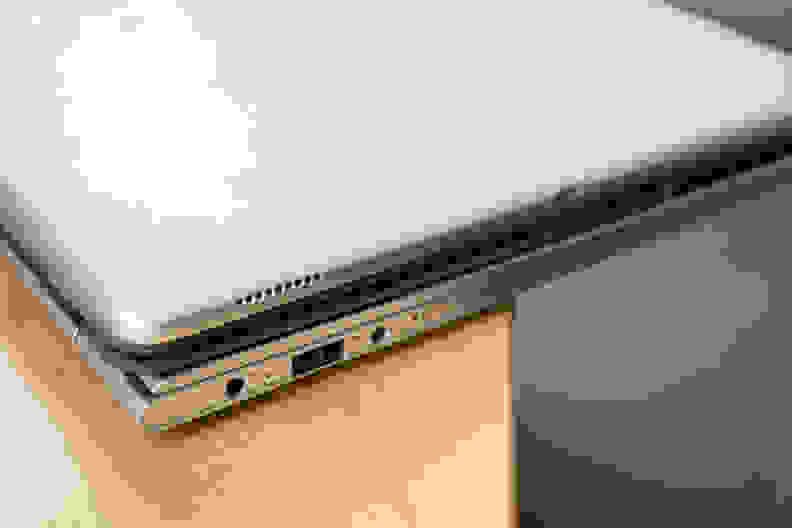 We're also just not happy with the lack of features on the smaller iPad Pro. Even though both versions have a monster of a chip inside them, the reduction in RAM and a totally un-Pro USB 2.0 Lightning port is a bummer. Given how pricey a well-specced 9.7-inch iPad Pro can get, it's disappointing that more attention wasn't paid to these little but meaningful differences.
And while we don't think you should use an iPad as a camera, there's no good reason for the larger iPad Pro to have worse cameras than the smaller 9.7-inch model. Given that the 12.9-inch iPad Pro costs a bundle, that's an odd corner to cut.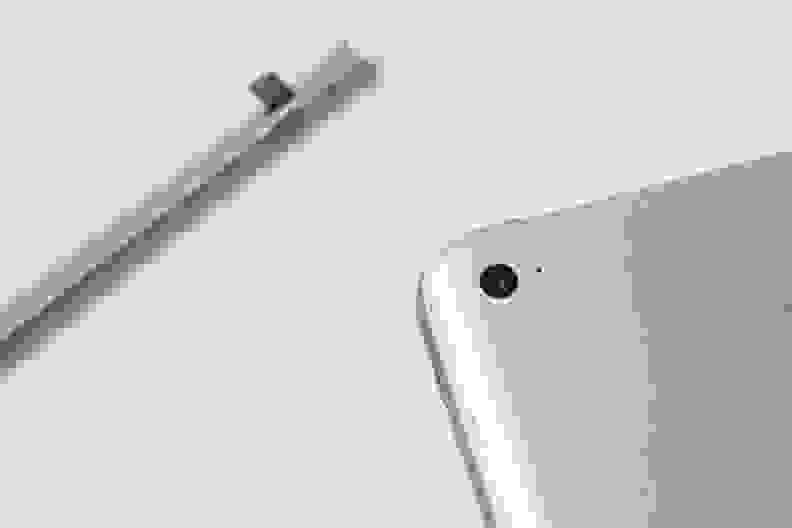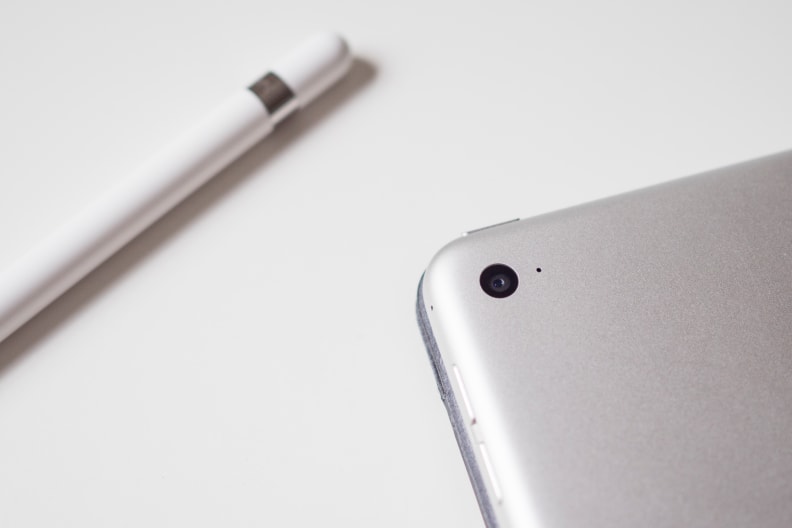 In my mind, you either go with the small Pro if you prefer to do work on the couch and the big one if you want a more desk-bound experience.
iOS still missing some key features
At this point, I was kind of hoping that iOS would be a lot closer to replacing a normal laptop. But since it's still a mobile OS at heart, there are some notable differences when compared to what you can do with a Windows device.
Even though you can have two side-by-side apps (and iOS 10 even lets you have two Safari tabs open at the same time), there's no way to have more on the screen simultaneously. Drag and drop doesn't exist, so shuffling text and pictures between apps is inelegant. There's also no real way of managing the files on your device and a lack of mouse support, making certain tasks more frustrating than they need to be.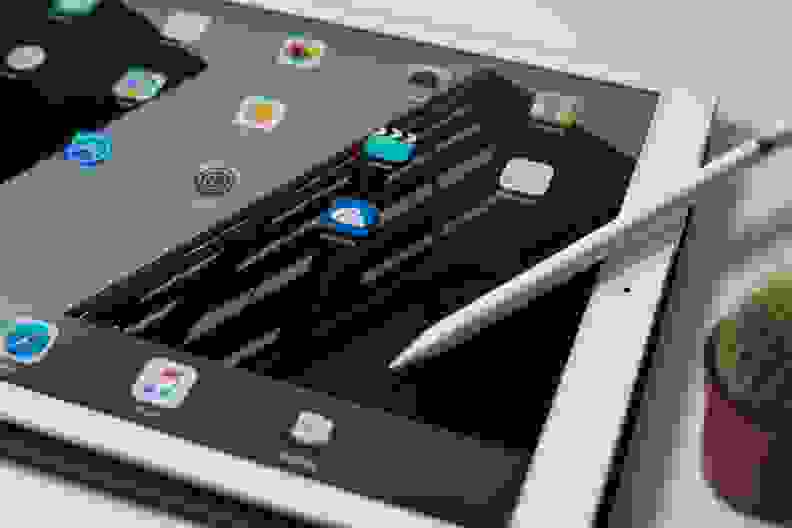 A long-standing critique of the iPad is that it's just a gigantic iPhone, and the way iOS is adapted to the display still isn't the most efficient layout possible. The home screen, for instance, doesn't include any alternative ways of organizing apps; it's still a grid, only slightly bigger. Similarly, most iOS apps don't take advantage of the larger screen, and many don't scale well at all.
That said, the iOS situation is much better than it used to be. For instance, you can now upload pictures from the Photos app into websites using Safari. That was a long-standing issue I had when uploading content to websites. For a long time, it simply didn't work. Even stuff like printing has been well-sorted at this point, and drafting papers and e-mails is essentially the same when using today's iOS apps with a keyboard.
Pricey accessories are mandatory for full laptop-like use
Unlike some 2-in-1 Windows computers we've tested, the iPad Pro only includes the tablet and a charger. That's it. Apple's Smart Keyboard cover and Apple Pencil accessories both aren't included in the package. For that much money, we'd hope for a little bit more than just a cord in the box, but that's Apple for you. Just budget for the extra $250-$270 if you want to have Apple's keyboard and pen for your new iPad Pro.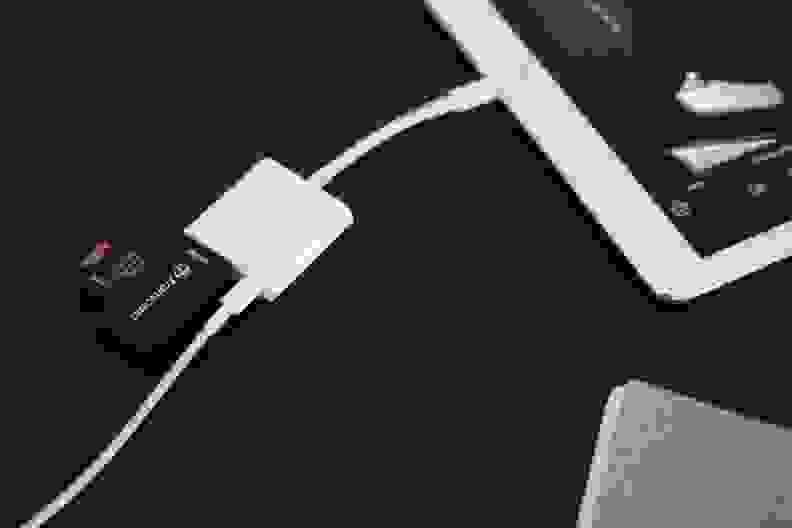 More than that, Apple's SD card adapter and USB 3.0 adapter are $30 and $40 respectively. Add it all together, and you're looking at a whole bundle of kit required to try to get a shiny new Pro to hook up to stuff most laptops can manage right out of the box. It's worth noting that many Windows tablets have standard ports onboard, and that any adapters cost a fraction of the price of Apple's proprietary accessories. On top of that, a Windows-based device will give you guaranteed compatibility with USB accessories of all stripes, whereas iOS only recognizes a tiny sliver of that.
Should You Buy It?
Confession time: I'm a big fan of iOS, and have been for some time. While some nagging criticisms of iOS are still warranted, iOS 10 is fantastic for productivity—especially with a device like the iPad Pro. The big caveat is whether or not the apps you depend on are available on iOS, and whether or not those versions of the app have feature parity with the "full" version of the application. Even pro-grade apps like Adobe Lightroom only very recently got the ability to edit RAW photos natively on iOS, so it's slow going for some must-have tools.
But in terms of what most people need from a computer, the iPad Pro is a serviceable alternative. Basic tasks like browsing the web, taking notes, drafting e-mails, writing papers, and the like are all relatively simple on the iPad Pro, especially when you have a solid keyboard to pair it with. The lack of mouse support does make some apps tougher to use, but the Apple Pencil is a credible alternative for things like photo editing and drawing.
Part of the problem is we're not sure Apple has entirely embraced the idea of using the iPad Pro as a laptop, despite the recent marketing. Just look at your two options: a 9.7-inch iPad Pro that feels like little more than an upgraded iPad Air 2 that costs $200 more or an inflated 12.9-inch iPad Pro that's just a bit too big to comfortable use as a tablet but lacks some key features that would make for an awesome laptop experience when you need it.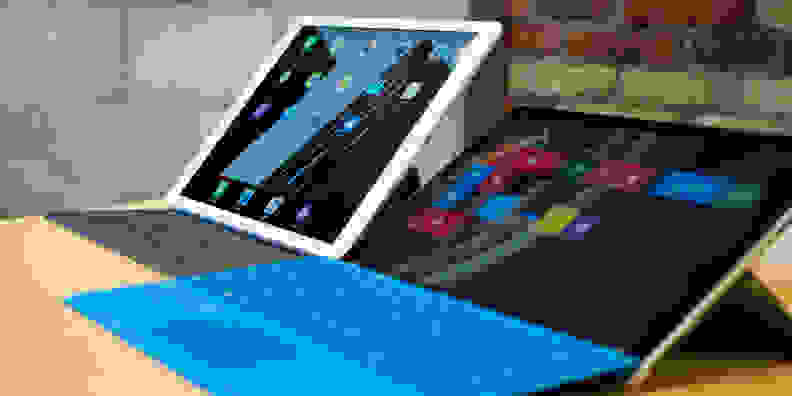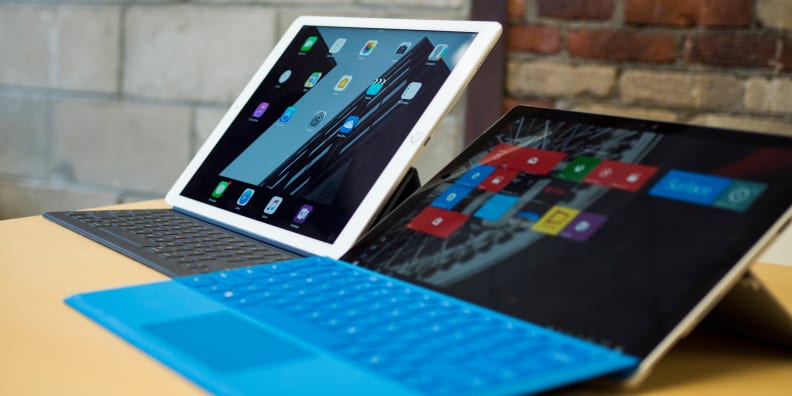 The iPad Pro does have quite a bit going for it, though. Both models are pretty darn fast, with Apple's tight integration of software and hardware shining through. The keyboard cover is also not as good as it should be, but there's an awful lot of promise there. We'd also like to see Apple—and app developers—take better advantage of the larger iPad Pro screen, but that feels like a work in progress.
Ultimately, the biggest reason to skip the iPad Pro if you just need a laptop is that there are better alternatives for the same money, such as the Microsoft Surface Pro 4. Surface won't get you the same battery life, but Windows 10 is unquestionably better for power users. And between the two devices I prefer the SP4's keyboard, trackpad, and kickstand to what Apple sells, without the need to juggle expensive dongles and adapters.
Can you use the iPad Pro as a laptop if you want? Absolutely.
That said, can you use the iPad Pro as a laptop if you want? Absolutely. I wrote the text and edited a bunch of RAW photos for this article on—you guessed it—a 12.9-inch iPad Pro. I didn't even tear out all my hair in the process. Would I prefer being stuck on an iOS device all the time? Probably not. But it goes to show you that Apple is at least pushing toward a future where you no longer need to think of a laptop and a tablet as two separate devices.
The iPad Pro may not be the perfect version of that future, but it's a taste of where things are going. And like any promising future, you can sample a bit of it today. Just be prepared to hit a few speed bumps along the way.
Related Video