Laundry
10 Ugly Christmas Sweaters You Can Wear Right Now
No sweat.
Credit: Flickr user "wantmorepuppies"
Are you looking to show your holiday spirit with your clothing, rather than your actions? Sounds like you'd be a great candidate for an ugly sweater this Christmas!
Impress your friends and family while staving off the cold with one of these cozy fashion statements. One thing's for certain: You won't be in need of a conversation-starter at Christmas dinner.
1. Light-Up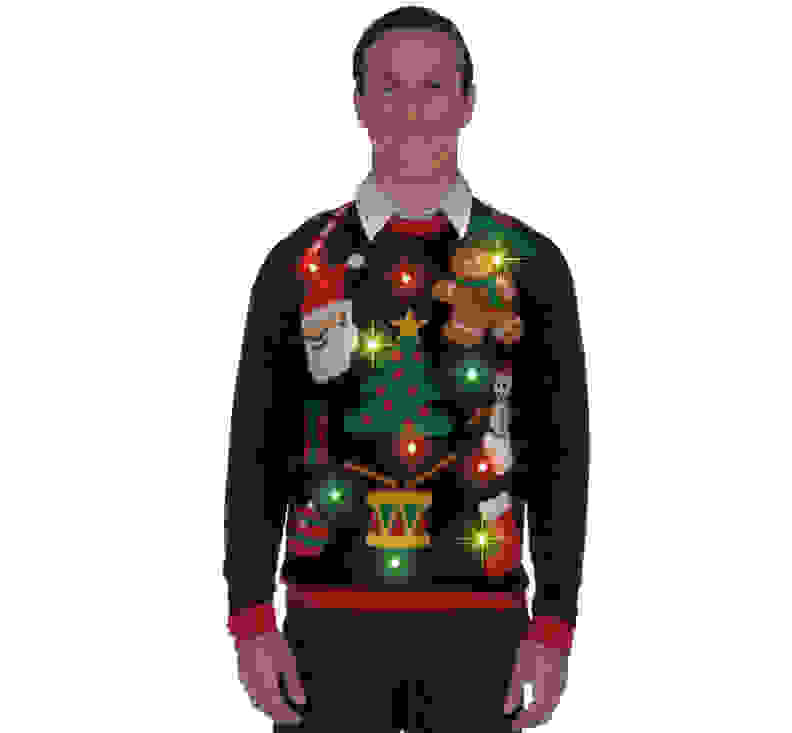 At first glance, this sweater might look like it belongs on the torso of a particularly festive elementary school librarian, but don't be fooled. The addition of ACTUAL WORKING LIGHTS makes it perfect for someone as hip and with it as you!
Bonus: If you stand in front of your Christmas tree, you'll probably blend in perfectly. That makes this sweater ideal for snooping on Santa's home invasion—he'll never see you there!
2. The Grinch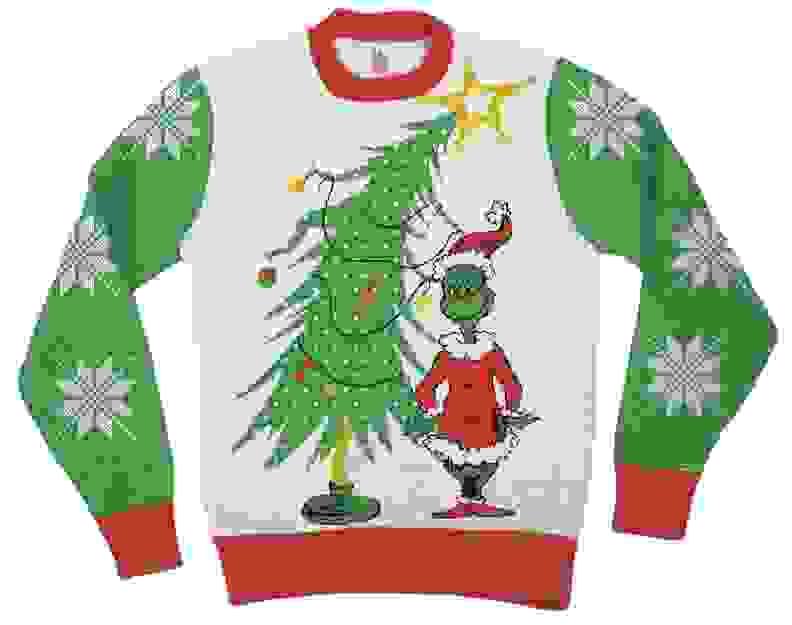 How can you use your clothes to emanate both a laid-back enthusiasm for Christmas and an air of bookishness? With this Grinch sweater, of course!
There's a definite Christmas theme (Santa outfit, tree), but the Grinch's evil grin keeps you from appearing overeager about the holiday (How embarrassing!). Plus, the Dr. Seuss character is almost certain proof that you're familiar with at least one book.
3. Laser Cat-Zillas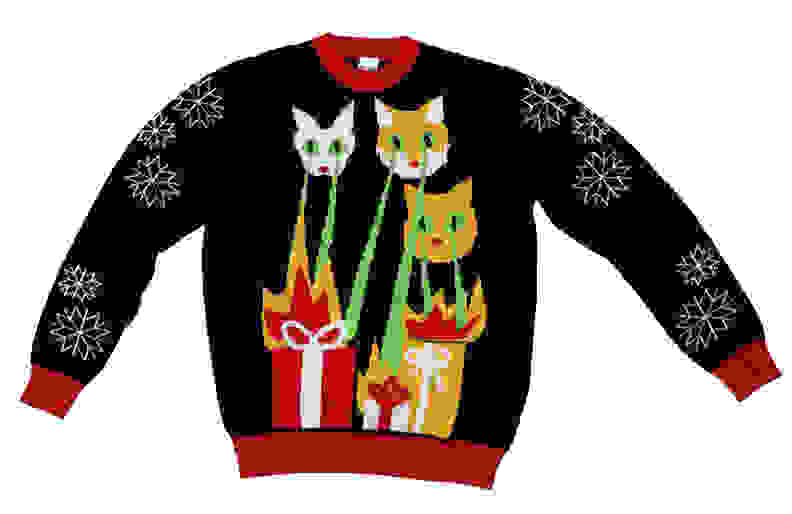 If you ever find yourself thinking, "Gifts are terrible! I want to destroy them with lasers!" then this sweater is for you.
Show your family what you think of their presents by wearing this sweater—and then refrain from destroying any real gifts with lasers, if only because tracking down actual laser cats seems like a lot of work. You're pretty cozy in this sweater, after all. You'd rather take a cat nap.
4. Will Smith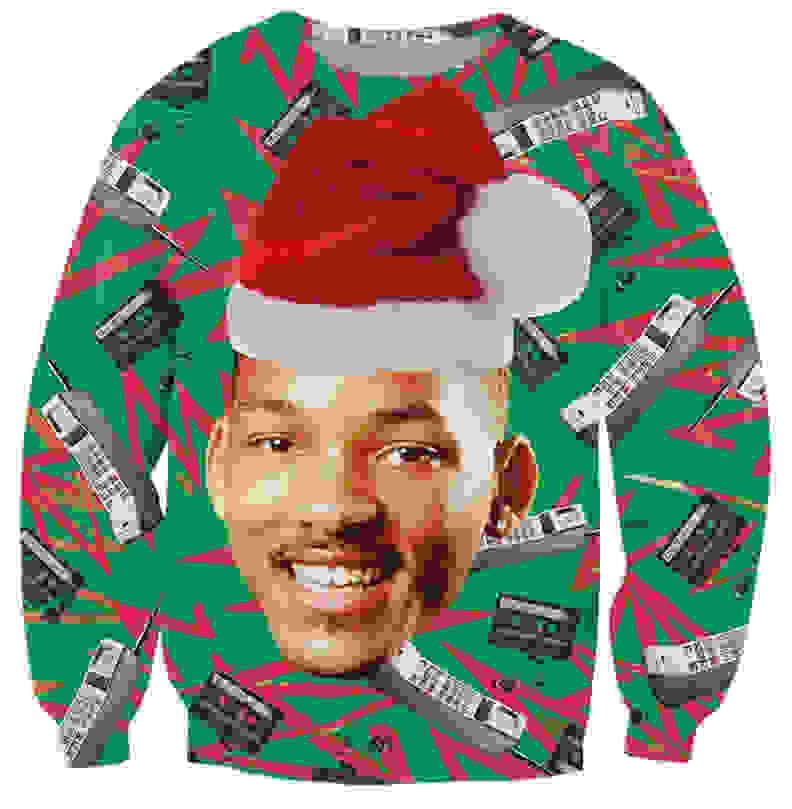 If you're not related to Will Smith, chances are you won't be spending your holiday singing carols with the Fresh Prince. But who cares, when you've got access to sweatshirts covered in such fresh prints?
Here, Will Smith's face, topped with a Santa hat, swims inexplicably atop a pattern of '90s-style phones and cassette tapes, with some red lightning bolts thrown in for good measure. It doesn't quite make sense, but it doesn't have to! Look at that handsome visage! You must rock this.
5. Christmas Pizza Cats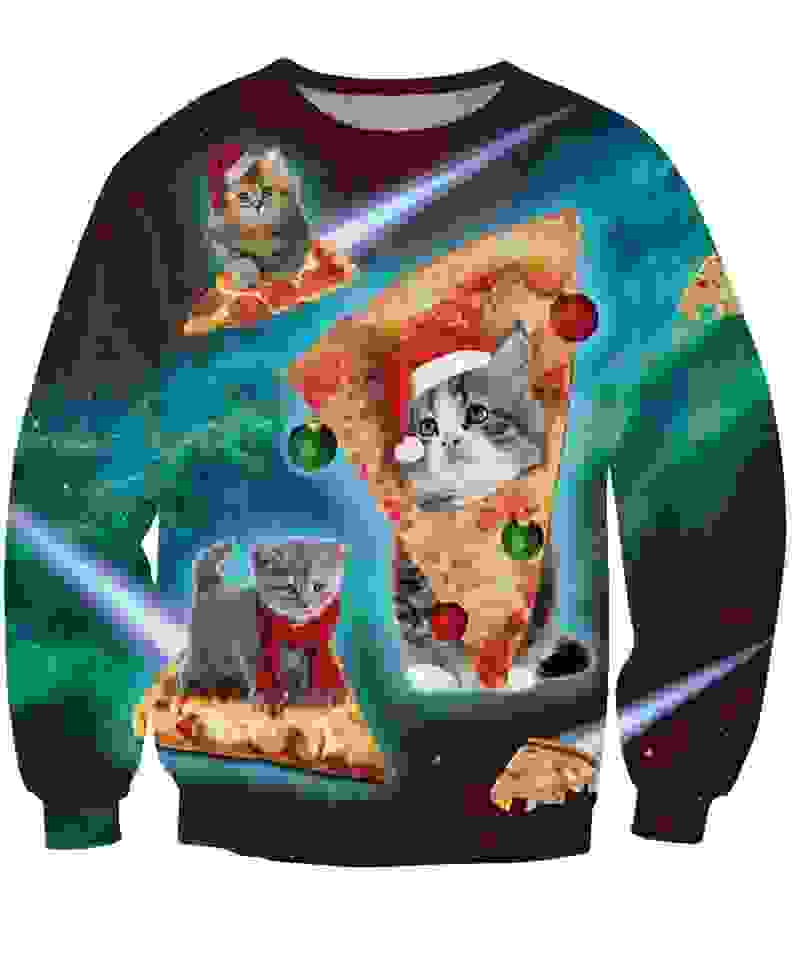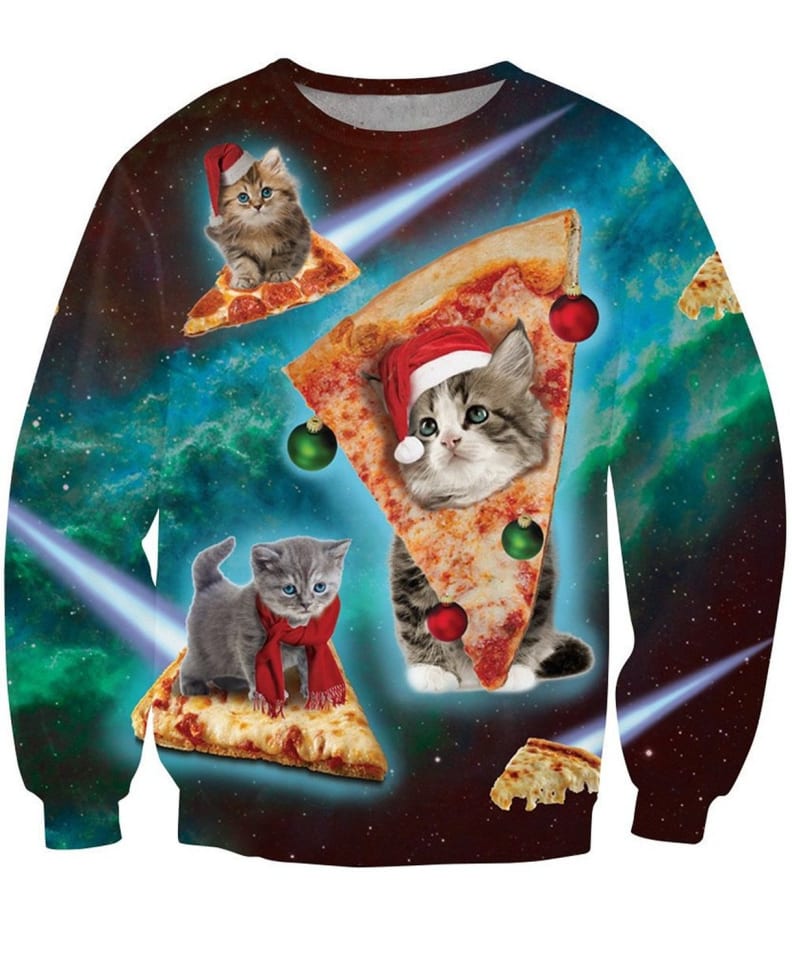 Cat-themed holiday sweaters seem to be all the rage this year, so if you're going the festive feline route, you'll have to put in some effort to stand out.
But not to worry! These adorable, scarf-wearing kitties perched atop pizza flying through the deepness of space will definitely do the trick. Did you know you could hang ornaments from pizza slices? Neither did we! And now no one at your holiday party will never forget.
6. Emoji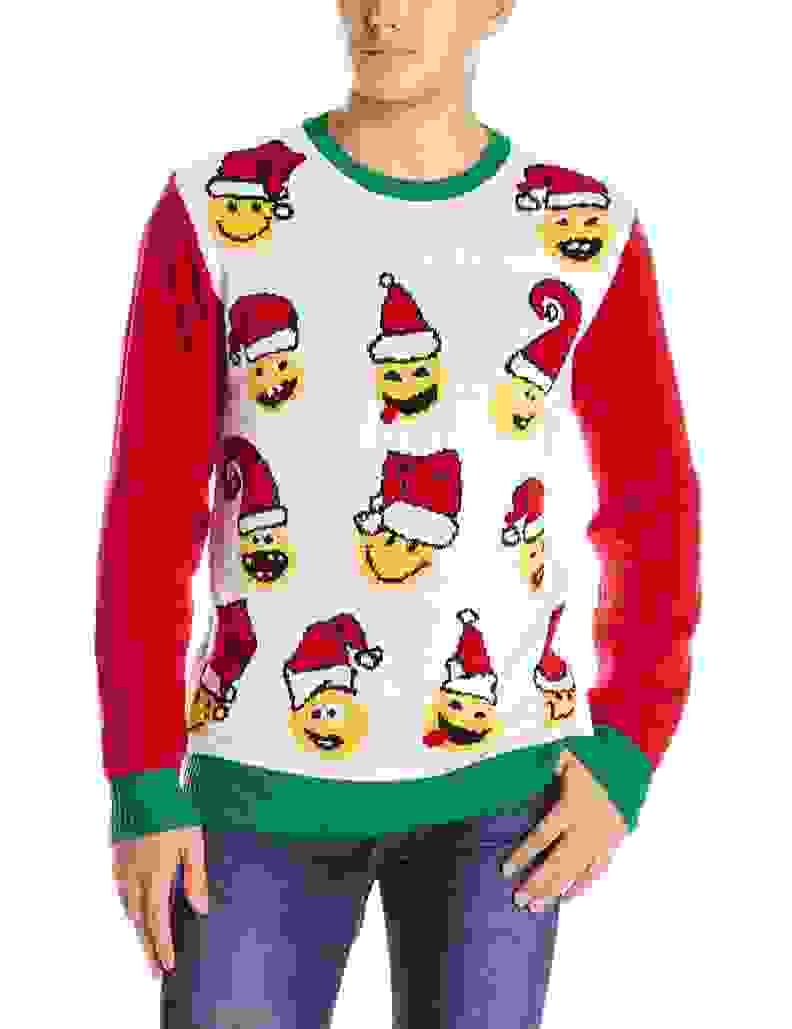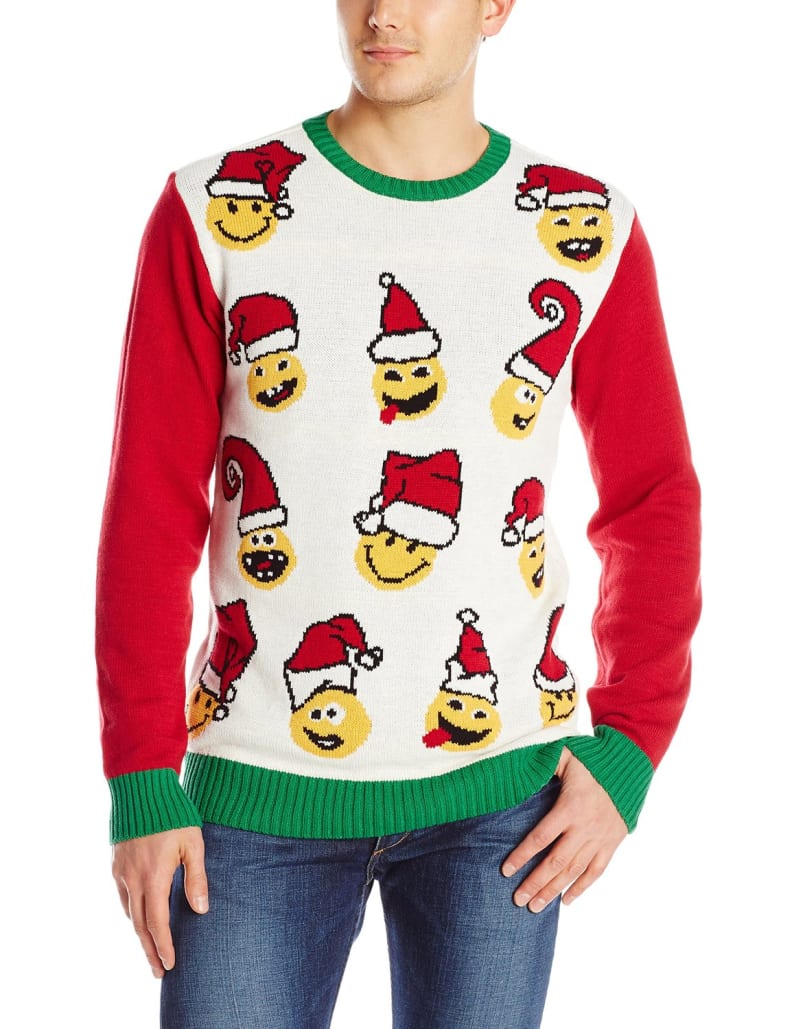 There's no denying that this one is ugly, but at least it says you're staying on top of important cultural trends. All of the major emotions are highlighted here, from happiness to googly-eyed insanity. And each emoji comes with its own Santa hat. How cute is that?
Better yet, the knitwork is slapdash enough that you don't look like you tried too hard. What's the point of an ugly Christmas sweater if it looks like someone actually put time into it?
7. Make Your Own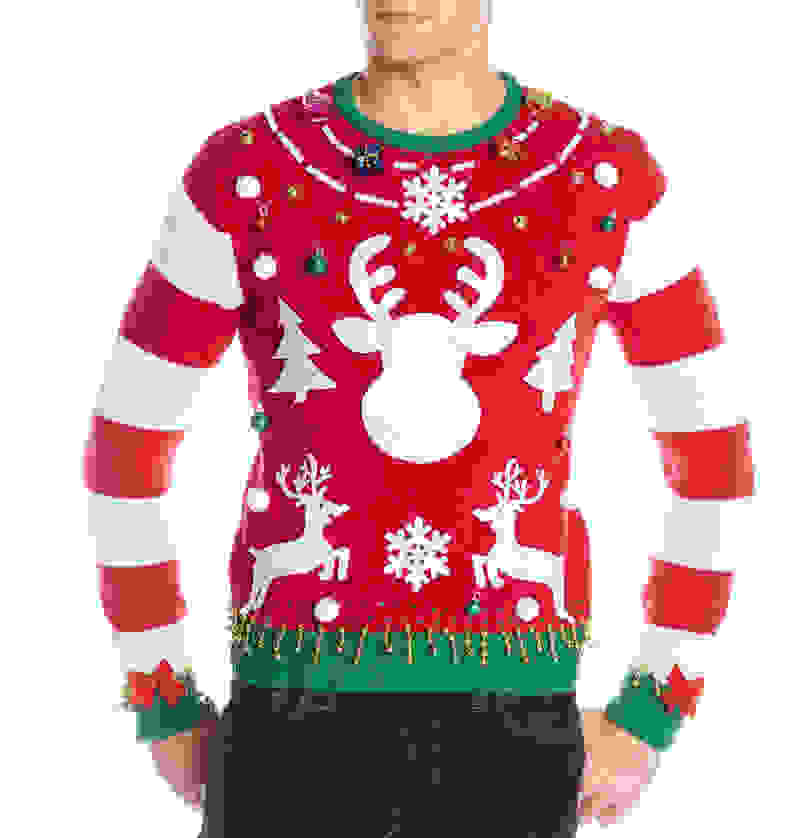 You know what many ugly holiday sweaters are missing? A personalized touch that proves your bad taste is unique to you. Luckily, this DIY ugly sweater kit gives you a chance to bring your fashion mistake up to a whole new level of ugly. Next time someone comes up to you and says, "Hey! That sweater is hideous!" you can proudly reply, "Thanks! I designed it myself." Ain't the holidays magical?
8. Teenage Mutant Ninja Turtles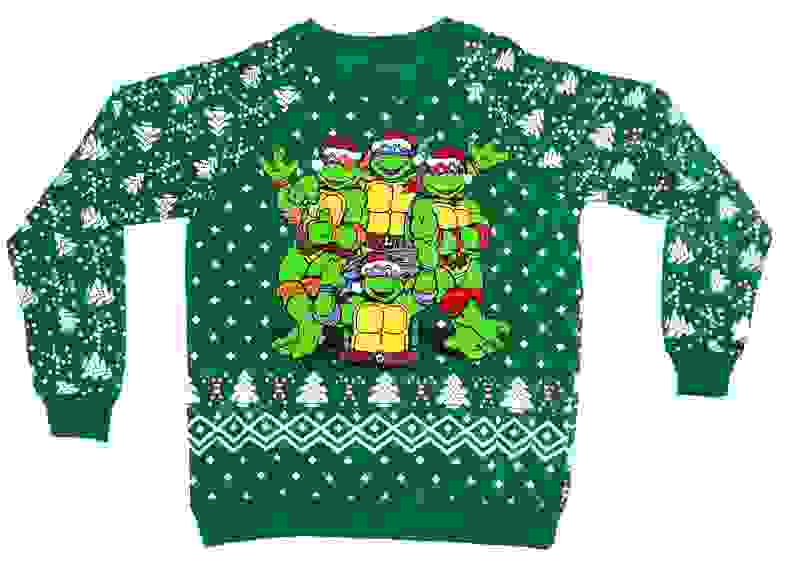 We're not sure why this beauty is listed as a Christmas sweater—we want to wear it all the time. It's a sophisticated cultural allusion to be sure, plus it reminds us of our childhood pajamas. And nothing evokes the warmth of holiday and family like a gang of beloved anthropomorphic turtles who fight crime.
9. Mean Kitty
If you thought we were done listing ugly cat sweaters, you'd be wrong. What this subtle sweater lacks in actual jingle bells, it makes up for with a noisy print and the depiction of a cat snarling so fiercely we can almost hear it hiss. We'd recommend this to anyone who wants to spend their Christmas irritating everyone in their vicinity who has eyes.
10. Rudolph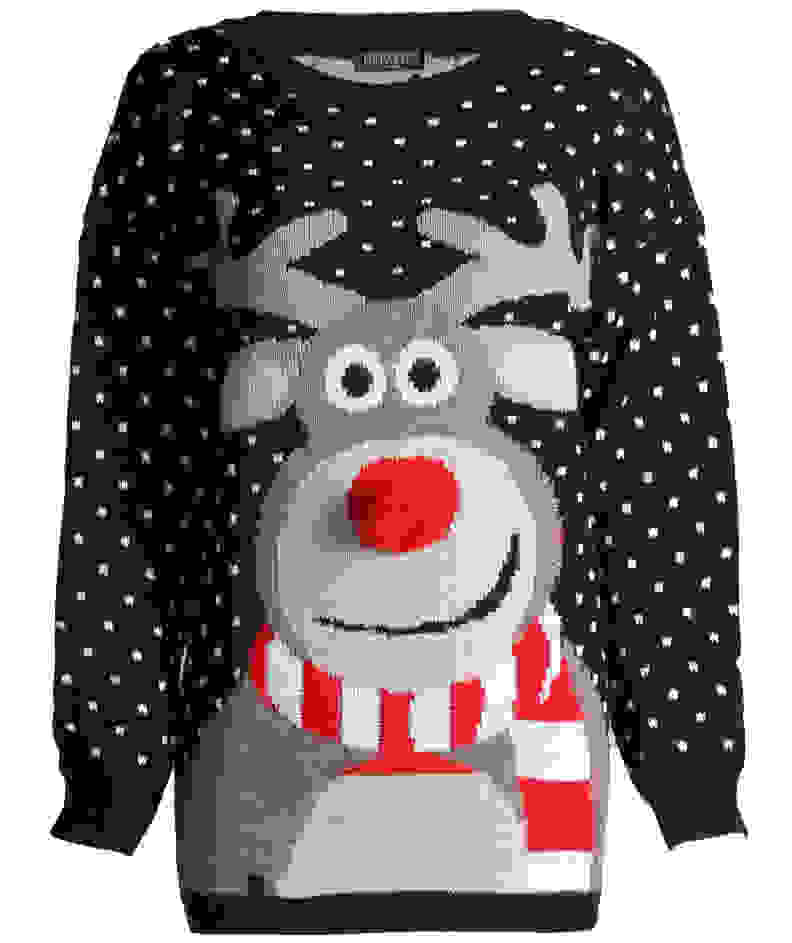 Much like Rudolph the Reindeer himself, this sweater will stand out in a crowd—and if you wear it, so will you! The big red pom pom creates a slimming focal point at the waist, while Rudolph's half-smile should give your outfit a tasteful air of mystery.
Is he happy, shy, uncomfortable? No one will ever know, but it's a great conversation starter if you're stuck for words at a holiday party!
Related Video