Laundry
How we test: laundry detergents
It's more complicated than you'd think.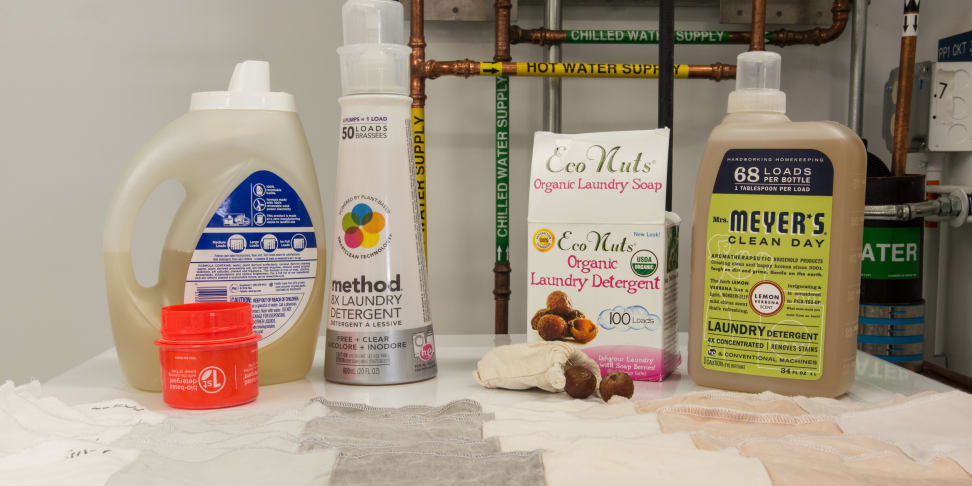 Credit: Reviewed.com / Jonathan Chan
To test laundry detergents, we follow the same basic procedure we use to test washing machines.
This involves putting a standardized stain strip—coated with carbon, body oils, blood, cocoa, and red wine—through a Normal cleaning cycle. These are the same strips detergent and appliance manufacturers use to test cleaning power. We order them from a supplier in Germany who ensures consistency. When they arrive, we keep them in climate-controlled storage until they're ready to be used.
We use high-efficiency Whirlpool front-load washing machines for all our detergent tests. Our appliance labs maintain a hot water temperature of 120ºF (±1ºF), a cold water temperature of 60ºF (±1ºF), air temperature of 72ºF (±5ºF), and humidity of 50%. Along with the stain strip, we add eight pounds of towels, pillowcases, and sheets to each load. They're pure white so we can easily spot any color bleed or staining that detergent might cause.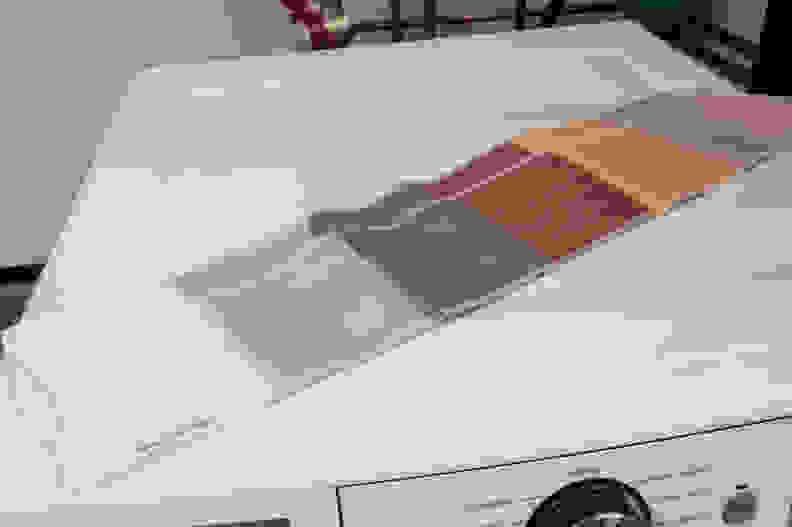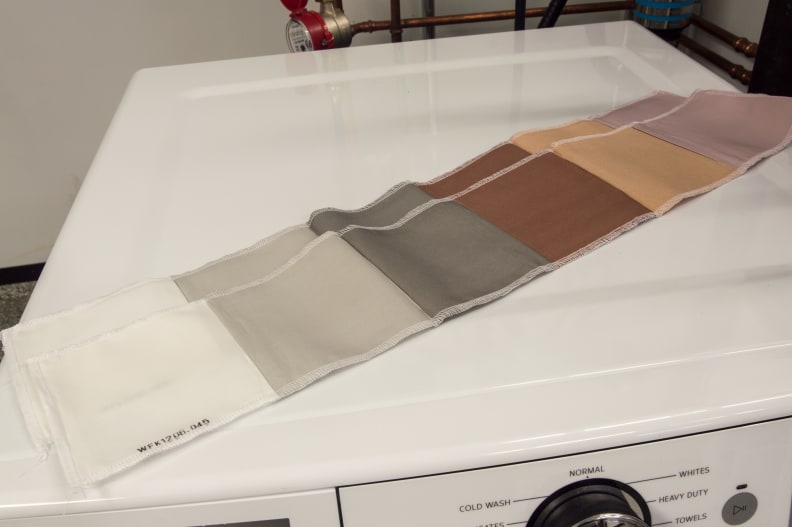 As we hope consumers would do, we read the instructions on each bottle of detergent and follow them closely. Because most detergents do not include instructions for pretreating, we skip that step entirely. This ensures that all products start on the same footing.
When each cleaning cycle ends, we separate the stain strips from the other laundry and store them in a dark room to dry for no more than 12 hours. Keeping the strips away from light ensures that all stain removal is the result of the washing process, not fading caused by the sun.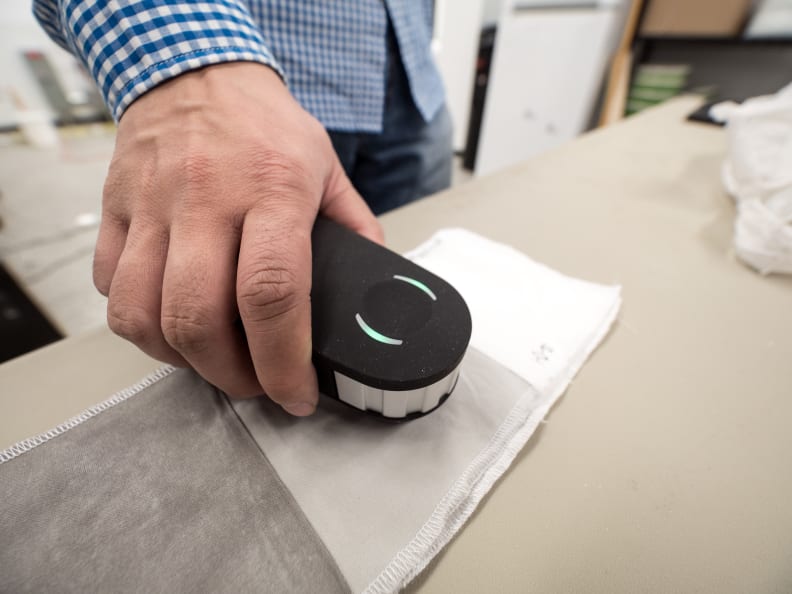 We then use a photospectrometer—a device that measures reflectivity—to determine how much of each stain was removed. None of the stains we test are designed to be removed entirely, and using this tool to quantify stain removal eliminates all tricks of the eye and possible bias from of the equation.
In each detergent test, we include a gallery of all the stain strips we washed, before and after. They may look very similar to the naked eye, but rest assured that our instruments are able to detect even the most minute differences in cleaning power. Here's an example, from our eco-friendly detergent test:
×
Stains
Eco-Friendly Detergents
When we test detergents that are designed to be eco-friendly, we rank them based on three criteria: eco-friendliness, cost effectiveness, and stain removal.
Of course, "eco-friendliness" is hardest to define. There's a lot of greenwashing out there, so you need to read labels very carefully.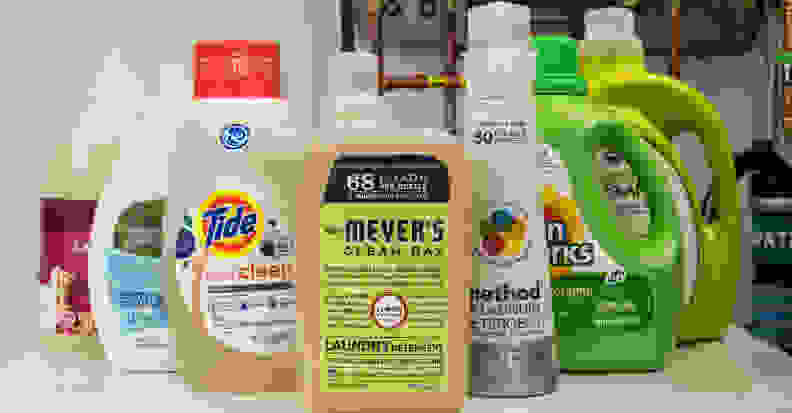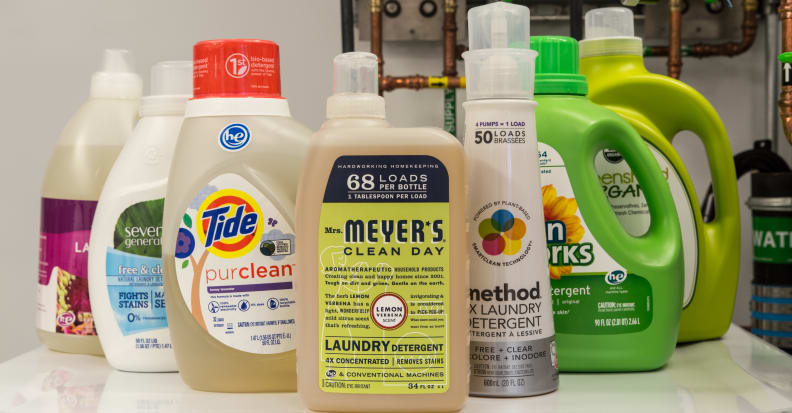 We try our best to balance short and long-term effects on the environment. For example, one could argue that ethanol-based detergents may have a greater environmental impact than traditional petroleum-based alternatives. Depending on how coconut oil is harvested, it may encourage deforestation in environmentally sensitive areas. And the energy used to create a recyclable bottle may be offset by the transportation costs of shipping a less-concentrated (and therefore heavier) detergent.
No one detergent can be perfect on all these counts, so we balance our picks as best as possible.
Related Video