In a world where not all dryers are careful with your laundry, it's refreshing to find a model that treats clothes gently, sticking to fabric-safe temperatures. The Samsung DVE50R5400V (available at AppliancesConnection for $895.10) will get all your clothes dry without over-cooking them or weakening their fibers. In our tests, most cycles produced laundry that was 100% dry—the Bedding cycle was able to get a queen size comforter 81% dryer in under an hour.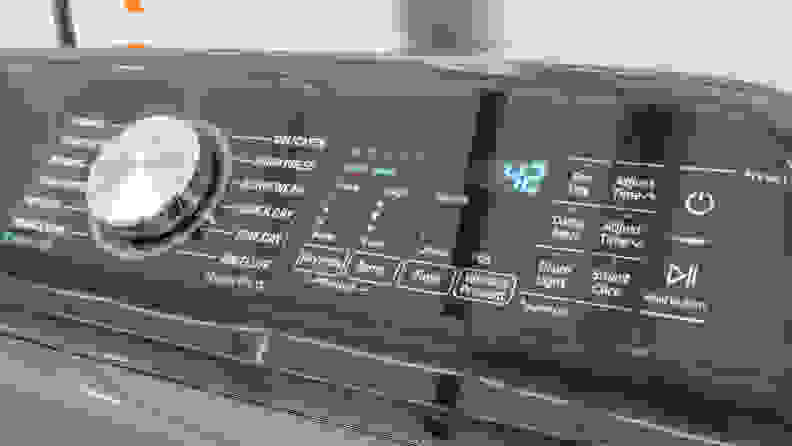 With an impressive 12 cycles and some great cycle customization features, the DVE50R5400V has a lot of options to ensure your laundry is done to your specifications. There are three dedicated steam cycles to help erase wrinkles or germs. The Wrinkle Prevent feature will keep tumbling your laundry once a cycle is complete—it's great for keeping creases out of laundry you can't unload right away.
About this dryer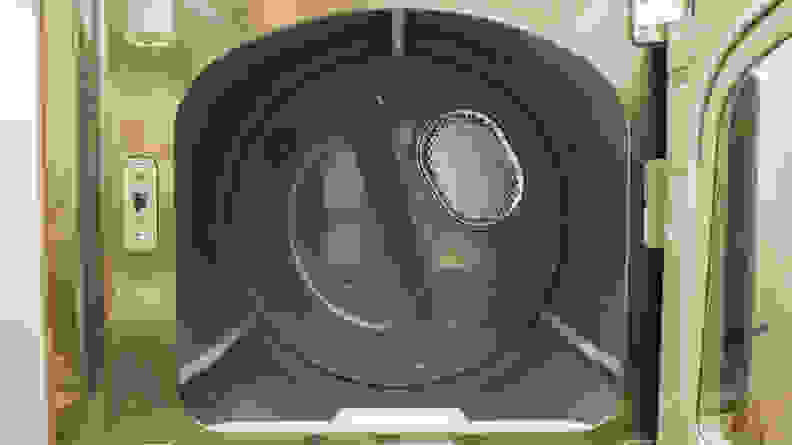 Finishes: White, black stainless ($50-$100 more, depending on retailer)
Capacity: 7.4 cu. ft.
12 cycles: Normal, Heavy Duty, Bedding, Steam Sanitize, Refresh, Wrinkle Away, Delicates, Permanent Press, Active Wear, Quick Dry, Time Dry, Air Fluff
Features: Wrinkle Prevent, three dedicated steam cycles (including Steam Sanitize), and five levels each of drying, temperature, and time settings
Dimensions: 27 inches x 44.6 inches x 30.2 inches (WxHxD)
Cycle speed: The Normal cycle lasted one hour, the Quick Dry cycle took 35 minutes, the Delicates cycle took about an hour and a half, and the Heavy Duty cycle clocked in at 54 minutes.
Matching washer: Samsung WA50R5400AV
What we like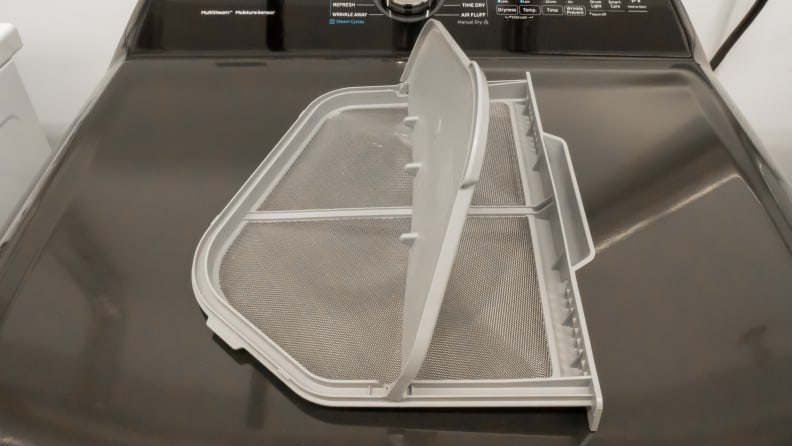 Drying performance: The DVE50R5400V excels at getting your laundry completely dry. In our tests, the laundry in the Normal, Delicates, and Quick Dry cycles came out more than 94% dry.
The temperature: Not only can this dryer remove all the moisture in clothes, but it does so without scorching them. We measured all of the cycles at under 150°F—the temperature at which wear and tear on your clothes increases—which might help extend the lifespan of your garments.
The Bedding cycle: This cycle excels at drying. The Bedding cycle was able to get a full comforter 81% dry in under an hour, which is impressive.
The lint trap: We find the lint trap easy to use and its design allows for quick cleaning.
What we don't like
The Quick Dry cycle: While the Quick Dry cycle will get your laundry nearly 100% dry, its 35-minute completion time is not as fast as many other dryers, which can do the same job in under 30 minutes.
What owners say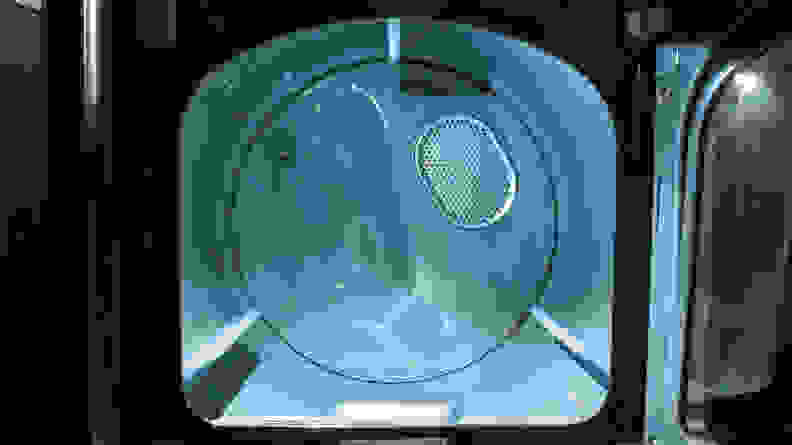 Overall, owners are very happy with the DVE50R5400V. It averages 4.7 out of 5 stars across several major online retail outlets. Users praise its drying efficiency, saying it gets their laundry dryer, faster. Owners also appreciate its large number of cycles.
Warranty
Samsung covers parts and labor for a year, which is a basic warranty.
Should you buy this dryer?
Yes. There is a lot to like about the Samsung DVE50R5400V. Its cycles produce dry clothes relatively quickly without resorting to damagingly high temperatures. It's also packed with options. In addition to the dozen different cycles and numerous customizations, the DVE50R5400V features several steam cycles to help soften clothes, remove wrinkles, or sanitize your laundry. We think it's a great companion to the Samsung WA50R5400AV washer.
The only two areas where this dryer trails behind slightly are in smart features and its overall drying speed. Some modern dryers can be controlled and monitored from a smartphone app, which the DVE50R5400V doesn't support. Additionally, while the Samsung gets laundry nearly 100% dry—often faster than average—it still lagged behind a top tier model like the Whirlpool WED7500GC, which is about the same price.
While these issues might keep the Samsung DVE50R5400V from being valedictorian, it's still a solid B+ dryer with an appropriate price point. We think the Samsung DVE50R5400V is a good pick for a high-performing mid-range dryer.