Laundry
Whirlpool WTW7500GC Washing Machine Review
A top loader with everything–including the kitchen sink!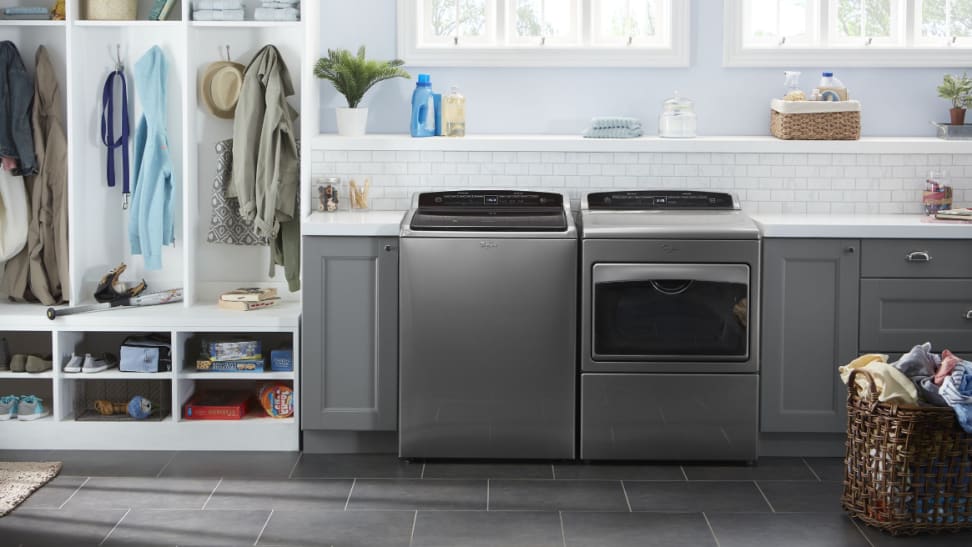 Credit: Whirlpool Corporation
In people's minds, washing machines occupy the same space as mousetraps–it's tough to think of improvements to add that actually work. Well, Whirlpool is certainly trying with the WTW7500GC (available at Home Depot for $999.00). This washer carries two distinct features that set it apart: intuitive touch controls and a built-in faucet. Being a 4.8-cubic-foot top loader, in the sub-$1,000 range, you'd be hard pressed to find a washer with this many features or one that cleans as well.
Taking the guesswork out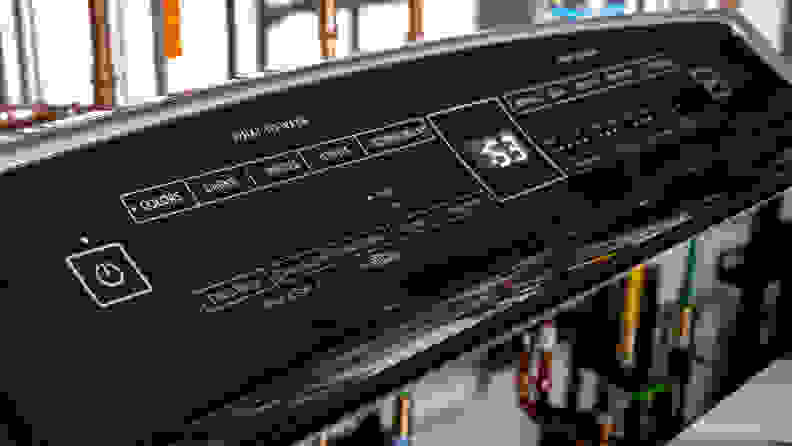 If you're unfamiliar with the What to Wash and How to Wash system that Whirlpool has developed, don't worry. When you first look at the control panel, you're going to go to be confused for one second, then it's all going to click.
One the left side of the control panel is What to Wash. You can select options like Colors, Darks, or Bedding. The on right side, you choose how you want your laundry washed. The number of combinations impressed us, over 20 in total. Normally, this many cycles would be overwhelming, but since the Whirlpool 7500 so clearly denotes what it's doing, there's no confusion.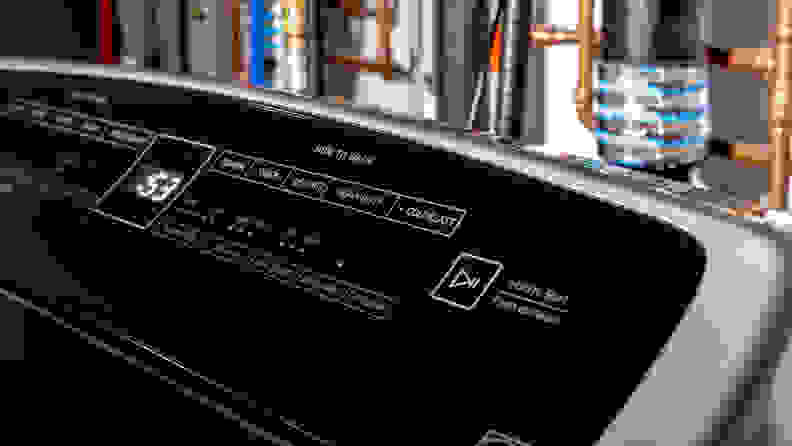 A built-in sink
You can find the same controls and performance on other Whirlpool top loaders. What makes the Whirlpool 7500 unique from other models in the family, is the fact that it has a built-in faucet. It's useful if you want a utility sink, but don't have the space in the laundry room or closet. If you're wondering, the sink can only run for ten minutes before it automatically shuts off. Any standing water in the tub gets drained after about an hour.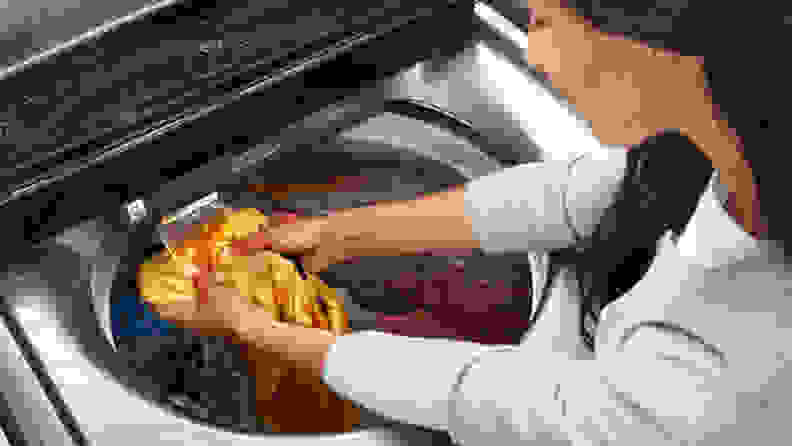 We found the faucet most useful for quickly pretreating stains, and for rinsing our hands afterwards. This feature is novel, but not unique. GE has a version that also dispenses detergent. Samsung's take on it includes a basin for scrubbing.


Cleaning performance
In terms of raw cleaning performance, the Whirlpool 7500 ranks above average with other washing machines in its price range. What separates the 7500 from the rest of pack is the Active Bloom system. Basically, the washer pumps water in from the bottom to make sure everything gets rinsed evenly. However, if you feel like it isn't using enough water, then you can avail yourself to the Deep Water feature–which adds about 15 gallons to a cycle.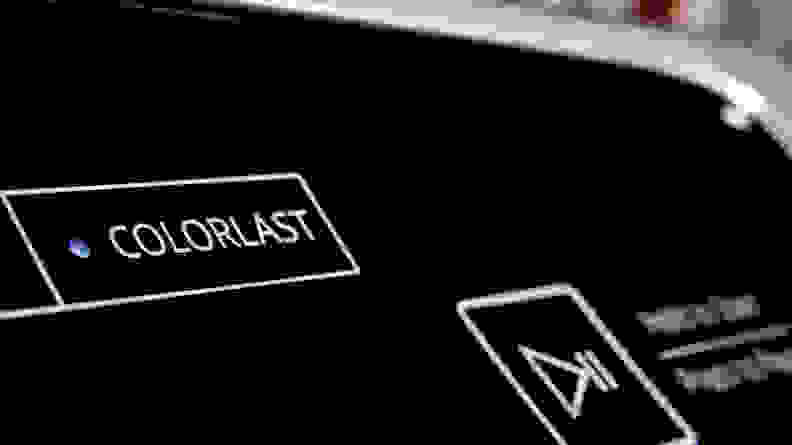 The downside is that this washer lacks a hot water heater, so it tends to run cool. The highest temperature our sensors picked up was around the 110°F.
Using cooler water means the 7500 isn't as good as getting grease stains out, but compensates by keeping colors from fading.
For clothes that just need to refreshed and don't have any major stains, we'd suggest using the ColorLast option. When activated, the washer uses cool water and gentler agitation. With fashion getting faster and less durable, washing machines need to adapt, and the Whirlpool WTW7500GC seems up to the task.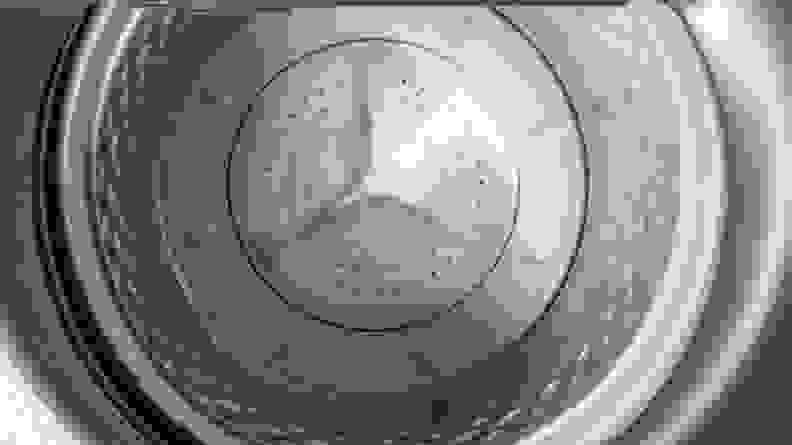 The bottom line: A modern top-loader
If you're looking for a washer with an agitator, we've got a list of the best out there. The Whirlpool WTW7500GC won't use as much water or deal with heavy soils in the same way as those old tanks.
The 7500 goes for a cleaner user experience and excels at maintaining colors. At 4.8 cubic feet, this washer can fit an entire family's laundry at once, a comforter, or multiple sets of bedding. You can wash just about anything without worries you're doing it wrong. This Whirlpool is perfect for people new to the world of laundry, and for pretreating veterans alike.