Ovens & Ranges
10 Cookie Cutters That Break the Holiday Mold
Avoid a cookie-cutter Christmas. Ditch those trees and snowmen.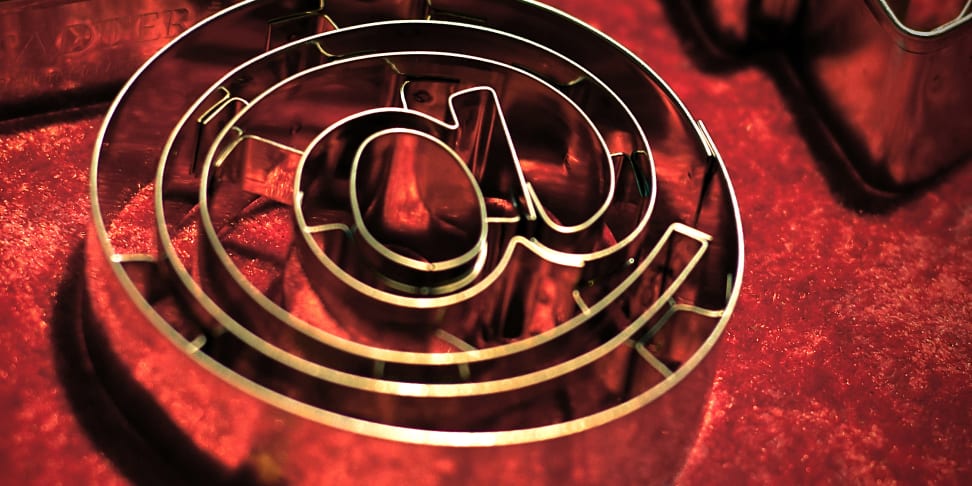 Credit: Flicker user "herrolsen"
Other than eating them, decorating is the best thing you can do to cookies. But why limit yourself to festive colors and shapes when there's so much more out there? The holidays aren't just the only occasion for baking cookies, after all.
Whether wacky, wild, or just plain weird, these shapes are less about holiday cheer and more about nerdy pop culture—in other words, perfect for every occasion!
1. Already Been Chewed
Sometimes, you just don't feel like sharing. These half-eaten, gently used gingerbread men shapes let people know that you've already called dibs. The best part is if you want this shape but don't want to buy it, you can just DIY it with your teeth.
---
2. Ninjabread Men
Why make regular, boring gingerbread men when you can have a team of deliciously deadly ninjabread men? Like real ninjas, they have mastered the art of disappearing quickly.
---
3. Star Wars
Given that there are already a bunch of Star Wars-themed kitchen gadgets out there, is it any surprise that there are Star Wars cookie cutters, too? Then again, there is another film coming out very soon, so these iconic shapes will be relevant for a while to come.
---
4. Comic Sans
Anyone can bake normal alphabet cookies, but if you really want to get your point across, you have to spell it out in Comic Sans. How can anyone take you seriously if you're not using the world's most hated font?
---
5. Ransom Note
These typeface cookie cutters look innocent enough at first glance, but they're shaped suspiciously like the purposefully mismatched letters used in ransom notes. Forget Comic Sans — this is the font to use if you want to be taken seriously.
---
6. Tetris Blocks
There's something oddly satisfying about lining up a row of blocks and making them disappear, which is certainly how these are meant to be eaten.
Bonus: cutting out block-shaped pieces of dough is more efficient than circular ones, so that's less time baking and more time eating!
---
7. 3D Dinos
These 3D dinosaur cookies require a little assembly after they've been baked. Still, that's just another excuse to play with your food. It's almost a shame they're just going to get eaten after they're built. Almost.
---
8. Nintendo Characters
No nerdy cookie cutter list would be complete without some video game cookie cutters, so here's a bunch of Nintendo ones. Shapes include the Mario brothers, Link, and various blocks. There's enough here for a truly ambitious baker to build an entire Mario stage out of cookies.
• Find it at JBCookieCutters.com
---
9. Game of Thrones
There's generally not a lot of violence or political intrigue in the average American's kitchen, but this collection of Game of Thrones-themed cookie cutters can change all that.
You can argue forever about whether the books or the TV show is better, but you can't deny that the House sigils in cookie form look downright awesome.
• Find it at WarzonePrints.com
---
10. Famous Scientists
Ever been to a party and thought, "This place could use some astrophysics to really kick things up a notch?" This trio of scientist-shaped cookie cutters solves that problem.
There's no Carl Sagan or Stephen Hawking, but then again, it would be difficult to truly capture their brilliance in cookie form.
• Find it at WarzonePrints.com
Related Video
Up next