Ovens & Ranges
5 Ways Appliance Makers Are Reinventing the Door
Sometimes innovation is as straightforward as adding a second door hinge.
The basic design of a hinged door was perfected in ancient times, with Egyptian tombs featuring the same entryways you and I use daily.
But even though the door ain't broke, some appliance designers have found some ways to improve it, adding extra hinges or changing up how it opens. Perhaps it's due to customer demand, or perhaps it's out of desperation, but we have to admire the effort put into rethinking such a time-tested design.
Here are five such designs from some of the biggest brands in the industry.
The Double-Jointed Dryer Door
At this year's CES LG unveiled the EasyLoad dryer door. It pivots on a hinge from either the bottom or the side, meaning you can open the door vertically or horizontally. To some, this may sound gimmicky, but the idea is to make loading easier for users who would like to quickly slide their laundry into the dryer using the door as a chute. We think it's cool.
You can expect to find the EasyLoad door on LG's DLGX5681VE and DLGY1702VE dryers.
The Door-in-Door
Another concept that seems a little contrived at first blush, the door-in-door fridge concept from LG and Samsung is actually pretty cool when you get to the nuts and bolts of it. Essentially, these fridges have a smaller door within the cavity of a larger door.
The idea is for consumers to store immediate perishables and frequently used goods—like condiments—in the smaller door cavity. This allows for quicker, more convenient access, and theoretically makes for a more energy efficient product as it cuts down on air loss. Door-in-door design are already pretty popular in Europe and Asia, and according to LG, they're gaining popularity in the U.S., too. Check out our review of the LG LFX31945ST for more details.
The Four-Door Fridge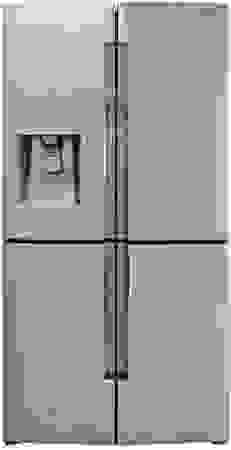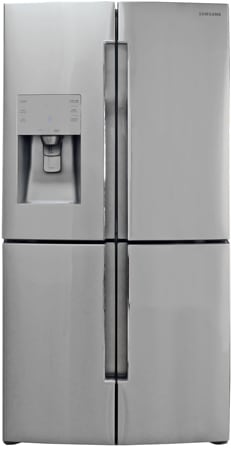 Apparently oblivious to sci-fi lore, Samsung initially called it's behemoth four-door fridge the T9000. Now dubbed the RF32FMQDBSR (MSRP $3,999), it's a powerful machine that deserves a Terminator reference. However impressive it is that Samsung managed to fit four doors on a single fridge, we're most intrigued by the technology behind one of them.
The lower right compartment is actually a convertible cavity, which means it can be programmed for use as a fridge or freezer. By all measures, the T9000 is a high-end, high-performance machine. A healthy balance of low energy consumption and temperature consistency make it an upscale fridge that's also practical.
The Sideways Oven Door
Just a month after LG unveiled the EasyLoad door at CES, Bosch introduced its Benchmark series wall oven, which has the unique feature of opening on a horizontal pivot. Why? Because, in the words of fellow writer Jon Chan, "a gate is easier to open than a drawbridge."
In all seriousness, a sideways-opening door improves access to the interior by removing a major obstacle: the opened oven door. That's always a plus when you're lifting hot items. It also makes for easier handicap operation (ANSI recommends at least a 60-inch clearance for wheelchair maneuverability).
The French Door Oven
These are actually pretty common in restaurants, but—in addition to BlueStar and American Range—Viking is one of the first to bring this oven design to consumers. At Design and Construction Week this month, Viking unveiled over 50 new products, one of which was a professional-grade 30-inch French-door double oven. Not only do its doors open in the middle, but they reveal a cavity that's one of the biggest in the industry (4.7-cubic-feet). This convection oven includes backlit steel knobs, three ball bearing racks (two in the top oven, one on the bottom), and twin 8.5-inch bidirectional convection fans.